What you need to know about a possible recession
1:49 p.m. ET, August 21, 2019
Our live analysis has ended. Scroll through the posts below to see CNN reporters' answers to readers' questions, and read more about how to tell if a recession is coming here.
1:13 p.m. ET, August 21, 2019
What could drive us into a possible recession?
Recessions don't just come out of nowhere. And we don't know if, or when, a recession will hit the United States.
Some major external event needs to happen to trigger one into happening. The Iraq invasion into Kuwait creating an oil shock in the 1990s or the dotcom bubble burst.
But there are flashing warning signs across the globe, and the behavior of US bond markets has signaled an economic downturn may be coming sooner rather than later.One big concern: there are currently nine major countries on the verge of a recession.  
For example, economic growth in Germany shrank last quarter – technically only a contraction, not yet a recession. China also delivered disappointing economic news, raising fears that their slowdown could also tip the US into a recession.
The economic slowdown in China and President Trump's trade war have created a lot of uncertainty around the globe, and that means businesses are waiting on the sidelines instead of moving ahead with investment.
But the US economy has been doing well, and grew in the last quarter. Job growth has been steady, and unemployment is at a historic low. And the stock market is at a record high, suggesting some degree of investor optimism. So one big concern is whether bad signs overseas will frighten US consumers and businesses into holding off on big moves that will in turn slow the US economy down.
12:53 p.m. ET, August 21, 2019
What are the chances the next recession is as bad or worse than '08?
The last recession was especially severe, and there's no reason to think that a similar financial crisis is looming this time around.
But there's no way to predict the severity of a possible recession accurately. One metric to examine is the length of previous and recent recessions, which has ranged from six months and a year and a half.
The President suggested that we might have one last for two months. If history is a guide, a recession that short doesn't seem likely.
12:21 p.m. ET, August 21, 2019
Even if Trump does reverse himself on trade, is the damage done by his China tariff policy irreparable at this point?
It's gonna take awhile for American farmers, and US businesses that have been affected by the trade war with China, to get back on their feet again.
Deere, the agricultural company, reported earnings and sales that missed Wall Street forecasts last Friday. Revenue, overall, fell 3% from a year ago. The company's CEO, Samuel Allen, said the company's results "reflected the high degree of uncertainty that continues to overshadow the agricultural sector." 
The Trump administration has been pouring billions of dollars to farmers hurt by the trade war. It's expected to begin paying $14.5 billion by the end of August, the second round of aid that the Trump administration has rolled to farmers, who grow soybeans, corn and wheat. 
Those farmers have been battling tariffs from China for nearly a year now. Those levies wind up make American farm products more expensive for Chinese importers, and private buyers have mostly stopped buying American-grown soybeans or wheat. But it's not only been tariffs on China that have been hurting US industries. US Steel announced it would also be temporarily laying off 200 workers from a plant in Michigan because of softening demand for steel. The company has been struggling since the beginning of the year as demand has slowed from Europe. Not helping matters is a 25% tariff on steel imports that was imposed on in 2018.
12:07 p.m. ET, August 21, 2019
Can recessions be prevented?
Unfortunately, no. 
There's little that policymakers and central bankers can do to stop a recession from happening. The best it can do is slow it down, and make it the least bad as possible on the country.
Yesterday, President Trump floated the possibility that his administration is weighing several tax proposals to help spur consumer spending and help wealthy investors. But with an economy as strong as the US is right now, it would have little benefit at this time, and worse, it might exhaust any tools the White House could use when the country is in an actual downturn.
12:07 p.m. ET, August 21, 2019
What economists have said about a possible recession
In a new National Association for Business Economics survey, 74% of economists who responded to it said they thought there would be a recession by the end of 2021.
The NABE survey, conducted from July 14 to August 1, found that 2% of the 226 economists who responded to the survey expected a recession to begin this year; 38% expect it to begin in 2020. Thirty-four percent expected a recession to start in 2021, while 14% said it would start later than 2021. An additional 12% did not express an opinion.
Caution is warranted. The survey period mostly took place before the Federal Reserve cut interest rates on July 31. And NABE simply distributes the survey to 1,780 members of the organization, regardless of their level of experience or their position, then tallies the responses of the people who choose to participate.
But we can say for sure that a significant number of economists are not nearly as sanguine about the chances of a recession as President Trump has made it seem.
Here's what other economists have said:
11:36 a.m. ET, August 21, 2019
Even if the data does not imply an upcoming recession, is it possible to materialize a recession by mentioning it over and over again?
There's usually a reason the word recession is mentioned over and over.
It's because there are indicators of a slowdown that cause a change in behavior, like business investment and consumer spending.
In the current environment, businesses see signs of a possible slowdown so they're pulling back on major investments.
That's suppressing additional economic expansion.
Business leaders, for example, usually base their concerns on hard data …not on whether the word recession is mentioned over and over. Businesses, however,  are different than consumers. Consumer spending has remained resilient despite "recession talk." That could change. Frequent mentions of a recession could delay buying a home, for example, which can accelerate the onset of a recession.
11:24 a.m. ET, August 21, 2019
Fact-checking Trump's claims on economist recession warnings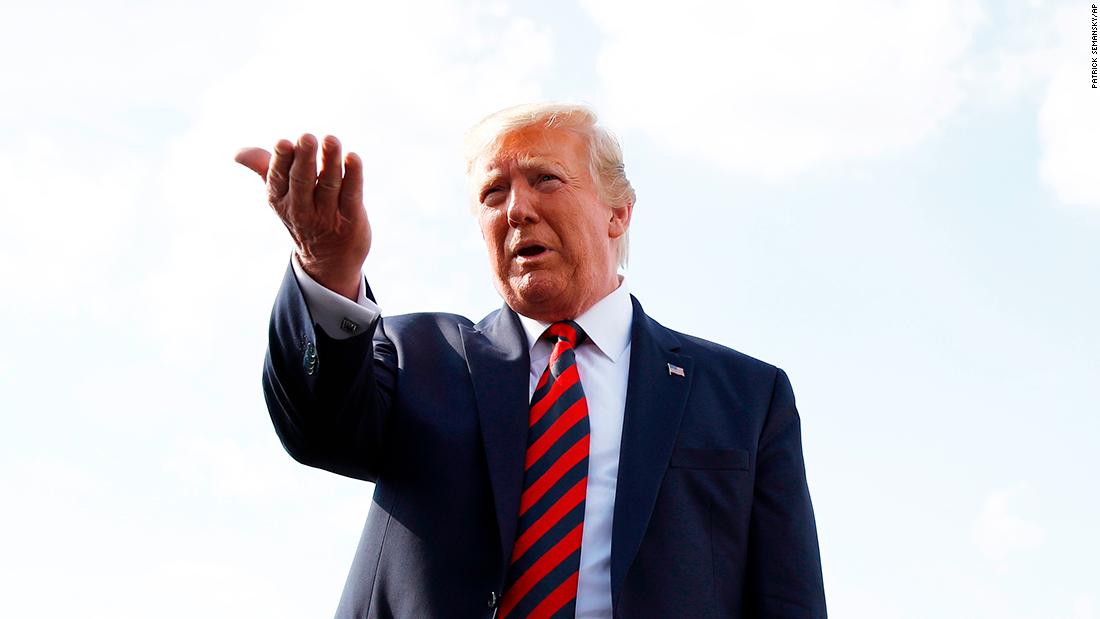 President Trump on Sunday said that most economists say "we're not going to have a recession. Most of them are saying we're not going to have a recession."
He also pointed to Walmart's strong second-quarter earnings as a sign that consumer spending is healthy.
Facts First: We don't have data on what every economist thinks. But prominent bank economists have warned this month of a significant risk of a coming recession, and a survey of business economists, mostly conducted in July, found that 74% thought there would be a recession by 2021.
The US is still in its longest uninterrupted economic expansion ever; nobody knows for sure if or when a recession might hit. And since we don't have comprehensive data on economists' views, we can't declare Trump's claim about "most" of them false.
But multiple economists have said this month that the possibility of a recession is real and growing.
Recession concerns have intensified since the beginning of August. During this month, the chances of a quick trade deal with China have appeared to shrink, several major countries have reported poor growth, stock markets have declined, and the yield curve on US bonds (briefly) inverted for the first time since the pre-recession year of 2007.
11:03 a.m. ET, August 21, 2019
Why did the Fed cut rates? Will they cut rates again?
The Fed cut rates at its last meeting, because it too, was starting to get nervous that signs of economic weakness around the globe and the trade war with China might eventually start to hurt the US economy. 
Think of it as an insurance policy: The US economy isn't grounding to a halt, but in an effort to get ahead of any downturn the Fed decided to cut rates by 25 basis points. 
The other big reason for the Fed to act sooner rather than later is that it has much less room to cut from. Interest rates, which control the cost of mortgages, credit cards and other borrowing, are now hovering between 2% and 2.25%. 
When rates are that low, the Fed has less ammo to rescue the economy. Instead, Fed officials have made the argument to cut rates more aggressively early, because they're fighting power will only be stronger. 
So could they cut rates again? It might be inevitable, and Wall Street is certainly on betting on it. 
At their last meeting, the Fed's Powell didn't shut the door completely on further rate cuts, but was also careful not to send the message the central bank had now begun a series of rate cuts. 
But in the last three weeks, there's been worsening economic data abroad and President Trump threatened to escalate further tariffs on China — only to pull them quickly back two weeks later. Bond markets also started flashing warning signs a recession may be coming soon, which the Fed will need to strongly consider. 
We'll know more later today when the Fed releases minutes from its last meeting. That might give us a hint of how much agreement there is on the board to cut further, or whether it's more important to see how the economy and trade developments evolves. 
Then on Friday, we'll also hear from Powell directly, so he may be even more exacting in what comes next for interest rates policy when he speaks from Jackson Hole. Stay tuned.