What's moving markets today
Updated
4:59 p.m. ET, January 9, 2019
4:59 p.m. ET, January 9, 2019
Our live coverage has ended. Join us again Thursday morning for more real-time markets news.
4:27 p.m. ET, January 9, 2019
S&P 500 notches longest winning streak since September
From CNN Business' Matt Egan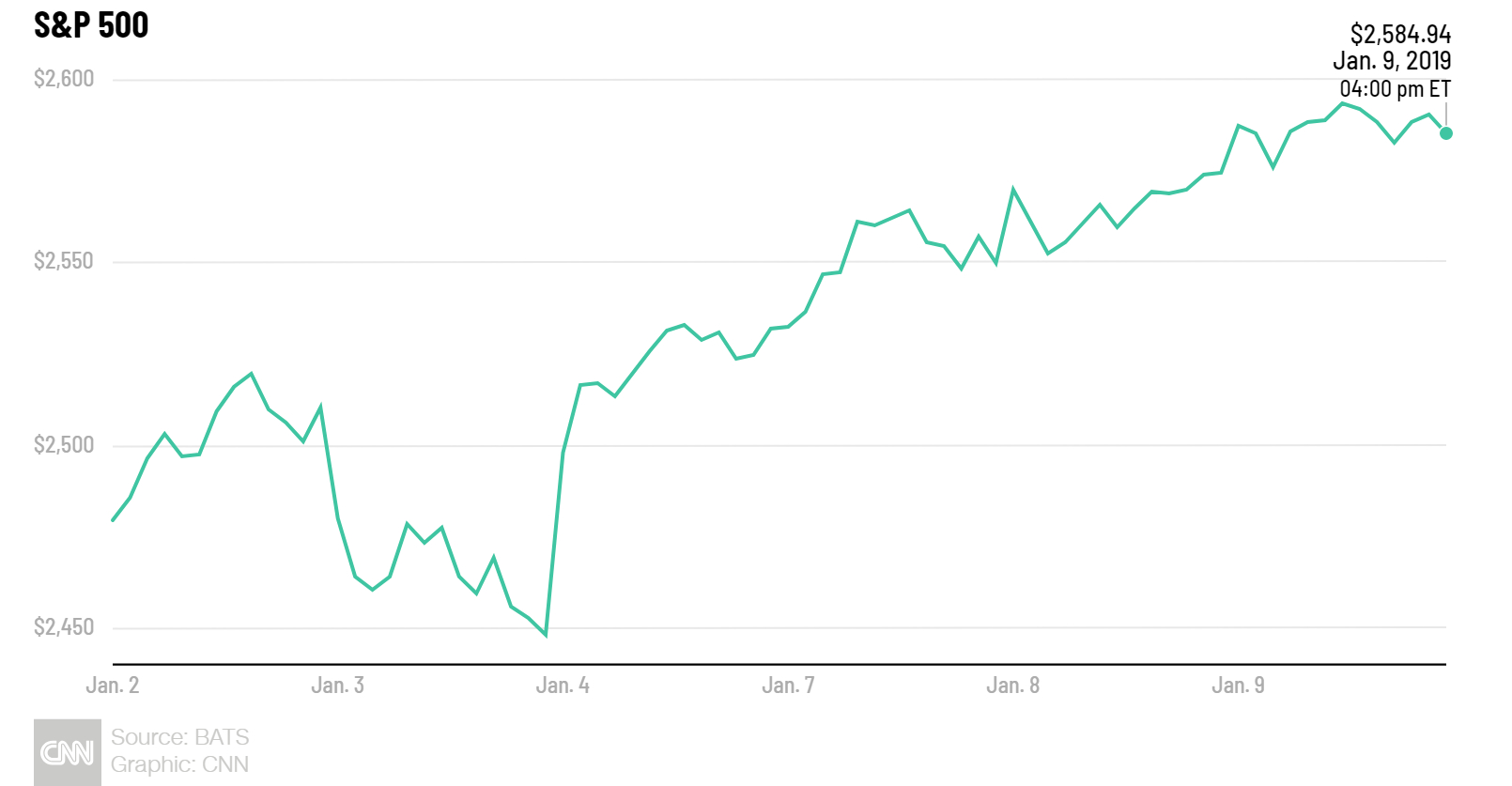 The recovery from a brutal December rolls on.
Stocks lost steam late in the day after President Donald Trump walked out of a government shutdown meeting with Congressional leaders.
Energy stocks helped propel the market higher again. US oil prices spiked another 5.2% to $52.36 a barrel on reassuring comments from Saudi Arabia.
Crude has advanced eight straight days, the longest streak since July 2017. Apache (APA), Hess (HES) and ConocoPhillips (COP) climbed more than 3% apiece.
4:13 p.m. ET, January 9, 2019
What moved markets today
We were busy today. Here are some market movers:
3:13 p.m. ET, January 9, 2019
Oil prices rise 5.2%, settles above $50
From CNN Business' David Goldman
What a difference a month makes.
US oil prices climbed back above $50 a barrel today, settling at $52.36.
It was the first time since December 14 that oil settled above $50.
Oil is now on an eight-day win streak. That hasn't happened since July 2017.
Just two weeks ago, oil closed as low as $42.53, down more than 44% from its 2018 peak of $76.41, reached on October 3 (not coincidentally, that was the same day that the Dow reached its all-time high).
Since December 27, oil has roared back more than 23%.
Saudi Energy Minister Khalid al-Falih reassured investors on Wednesday that the country is on track to reduce crude output by its targeted amount.
Investors have worried that oil supply far outstrips demand, particularly as the global economy is expected to slow this year.
1:11 p.m. ET, January 9, 2019
Dow is up 2,100 points since Christmas Eve
Remember the Christmas Eve massacre? The Dow plunged more than 650 points in on a trading day shortened by, eh, holiday festivities. Since then, the Dow has roared back 10%.
Our colleague Matt Egan explains what's behind the stunning turnaround:
2:29 p.m. ET, January 9, 2019
Fed indicates it will slow down rate hikes in 2019
From CNN Business' Donna Borak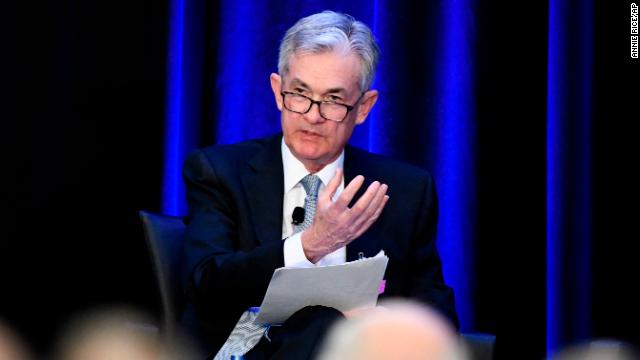 The Federal Reserve on Wednesday sent another signal that it won't be moving quickly to raise rates in 2019.
Minutes of the US central bank's last meeting in December showed that the Fed judged "the appropriate extent and timing of future policy firming [is] less clear than earlier," because of an uncertain economy.
The Fed is wrestling with signs of weakening global growth in Europe and China and a sharp decline in stock prices.
At its final meeting in 2018, the central bank noted there were a number of headwinds that could pose downside risks to the US economy in the new year, including a sharper-than-expected slowdown in global economic growth, a more rapid waning of fiscal stimulus, an escalation in trade tensions and a greater-than-expected negative effect of rising interest rates.
1:41 p.m. ET, January 9, 2019
Snap's stock is down — again
From CNN Business' Jordan Valinsky
The market value of Snapchat's parent company keeps disappearing: Snap Inc. (SNAP) is down more than 3%.
Analysts at Jeffries cut Snap's price target by $1 to $7 because of stagnating user growth. The messaging app is still recovering from a disastrous redesign unveiled last year.
The stock has lost nearly 60% of its value since January 2018.
There's good news: Jeffries says "prudent financial management and a return to user growth" could double the stock over the next 2 years.
12:10 p.m. ET, January 9, 2019
Midday markets check-in
From CNN Business' Matt Egan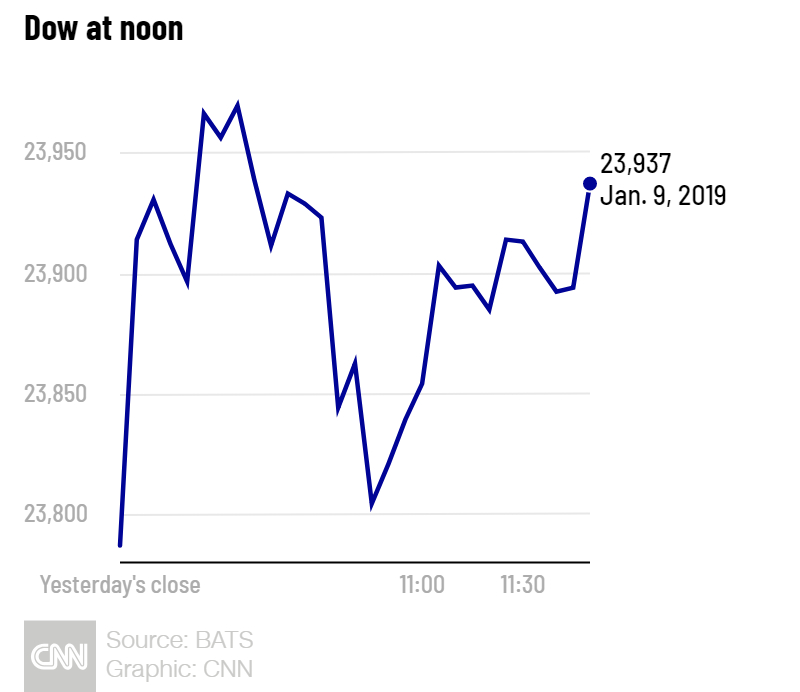 The rebound on Wall Street is carrying the Dow back near the 24,000 level.
The S&P 500 is trying for its first four-day win streak since September.
All three major indexes are up dramatically since Christmas Eve, when the Dow plummeted below 22,000.
Energy stocks are leading the way higher on Wednesday. Apache, Marathon Oil and EOG Resources all climbed 3% or more.
The group was boosted by a 5% surge for US oil prices. Crude is back above $52 a barrel and on pace to close higher for the eighth day in a row. That hasn't happened since July 2017.
12:03 p.m. ET, January 9, 2019
JCPenney shares are up 11%
From CNN Business' Chris Isidore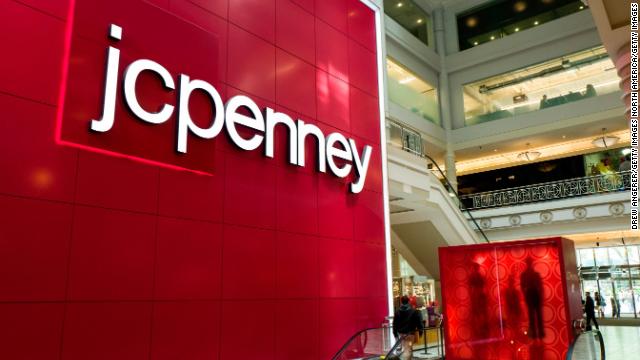 JCPenney (JCP) reported a 3.5% drop in holiday season sales after the market close on Tuesday. But that was actually not as bad as had been feared.
The company also announced it would close three more stores, and that it would have positive cash flow for the full fiscal year. Shares of JCPenney rose more than 11% today on the news.
JCPenney late last month fell below $1 for the first time in its history. The stock's gain is encouraging, as the 110-year old company's prospects for survival are dimming.