Wall Street's roller coaster week continues: March 11, 2020
2:43 p.m. ET, March 11, 2020
'Stay calm and stay invested,' says Goldman Sachs Asset Management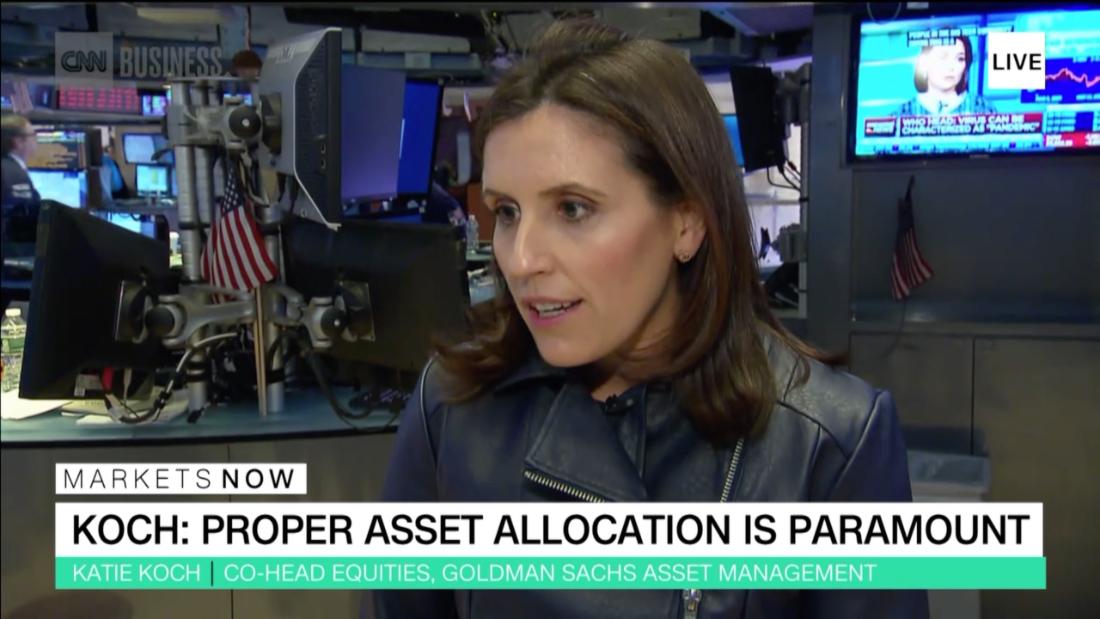 As stocks continue to fall, investors have got to keep a clear head.
"What we're actually telling clients to do is to stay calm and to stay invested," Katie Koch, co-head of Goldman Sachs Asset Management, told Alison Kosik on the CNN Business' digital live show Markets Now.
While the reflex might be to sell as soon as the market flashes panic, timing the best points is to cash out is difficult. That's why it's important for investors to stay put.
"It's very possible that we will have an economic contraction," Koch said. But the economy moves in cycles, so investors shouldn't panic.
Many people came into the virus outbreak with a balanced portfolio consisting of stocks and bonds, Koch said. The recent selloff might be a good point to rebalance these portfolios and add some cheap stocks, Koch said.
Sectors of interest right now are health care, including biotechnology, as well as consumer companies, she said.
"We're a big believer in the long-term spending power of the millennial consumer," Koch added. "They have a perpetual desire for experience over things."
Watch the interview here:
2:36 p.m. ET, March 11, 2020
Coronavirus might not ring in the end of IPOs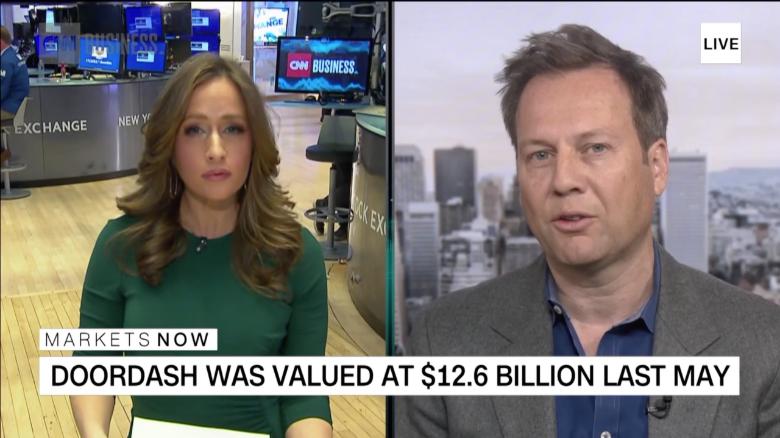 It might not seem like a good time for companies to think about going public, but don't rule anything out.
"Good companies can still go public in challenging markets," said Pete Flint, managing partner at NFX and co-founder of Trulia.
In periods of economic shock, the market leader of a sector often excels, he added.
"For a company like Doordash, it's actually going to be a net positive," Flint said of the coronavirus panic.
Delivery business Doordash, which is backed by NFX, filed for an IPO last month.
On top of that, the attitude towards start-ups is changing.
"That growth-at-all costs era is over," Flint said. "I think that's true of many of these late stage companies.. Now investors want to see profits."
Watch the interview here:
1:23 p.m. ET, March 11, 2020
When will the market find a floor?
Stocks are sliding in the early afternoon, edging closer to bear-market territory. With every day of the selloff, investors wonder when the market will bottom out.
"I'm not sure where the floor is," said Peter Tuchman, floor broker on the New York Stock Exchange for Quattro M. Securities.
The may might get a sustained break when the virus is contained and the headlines stop, Tuchman said.
But comparisons to the 2007-2009 financial crisis are not helpful in this selloff, he added.
"This has nothing to do with 2008. That was clearly a financial crisis, people were not panicked about their health and well being. That's what you have going on here," Tuchman said.
1:29 p.m. ET, March 11, 2020
Boeing institutes a hiring freeze
Boeing has announced a hiring freeze as it navigates the "global economic disruption" from coronavirus and the ongoing grounding of its best-selling 737 Max plane.
"The year ahead is shaping up to be as challenging for our business as any in the recent past," an internal email to employees said. "On top of the work of safely returning the 737 MAX to service and the financial impact of the pause in MAX production, we're now facing a global economic disruption generated by the COVID-19 coronavirus."
To preserve cash, the company said it's taking several steps.
Limiting travel and discretionary spending to business-critical activities only.
Limiting overtime to critical 737 MAX return-to-service support and other key efforts in support of our customers.
Pausing or placing on hold any new personnel requisitions at this time, pending a review of priorities and critical needs.  
12:37 p.m. ET, March 11, 2020
Is Washington's slow policy response hurting US markets?
Global stocks are in the red Wednesday as fears about the coronavirus fallout are once again weighing on risk appetite.
But the selloffs are not created equal: US markets are down further than their European peers. Could this be the beginning of a trend?
"A gap may be about to open up between US and European market performance, reflecting the lack of policy action from the US government and straightforward interest rate cuts from the Federal Reserve," said Seema Shah, chief strategist at Principal Global Investors.
European countries, meanwhile, are ramping up their stimulus plans.
The UK unveiled a fiscal plan to combat the economic fallout from the virus, which could perhaps even be a blueprint for the United States, Shah said.
Interest-rate cuts alone won't help economies with the fallout -- but what will is targeted measures to ease the strain on smaller businesses and the most vulnerable parts of the economy, she added.
"Powerful, coordinated policymaker action may be the US economy's best chance of ensuring that this shock does not evolve from a short-lived hit to a prolonged and devastating downturn," Shah said.
12:20 p.m. ET, March 11, 2020
Boeing customers canceled more planes than they ordered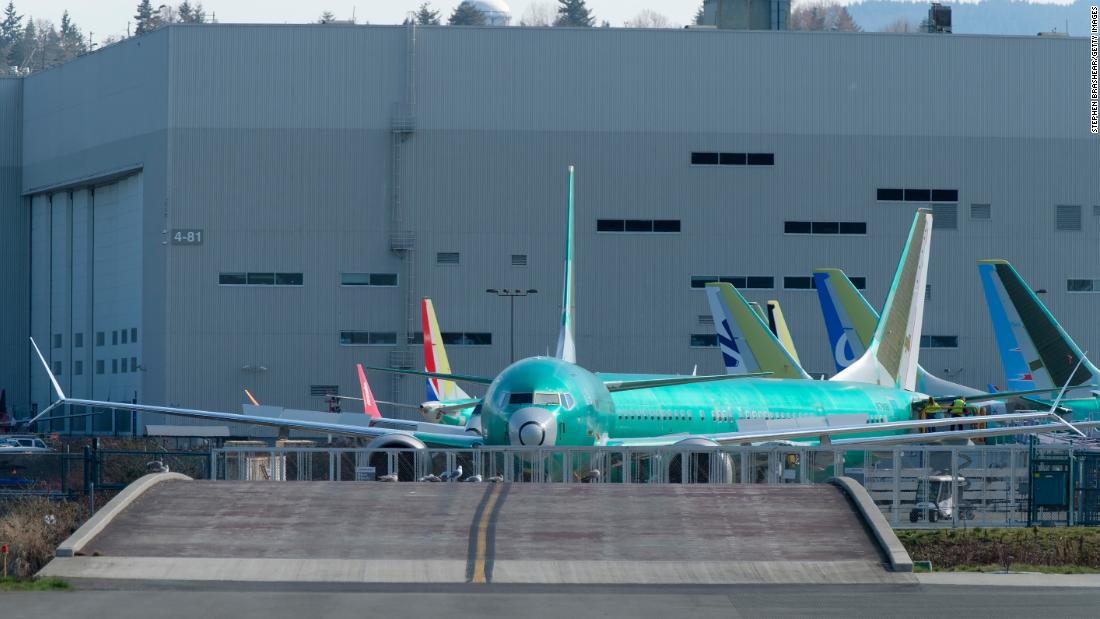 Yeah, so, not such great news for Boeing (BA) today.
Obviously the 737 Max was already in deep, deep trouble, and airlines were growing impatient with the yearlong grounding. But travel has come to a virtual standstill because of coronavirus, and airlines don't exactly need new planes right now. Super-cheap oil has also convinced some companies to live with their older, less fuel-efficient fleets for the time being.
So airlines canceled more orders for Boeing planes than they added new ones, Boeing announced Wednesday.
Boeing said customers canceled a net 43 orders for 737 Max jets in February. Although it received orders for other planes, Boeing still had a net-negative 25 orders for the month.
They say "if it's not Boeing, I'm not going." But currently no one is going anywhere, so...
12:11 p.m. ET, March 11, 2020
Stocks are near session lows at midday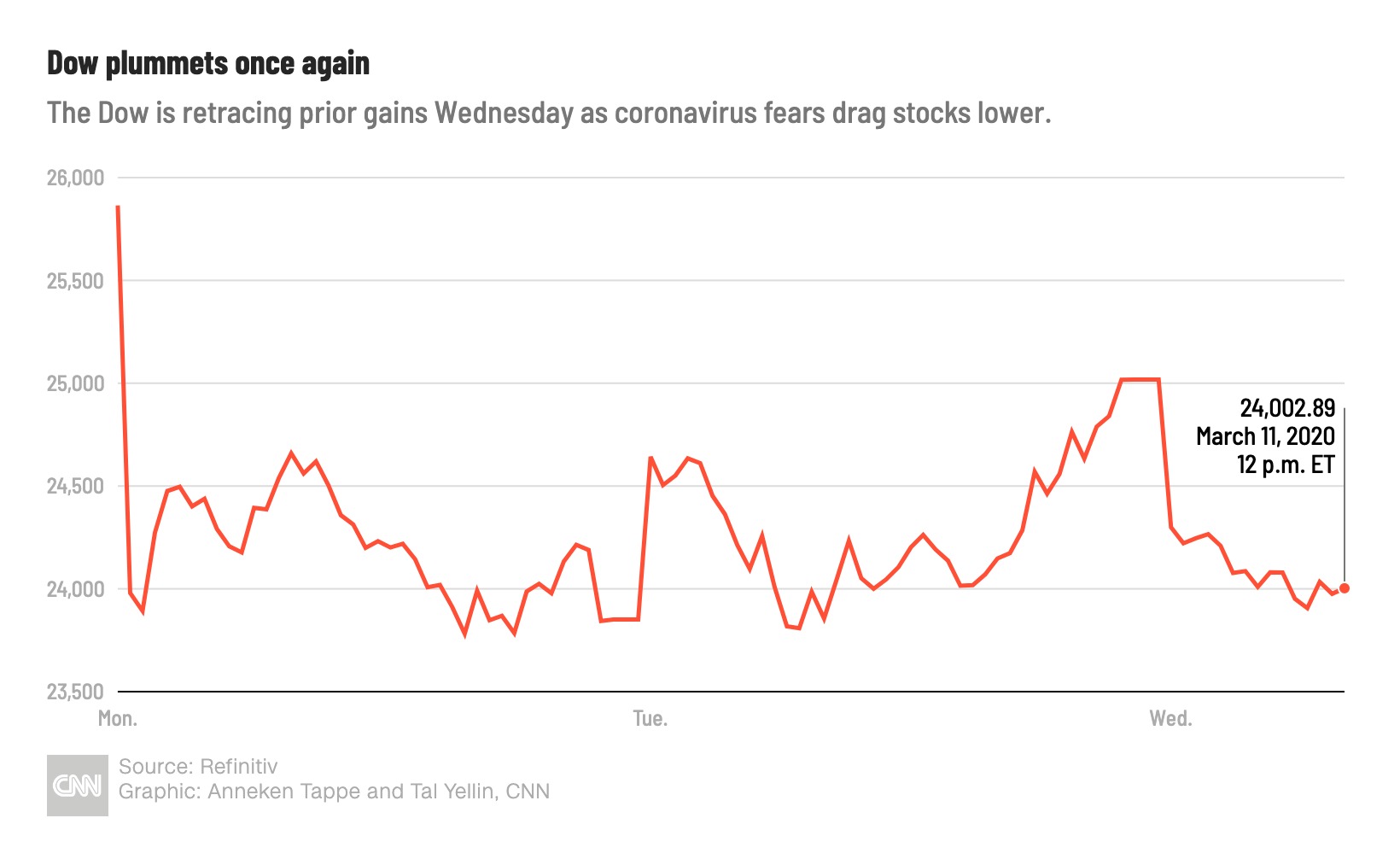 US stocks remain firmly in the red around midday.
The Dow was down more than 1,000 points, or 4%, near its session lows. The S&P 500 fell 3.7%, and the Nasdaq Composite dropped 3.4%.
12:18 p.m. ET, March 11, 2020
Disney's Bob Iger: 'We're all sobered' by coronavirus crisis
Bob Iger, Disney's executive chairman, opened the company's annual shareholder meeting on Wednesday by addressing the coronavirus crisis.
"I think it's fair to say that we're all sobered by the concern that we feel for everyone affected by this global crisis," Iger said on Wednesday. "These are challenging times for everyone."
Iger, who handed over the CEO title to Bob Chapek last month, told shareholders at the meeting in Raleigh, North Carolina, that Disney has "demonstrated repeatedly over the years is that we are incredibly resilient."
"When you think about the world today, what we create at the Walt Disney Company has never been more necessary or more important," he added.
Disney did not give updates on how the coronavirus would impact their domestic parks or their films. One such film that could be disrupted by the outbreak is "Mulan," which is set to open in North America on March 27.
Iger also used the meeting to officially introduce the new CEO to shareholders.
"It's a tremendous honor and a privilege for me to assume the role of CEO of what I truly believe is the greatest company on earth," Chapek said.
10:53 a.m. ET, March 11, 2020
Dow slides 1,000 points
US stocks sold off further around mid-morning, with the Dow plummeting more than 1,000 points.
The index was last down 4.1%, or 1,015 points, while the broader S&P 500 fell 3.7%.
The tech-heavy Nasdaq Composite fell 3.3%.
Banks are downgrading their earnings expectations for US equities, which isn't helping the market.
"We believe the path of quarterly profits will be more important than the full-year numbers," said Jonathan Golub, Credit Suisse's chief US equity strategist.
Golub said first quarter company earnings should be positive, albeit weaker, before profits go negative in the second quarter. He added that earnings will recover by the end of the year 2020.
Earlier in the day, Goldman Sachs slashed its S&P 500 earnings forecast.