Dow closes lower but still posts its best week since 1938: March 27, 2020
By CNN Business
Updated
4:43 p.m. ET, March 27, 2020
4:28 p.m. ET, March 27, 2020
This blog is now closed. Check back Monday for more markets news.
4:16 p.m. ET, March 27, 2020
Dow posts best week since 1938
From CNN Business' Anneken Tappe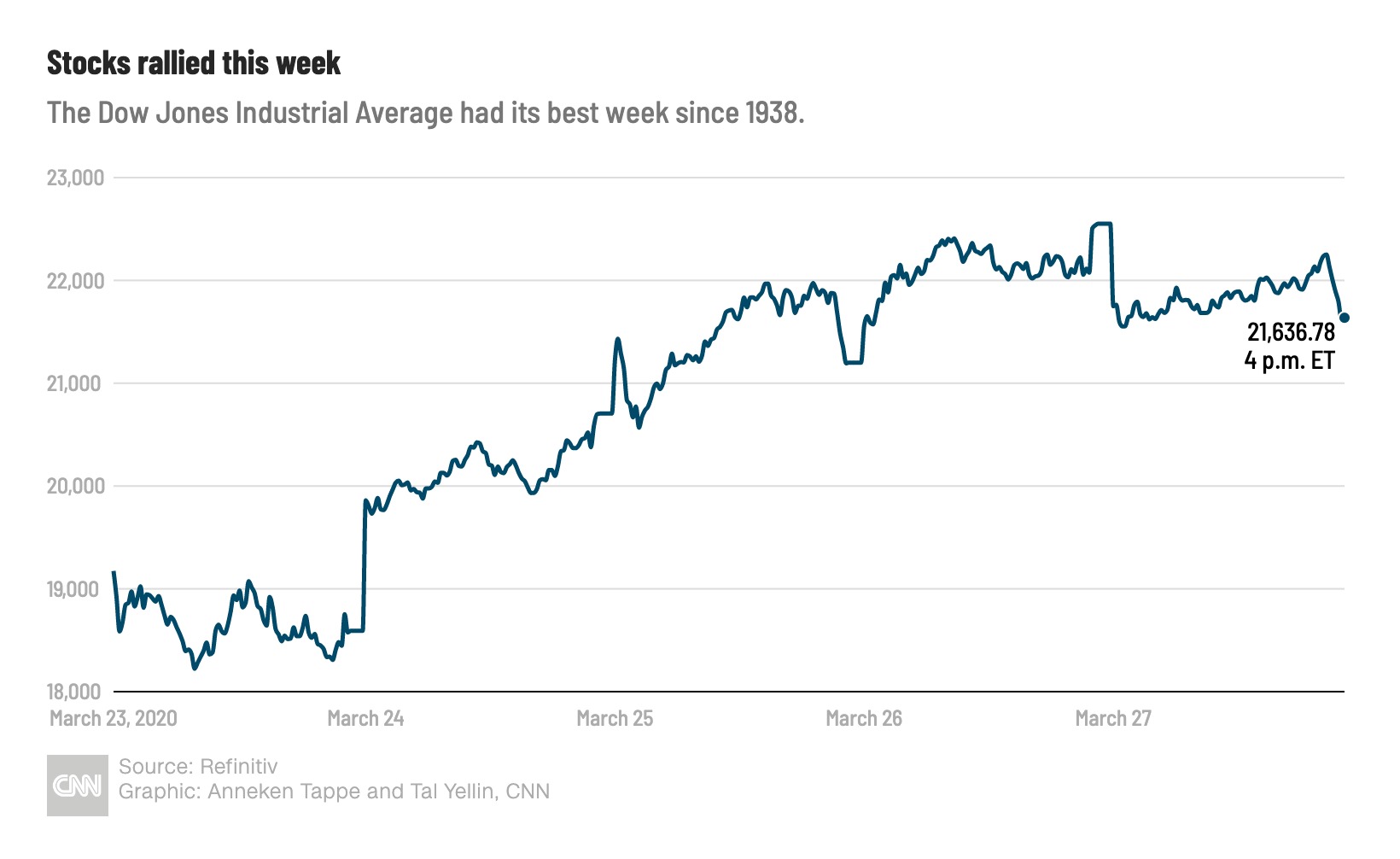 US stocks finished the session in the red on Friday, but that didn't keep major indexes from posting one of their best weeks ever after a monstrous rally between Tuesday and Thursday.
The
Dow closed 915 points, or 4.1%, lower. It recorded its best week since June 1938, gaining 12.8%.
The S&P 500 finished down 3.4%, for a weekly gain of 10.3% -- its best since March 2009.
The Nasdaq Composite fell 3.8%. On the week it's up 9.1%, its best performance since March 2009.
4:02 p.m. ET, March 27, 2020
Second quarter earnings poised for worst drop since 2009
From CNN Business' Paul R. La Monica
Business has essentially ground to a halt this month due to the coronavirus pandemic. Few expect Corporate America to resume to anything remotely resembling normal any time soon.
With that in mind, analysts have dramatically slashed their forecasts for second quarter earnings. They were already predicting a drop for earnings in the first quarter.
According to data from FactSet, Wall Street now expects profits for companies in the S&P 500 to fall 10% from the second quarter a year ago -- i.e. April through June. That would be the first double-digit drop in earnings since a nearly 16% plunge in year-over-year profits during the third quarter of 2009 -- just as the US was bottoming out during the Great Recession.
Plunging oil prices and a sharp pullback in retail spending are the biggest culprits behind the slump in earnings. FactSet said that the energy and consumer discretionary sectors had, by far, the biggest cuts to profit forecasts.
Analysts are also predicting a decrease -- albeit by just 1.1% -- for the third quarter before a rebound of 4.5% in the last quarter of 2020. Profits are now likely to fall 1.2% for all of 2020 --- the first annual drop since 2015. That pales in comparison to 2008's staggering earnings decline of 25.4%. 
And if this is any comfort, Wall Street thinks there will be a sharp rebound next year, with analysts forecasting an increase of 14% or more in corporate profits for both next year's first quarter and the rest of 2021.
3:00 p.m. ET, March 27, 2020
Top cruise operators get left out of stimulus bill
From CNN Business' Paul R. La Monica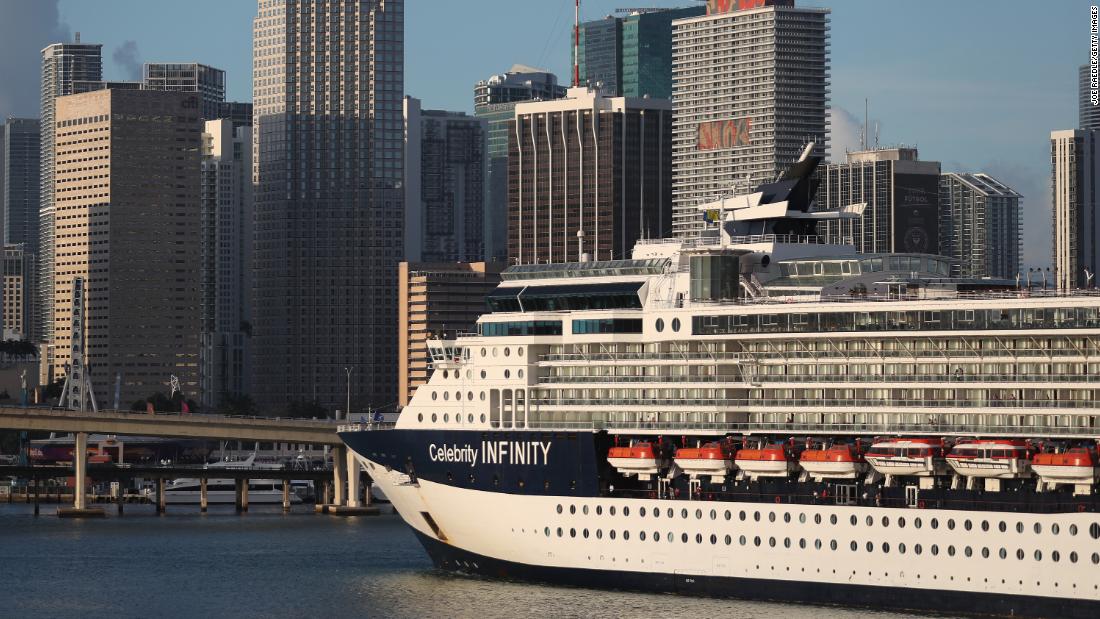 Cruise line operators Carnival (CCL), Royal Caribbean (RCL) and Norwegian (NCLH) have been hit hard by the coronavirus pandemic. But the three companies aren't getting any help from Washington as of now.
Shares of all three stocks plunged between 12% and 20% Friday after the Senate and House passed a more than $2 trillion coronavirus aid package that did not include any money for them.
The reason? The cruise lines all have headquarters in Miami, but none of them is legally based in the United States -- which allows them to pay fewer taxes. Carnival is incorporated in Panama, while Royal Caribbean is headquartered in Liberia. Norwegian is incorporated in Bermuda.
Republican US Senator Josh Hawley of Missouri noted that fact in a tweet earlier this week, urging them to move to America in order to qualify for aid.
President Trump said in a press briefing Thursday that "it's very hard to make a loan to a company when they're based in a different country." But he also noted the cruise companies employ thousands in the United States and that "we're going to try and work something out."
For what it's worth, Carnival CEO Arnold Donald said in an interview on the "Axios on HBO" show that the company is not looking for a government bailout. But Donald acknowledged that "capital markets are constrained right now." (HBO is a part of WarnerMedia, the AT&T-owned parent company of CNN.)
12:16 p.m. ET, March 27, 2020
Stocks are down at midday, but weekly gains still look strong
From CNN Business' Anneken Tappe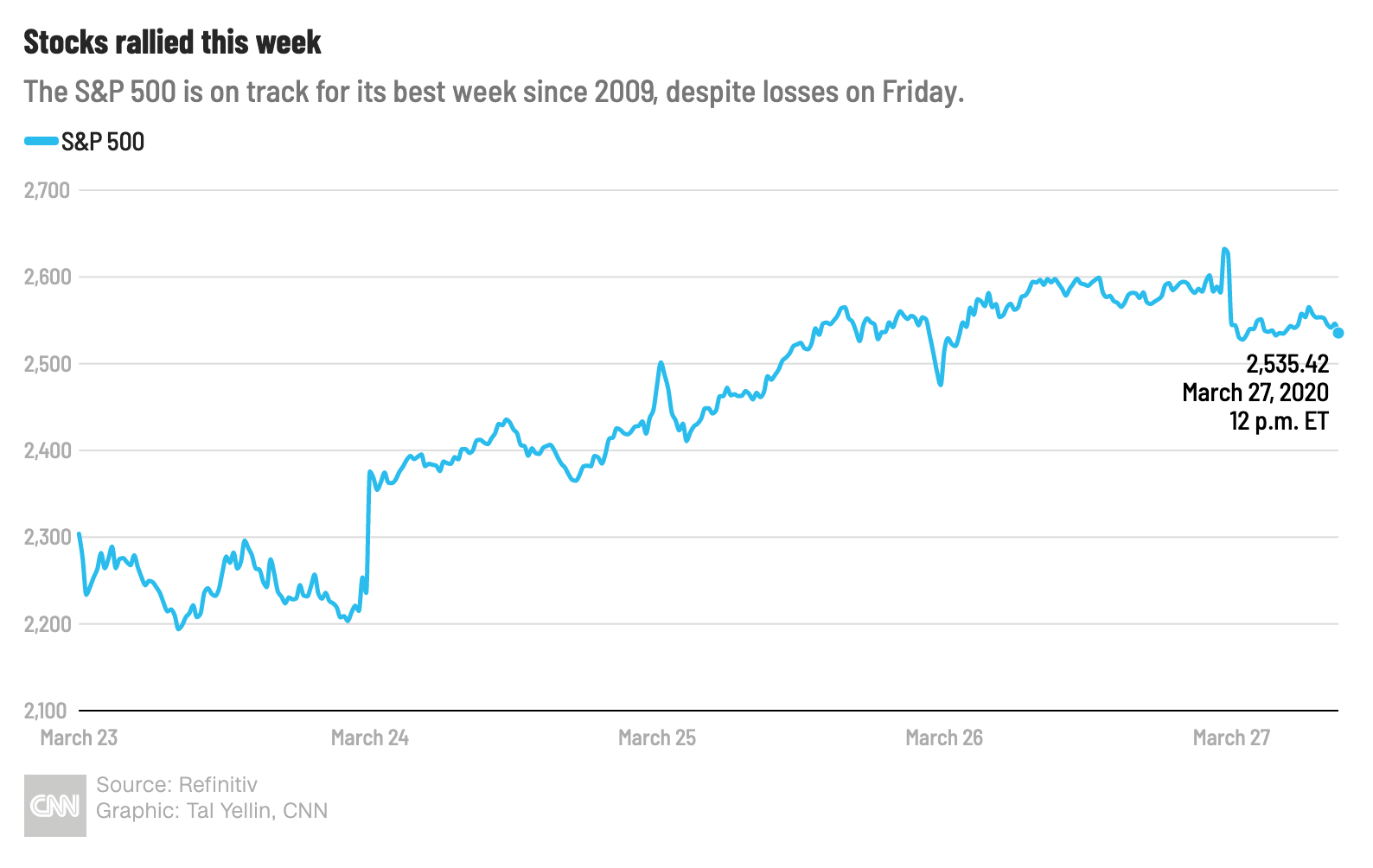 US stocks are still sharply lower, but it doesn't look like today's selloff is going to change just how good a week it has been for equities.
The Dow, which is down 3.9%, or 875 points, at midday is on track for its best weekly performance since 1938.
How's that for a week for the history books?
The S&P 500 -- Wall Street's broadest measure -- is down 3.6% at noon, but it's looking at its best week since 2009.
The Nasdaq Composite is up 3.5% at midday.
4:02 p.m. ET, March 27, 2020
Instacart shoppers plan strike over treatment during pandemic
From CNN Business' Sara Ashley O'Brien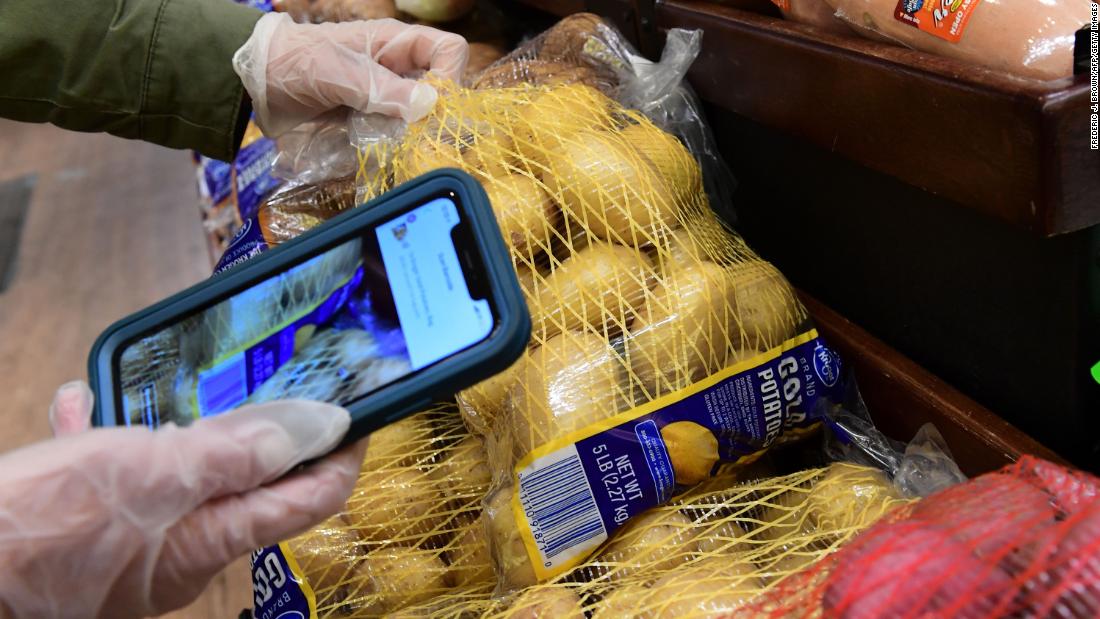 Some Instacart shoppers are planning to strike on Monday in response to the company's treatment of them during the coronavirus pandemic.
The grocery delivery company announced Monday that it plans to add another 300,000 "full-service shoppers" in North America over the next three months in response to overwhelming demand spurred by coronavirus. These workers shop and make deliveries for customers and are treated as independent contract workers by Instacart.
The strike is being called for by Instacart shoppers and a newly formed non-profit called Gig Workers Collective. It was first reported Friday by Vice.
Demands include providing workers with safety items including hand sanitizer, disinfectant wipes, and sprays, hazard pay, and an expansion of its coronavirus pay to include those with underlying health conditions. 
3:59 p.m. ET, March 27, 2020
$2 trillion relief package is a 'a patch, not a panacea,' says Morgan Stanley
From CNN Business' Anneken Tappe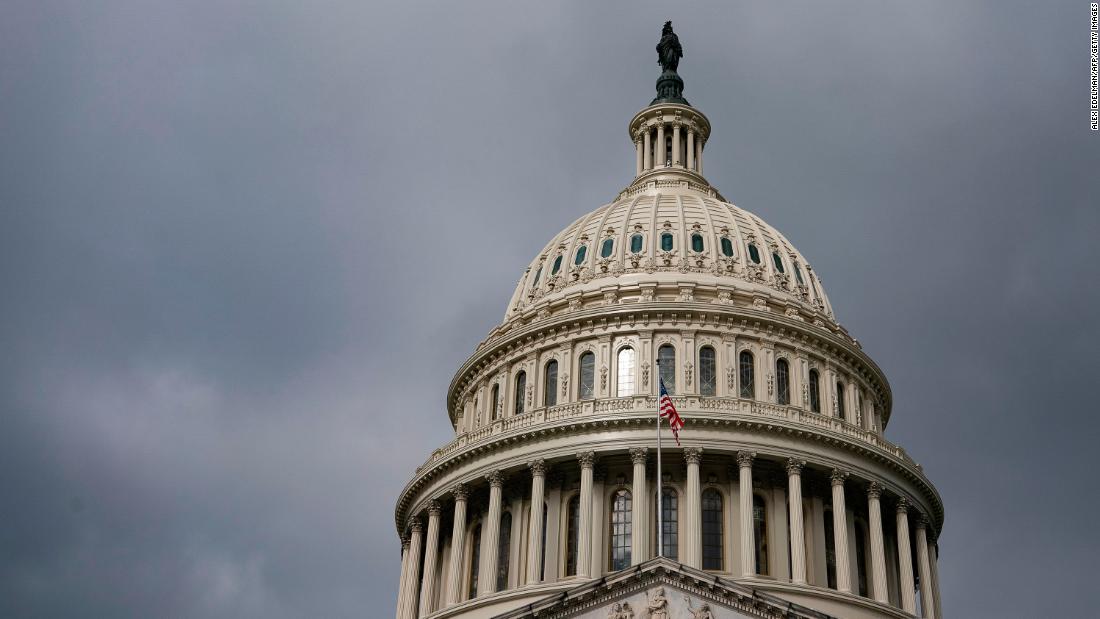 Congress has agreed a $2 trillion economic relief package to get America through the coronavirus crisis. But will that be enough?
The payments to industries and citizens alike should provide some short-term financial support and, hopefully, boost the confidence of consumers and business. But the singularity of this crisis could mean traditional stimulus tools won't work as they have in the past
"The package will not help the US avoid lost output that we estimate will be around $920 billion this year," wrote Morgan Stanley economists in a note this morning. "But we estimate it will close that gap by mid-2021 and ensure a faster recovery."
America may even a second stimulus package by the time social distancing measures ease, to give the economy a bigger boost, they said. That's because merely putting money in people's pockets while they remain homebound might not get them spending. Consumer spending is a major contributor to the US economy.
Morgan Stanley expects a 2.3% drop in real fourth quarter GDP this year versus the same period in 2019, "the deepest since 2008". But the bank is also forecasting above-average 3.3% growth in 2021 as the economy recovers.
11:55 a.m. ET, March 27, 2020
Kroger is hiring 23,500 workers
From CNN Business' Nathaniel Meyersohn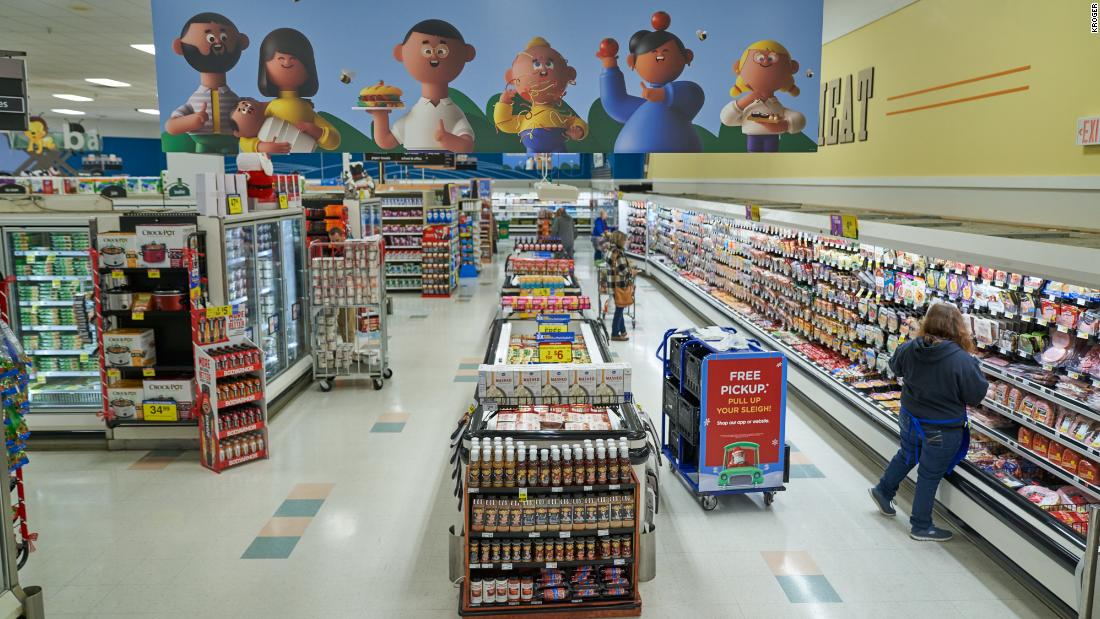 Kroger (KR) said Friday that it is hiring 23,500 workers to help keep up with demand during the coronavirus crisis.
The company will partner with hotels, retailers and food service distributors that have been hit hard by the crisis to hire their workers. Kroger has expedited hiring process. Onboarding new hires in an average of 72 hours.
Kroger is the latest grocer to announce openings.
Walmart (WMT), Amazon (AMZN), Instacart and others are also hiring employees to meet the crush of demand.
4:09 p.m. ET, March 27, 2020
Consumer sentiment at 4 1/2-year low
From CNN Business' Anneken Tappe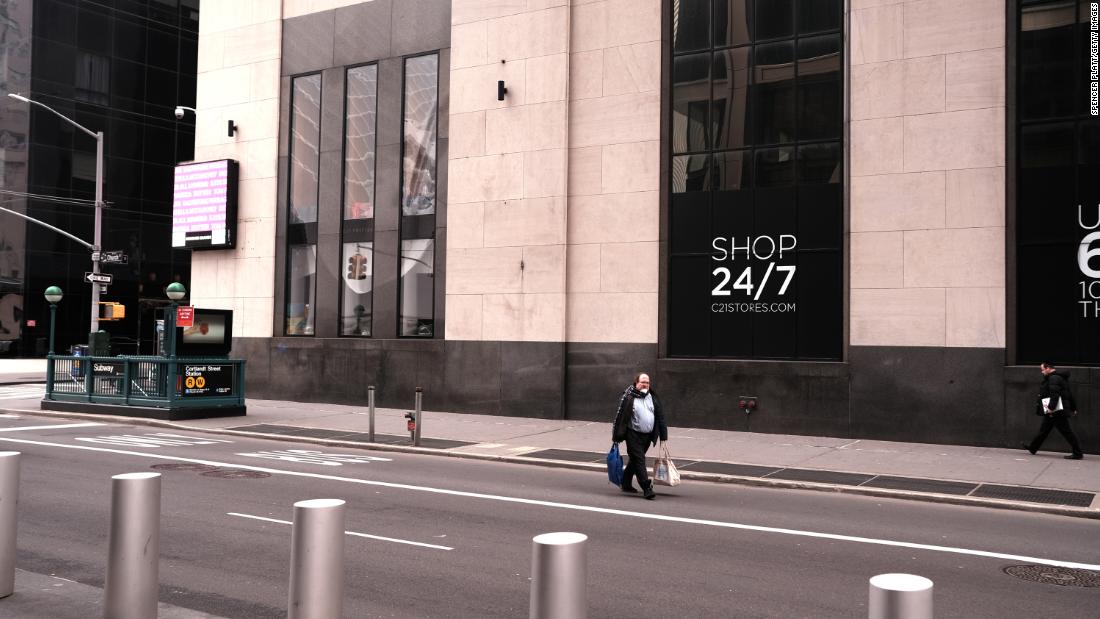 Consumer sentiment has fallen off a cliff.
The final reading of the University of Michigan's consumer sentiment survey index for March fell to 89.1 points. That is the lowest level for the survey since October 2016, when it was 87.2.
The preliminary March rating was 95.9, February's consumer sentiment reading was 101 points.
"To avoid an extended recession, economic policies must quickly adapt to a new era that will reorder the spending and saving priorities of consumers as well as the relative roles of the public and private sectors in the U.S. economy," said Richard Curtin, who conducts the monthly surveys of consumer attitudes, expectations and behavior.
The index's March plunge was the fourth largest single-month decline in nearly half a century, according to Curtin.
Prior steep declines of consumer sentiment occurred in October 2008 in response to the financial crisis, the 1980 recession and Gulf War and Hurricane Katrina in 2005.