US stocks snap 2-day losing streak: April 2, 2020
4:06 p.m. ET, April 2, 2020
Oil CEOs are going to the White House a day after Trump set off a record spike in oil prices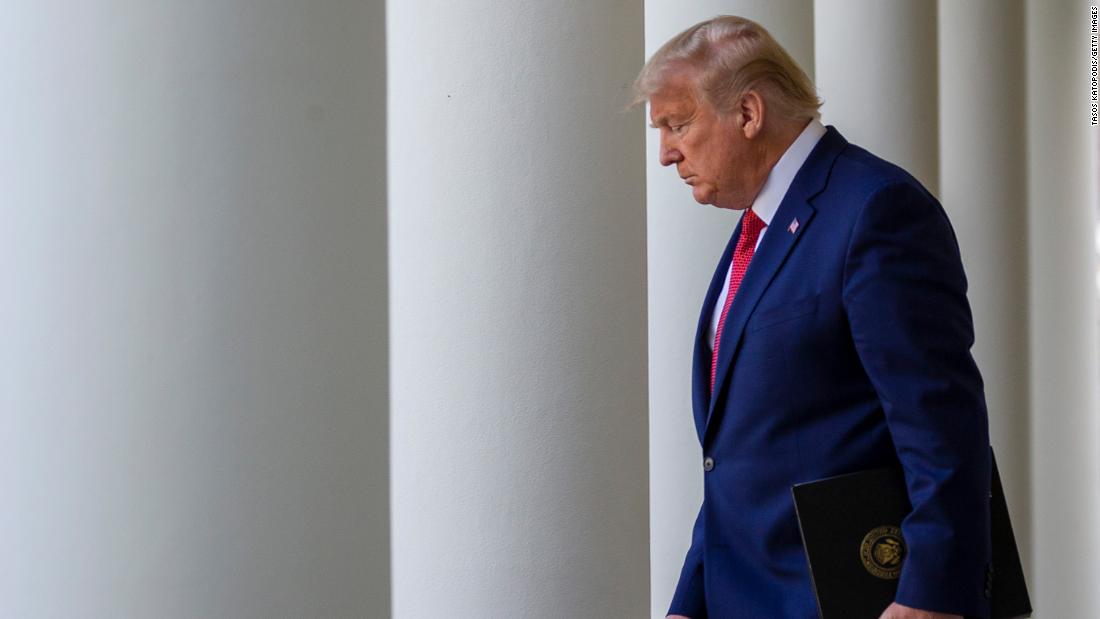 The CEOs of America's largest oil companies are scheduled to meet Friday with President Donald Trump at the White House to discuss the crisis facing the industry.
A person familiar with the summit confirmed to CNN Business the attendees will include ExxonMobil (XOM) CEO Darren Woods, Chevron (CVX) boss Michael Wirth, Occidental Petroleum (OXY) CEO Vicki Hollub and Harold Hamm, the executive chairman of Continental Resources (CLR).
The meeting comes as Trump sent oil prices skyrocketing by a record 25% Thursday after he suggested a massive production cut by Saudi Arabia and Russia. Analysts cast doubt on the claim and no agreement has been announced.
Trump has expressed concern that America's oil industry is "being ravaged" by the recent crash to $20 oil.
"We don't want to lose our great oil companies," the president said Wednesday.
The American Petroleum Institute, the industry's biggest lobby, has said oil companies aren't seeking a bailout from Trump.
The API said its executives plan to emphasize to Trump the importance of free markets.
Other attendees Friday include Devon Energy (DVN) CEO David Hager, Phillips 66 (PSX) boss Greg Garland and Energy Transfer (ET) CEO Kelcy Warren, the person said.
4:05 p.m. ET, April 2, 2020
Stocks snap two-day losing streak
US stocks closed higher and snapped a two-day losing streak on Thursday.
Investors shrugged off the largest number of initial jobless claims in history. Gains were driven by energy stocks, which rallied on soaring oil prices after President Donald Trump called for production cuts.
3:34 p.m. ET, April 2, 2020
March jobless claims were more than a quarter of all claims of the last recession
This morning's initial jobless claims were the highest in American history. Some 6.6 million people filed for first-time unemployment benefits in the week ended March 28, as the coronavirus crisis forces people to stay home and businesses to shut their doors.
Over the course or March, more than 10 million initial claims were filed.
That's more than a quarter of the total claims filed in the entirety of the last recession," said George Pearkes of Bespoke Investment Group.
That's quite the way to put it in perspective, even considering that the population and number of employed people have risen since.
"On a per week basis, this recession is starting out with claims running at 1.89% of employment per week, more than three times the prior record," Pearkes added.
4:00 p.m. ET, April 2, 2020
Lowe's is temporarily increasing wages for all of its workers
Lowe's is implementing a temporary $2 an hour pay increase for all of its workers.
The home improvement chain said in its announcement Thursday that the wage increase is for April only. It applies to all of the company's full-time, part-time and seasonal hourly workers who are employed at Lowe's stores, its contact centers and its fulfillment facilities in the United States and Canada.
Lowe's CEO Marvin Ellison said the move was a "way to thank our 300,000 associates for their heroic actions in serving the needs of our communities."
Masks and gloves will be available to all associates. Lowe's also noted that it has halted sales of N95 masks which are instead "being donated to hospitals to protect frontline healthcare workers."
Also, Lowe's will now close all of its stores at 7pm daily to allow time for cleaning and sanitizing.
2:16 p.m. ET, April 2, 2020
Stocks lose some steam in the afternoon
The major US stock indexes have pulled back from their highs in the early afternoon. The rally earlier in the day came on the back of a jump in energy stocks as oil prices soared following President Donald Trump's call for production cuts.
Trump said in a tweet he has spoken to leaders in Saudi Arabia and Russia about the cutbacks in oil production. Saudi Arabia has since called for an emergency OPEC meeting, while Russia denied the conversation with Trump.
Oil prices are still up in the afternoon but have lost some steam. The same goes for energy stocks, which are off their highs.
The Dow was up 0.2%, or 40 points. At its high point, the index had been up more than 500 points.
The S&P 500 was up just 0.4%, and the Nasdaq Composite was flat.
4:33 p.m. ET, April 2, 2020
Coca-Cola CEO: No layoffs planned
Coca-Cola is not planning to lay off workers at this point, CEO James Quincey confirmed to CNN's Poppy Harlow in an interview on Thursday.
"We have not made any global restructuring," Quincey said, reiterating statements he made last week, adding that Coca-Cola is "a long-term company trying to do our best." 
Still, Quincey has dire predictions for the next few months.
"Clearly this virus, this pandemic, is having an economic impact. I think we're going to see the worst of it starting from March through to May," he said, adding that he expects a "deep shock" to the economy in the second quarter.
The pandemic has already had a devastating impact on jobs.
Businesses are closing their doors to try to stop the spread of the coronavirus pandemic. In the week ending March 28, 6.6 million US workers filed for their first week of unemployment benefits, according to the Department of Labor.
Coca-Cola is taking its own measures to try to protect workers, including spreading people out in production facilities, instructing employees to work remotely if they can and offering paid sick leave to people who get sick with coronavirus or think they might be ill.
12:04 p.m. ET, April 2, 2020
IBM's new virtual assistant will answer questions about Covid-19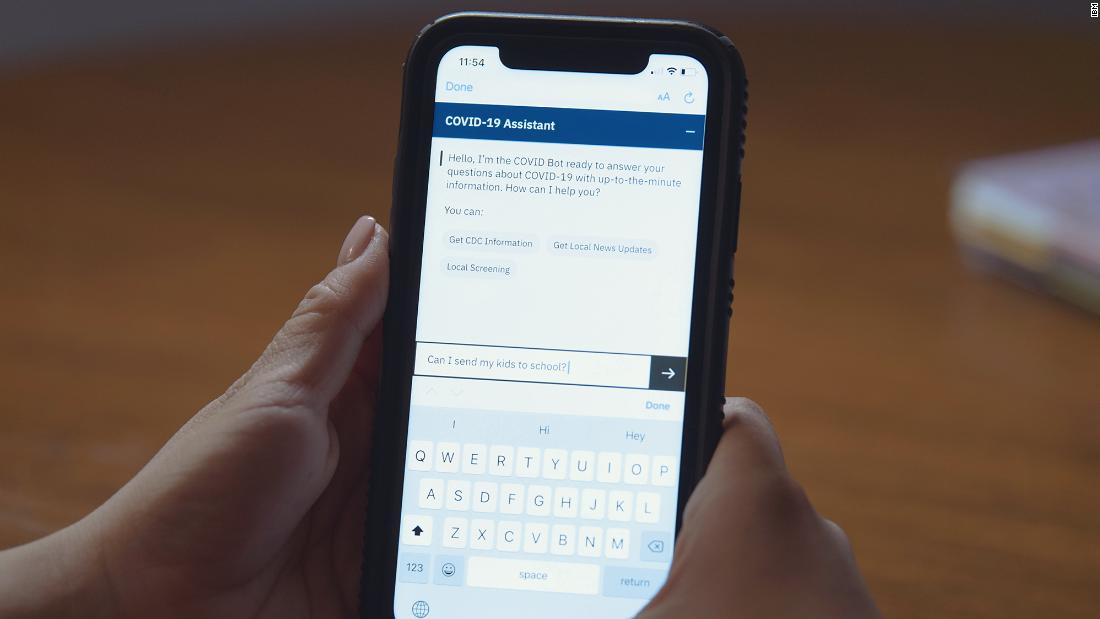 IBM (IBM) has created a new tool within its Watson artificial intelligence system to help government agencies, health care organizations and schools field questions about coronavirus.
The tool, called Watson Assistant for Citizens, is designed to get data and information to citizens quickly -- and potentially cut down on wait times for calls to local hospitals and other authorities.
For example, the City of Lancaster in California is using the tool to answer questions from citizens about coronavirus symptoms and what to do in case of infection.
The Watson Assistant for Citizens draws guidance from national sources like the US Centers for Disease Control and Prevention, as well as from local sources for information like school closures, town news and state documents.
The tool can be deployed over the phone or online, and it uses IBM's Natural Language Processing technology to understand people's questions.
IBM is offering the Watson Assistant free for 90 days, and it's already being deployed in several US states plus the Czech Republic, Greece, Poland, Spain and the United Kingdom.
11:23 a.m. ET, April 2, 2020
Goldman Sachs commits $300 million in loans, grants and funding to combat coronavirus fallout
Goldman Sachs (GS) announced a $300 million coronavirus relief package to support small businesses and communities during the outbreak.
The bank will provide $250 million in low-interest emergency loans and $25 million in grants to community development financial institutions. A separate $25 million fund will support the hardest-hit communities, Goldman said in a press release.
We are deploying our capital and expertise to help small businesses navigate the incredible burdens they face, while ensuring that health providers and relief organizations have the funds they need to fulfill their missions," said Goldman CEO and chairman David Solomon.
11:53 a.m. ET, April 2, 2020
Plot thickens: Saudi Arabia seeks 'urgent' OPEC meeting. Russia denies Trump tweet
Saudi Arabia is calling for an "urgent" meeting meeting between OPEC and other nations in hopes of reaching a production cut deal that could aid the battered oil market.
The Saudi Press Agency said in a tweet Thursday morning that the kingdom is seeking a meeting for OPEC+ states "and another group of countries" in an attempt to try to reach a "fair solution to restore a desire balance of the oil markets."
It's not clear who would be part of that additional group of countries. Since early March, Saudi Arabia and Russia have been engaged in an epic price war, flooding the market with excess oil and driving down prices.
The tweet said the invitation is part of Saudi Arabia's efforts to support the global economy "and in appreciation of the US President's request and the US friends' request."
Earlier, US oil prices spiked as much as 35% after President Donald Trump suggested Saudi Arabia and Russia could slash production by 10 million to 15 million barrels per day.
"Just spoke to my friend MBS (Crown Prince) of Saudi Arabia, who spoke with President Putin of Russia," Trump said in the tweet.
However, Dmitry Peskov, a spokesman for Russia's president, told Russian state media there was no such conversation between Putin and MBS.
US oil prices pared their gains but are still up a stunning 20% on the day.