Anthony Scaramucci on stocks, trade and China: May 8, 2019
9:54 p.m. ET, May 8, 2019
That's it for our live coverage of the SALT conference today. Check CNN Business tomorrow to follow Thursday's lineup.
9:16 p.m. ET, May 8, 2019
Mark Cuban: 'No one cares about Silicon Valley anymore'
From CNN Business' Nathaniel Meyersohn
Silicon Valley is having a moment right now, with Lyft, Pinterest and Uber all going public.
But Mark Cuban and AOL co-founder Steve Case say the next wave of startups will come from outside of Silicon Valley.
"There's a great entrepreneur in your neighborhood," Cuban said. He urged investors to back local talent. "It never dawned on me that I should be in Silicon Valley," he said of his own career.
Case noted that 75% of venture capital funding goes to three states: California, New York and Massachusetts. Case believes that's a mistake.
"There's an opportunity to build in the middle of country," he said. "Investors are missing out."
8:38 p.m. ET, May 8, 2019
Angelo Mozilo still doesn't get it
From CNN Business' Matt Egan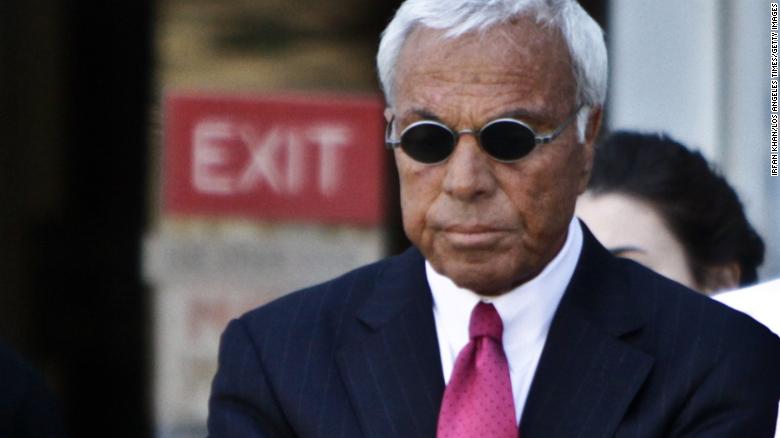 A decade after Countrywide's collapse, Angelo Mozilo is still in denial over his mortgage machine's role in the Great Recession.
"Countrywide is a great company," Mozilo said on Wednesday from the SALT Conference in Las Vegas.
Financial historians say otherwise. Mozilo, Countrywide's co-founder, helped pioneer the use of subprime mortgages. These risky loans blew up when home prices unexpectedly plunged.
The perpetually tanned Mozilo became one of the villains of the subprime crisis and ensuing financial meltdown.
"Somehow -- for some unknown reason -- I got blamed," Mozilo said.
Mozilo said that blaming Countrywide is "nonsense" because subprime was "not the cause at all" for why the economy tanked.
But subprime did play a central role in sparking the worst financial crisis since the Great Depression. These bad mortgages were packed into securities that became toxic when foreclosures spiked. Bear Stearns nearly collapsed. Lehman Brothers imploded. Financial markets seized up.
Ten years ago, Mozilo said he worried about how the backlash affected his reputation.
"Now, I don't care," he said.
6:41 p.m. ET, May 8, 2019
SEC Commissioner: We're watching Elon Musk 'very closely'
From CNN Business' Nathaniel Meyersohn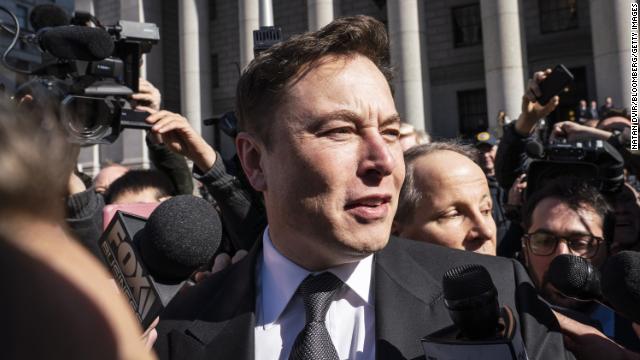 The SEC is laser-focused on Tesla CEO Elon Musk's Twitter account.
At SALT on Wednesday, SEC Commissioner Robert Jackson said the agency was monitoring Musk's social media use "very closely."
"I fully expect that he's going to be held to the deal" he recently struck with the SEC, Jackson said of Musk.
Earlier this year, Musk tweeted that Tesla "will make around 500k [cars] in 2019." Hours later, Musk sent a follow-up tweet indicating that the company will actually deliver just 400,000 cars this year.
That prompted the SEC to ask a federal judge to hold Musk in contempt for violating the settlement agreement he reached with the agency last year about his social media use.
Instead, Musk and the SEC reached an updated agreement in April about his Twitter account and what he's allowed to say on social media.
Jackson said Musk's tweet that prompted the SEC to go to a federal judge "didn't follow the agreement that he signed."
Musk "signed an agreement with the federal government at the behest of a federal judge to do something, and he didn't do it," Jackson said. "It's crystal clear that he didn't follow the agreement."
5:37 p.m. ET, May 8, 2019
HP and BlackRock leaders: Shareholders and customers demand diversity
From CNN Business' Nathaniel Meyersohn
Most panels here at SALT are about investment strategies or economic risks. But on Wednesday, leaders from BlackRock (BLK), HP (HPE) and Bank of America (BAC) spoke on a panel about diversity and inclusivity in the finance industry.
Jonathan McBride, managing director and global head of inclusion and diversity at BlackRock, said the firm's clients were increasingly pressing the company on its diversity policies.
"Inactivity is the more costly place to be," he said.
Lesley Slaton Brown, chief diversity officer at HP, agreed. "Shareholders are demanding this and customers are demanding this as well." Brown said HP had increased the number of women in leadership roles by 8% since 2015.
Amanda Pullinger, CEO of 100 Women in Finance, said she was focused on raising the profile of women in the industry. She encouraged top women in finance to speak at conferences and panels and appear on television.
"Get yourself on a stage," Pullinger said. "We need more women to be seen as experts in their field."
4:38 p.m. ET, May 8, 2019
What's next for investors on Thursday?
From CNN Business' Anneken Tappe
Wednesday's trading day is over and we can only hope that markets will calm down as the week draws to a close.
Here's what's next for investors.
China reports consumer price inflation numbers for April
On the US economic calendar, trade data and jobless claims are due at 8.30 am ET.
The SALT Conference in Las Vegas is on for another day, with CNN Business' Matt Egan and Nathaniel Meyersohn at the scene.
Ford (F) holds its annual meeting
4:24 p.m. ET, May 8, 2019
Dow snaps two-day losing steak
From CNN Business' Anneken Tappe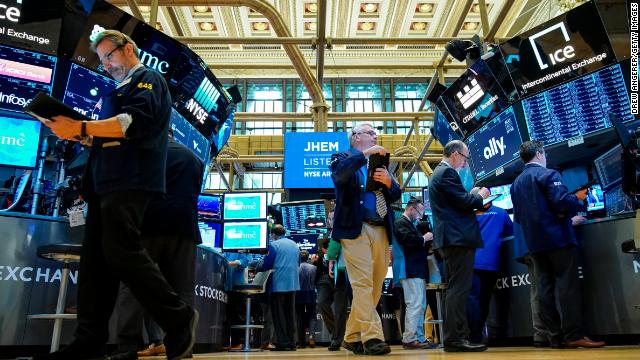 US stocks finished the day mixed, with the Dow ending in positive territory for the first time in two days, though just barely.
The market took investors for a wild ride on Wednesday, flipping back and forth on sentiment surrounding a possible trade deal between the United States and China.
Amid all the trade drama, government contractor Parsons (PSN) IPOed today, pricing its shares at $27 per shares. The shares rose 11.$% on their first trading day.
Intel (INTC) was the biggest loser in the Dow, dropping 2.5%.
In the S&P, Diamondback Energy (FANG) led the field of gainers all day, adding 7.8%. TripAdvisor (TRIP) was the weakest company. Its shares dropped 11.4% after earnings.
4:12 p.m. ET, May 8, 2019
Stephen Moore on Trump: 'This guy loves to follow the markets'
From CNN Business' Matt Egan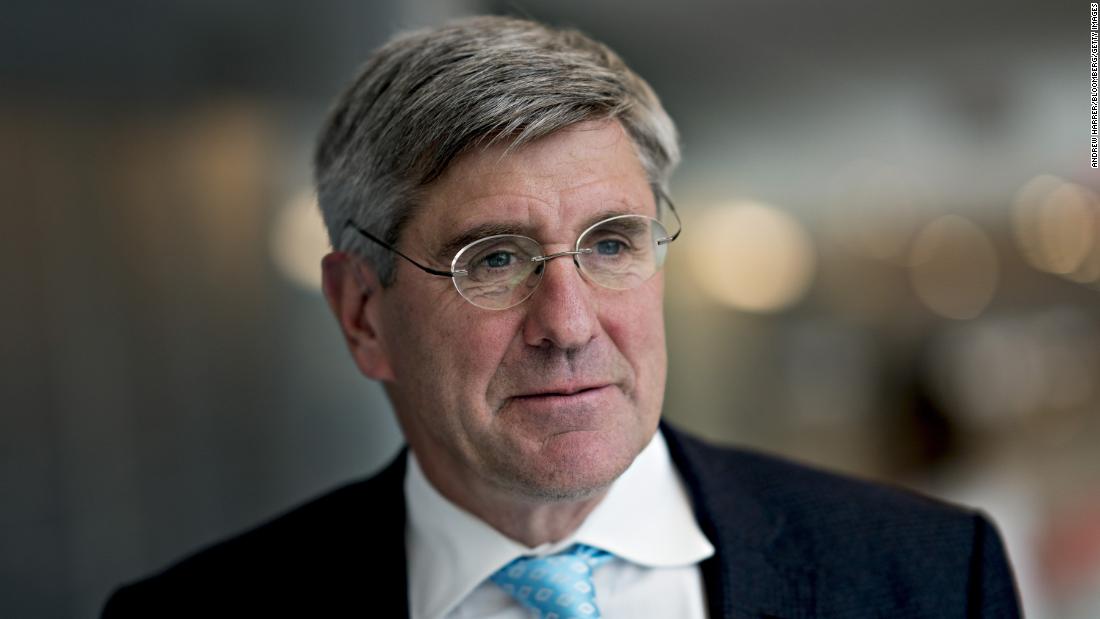 President Donald Trump checks in on financial markets "every few hours," according to economic adviser Stephen Moore.
"This guy loves to follow the markets," said Moore, who until last week was Trump's pick to join the Federal Reserve.
Speaking at the SALT Conference in Las Vegas, Moore said on Wednesday that recent market turbulence over the White House's tough stance on China will give Trump "hesitation."
He understands that if the stock market and economy crash on him, there's no way he can get re-elected," Moore said.
Last week, Moore withdrew his name from consideration to join the Fed amid a firestorm of controversy over years of disparaging comments he made about women and concerns about his qualifications.
Moore tried to make light of the controversy regarding his comments about women.
"I like women. I just don't like women's basketball," Moore said, though his comment failed to draw any laughter from the sparse conference room.
On China, Moore said that he advised Trump to take as good of a trade deal as he can and then get "really tough with China" after winning re-election.
"This isn't going to stop now," Moore said. "This trade dispute with China will last for years and years and years. This is the issue of our time."
3:06 p.m. ET, May 8, 2019
There's now a gig economy ETF: Here's who is in it
From CNN Business' Paul R. La Monica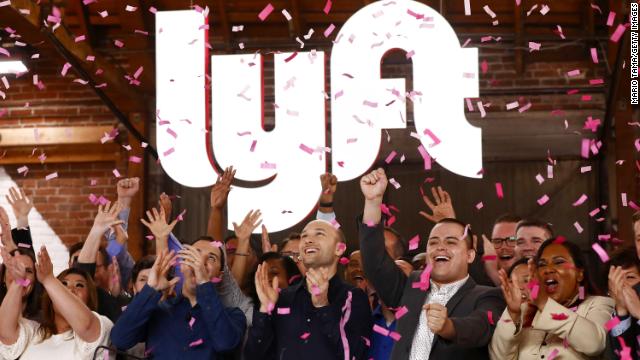 SoFi, the personal finance company popular with millennials, has launched a new investment that's squarely in the wheelhouse of its younger users: a gig economy ETF.
The company said the The SoFi Gig Economy ETF (GIGE) will be run by investment firm Toroso as an actively managed fund. In other words, managers will pick the stocks instead of relying on an index. SoFi also launched a new ETF geared toward high-growth stocks.
"Our members are excited by high-growth and gig economy companies because these companies are in many cases part of their lives," said SoFi CEO Anthony Noto. "We're giving our members a way to get started investing by buying what they know and investing in themselves."
Noto left his job as the COO of Twitter in January 2018 to take over as SoFi's CEO. Interestingly enough, Twitter (TWTR) is the sixth-largest holding in the ETF.
Here's a look at the top five stocks. They collectively make up more than 20% of the fund.
Other big picks? Eventbrite (EB). Facebook (FB) and Alibaba (BABA). And SoFi said the fund is set up so that companies that just went public can be included about a month after the IPO. So don't be surprised to see Uber (UBER) show up as a top holding in June.