US-Mexico tariffs and markets
10:47 a.m. ET, May 31, 2019
CEOs tell Trump that tariffs on Mexican imports are a bad idea
The Business Roundtable, an influential Washington lobby of corporate CEOs, says tariffs on Mexican imports would be a "grave error." It urged the Trump administration to pull back on the plan unveiled Thursday night.
Moving ahead with these tariffs would also jeopardize the prospects for the Administration's top trade priority – the United States-Mexico-Canada Agreement – and would undermine duty-free North American trade that supports over 12 million American jobs."
Unilateral tariffs on all Mexican imports will not solve the urgent problems of securing our border and fixing our broken immigration system. We urge the Administration to engage constructively with our neighbors and allies to resolve trade, migration and security issues in ways that will benefit Americans, not cause economic damage."
9:50 a.m. ET, May 31, 2019
Dow drops 300 points after Trump threatens tariffs on Mexico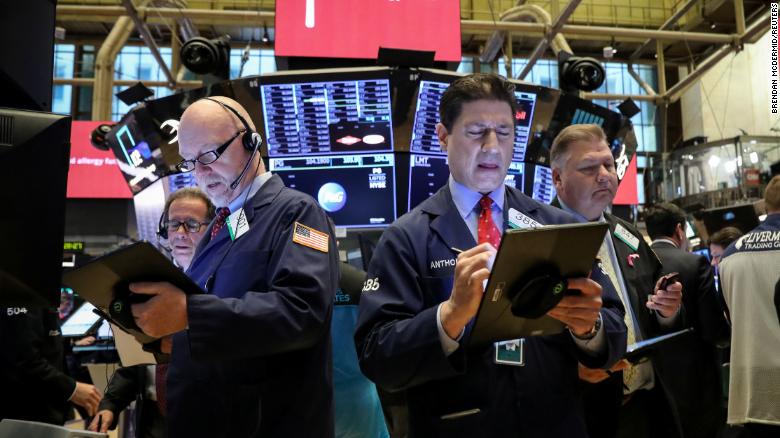 The Dow declined 300 points, or 1.2%, on Friday morning after President Donald Trump announced plans to impose tariffs on Mexico. The S&P 500 fell 1.2% and the Nasdaq lost 1.3%
Trump's tariff threat against one of America's largest trading partners amplified investor worries about how trade tensions will disrupt business and slow global economic growth.
Auto makers, which rely on Mexico as a vital part of their supply chain, retreated. Fiat Chrysler (FCA) lost 5%, while General Motors (GM) and Ford (F) lost 3% apiece.
The news also rocked the Mexican peso, which tumbled 3.4% against the US dollar.
The rising trade tensions spilled over into the energy market, driving US oil prices 2.8% lower to $54.93 a barrel.
Uber (UBER) jumped 4% after its debut earnings report as a public company revealed a loss of $1 billion during the first quarter. Gap (GPS) plunged 15% after reporting poor earnings and sinking sales at its namesake and Old Navy brands.
All three major US indexes have declined more than 6% in May. It would be their first negative month of 2019. The Dow is also on track to decline for the sixth week in a row, the longest slump since June 2011.
7:31 a.m. ET, May 31, 2019
Christine Romans: Investors are waking up to trade war's risks
We're entering a new phase of President Donald Trump's trade wars. As political economist Greg Valliere wrote this morning in a note, "These tariffs break new ground -- they're political, a punishment to Mexico for not stopping the surge of immigrants from Central America."
Republicans haven't pushed back on Trump's trade strategy. Until now. This is from Iowa Senator Charles Grassley: "Trade policy and border security are separate issues. This is a misuse of presidential tariff authority." Retaliation from Mexico, of course, could hurt Iowa's farmers and pork producers.
Meanwhile, the fear around the world this morning is that tariffs will hurt both countries. Weakening the Mexican economy, of course, could have the opposite effect on illegal immigration than Trump wants. But the president is clearly devoted to his tariffs-as-punishment strategy. "This finally could awaken the slumbering U.S. Congress," Valliere wrote.
I've said for some time that markets have been resilient in the face of what could be a years-long trade war with China, potential tariffs down the road on European and Japanese cars, and now new tensions with Mexico. But the past month has been a different story. For investors, May has been a reckoning.
7:08 a.m. ET, May 31, 2019
Paul Krugman: 'This would be stagflationary'
New York Times columnist and Nobel laureate Paul Krugman weighed in on the new tariff threat.
7:05 a.m. ET, May 31, 2019
May hasn't been friendly to investors
Welcome to the last day of May. It's been a lousy month in markets. From two of my favorite market data geeks, CNN Business' Christine Romans and David Goldman:
The Dow is on track to close lower this week — for the sixth week in a row. That would be the worst losing streak since summer 2011.
With one day left, the Dow has fallen 5.35% in May. The last time stocks fell in May was in 2012, when the Dow fell 6.21%. It's the worst month since December, when the Dow fell 8.66%. Remember December?
6:39 a.m. ET, May 31, 2019
'Exactly the wrong move.' That's what America's business lobby says about tariffs on Mexico
The US Chamber of Commerce, the most powerful business lobby in Washington, wasted no time responding to President Donald Trump's threatened tariffs on Mexican imports.
Neil Bradley, the chamber's chief policy officer:
"Imposing tariffs on goods from Mexico is exactly the wrong move. These tariffs will be paid by American families and businesses without doing a thing to solve the very real problems at the border. Instead, Congress and the president need to work together to address the serious problems at the border."
12:10 p.m. ET, May 31, 2019
Carmakers hit as Trump threatens new tariffs
Shares in global automakers slumped sharply on Friday after President Donald Trump said he would impose a 5% tariff on goods from Mexico, a move that could affect a huge number of vehicle exports.
Companies including Volkswagen, Fiat Chrysler, Nissan, Kia, Toyota, Mazda and Honda have plants in Mexico, which produce cars for export markets including the United States. US automakers Ford and General Motors also have factories in Mexico.
Shares in Mazda (MZDAF) plunged more than 7% in Japan. Nissan's (NSANF) stock dropped over 5%, while Honda (HMC) dipped 4% and Toyota (TM) shed nearly 3%. Volkswagen stock plunged 3.6% in Frankfurt and Fiat Chrysler gave up nearly 5% in Milan.
According to Goldman Sachs, the United States imports roughly $93 billion of goods related to autos each year from Mexico. That's by far the most valuable category shipped north from Mexico.
6:32 a.m. ET, May 31, 2019
Checking in on global markets
A tariff threat from President Donald Trump is roiling markets again.
US stock futures and global stock markets, including shares of Asian and European automakers, tumbled Friday after President Donald Trump said the United States will impose a 5% tariff on all Mexican imports.
Japan's Nikkei slumped 1.6%, while South Korea's KOSPI was mostly flat. Markets in Europe also opened lower. Britain's FTSE 100 index fell 0.9%. Stocks in Germany shed 1.7%, and in France they dipped 1.3%.
Stock futures indicated that those losses would extend to the US. The Dow is poised to fall 260 points, or 1%, when markets open. The S&P 500 is tracking similar losses, while the Nasdaq could drop 1.3%.
The Mexican peso is down more than 3% against the US dollar.
US markets finished modestly higher yesterday, recovering a small portion of the week's losses. But despite the gains, all three major indexes are still down on the week.
The Dow is on track for its sixth consecutive weekly decline, its longest streak of that kind since June 2011.
6:41 a.m. ET, May 31, 2019
Gap's stock is getting crushed. Even Old Navy had tepid sales
A tough week for US retailers drags on.
Gap (GPS) shares are down more than 13% in premarket trading after the company reported plunging sales on Thursday. Even its Old Navy brand, which is typically a strong performer, had a disappointing start to the year, with sales down 1%.
Big box retailers and dollar stores are the lone bright spots. Profits at Costco (COST) beat expectations. 
Dollar General (DG) said sales are strong and customer traffic is up.
Even so, a recent string of bad results from retail companies, including Abercrombie & Fitch (ANF) and Canada Goose (GOOS), are sparking fears about consumer spending.
New data could provide more information. US personal income and personal spending data for April comes out at 8:30 a.m. ET today.
And a final read of the University of Michigan's consumer sentiment index for May hits at 10 a.m. ET.