What's moving markets today: June 10, 2019
10:05 a.m. ET, June 10, 2019
Apple's cash pile shrank by 17% in the last year
The top five cash-rich companies — Apple (AAPL), Microsoft (MSFT), Alphabet (GOOGL), Amazon (AMZN) and Facebook (FB) — drew down their war chests by a combined $111 billion, according to a new Moody's report.
Apple alone held $245 billion in cash at the end of 2018, down nearly 17% from the year before.
Still, Apple's cash pile is bigger than the aggregate amount of cash of every non-tech industry, according to the firm.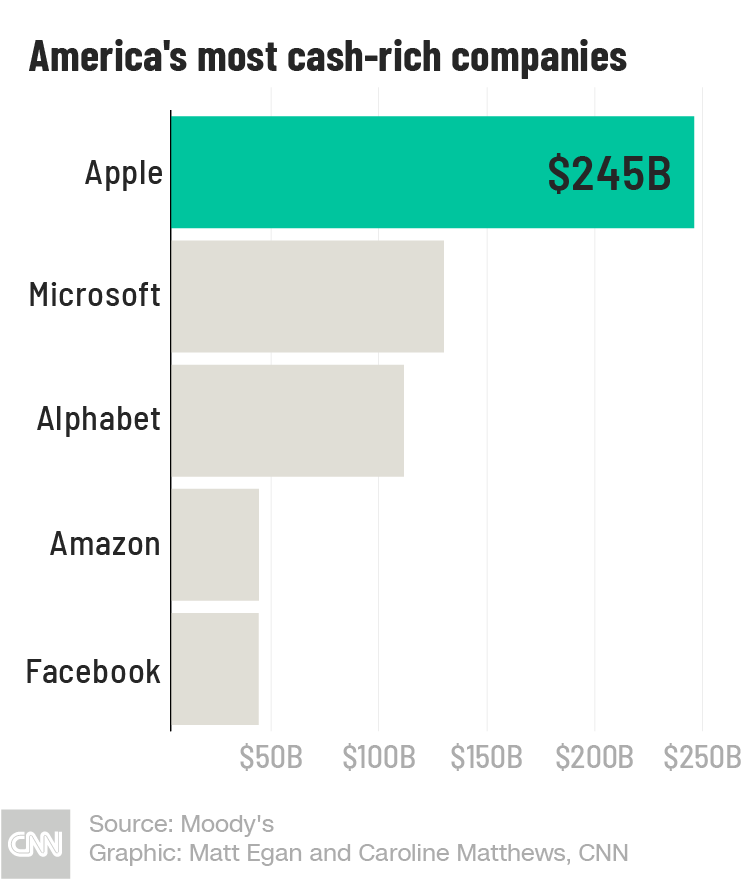 The report revealed that US non-financial companies were sitting on $1.69 trillion at the end of 2018.
While that's an epic amount of money, it's down by 15% from the record $1.99 trillion at the end of 2017.
9:42 a.m. ET, June 10, 2019
Wall Street rallies after Mexico tariffs avoided
Wall Street is celebrating after the United States and Mexico reached a deal that avoids opening a new front in the Trump administration's global trade war.
The rally comes after US markets surged last week, posting their strongest performance of 2019.
In addition to the Mexico deal that averts tariffs, markets were boosted by a pair of big deals.
United Technologies (UTX) and Raytheon (RTN) traded flat after reaching a blockbuster deal to join forces in an all-stock merger.
Tableau Software (DATA) soared 36% after reaching a deal to be sold to Salesforce (CRM) for $15.7 billion. Salesforce dropped 3%.
9:00 a.m. ET, June 10, 2019
Christine Romans: Be careful what you what you wish for on rate cuts
Hurray, markets look like they'll open higher! Last week was the best week for blue-chips all year! The Dow was up five days in a row, Yippee!
Not so fast. We just lived through a week of the upside-down logic of Wall Street where bad news is actually good news.
The bad news: The president's trade experiments seem disconnected and unpredictable. A weak US jobs report suggests a potential turning point in business confidence in May, which is the very month investors began to believe the president's trade war with China was not temporary at all.
All the gloom has investors betting the Federal Reserve might have to backstop the US economy with a rate cut later this summer or later this year.
Anyone who has been investing for the past decade knows Wall Street loves cheap money and stock investors love the idea the Fed Chief Jay Powell will be the shock absorber for the president's trade shocks.
But be careful what you wish for: When the Fed cuts rates, it's usually for a bad reason. A weakening economy. A financial crisis. And usually, when the Fed cuts rates, it begins cutting them from levels a lot higher than where we are today. It doesn't give policymakers much room to maneuver.
8:05 a.m. ET, June 10, 2019
Kraft Heinz says it's 'returning to a path of normalization'
Kraft Heinz (KHC) is moving higher in premarket trading, per our Paul R. La Monica:
As he previously reported, the company is in trouble.
Investors are growing concerned that the company focused too much on cost cutting following the 2015 merger of Kraft and Heinz and not enough on finding new, innovative food products that younger consumers would actually want to buy and eat.
The stock is down 33% for the year.
7:47 a.m. ET, June 10, 2019
Salesforce to buy data company Tableau for $15.7 billion
Salesforce (CRM) announced plans to buy Tableau Software (DATA) in a $15.7 billion all-stock deal.
"Tableau helps people see and understand data, and Salesforce helps people engage and understand customers," said Salesforce CEO Marc Benioff in a statement.
Tableau shareholders will get 1.103 shares of Salesforce, according to the terms of the deal.
Stock in the data analytics company soared 34% in premarket trading, while Salesforce's slipped 3%.
The deal comes just a few days after Alphabet (GOOGL) said it has agreed to acquire Looker, a business intelligence platform, for $2.6 billion in cash. The acquisition will help bolster its cloud computing division by providing customers with more powerful data analytics.
11:16 a.m. ET, June 10, 2019
Beyond Meat exec says it's going through a 'breakthrough moment'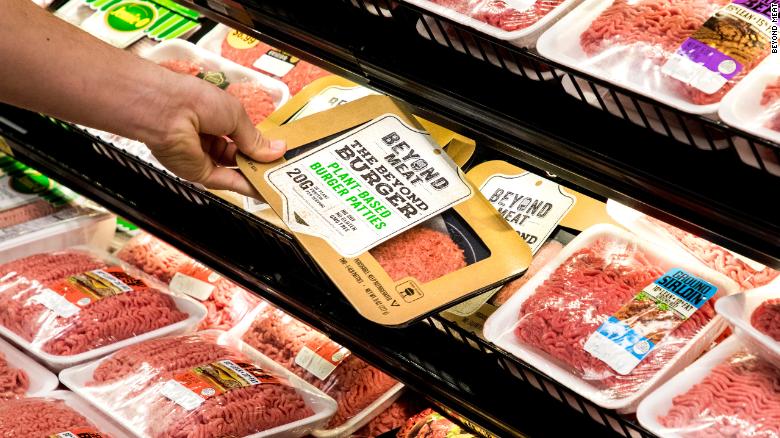 Beyond Meat (BYND), the plant-based protein company, is on fire.
The company had a wildly successful initial public offering last month. Since then, its stock price has increased dramatically with shares trading more than five times the $25 IPO price.
On Friday, the stock gained 40% following its first-ever earnings report. And it's continuing to move higher: Shares are rallying 20% in early trading on Monday.
Beyond's executive chair Seth Goldman told CNN Business' Danielle Wiener-Bronner over the weekend that the company is experiencing a "breakthrough moment."
6:28 a.m. ET, June 10, 2019
Top Uber execs are leaving one month after disappointing IPO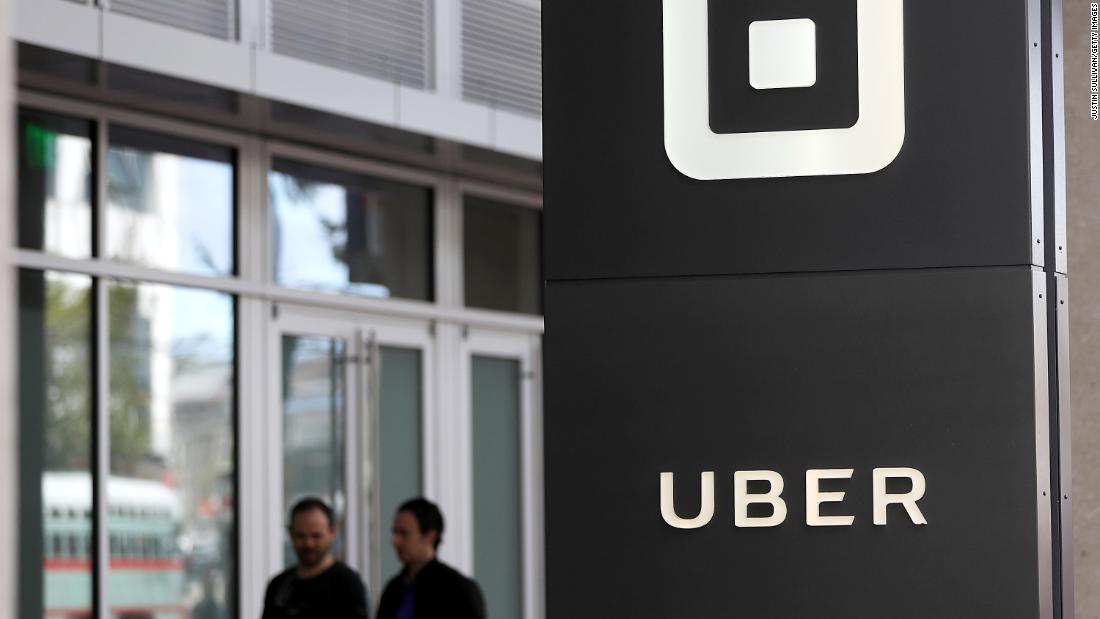 Two of Uber's top executives are leaving the company one month after its lackluster Wall Street debut.
Uber (UBER) said late Friday that its chief operating officer, Barney Harford, and chief marketing officer, Rebecca Messina, will depart the company.
The stock is down 1% in premarket trading.
6:38 a.m. ET, June 10, 2019
UK economy contracts. Thank you, Brexit uncertainty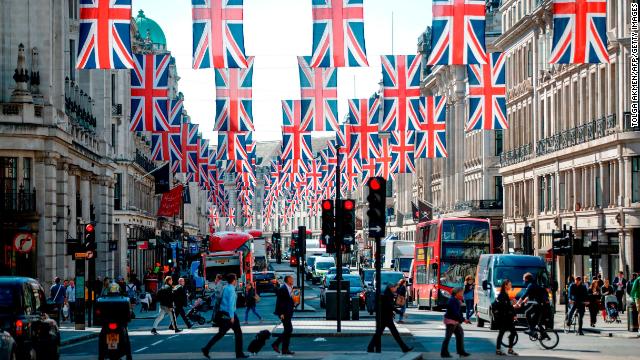 GDP in the United Kingdom fell by 0.4% in April as Brexit uncertainty continued to take a toll.
The Office for National Statistics pointed to a steep drop in car production due to planned shutdowns put in place around the original Brexit deadline.
It also cited broader manufacturing weakness. Stockpiling faded as the date of Britain's departure from the EU was pushed back again.
6:13 a.m. ET, June 10, 2019
A 'merger of equals'
United Technologies (UTX) and Raytheon (RTN) have agreed to merge, creating an aerospace and defense powerhouse.
The companies currently have a market value of $166 billion. The deal, announced Sunday, is one of the biggest corporate mergers of 2019.
It won't include United Technologies' elevator and air conditioning units, which the company will spin off in 2020.
How investors are reacting: Shares of Raytheon (RTN) are tracking 2.8% higher in premarket trading, while stock of United Technologies (UTX) is up 5%.