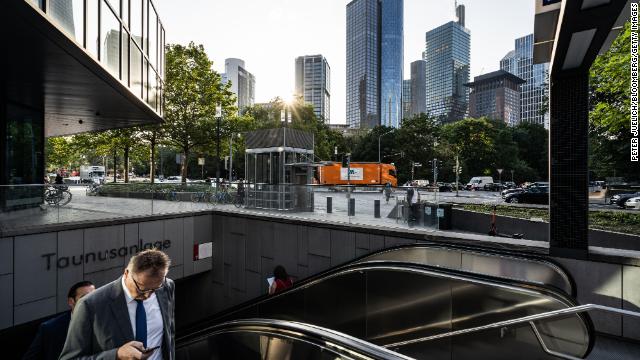 The financial world is upside down. Need further proof? Check out Germany's bizarre bond sale.
Germany sold nearly $1 billion worth of 30-year bonds at a negative yield on Wednesday. It's reportedly the first time in history that Germany has sold debt at that duration with negative yields.
During normal times, rich countries like Germany can borrow money at affordable rates, paying out several percentage points of interest to investors. But these aren't normal times.
Central banks in Europe and Japan have taken the extreme step of setting subzero interest rates. That has allowed countries like Germany to pay zero interest, or even get paid to borrow.
There is now a record $16 trillion of negative-yielding debt around the world, according to Bloomberg.
"The low level of interest rates is a global phenomenon that affects all industrial countries alike," a spokesperson for Germany's finance ministry said in a statement. The spokesperson added that Germany has used low rates "in a responsible way," such as by investing record sums in innovation.
Even countries with shaky balance sheets have been able to borrow cheaply. Look at Greece, a country on the verge of collapse earlier this decade. Greece's 10-year bond yield has collapsed from a crisis-high of 40% in 2012 to just 1.9% today -- roughly the same as America's.
Germany's historic bond sale drew the ire of President Donald Trump, who used it to continue to press the Federal Reserve to sharply lower interest rates.