What's moving markets today: September 4, 2019
4:10 p.m. ET, September 4, 2019
Stocks finish higher: Dow clips 239 points and Nasdaq gains 1.3%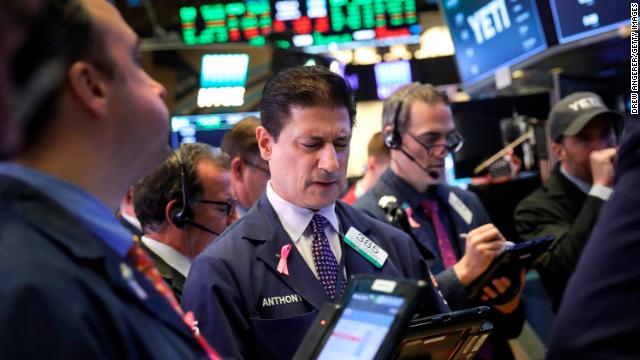 US stocks closed sharply higher, reversing Tuesday's slide.
Hong Kong's withdrawal of a controversial extradition bill sparked optimism across Asian markets to get going. Then European markets read the political machinations in London to mean that a no-deal Brexit was less likely. All this spelled a rally session for US stocks.
Intel (INTC) was by far the strongest performer in the Dow, finishing more than 4% higher. Technology was also the strongest sector in the S&P.
Shares of Slack (WORK), which is due to report after the bell, closed 8% higher.
2:28 p.m. ET, September 4, 2019
Stocks are going to fall, and investors aren't ready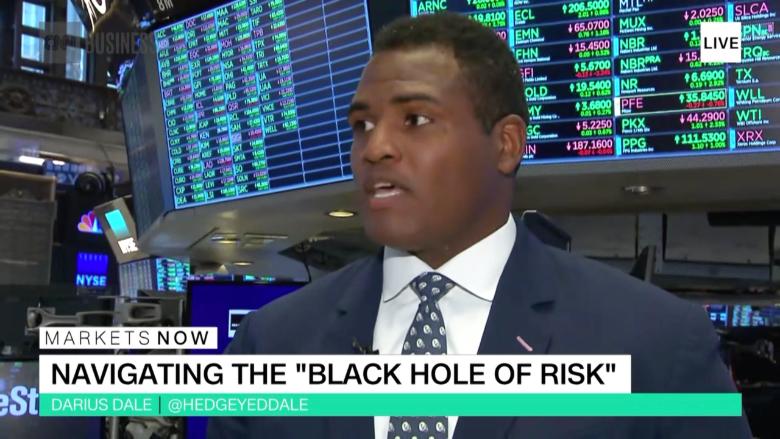 Both the global and the domestic economic cycles are slowing down, and investors holding risk assets such as stocks aren't ready for it, said Darius Dale, senior global macro analyst for Hedgeye, to CNN Business' Alison Kosik on the digital live show Markets Now.
Dale's forecast for the market is clear: "It's going down."
Even though stocks are just 3% to 4% off record highs, year-over-year the Dow and S&P 500 are flat. But investors who have been defensively positioned, "have been making money hand over fist," Dale said.
While the trade war with China has an impact on day-to-day trading, the market is ultimately trading based on fundamentals like the economy and the data.
"If you focus on the [economic] cycle you don't have to wake up in fear because of some Trump trade tweet or headline," said Dale.
1:28 p.m. ET, September 4, 2019
WeWork may be next IPO flop after Uber and Lyft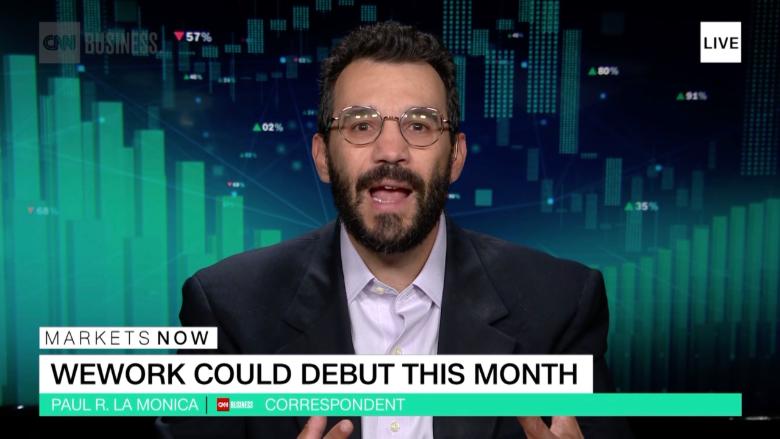 WeWork may be nothing more than a real estate company that's trying to position itself as a red hot tech startup -- with the mountain of losses to boot. That's what I told CNN Business' Alison Kosik on Wednesday's "Markets Now" live digital show Wednesday.
Growing skepticism about the We Company's upcoming IPO seems to be having an impact on fellow unprofitable unicorns that have already made their debut on Wall Street, most notably ridesharing rivals Uber (UBER) and Lyft (LYFT) as well as corporate messaging darling Slack (WORK).
Shares of all three have tumbled since they began trading, although Slack's shares were rallying Wednesday ahead of their first "earnings" report as a public company. That seems a bit odd to me. I've often referred to Slack as little more than AOL Instant Messenger on steroids.
1:26 p.m. ET, September 4, 2019
Markets will stay volatile in September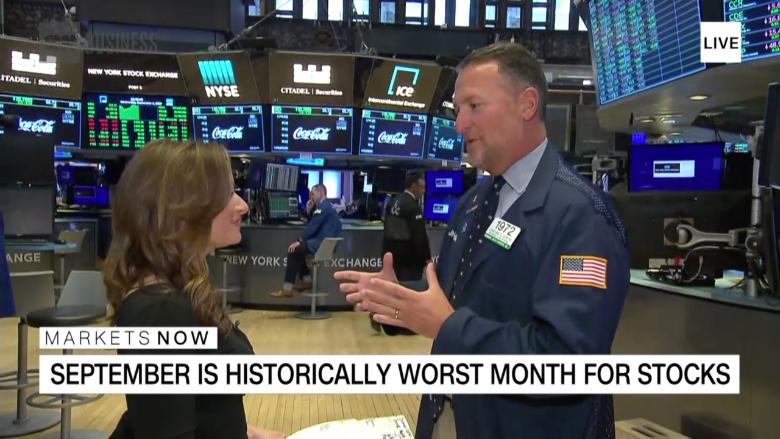 The trade-induced volatility that whipsawed markets over the summer will continue in September, Jon Corpina, senior managing partner at Meridian Equity Partners, told CNN Business' Alison Kosik on the digital live show Markets Now.
"We're still talking about China and tariffs, we're still talking about the Fed and interest rates," Corpina said. "I think September will be a choppy month for us."
Going forward, China will continue to be the main focus for investors, while stocks will likely remain sensitive to global headlines.
The Federal Reserve recently cut interest rates for the first time since the financial crisis in 2008. It meets again on September 18, and is expected to cut rates again, according to the CME's FedWatch tool.
11:55 a.m. ET, September 4, 2019
Stocks hold onto their gains at midday. Nasdaq is up 1.1%
By midday, the Dow and the broader stock market had held on to their strong gain in a recovery from Tuesday's thrashing.
The Dow traded 0.8%, or 210 points, higher. The S&P 500 was 0.9% up and the Nasdaq Composite traded 1.1% higher.
Investor sentiment was helped by developments in Hong Kong overnight, where a controversial extradition bill that started the city's protests will reportedly be withdrawn.
Wall Street is benefiting from the broad uptick global market sentiment. The remarks from Hong Kong's Lam should in a roundabout way assist help the US-China trade talks, as previously, President Trump called on Beijing to behave in a 'humane' fashion in relation to the situation," wrote David Madden, market analyst at CMC Markets, in a note.
10:23 a.m. ET, September 4, 2019
Trade war will take America to the 'brink of recession,' UBS warns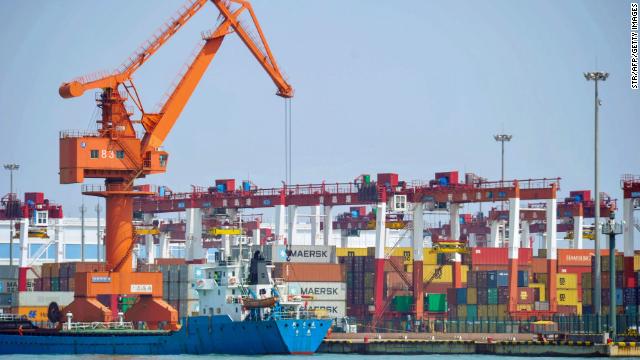 The United States economy will grind to a near-halt just before the 2020 presidential election because of the trade war with China, UBS warned.
The increasingly pessimistic Swiss bank slashed its GDP forecast for the first quarter to 0.5%, and to 0.3% for the second quarter. That would mark a sharp slowdown from growth of 3.1% during the first three months of 2019.
"A further shock to the economy could result in contraction," UBS chief US economist Seth Carpenter wrote in a report on Monday.
The report, titled "Tariffs take us to the brink of recession," blamed the looming slowdown on the escalating trade battle with China. UBS dimmed its forecast for consumer and business spending as well as job growth.
"This forecast puts the specter of a recession front and center," Carpenter wrote.
Trade war fears were amplified on Monday by a new report showing that US manufacturing activity contracted in August for the first time in three years. Reflecting the impact from tariffs, new export orders plunged to the weakest level since 2009.
UBS warned that the trade war could cause a drop in oil prices that sets off a recession in the United States, which is the world's leading oil producer.
"The slower the growth of the economy, the smaller the shock of any kind is needed to tip an economy into a recession," Carpenter wrote.
9:35 a.m. ET, September 4, 2019
Stocks rebound from Tuesday's losses. Dow jumps 200 points
US stocks bounced higher at Wednesday's open, clawing back ground after Tuesday's losses.
The Dow opened 0.8%, or 200 points, higher.
The S&P 500 rose 0.7%.
The Nasdaq Composite kicked off 0.9% higher.
Shares of Starbucks (SBUX) dropped more than 2% at the opening bell, after the company lowered its outlook for next year.
American Eagle (AEO) also downgraded its outlook. Its stocks opened 11% lower.
9:59 a.m. ET, September 4, 2019
Starbucks shares slide after cutting 2020 growth outlook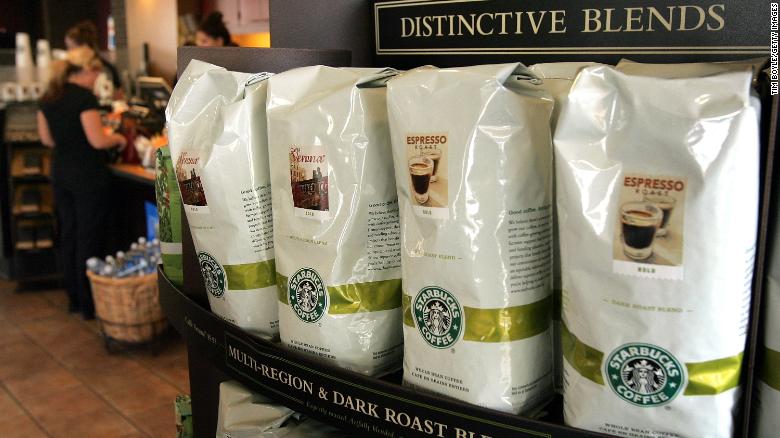 Starbucks (SBUX) shares slumped more than 3% in early trading after it said its 2020 earnings growth won't be as strong as expected.
The world's largest coffee chain said 2020 growth will be below its original forecast of 10% or more. Starbucks revealed the updated forecast in a presentation at the Goldman Sachs Global Retailing Conference.
The stock is up 45% for the year. Starbucks' next earnings release will be in late October.
9:04 a.m. ET, September 4, 2019
Trade deficit shrinks in July
The US trade deficit decreased to $54 billion in July as exports went up and imports went down, according to the Bureau of Economic Analysis.
That is a drop of $1.5 billion versus June, but less than economists had expected.
Stock futures remained upbeat following the data release.