What's moving markets today: September 18, 2019
4:29 p.m. ET, September 18, 2019
Jay Powell opens the door to start growing the Fed's balance sheet
Federal Reserve Chairman Jerome Powell on Wednesday said the US central bank may need to increase the size of its balance sheet to relieve stress in the overnight lending market.
"It is certainly possible we will need to resume the organic growth of the balance sheet sooner than we thought," Powell told reporters during a press conference.
After overnight lending rates spiked this week, the New York Federal Reserve pumped $128 billion into the market on Tuesday and Wednesday.
Wall Street firms have been predicting the Fed will need to take a further step by increasing the size of the balance sheet. In other words, the Fed will need to start buying bonds again.
"We'll call it QE-lite," said Jim Bianco, CEO of Bianco Research, referring to the Fed's crisis-era bond buying program known as quantitative easing. "Functionally it looks exactly the same, but they are doing it for a different reason: To provide liquidity."
UBS notes that the Fed's balance sheet always grew prior to the crisis, in line with the growth of currency. The firm expected it would happen again, just not until early 2020.
The spike in overnight lending rates this week shows the Fed may have underestimated how much cash is needed to keep the financial system operating smoothly.
Powell acknowledged there is "real uncertainty" around this question and said the Fed will "learn quite a lot in the next six weeks" about the appropriate level of reserves.
4:06 p.m. ET, September 18, 2019
Stocks finish mixed after Fed cut rates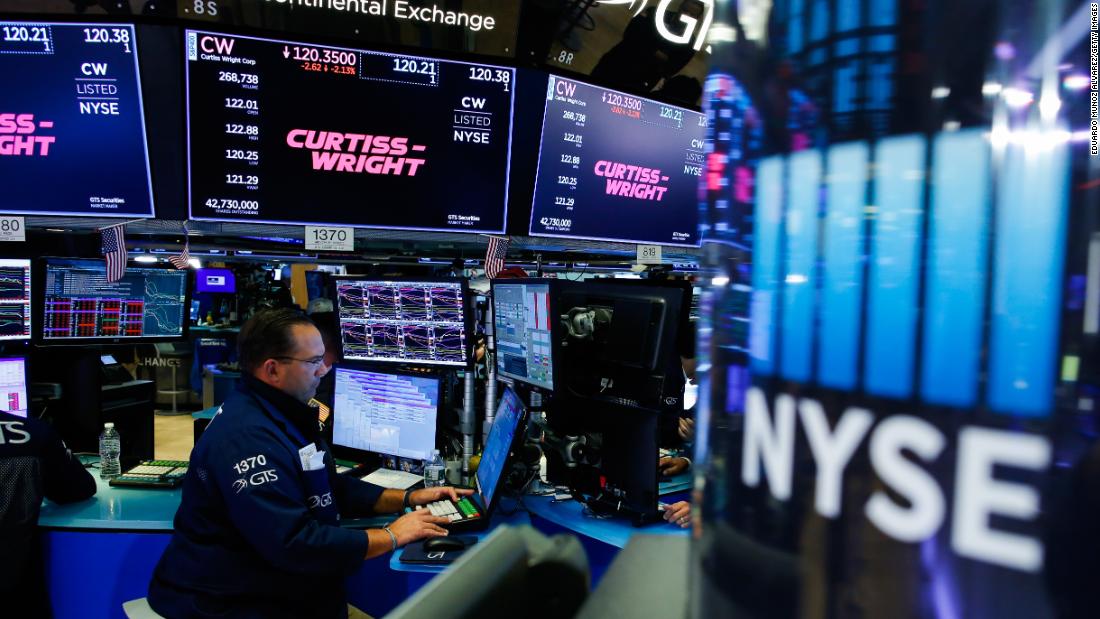 US stocks finished mixed on Wednesday, after the Federal Reserve cut interest rates by a quarter percentage point for a second time in a row.
Stocks spent most of the day in the red and fell to their session lows following the Fed decision. While opinions on the Federal Open Market Committee differed, the average Fed forecast doesn't account for any further rate cuts this year.
The Dow closed 0.1%, or 37 points, higher.
The S&P 500 finished little changed in positive territory.
The Nasdaq Composite closed down 0.1%
FedEx (FDX) was the worst performer in the S&P, closing nearly 13% lower and recording its worst day since December 2008. The company reported worse than expected earnings and lowered its outlook late Tuesday.
3:48 p.m. ET, September 18, 2019
Powell: I don't think we'd do negative interest rates
If the economy weakens more, the Fed is prepared to be "aggressive," Fed Chair Jerome Powell said at a press conference today.
Does that mean the United States would drop rates into negative territory like much of Europe? Don't count on it.
"Negative interest rates is something we looked at during the financial crisis and decided not to do," Powell noted. "If we decided to find ourselves at the lower bound again, I think we should use large-scale asset purchases. I do not think we would look at negative rates."
The Fed bought trillions of dollars of Treasuries and other assets during the Great Recession as it took rates to near zero. That helped end the recession and sparked the longest economic expansion in history.
Powell noted Europe's negative rates are pulling down US Treasury yields. The high integration of global capital markets is to blame for that. The low rates in Europe and Japan are a symptom of slowing global growth, Powell added.
3:28 p.m. ET, September 18, 2019
Dow slides as much as 200 points as Powell speaks
After an initially muted reaction, stocks extended their losses as the Federal Reserve's press conference got under way.
At its worst, the Dow was more than 200 points lower.
As the press conference concluded, the Dow was down 60 points, or 0.2%. The S&P 500 is 0.3% down and the Nasdaq Composite is 0.5% lower.
3:07 p.m. ET, September 18, 2019
'I'm not concerned' about boosting market liquidity this week, Powell says
Investors kept a keen eye on the New York Federal Reserve's liquidity boost today and yesterday, but Fed Chairman Jerome Powell isn't concerned.
Liquidity in overnight lending markets was squeezed at the start of this week, amid an oversupply of US Treasury bonds and companies withdrawing cash to pay their quarterly tax bills. The New York Fed spent more than $125 billion in the overnight borrowing markets ensured crucial bank lending is running smoothly.
"We were well aware of tax payments and settlement of large bond payments," he said. "The response to that was stronger than we expected. I'm not concerned about that."
Powell said that the liquidity squeeze won't have implication for the wider US economy.
2:54 p.m. ET, September 18, 2019
If the economy takes a turn for the worse, we'll have to cut rates again, says Powell
Is this the last rate cut this year? Or is another one coming?
In his remarks at a press conference today, Fed Chair Jerome Powell said the Fed expects the economy to remain strong and inflation to stay around its 2% target. Another small cut or two might be warranted in the future.
But he doesn't think the Fed needs to keep cutting for many more months.
"Generally Fed participants think these will be achieved with modest adjustments to the federal funds rate. If the economy does turn down, then a more extensive series of rate cuts could be appropriate. We don't see that; we don't expect that."
2:33 p.m. ET, September 18, 2019
For Trump, the Fed's rate cut isn't good enough
Market expectations for a rate cut had fallen in recent days, and still the central bank lowered rates. But this wasn't good enough for President Donald Trump.
Trump has long been critical of the central bank and its chairman, Jerome Powell, demanding lower rates to boost the economy. Last week, Trump even called for rates of zero or less.
2:54 p.m. ET, September 18, 2019
Three Fed members dissent from today's decision
It's not exactly a civil war in the ranks of the Federal Reserve. But three members of the central bank's rate-setting Federal Open Market Committee voted against the decision to lower interest rates by a quarter of a percentage point.
Such dissension is highly unusual. In fact, the last time this many members voted against the majority was in September 2016 -- when three Fed hawks voted for a rate hike. At the time, the Janet Yellen-led Fed decided to hold rates steady.
Interestingly, two of the Fed members that voted for the increase three years ago -- Kansas City Fed chief Esther George and Boston Fed president Eric Rosengren -- indicated they would have preferred that the Fed held rates steady this time around. (Cleveland's Loretta Mester was the other dissenter in 2016 and she too wanted a rate increase back then.)
But at Wednesday's meeting, the other dissenter didn't side with George and Rosengren. St. Louis Fed president James Bullard, one of the more dovish members of the FOMC, said he wanted the FOMC to cut rates by a half of a percentage point.
These dissents clearly show that the Fed is just as confused about the state of the US (and global) economy as is the rest of the market.
Inflation pressures remain muted ... but the recent spike in oil prices could change that. More tariffs could thrust the economy into recession ... but the US and China have each taken steps to ease tensions in the trade war. With that in mind, it's no surprise that the Fed will need to remain data dependent -- even if President Trump keeps complaining about Fed chair Jerome Powell on Twitter. Buckle up!
2:23 p.m. ET, September 18, 2019
Dovish but not dovish enough: Why more cuts might not be coming
Lowering interest rates is the very definition of dovish monetary policy. Yet, the Fed's decision to cut rates by a quarter percentage point wasn't seen as dovish enough.
This lends more credence to the idea that the central bank is just making a mid-cycle adjustment to its policy, rather than embarking on a new easing cycle.
Powell has so far said as much, stressing that the bank was considering an array of factors in making its decisions.