Global markets rocked by escalating trade fights
4:29 p.m. ET, August 2, 2019
Nasdaq logs worst week of the year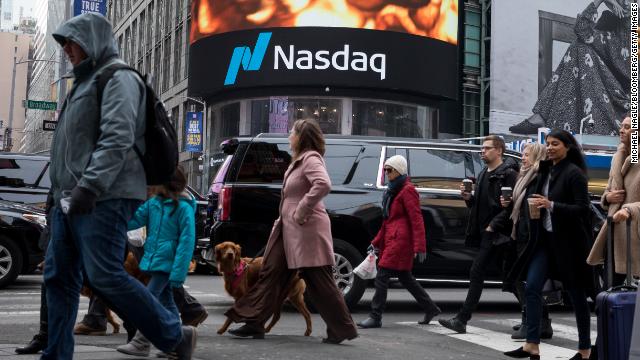 The Nasdaq Composite fared the worst among major US stock benchmarks today.
Even as the Dow and the S&P 500 bounced back from their worst levels of the day, the tech-heavy Nasdaq remained sharply lower, closing down 1.3% for the day and 3.9% lower for the week. It was its worst weekly performance since December.
The next round of US tariffs on Chinese imports will hit consumer products like computers and iPhones. Those items could get more expensive, depending on whether the producers decide to pass down the additional costs to the consumer.
The tariffs could deal a blow to Apple's (AAPL) iPhone sales, shaving off between 6 million and 8 million in the United States, according to Wedbush Securities technology analyst Dan Ives.
Chipmakers are also getting hit. Intel (INTC), Qualcomm (QCOM) and Advanced Micro Devices (AMD) have all said that the trade spat between Washington and Beijing, as well as restrictions on doing business with Chinese tech-giant Huawei, is weighing on their bottom lines and forecasts.
4:08 p.m. ET, August 2, 2019
Stocks end the week lower amid new trade tensions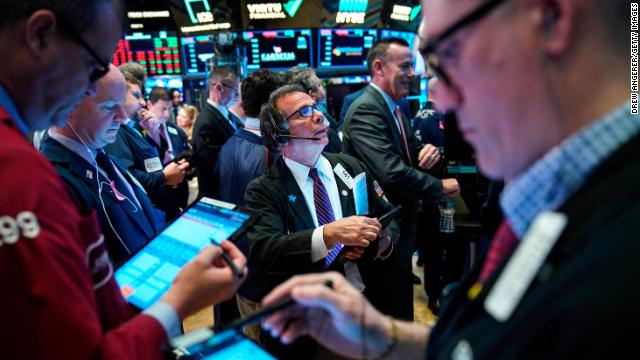 US stocks closed in the red on Friday after escalation in the trade war with China, making it the worst week of the year for the S&P 500 and the Nasdaq Composite. For the Dow, it was the worst week since May.
Companies reliant on global trade were hit particularly hard on Friday.
Cisco Systems (CSCO) was the weakest Dow stock, closing down 3.9%. Nike (NKE), Apple (AAPL) and IBM (IBM) also ended in the red.
1:17 p.m. ET, August 2, 2019
Bond yields drop to their lowest levels since 2016
Markets are in disarray since yesterday's announcement of new tariffs on Chinese imports.
Yields on US Treasuries are slipping in response to the renewed uncertainty about trade. There are a few reasons for that.
First, bond yields track future interest rate expectations.
A continued trade conflict with China will keep business investment suppressed in the United States, which could weigh on economic growth. The new tariffs are also targeting consumer goods like toys and apparel at a time when the American consumer has been a strong driver of GDP growth. This could mean that the Federal Reserve will be more inclined to cut interest rates again in September to boost the economy.
Second, US Treasuries are a safe haven investment.
In times of market turmoil, investors turn to America's government bonds. With more demand, prices rise and yields fall.
Today the yield on 10-year Treasuries hit a level not seen since November 2016. It last stood at 1.8640%.
11:45 a.m. ET, August 2, 2019
As stocks plunge again, investors play defense
With apologies to the late Mister Rogers -- it's not another beautiful day in Wall Street's neighborhood. But investors are finding some happy places to hide out as the broader market tumbles again. There's a flight to safety going on, and big dividend payers are benefiting.
As of midday, just six of the Dow's 30 stocks were trading higher: Merck (MRK), Verizon (VZ), Coca-Cola (KO), McDonald's (MCD), Travelers (TRV) and Boeing (BA).
What do they all have in common? Their yields are higher than the puny 1.87% that investors are currently getting from the 10-Year US Treasury.
The trade war is likely to hurt corporate profits, but investors can still seek solace in companies that will pay them a steady dividend, even if the economy slows.
10:57 a.m. ET, August 2, 2019
Dow drops 300 points as trade war escalates
Trade war fears are back, and they're back with a vengeance.
Stocks are bracing for a dramatic finish this week, after President Donald Trump announced new tariffs on Chinese imports yesterday.
The Dow (INDU) shed 300 points on Friday. The S&P 500 (SPX) and the Nasdaq Composite (COMP) slid 1.2% and 1.9% respectively. The S&P and Nasdaq are on track for its worst week since December. For the Dow, it is shaping up to be the worst week since late May, according to Refinitiv.
11:54 a.m. ET, August 2, 2019
Day 2 of market turmoil from China tariff threat: Stocks open lower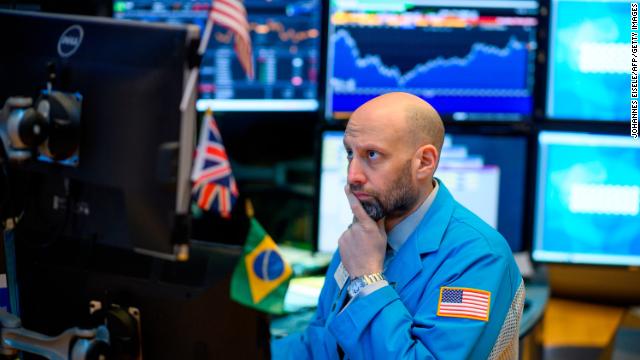 US stocks opened in the red on Friday, adding on to the losses incurred after President Donald Trump announced new tariffs on Chinese imports.
Worries about trade and global economic growth are back with a vengeance and overshadowed a healthy July jobs report that was in line with expectations.
Chevron (CVX) and Exxon Mobil (XOM) reported second-quarter results before the bell, both beating earnings expectations. Exxon shares climbed 0.5%, while Chevron stock rose 0.8% at the open.
On Thursday, energy stocks got slammed after US oil prices settled down 8%, the steepest drop since 2015.
10:02 a.m. ET, August 2, 2019
How Democrats and Trump are the same on trade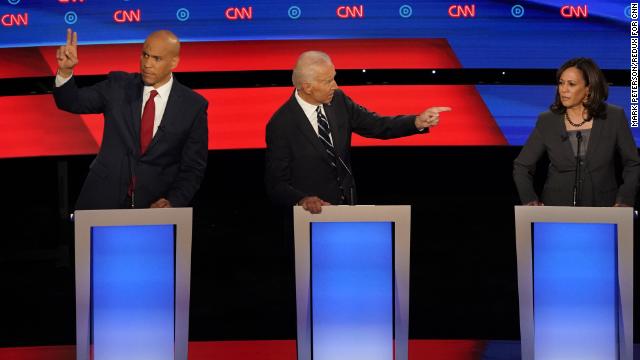 President Donald Trump has stepped up his trade war with China, a move that some economists and market strategists fear could hurt jobs, raise prices and drag down stocks.
Despite that, strategists at UBS noted that none of the major Democratic candidates for president have expressed any significant reservations about Trump's trade policy. The topic was not a focus of either of the two debates that aired on CNN earlier this week.
The absence of a more robust discussion on trade—at least thus far—is revealing and attributable to the fact that most of the Democratic field is more or less aligned with the general thrust of the current administration's trade policies," said analysts at UBS Global Wealth Management's Chief Investment Office in a report.
The UBS analysts argue that "the Democratic candidates are keenly aware of the mixed feelings that global trade generates in the American heartland and in particular among voters in pivotal Midwestern states."
In other words, UBS expects the field of Democratic contenders to criticize Trump's bombastic tweets and the way he communicates in general -- but not the tariffs per se.
We are inclined to believe that the challengers will continue to focus on the abrupt manner in which the president has imposed the tariffs, rather than the substance of the policy," the UBS strategists wrote.
9:06 a.m. ET, August 2, 2019
China has no easy option for retaliation
China has vowed "necessary countermeasures" against the new US tariffs. Here's a look at its main options — and why none of them are easy.
Hit back with tariffs: China could impose retaliatory tariffs on US goods, or increase existing tariffs as it has done in the past. But Beijing has a much smaller target to aim at than Washington because it imports only $120 billion worth of US goods.
Restrict rare earths supply: China controls over 90% of the production of 17 rare earth minerals vital to the tech industry, and has hinted it could curb exports to hurt major US companies. That would, however, hurt trading partners such as Japan too.
Devalue the yuan: China could let the value of its currency fall to make exports cheaper and dilute the impact of tariffs. Past experience shows that could spark an outflow of money from China and hurt its economy. And there's no going back.
Hurt US companies: American giants from Apple to Starbucks are hugely dependent on the Chinese market, and Beijing could tighten the screws by adding restrictions and regulatory hurdles. But China's slowing economy needs the jobs and investment that these companies bring with them, and Beijing doesn't want to drive them away.
Read more about China's possible retaliation here. 
9:35 a.m. ET, August 2, 2019
Stocks aren't impressed by July jobs report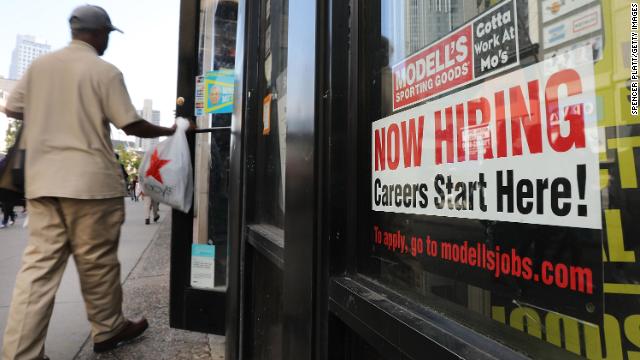 Stock futures remained in the red after the July jobs report met expectations. The trade news seem to have outweighed the domestic developments for now.
The US economy added 164,000 jobs last month, in line with the Refinitiv consensus forecast. The unemployment rate was steady at 3.7%. Average hourly earnings rose 3.2% year-over-year, slightly more than expected.
But despite the healthy report, "an eventual slowdown in jobs growth could be inevitable as business investment has cooled off across the board mainly due to tariffs, and continued uncertainty around a trade deal," said Massud Ghaussy, Nasdaq IR Intelligence Senior Analyst, in emailed comments.