Tesla Model 3 loses Consumer Reports recommendation
4:25 p.m. ET, February 21, 2019
A tough week for Tesla just got worse -- shares close down 4%
It's been a rough couple of days for Elon Musk. Tesla (TSLA) shares fell nearly 4% Thursday after Consumer Reports said it was no longer recommending the company's Model 3 car due to reliability concerns following some customer complaints.
The stock has slid every day this week and is now down more than 12% so far in 2019. But the ding from Consumer Reports may be the least of Tesla's problems. Here's more about what some might call Elon and the Terrible, Horrible, No Good, Very Bad Week.
Tuesday: Musk has to correct a tweet about how many cars the company plans to make this year.
It's particularly embarrassing considering that the SEC slapped Musk on the wrist last September for misleading tweets.
Wednesday: Tesla's general counsel announces his departure only two months after joining the company, raising more concerns about a brain drain and trouble in the executive suite.
Thursday: The stock falls on the Consumer Reports news. Adding insult to injury, two of Tesla's top rivals are enjoying a solid start to 2019. Shares of Ford (F) and GM (GM) are up nearly 15% and 20% this year.
5:34 p.m. ET, February 21, 2019
A brief history of Tesla vs. Consumer Reports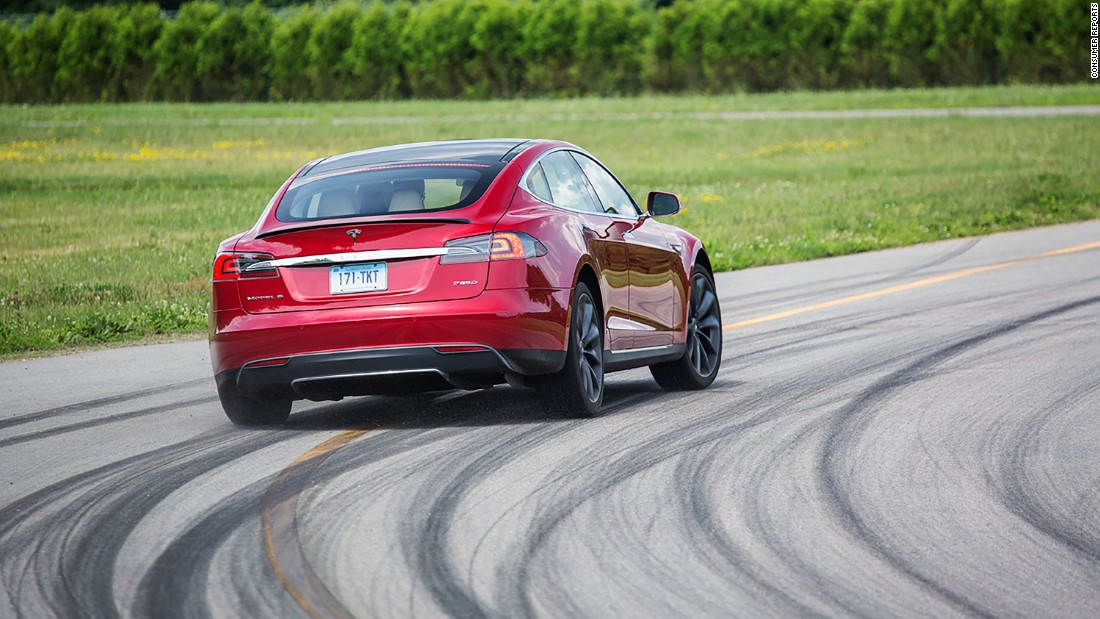 This isn't the first time Consumer Reports gave Tesla low ratings.
Here are some others:
3:29 p.m. ET, February 21, 2019
These are the three cars that just gained Consumer Report's recommendation
Three cars gained a recommendation from Consumer Reports this year because of improved reliability.
They are:
2:04 p.m. ET, February 21, 2019
These are the six cars that just lost Consumer Report's recommendation
The Tesla Model 3 was one of six cars Consumer Reports says it will no longer recommend due to reliability issues.
Here are the others:
The Dodge Charger
Chrysler 300
Acura RDX
BMW 5 Series
Volkswagen Tiguan
2:09 p.m. ET, February 21, 2019
Twitter reacts to Tesla's demotion
Here's how some Tesla (TSLA) fans on Twitter are reacting to the news.
A tweet pointed out an old Musk tweet praising the magazine for its fairness:
This person spotted a high-rating for Tesla that was apparently in a recent issue of "Consumer Reports" magazine:
Lastly, a fan summed up what the internet is waiting for:
1:53 p.m. ET, February 21, 2019
Tesla shares fall after Consumer Reports pulls Model 3 recommendation
Tesla (TSLA) shares fell immediately after the widely respected magazine reported that it is no longer recommending the company's "affordable" mass market sedan.
Shares were down 2%, dipping below the $300 mark. The stock is now down more than 10% this year.
Consumer Reports said that it could no longer recommend the vehicle because Model 3 owners told it had glass defects among other issues.
But Tesla said in a statement to CNN Business that "not only are our cars the safest and best performing vehicles available today, but we take feedback from our customers very seriously and quickly implement improvements any time we hear about issues."