Iceland's Wow Air shuts down
10:24 a.m. ET, March 28, 2019
Wow CEO on his customers: "I had faith until 7 a.m."
More from Wow Air CEO Skuli Mogensen, via Icelandic state broadcaster RUV:
Q: How many people had bought tickets?
I don't have the exact number of passengers but it's around 1,000, probably a bit over that.
Q: What can WOW Air do for these people?
It's now, unfortunately out of our hands. I'm very sorry about this as these are people who have supported us and it's amazing how positive our passengers have been from day one and I'm disappointed not to honour our commitments to these people. 
Q: Was it irresponsible to keep going for so long?
I believed and said in full conviction, as we were talking to a lot of parties, that I had planned to finish this and had that faith until 7am.
10:30 a.m. ET, March 28, 2019
Wow CEO: "When the planes were grounded it was finished"
Former Wow Air CEO Skuli Mogensen spoke to Icelandic state broadcaster RUV this morning. Here is the transcript, translated by CNN:
Q: Why did it collapse:
We were talking to a few interested parties until the early hours of the morning which then in the end didn't come to anything. 
These parties were interested, and we worked on it in good faith. We carried on until 7 in the morning, but unfortunately it didn't come together 
We have been working with all our aircraft leasing companies for a while, but in the end it didn't work out. As is normal, people believed we would get the investment. We have been very transparent but it didn't happen.
Q: Why did it happen so quickly?
One thing leads to another when one chip starts to fall then it falls quickly - it wasn't any one thing that caused it. The creditors were getting impatient to see us finish the investment. 
Q: You said you would never give up: 
I was forced into accepting the facts. It's been a big fight as I have repeatedly said. I'm very grateful for the support and encouragement from the staff and people around the city and the world who have told us not giving up. People had faith in us and wanted us to keep going.
I'm very disappointed and sad to let these people down as they had faith in us.
Q: When did you know it was finished?
When the planes were grounded it was finished.
11:04 a.m. ET, March 28, 2019
They were boarding in 20 minutes — then everything was canceled
Mike Wendling's story is like many other passengers from whom CNN has heard today.
He was waiting to board the plane when Wow Air suddenly canceled the flight with no information.
Wendling said a man standing in the middle of the crowd was the only place could get the latest details about his travel.
9:39 a.m. ET, March 28, 2019
A stranger in Iceland told her Wow Air was done
Kristen Baldauf found out about Wow Air from a bus driver while in Iceland, where she's traveling with three others.
"In late January, they emailed saying that they will be canceling all Wow flights from Chicago to Iceland for the month of March only, and that we needed to rebook through a different location or could get a refund," she said.
So they booked through Detroit instead, and landed in Iceland on Saturday.
"This morning we get on the bus to go to a Lava Tunnel cave tour, and the bus driver says 'Did you hear about Wow?' And that's how we found out," Baldauf said.
"They did not email us or notify us in any way. So, we immediately went to their website and saw the notice saying they are closed," she added.
Baldauf said she had to book a different flight to Minneapolis, which is costing her party nearly $3,000.
"It's a nightmare," she said.
9:30 a.m. ET, March 28, 2019
Family's vacation abruptly canceled: "We're devastated"
Barrai Omuireagain was supposed to fly from Chicago to Dublin with Wow Air to visit their family in Ireland.
He was traveling with his wife Katie and his children Chase, 16, and Maeve, 6.
"We're devastated. Booked in November out of Chicago with Wow Air. I heard they were closing airports, so I got them to switch me to the Detroit flight instead. Multiple emails saying delayed yesterday."
"They ordered us pizza, told us that they should have a flight plan in 15 minutes and then sharply told us right after that flight was canceled," he said.
"No help with booking with another airline. They sent us a free hotel link that didn't work. We called the hotel and made a reservation. Hotel had no clue about Wow hotel vouchers."
" All other airlines are over $5,000 for the family of four," Omuireagain said.
9:15 a.m. ET, March 28, 2019
Passenger stranded in Berlin: "I had to find out online randomly"
Alex Spence had a roundtrip ticket on Wow Air from Toronto to Berlin.
Spence, who is currently in Berlin for an AI and healthcare conference, saw a tweet about the airline shutting down.
"I didn't believe what I was seeing at first," she said. "No notice at all from Wow."
"Now I have to find a last-minute flight home that will likely be incredibly expensive. And potentially find new accommodation if I can't return on Saturday as planned."
She said the worst part is that Wow Air didn't inform her.
"I had to find out online randomly," Spence said.
"I'm now planning on rebooking on a more reliable airline. But honestly, I feel like I can't really trust the longevity of any airline now."
11:35 a.m. ET, March 28, 2019
Here's the text passengers received after the airline shut down and their flights were canceled
Saurabh Aggarwal, who was scheduled to fly from Toronto to Reykjavik on Iceland's Wow Air, got a text from the airline after his flight had been canceled:
"Dear WOW air guest on flight WW214 YYZ-KEF 27MAR19. We are sorry to inform you that your flight is delayed due to operational restrictions. The new estimated departure time is 21:00 local time. Check-in is closed. We appreciate your patience and apologize for any inconvenience. Kind regards, WOW air."
"However (a) representative at (the) counter told us to come back at 8:30 for more update," he said.
"After more havoc at (the) counter, they offered everyone $12 food vouchers for dinner," he said.
Aggarwal said he called the airline, which told him he could change her ticket or wait. Eventually, the airline updated him and said the flight had been canceled and no accommodations would be provided. 
"This really scared everyone," he said. "At that point, we were finally given back our bags and no money -- as of now -- has been issued back to me."
This is the text he got this morning from the airline, confirming it had shut down:
9:19 a.m. ET, March 28, 2019
Thousands of people are stranded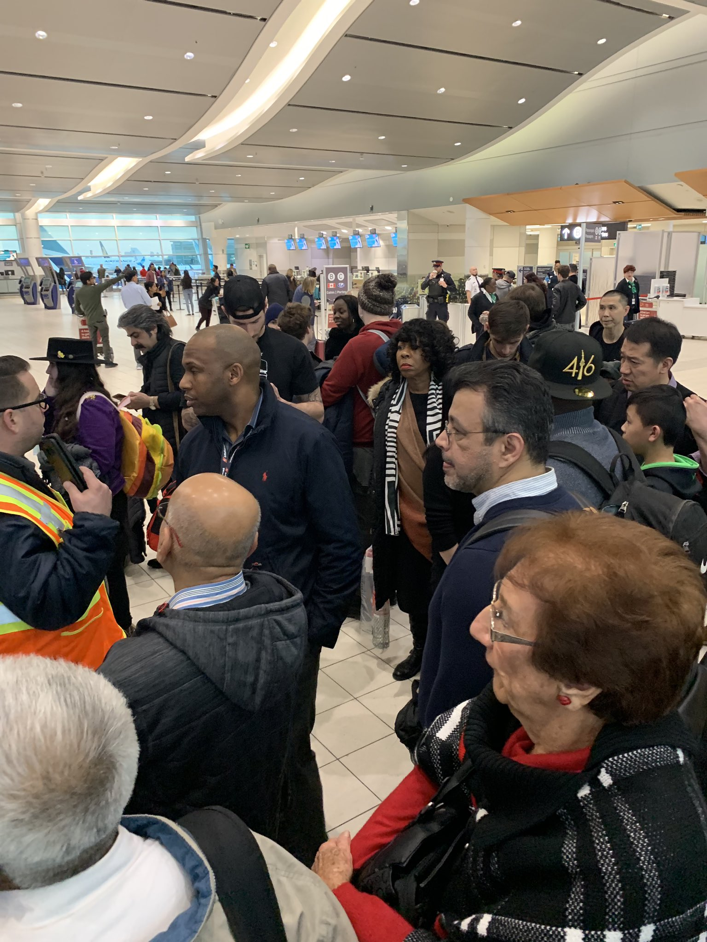 Saurabh Aggarwal was due to fly on March 27 from Toronto to Reykjavik, Iceland, via Wow Air.
I reached airport at 5 p.m., after doing my security and checking in my baggage I went to the gate. We were informed then the flight was delayed till 7:30. At 7 p.m. they announced at the gate that the flight is canceled, please collect your baggage, and no further information was given." 
8:55 a.m. ET, March 28, 2019
Wow Air suddenly shuts down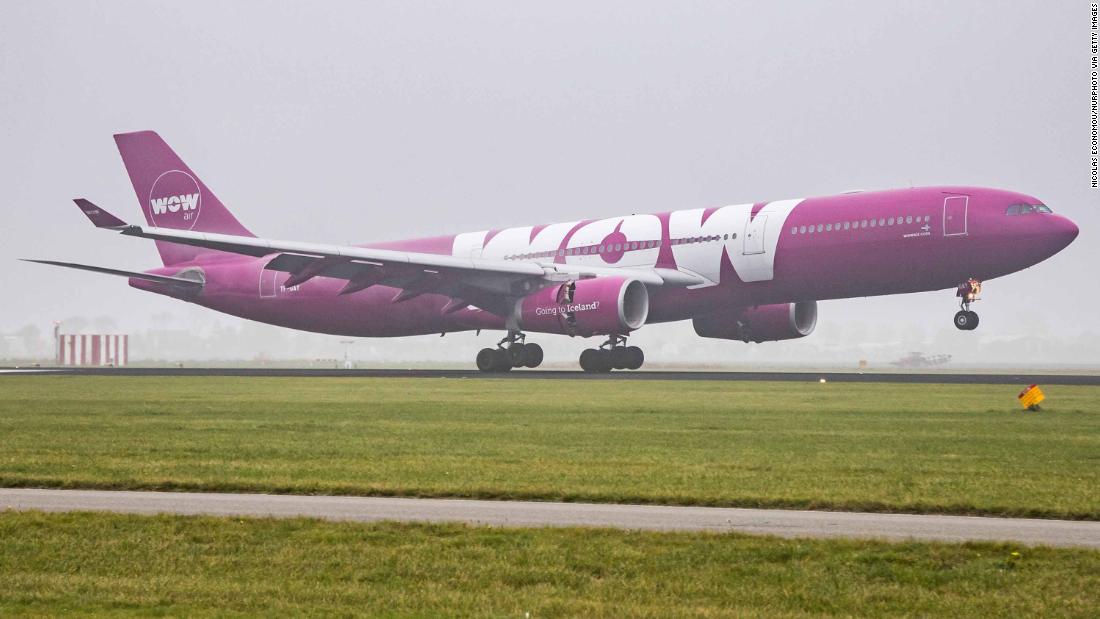 Icelandic budget carrier Wow Air has ceased operations and canceled its flights, leaving passengers stranded around the world.
CNN's Jack Guy reports:
The airline announced the closure in a statement posted to its website on Thursday. It advised passengers to book new flights on other airlines, and said some may be eligible for compensation.
Founded in 2011, Wow Air was known for cheap trans-Atlantic fares on routes via Iceland. It's part of a group of Nordic airlines that drove ticket prices down thanks to no-frills service.