Iceland's Wow Air shuts down
12:45 p.m. ET, March 28, 2019
Don't panic! What to do if your airline goes bust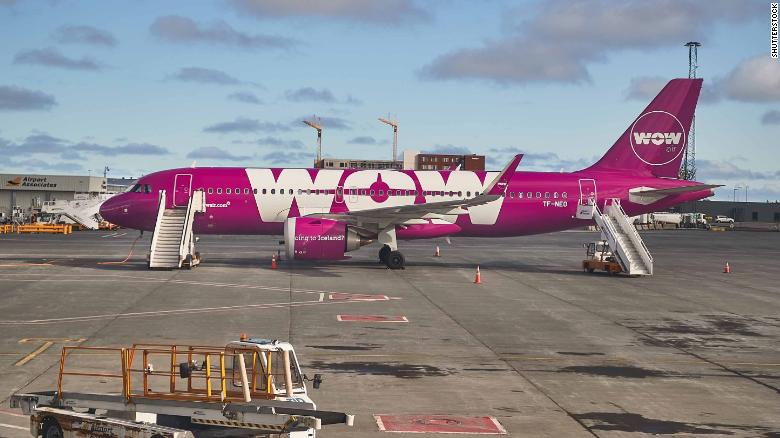 It's extremely unlikely that you'll ever book a flight on an airline that goes bust before takeoff, says CNN anchor and aviation expert Richard Quest.
But clearly, it happens.
Experts share some tips with CNN:
Pay with a credit card. You're more likely to get a refund.
Know your rights. They vary depending on whether you used a travel agency and if you have travel insurance.
Know your route. Be aware of which airlines fly to your destination.
Be nice! Other airlines may give you a special, discounted "rescue fare." But not if you pitch a fit at the ticket counter.
Read more here about what you can do before, during and after your trip to minimize the disruption in a worst-case scenario.
12:21 p.m. ET, March 28, 2019
What it was like at Newark's airport as Wow Air stopped flying
Derek Gumb said his flight from New Jersey's Newark Liberty International Airport was canceled after a 4-hour delay — and so far, he's only gotten a $12 voucher.
"Our flight was 7:05pm from Newark to Reykjavik. They delayed it to 8pm, then 10pm then 11pm then 12am it got cancelled," Gumb told CNN.
"So we were basically at the airport for 7 hours. they told us the reason it was delayed was because the crew was late in arriving which sounded fishy. Then they switched the story to: it couldn't fly was because of "operational restrictions" which I knew was bogus," he added.
He tweeted a video of what it was like at the gate:
11:12 a.m. ET, March 28, 2019
Your flight is canceled, but how about a seat upgrade?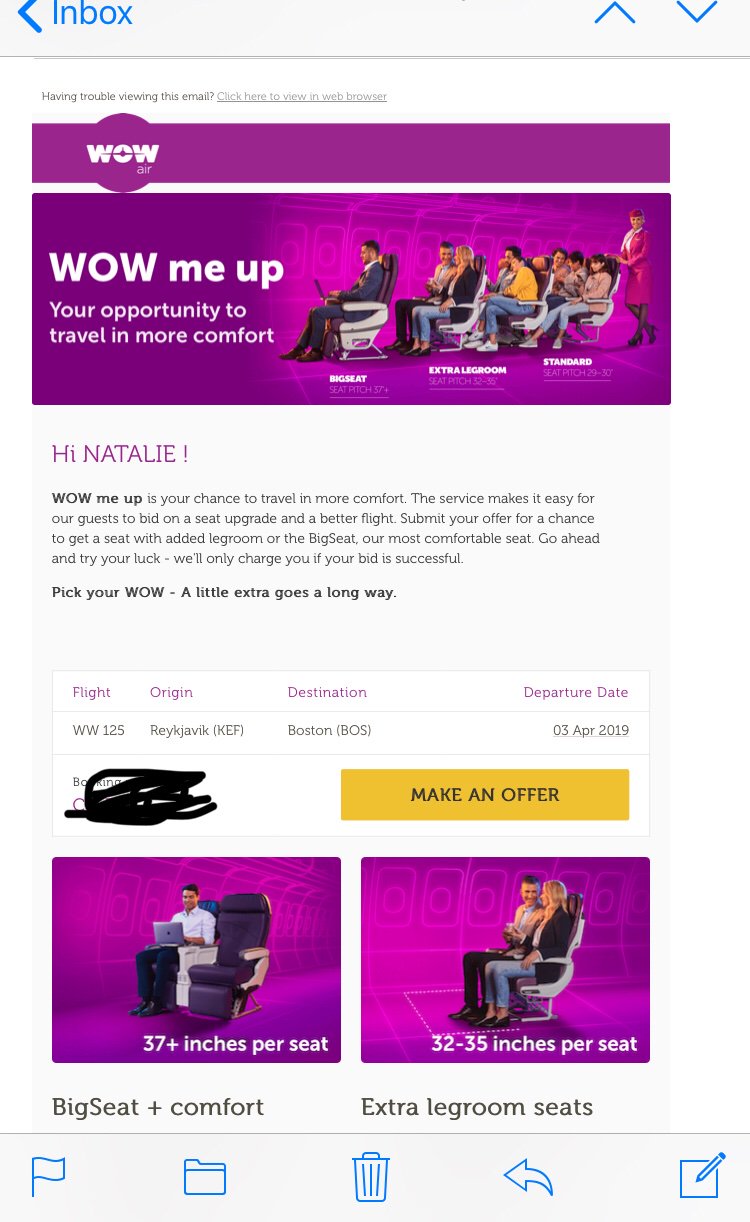 Natalie Overland was meant to fly from Dublin to Boston on April 3 to see her husband, who she married in January.
"I found out about this morning via Twitter. Wow has not sent me an email to say it had been canceled. The only email I got from them was at 10:38 UK time to ask if I would like to upgrade my seat." 
"I just really miss my husband and would love to see him soon."
11:04 a.m. ET, March 28, 2019
Wow's website worked fine last night, says one flyer, and didn't indicate "impending collapse"
John Thomas, from Ann Arbor, Michigan, was supposed to fly tomorrow with a friend from Detroit Metropolitan Wayne County Airport to Amsterdam, and then catch a Vueling flight to Milan.
"Wow customer support is down and there is no word about whether or not I'll be able to receive a refund," he said. "The same flight is now going for $4,000 with Delta."
He and a friend and had a planned vacation to Northern Italy and Barcelona, beginning tomorrow, but it doesn't look like that's going to happen.
"Considering I was on Wow's website late last night and it worked fine, giving no indication of the impeding collapse, this is an incredible illustration of poor management and lack of basic customer service on Wow's part."
"I suppose the moral to this story that one should never trust an airline with an explanatory name."
11:04 a.m. ET, March 28, 2019
Wow doesn't fly here anymore
Meet Kimberly D. Worthy. She just finished a week-long vacation in Iceland, and now she's stranded at Reykjavik airport. She was supposed to fly to Washington DC and then back home to Atlanta at 3:30pm local time. 
"I arrived and there were no signs for Wow and when I asked about how to check in, the only response I got was: Check your email. Wow doesn't fly here anymore."
She has since rebooked on IcelandAir.
11:12 a.m. ET, March 28, 2019
"I put everything I have into this," Wow CEO says
More from Wow Air CEO Skuli Mogensen, via Icelandic state broadcaster RUV:
Q: How much of your own money did you put into this?
I put everything I have into this. I don't have the exact figure nor have I been thinking about it but I put all I have into it. 
There are some assets left but I don't know what that is right now. 
Q: What now for you?
I would always work with this group of people again.
Q: Would they work with you?
I really hope so. I have never before felt such support from this amazing group of people 
Q: How are you feeling?
I'm still processing this. Still in state of shock. I've been awake for many days now. Don't think I've 100% taken this in.
Q: Have you given up?
I've not given up, but this project is unfortunately over and I wish it had ended differently . But I'm still standing here so I've not given up personally. 
10:20 a.m. ET, March 28, 2019
What happened behind the scenes, according to Wow CEO
More from Wow Air CEO Skuli Mogensen, via Icelandic state broadcaster RUV:
Q: Why the big turnaround?
It's a very complicated matter, the airline business is complicated and we have a lot of creditors. It was a good progress when we managed to get bond holders to convert their debt into equity. But then there were other creditors and when this many people need to come together from so many countries and unfortunately we just couldn't make it work.
Q: Were you too optimistic?
There is no doubt that some people will say that, but I also want to say that I'm very proud of the work that has been done and the amazing staff that has worked so hard.
We were pioneers in the low cost airline business [in Iceland] and had great success. We made certain mistakes but corrected those. All of us here saw and knew we were on the right track again, and it's not least for that reason that I and others were optimistic. 
The airline business this winter has been difficult, and many airlines have gone bankrupt and that hasn't helped. The external circumstances are difficult. I still believe that if we had had a little more time we could have rescued this. 
Q: Did creditors lose faith in you?
No doubt that some will have but, first and foremost, it was very complicated and I wished it had ended differently.
1,000 people will lose their jobs, and of everything that has happened, that cuts the deepest. This is an incredible group of enigmatic people. People who have stood together. It's amazing how they have held their heads high despite this devastating news. I want to thank them all -- They have been absolute heroes.
10:24 a.m. ET, March 28, 2019
Wow CEO on his customers: "I had faith until 7 a.m."
More from Wow Air CEO Skuli Mogensen, via Icelandic state broadcaster RUV:
Q: How many people had bought tickets?
I don't have the exact number of passengers but it's around 1,000, probably a bit over that.
Q: What can WOW Air do for these people?
It's now, unfortunately out of our hands. I'm very sorry about this as these are people who have supported us and it's amazing how positive our passengers have been from day one and I'm disappointed not to honour our commitments to these people. 
Q: Was it irresponsible to keep going for so long?
I believed and said in full conviction, as we were talking to a lot of parties, that I had planned to finish this and had that faith until 7am.
10:30 a.m. ET, March 28, 2019
Wow CEO: "When the planes were grounded it was finished"
Former Wow Air CEO Skuli Mogensen spoke to Icelandic state broadcaster RUV this morning. Here is the transcript, translated by CNN:
Q: Why did it collapse:
We were talking to a few interested parties until the early hours of the morning which then in the end didn't come to anything. 
These parties were interested, and we worked on it in good faith. We carried on until 7 in the morning, but unfortunately it didn't come together 
We have been working with all our aircraft leasing companies for a while, but in the end it didn't work out. As is normal, people believed we would get the investment. We have been very transparent but it didn't happen.
Q: Why did it happen so quickly?
One thing leads to another when one chip starts to fall then it falls quickly - it wasn't any one thing that caused it. The creditors were getting impatient to see us finish the investment. 
Q: You said you would never give up: 
I was forced into accepting the facts. It's been a big fight as I have repeatedly said. I'm very grateful for the support and encouragement from the staff and people around the city and the world who have told us not giving up. People had faith in us and wanted us to keep going.
I'm very disappointed and sad to let these people down as they had faith in us.
Q: When did you know it was finished?
When the planes were grounded it was finished.