We spent days roaming the hallways of Las Vegas to find the products that are actually worth paying attention to at CES 2023. From dual-screen laptops and high-tech beauty kits to a true breakthrough in the smart home space, this year's installment of the world's biggest technology show had no shortage of exciting hardware. But for every legitimate game changer there are dozens more pieces of vaporware, which is why we're here to bring you just the good stuff.
In order to find the best tech of CES 2023, we spent countless hours meeting with top technology brands, went hands-on with dozens of products and had a long deliberation process to settle on winners. We focused on products that are truly innovative, improve on our existing recommendations in a meaningful way or just help make your life better, from inexpensive accessories to premium TVs. With that said, here are the tech products you should keep an eye out for this year.
Best TV: TCL Q7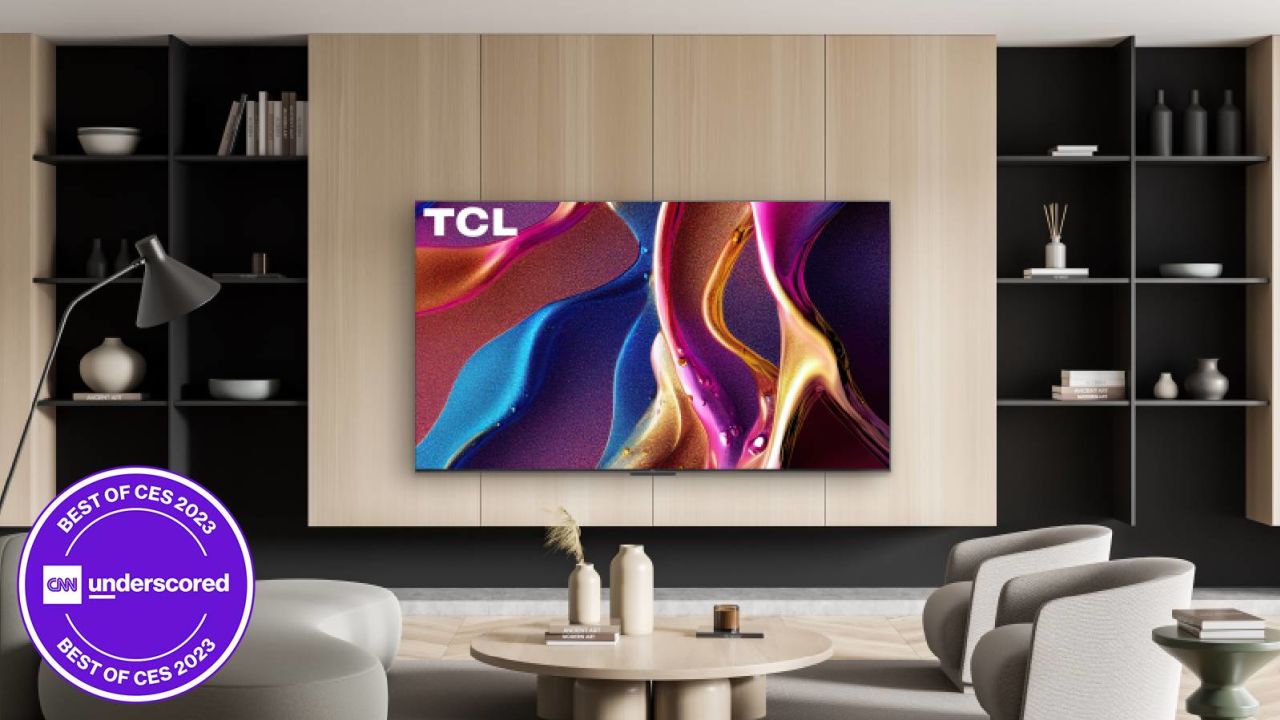 TCL has long made our best TV pick, and the Q7 looks like yet another great mid-level model for everyone from cord-cutters to gamers. The Q7 comes with a 4K Quantum Dot screen that promises even better color and brightness, but the real star of this show is its native 120Hz panel that can boost to an even smoother 240Hz — the kind of extra-fluid refresh rate that allows competitive gamers to play at their best. Throw in the Q7's IMAX Enhanced certification and Dolby Vision, and you've got a great all-around set that really stood out when we saw it up close. The TCL Q7 will be available sometime in 2023 in sizes ranging from 55 to 85 inches. No pricing has been announced, and TCL told us that the Q7 is not a direct replacement of an older model, so stay tuned for more. — Tobey Grumet, reviews editor
Other TVs we liked
Though definitely not vaporware, the LG Z3 is our pie-in-the-sky pick because of its ultra-premium OLED display, which comes resplendent in 8K resolution. But we figure, go big or go home here at CES 2023. Available in 77 or 88 inches, the TV stood out from the pack with an attractive rectangular base, and it's up to 40% brighter than the previous OLED models (something especially important if you're in a sunny room), according to LG. You'll get all the same bells and whistles that are featured on the more traditional G3 and C3 OLED models, but it's the 8K resolution that knocks the Z3 into our runner's-up status. If you haven't seen 8K in person, take our word for it — with an almost 3D look, it will be game-changing when there is finally enough content available. Alas, there is no pricing for the Z3 yet, but we can assure you it won't be cheap when it's available later this year.
Best accessory: OtterBox OtterGrip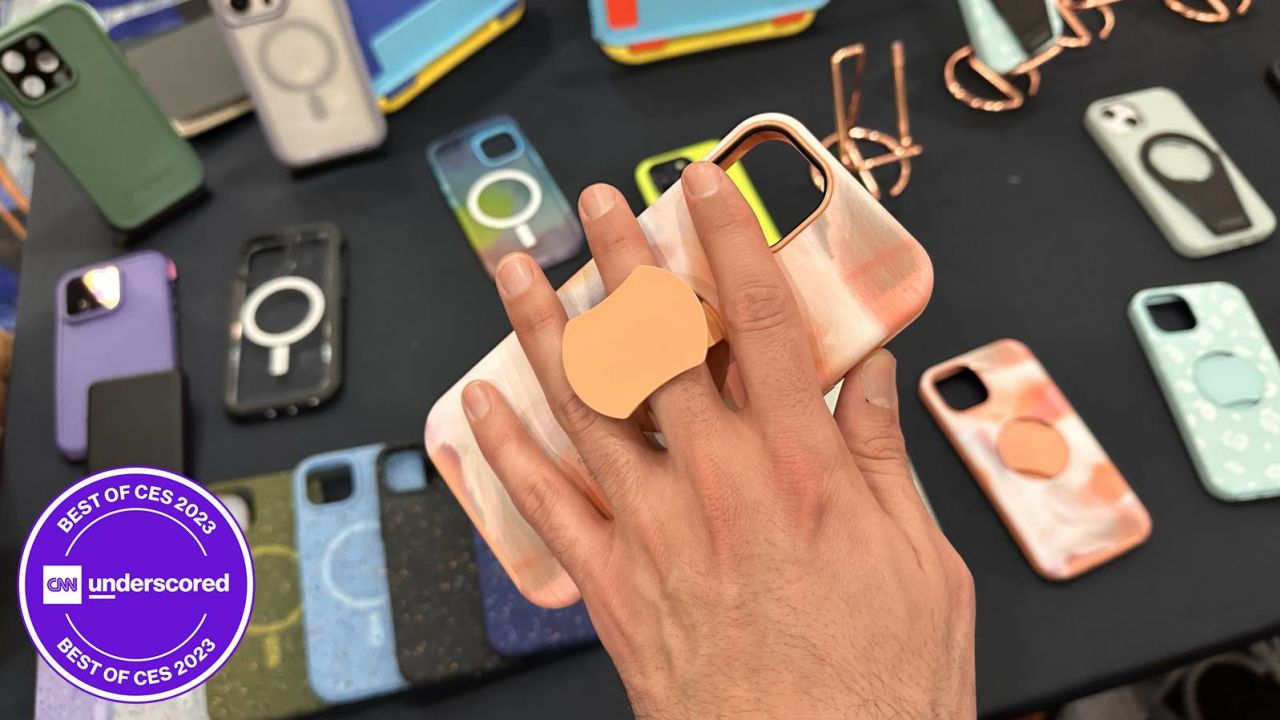 The OtterBox OtterGrip is the first iPhone 14 case we've seen that combines the extra grip of a PopSocket with seamless MagSafe accessory support, all within a flexible design that lets you switch between the two. This $60 case's soft silicone design felt very comfortable in our fingers, and its range of designs — from cool tie-dye patterns to simple solid colors — looked great up close. — Mike Andronico, senior tech writer
Other accessories we liked
Anker makes some of our favorite charging products, and the company had no shortage of them at CES 2023. But the Anker 675 USB-C Docking Station truly stands out from the pack by combining the benefits of a USB-C docking station and a sleek monitor stand all in one. This attractive accessory features 12 ports for all of your charging and connectivity needs as well as a wireless charging pad to keep your phone or earbuds juiced up while you work. We were especially impressed by how sleek and compact the docking station looked up close, especially considering that its raised design leaves room for your mouse, keyboard and laptop when you're not using it.
With so many more of us working at home, it's nice to have as much flexibility with your desk as you do with your schedule. This electric standing desk is not only ergonomically friendly, but you can use the onboard switch to raise it up to 50.6 inches and lower it to 25 inches to serve as a traditional desk as well (numbers comparable to our best standing desk pick). ErgoAV even added pressure sensors to make sure it won't hit a pet if you're taking it all the way down. We also love that it has all our power issues in mind, with a built-in 15W wireless charging pad that will raise out of the desk to face you when you place your phone on it — something not found on even our favorite tested models. Finally, you can keep your valuables close by in the Ergo AV's drawer, which can be locked via the desk's compatible app. It will be available in March for $1,500 and comes in Meteor Black and Wood colors.
Best laptop: Lenovo YogaBook 9i
In what's shaping up to be a banner year for laptops, the YogaBook 9i stood out from the competition by delivering a design that's equal parts innovative and practical. This stunning dual-screen laptop gets you two full 13.3-inch OLED displays that you can combine with the included stand and keyboard to create the ultimate portable multitasking station, one that let us easily use two apps at once or expand a single window across both screens for more optimal scrolling. Ditch the stand, and the YogaBook 9i transforms into a traditional laptop that offers both virtual and physical keyboard options while giving you a second-screen experience for staying on top of things like weather and email. Switching between these modes was seamless and instant in our hands-on time, which proves the YogaBook 9i's versatility isn't just a gimmick. — Mike Andronico, senior tech writer
Other laptops we liked
Chromebooks typically aren't associated with high-end style, but the HP Dragonfly Chromebook looks to change that. This notebook has the same stylish design as its premium Windows counterpart as well as customizable RGB lighting that looked great up close — and was easy to customize and sync up with our wallpaper. Its colorful display made a great companion for YouTube videos as well. If you want the simplicity of ChromeOS but with the power and looks of a modern high-end laptop, the Dragonfly belongs on your radar.
It's been an incredible CES for gaming laptops, which are all adopting bigger, brighter displays and a serious power boost, thanks to the latest Nvidia and AMD graphics. But the Dell G15 does something few of its competitors do — it just looks fun! Dell's latest entry-level gaming notebooks feature a refreshing set of '80s-inspired color schemes, which looked especially great in person at Dell's retro-themed CES booth. The G15 is on the chunkier side and we still need to gauge its performance, but its striking looks give it a big advantage in a crowded space.
Whereas the Dell G15 stands out with its loud pop art design, the MSI Stealth 14 Studio goes the opposite direction by offering a design that wouldn't look out of place in a coffee shop. This is one of the most compact and coolest-looking gaming laptops we've seen from CES, packing all the specs you need for immersive PC gaming and visual design work within a gorgeous design that felt comfortably lightweight to pick up — complete with your choice of blue and white color schemes that both looked fantastic in person.
Best gaming tech: Razer Kiyo Pro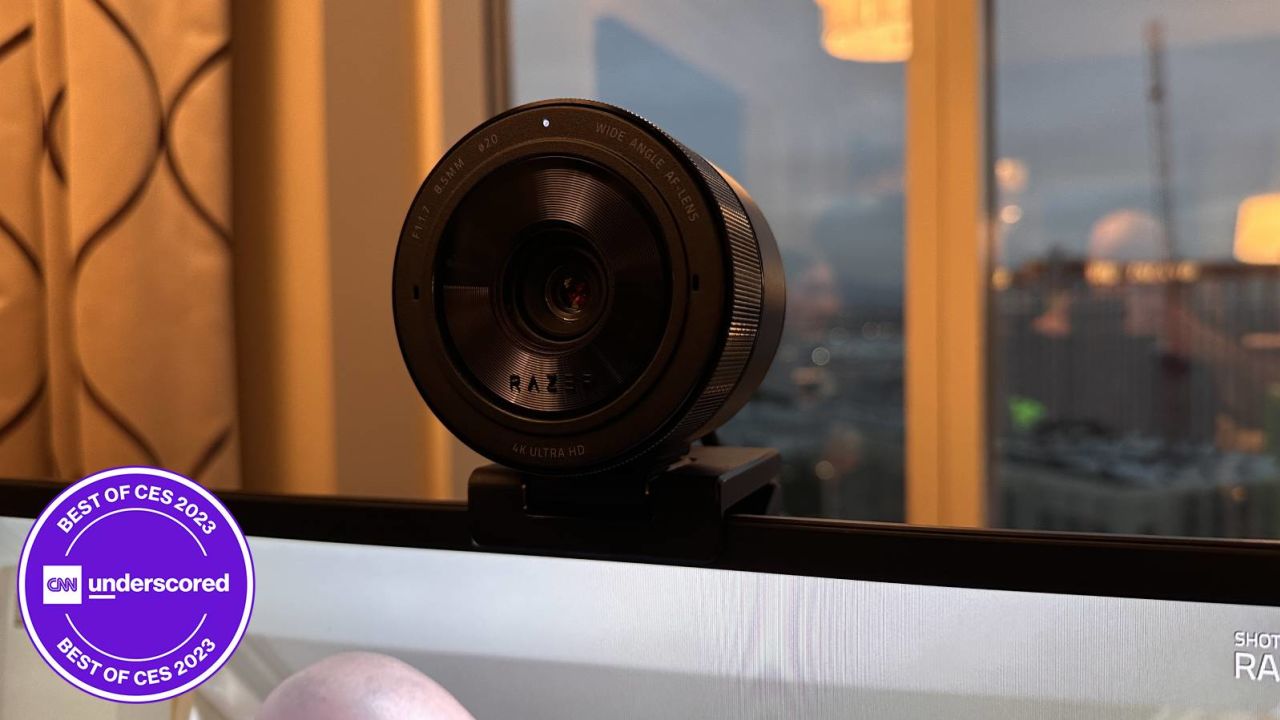 The Razer Kiyo Pro Ultra improves on our best high-end webcam pick with a new sensor that offers DSLR-like camera quality at considerably less-than-DSLR prices. The Pro Ultra's video quality truly wowed us during our hands-on time, and it could very well be the new camera to beat for devoted Twitch streamers and YouTubers. It's available now for $300. — Mike Andronico, senior tech writer
Other gaming tech we liked
We've seen dedicated mobile gaming devices before, but the Razer Edge takes the concept to its extreme with the best screen, processor and cellular support we've seen on this kind of gadget. Playing games like Halo Infinite and Fortnite felt great, thanks to the Edge's comfy controls and rich AMOLED screen, and unlike other cloud gaming consoles, the Edge offers a 5G option for streaming your favorite games anywhere.
Govee already makes responsive, affordable LED lights to enhance the video gaming experience and takes it even further with the AI Gaming Sync Box Kit, an HDMI box trained to see what's happening on screen and respond with real-time lighting effects.
Govee developed its own AI and trained it on a handful of video games, including League of Legends, so it triggers a specific lighting effect based on the game. We watched as it glowed green after killing a boss, just to name an example. The HDMI box with three HDMI IN and one out supports input switching, making it the first HDMI AI box that supports up to 240Hz, perfect for those fast-paced games.
Best VR headset: PlayStation VR 2
Based on our brief hands-on time, the PlayStation VR 2 looks to improve on one of our best VR headset picks in just about every way. Designed for the PS5, Sony's new headset looks sleeker, offers more dynamic and comfortable controllers and delivers a serious step up in visual fidelity — something we immediately noticed as we climbed and battled our way through the vivid sci-fi wastelands of Horizon Call of the Mountain. — Mike Andronico, senior tech writer
Other VR headsets we liked
Best gaming monitor: Samsung Odyssey Neo G9
Of all the tech gadgets at CES 2023, the Samsung Odyssey Neo G9 is the one I had the hardest time pulling myself away from. Billed as the world's first dual 4K gaming monitor, the Neo G9's engrossing 57-inch ultrawide screen made driving around in Need for Speed Heat feel incredibly immersive, and offers the best combination of fidelity and performance we've seen on this kind of display. — Mike Andronico, senior tech writer
Other gaming monitors we liked
Whereas the Neo G9 offers the best resolution we've seen on an ultrawide monitor, the $1,700 Acer Predator X45 stands out by harnessing the rich colors and deep contrast of OLED. This display's huge 45-inch screen allowed me to take in every detail of a Microsoft Flight Simulator journey, and features important tech specs like a smooth 240Hz refresh rate and a mix of DisplayPort 1.4 and HDMI for both PC and console gaming.
Best smart home tech: Matter
It's about to get a whole lot easier for consumers to add smart home devices to their homes, thanks to a new standard called Matter, which was finalized late last year. Matter is already rolling out to millions of smart home devices through software updates from brands like Amazon, Apple, Google and Samsung SmartThings. Many companies announced Matter certification for new or existing products (via a firmware update), so all the smart home devices can play nicely — without worrying about whether you have an existing Apple, Google or Amazon ecosystem. We even saw a new Samsung SmartThings hub built specifically for this technology, and it'll likely be the first of many.
Matter will be available in smart categories like sensors, lighting, outlets and plugs, garage doors, thermostats and smart speakers, with more categories to be introduced in the future. — Andrea Smith, contributor
Other smart home tech we liked
Ring is expanding its watchful eye from your front porch to your driveway with the Ring Car Cam, a camera that attaches to your windshield like a dash cam. While dash cams typically record everything going on while you drive, the Ring Car Cam has a dual-facing camera to keep an eye on your car's interior as well as its surroundings. Like your video doorbell, you can get alerts, check in on what's going on and get recorded video evidence in case of an accident or break-in. We got to see a promising demo of the Car Cam in action, and we're eager to see how it stacks up to our favorite dash cams.
Best home product: Kohler Anthem Digital Shower Valve and Control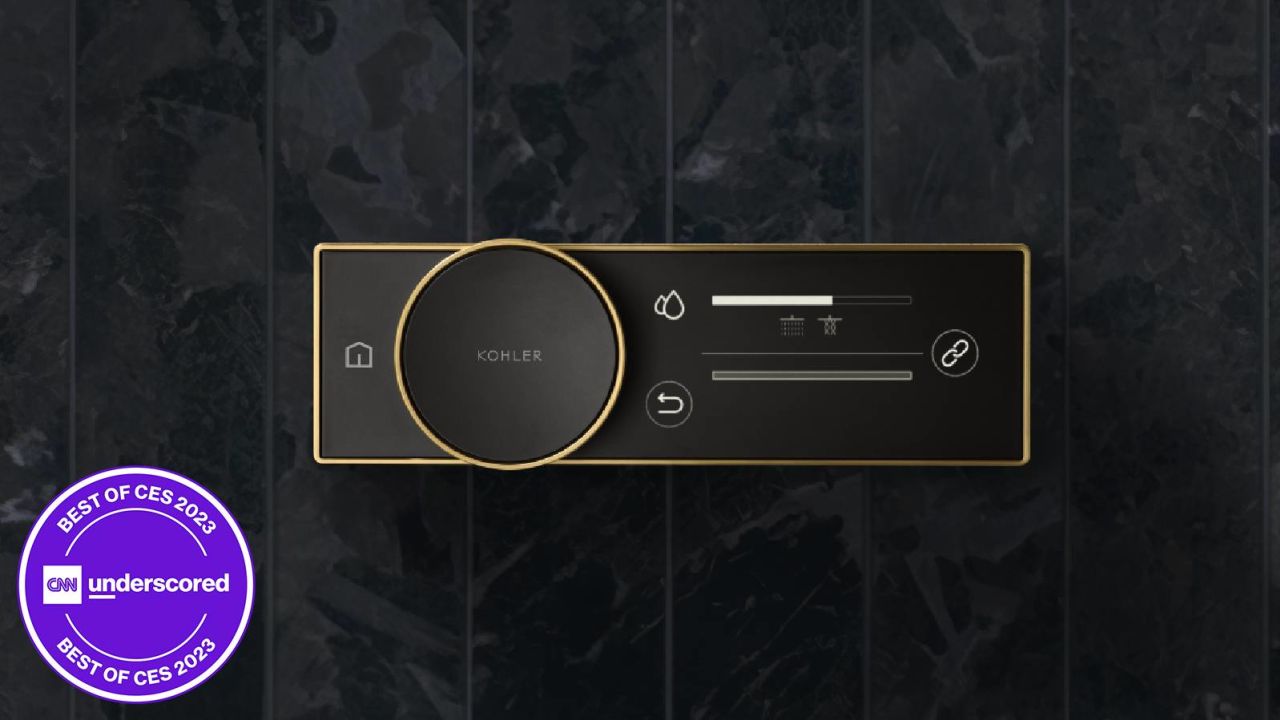 Kohler's Anthem Digital Valve and Control allows you to personalize the most important aspects of your shower: water temperature and flow. Warm up and pause features ensure you're never unintentionally stepping under a freezing cold stream, and Anthem controls up to six shower outlets of myriad varieties, including rainheads, hand showers and body sprays, each of which can be independently adjusted. Meanwhile, nine presets allow you or others in your home to save their favorite shower settings. The whole system integrates with the Kohler Konnect smartphone app, so users can monitor their shower duration and opt to restrict the maximum flow of water for a more eco-friendly shower experience. Starting at $560 (though it looks to be marked down to $420 right now), Anthem is designed to fit the global plumbing standard, and it's available in a range of finishes to match your bathroom aesthetic. — Chelsea Stone, senior editor
Other home products we liked
We saw a ton of smart cooking appliances at CES, but none was more versatile, easy to use and downright attractive as the Brava Glass. The countertop oven maker has improved upon its original model by adding a glass window to the door, so — like a real oven — you can watch your food cook using the brand's patented, energy-efficient infrared and visible light technology. This is, of course, in addition to the camera that streams an overhead view of the food directly on the oven's smart interface and to your mobile app. It's more than just an oven, though: The Brava Glass is able to air fry, roast, bake, sear, toast, reheat, rice cook, slow cook, dehydrate and keep food warm, and choosing your cook time is a cinch with over 7,000 preloaded recipes (or make up your own). If you have the counter space, pick up one of your own, along with two glass trays, two metal trays, a muffin tin, a square pan, a loaf pan, an egg tray and the cast-iron chef's pan included, for $1,995 in early 2023.
A beauty innovation that raised many an eyebrow at CES? That would be L'Oréal's Brow Magic, an at-home electronic eyebrow makeup applicator that indeed would have us questioning the existence of witchcraft if we didn't know any better. The device uses Modiface AR technology via a mobile app to scan a user's face and 2,400 tiny nozzles and printing technology with up to 1,200 drops per inch printing resolution to provide on-demand, customized microblading, micro-shading and/or filler effects in mere seconds, all with just a simple swipe across the brow. (The resulting look comes off with regular makeup remover.) There's no word on pricing yet, but L'Oréal Brow Magic is set to launch later this year, so feel free to toss out your eyebrow pencils and cancel that tinting appointment.
It may not be the most appetizing name, but the Typhur Instaprobe does one thing, and boy does it do it well. This extremely good-looking food thermometer, with a 4.3-inch probe, can tell you the temperature of any kind of food, from gooey candy to finicky filet, in under one second. Using what it calls a DCTiTM (Direct Contact Thermal Integration) process for these ultra-fast readings, its temperature range can go from -58 to 572 degrees Fahrenheit, and can be read easily on its OLED backlit display — perfect for that nighttime BBQ or culinary-forward camping trip. It's also waterproof for easy cleaning and will conserve battery life with a built-in motion sensor that will wake the thermometer when shaken. Of course, all this comes at a pretty price, and the Instaprobe will be available from Typhur in January for $107, though the company is offering a limited-time $30 discount. Or wait until it's up on Amazon this March.
Best health device: Movano Evie
The Movano Evie is both one of the best-looking and most practical smart rings we've seen yet. This high-tech piece of jewelry is designed to provide features like cycle tracking for people with uteruses (as well as basic sleep and health metrics), and Movano is in the process of earning FDA clearance to make sure your data will be kept safe. And unlike rivals like the Oura Ring (one of many sleep trackers we've tested), the Evie features a neat AirPods-like charging case that'll keep it both safe and juiced up at all times. More importantly, we simply love how it looked and felt.
Other health devices we liked
Withings already makes a number of health and fitness devices to give consumers insight into their overall health, like smart scale body metrics and blood pressure measurements. Now it's bringing a urine lab to your own toilet.
The Withings U-Scan is a Wi-Fi-enabled device that sits in your toilet bowl and analyzes your urine for specific markers. The company is starting with ovulation tracking, nutrition and hydration info and certain vitamins. We got to see the U-Scan up close, and it looks impressively compact and easy to set up for what it does — and will feature swappable cartridges that each offer different types of tracking (for example, there's one specifically for cycle tracking).
In the future, Withings hopes to use this as an easy and accessible way to conduct more health-related tests like biomarker assessments and screen for bacterial infections. And yes, it can even determine which household occupant is using the toilet!