CNN —
This article is a part of CNN Underscored's Earth Week, a weeklong focus on our planet and ways to celebrate and preserve it. We'll be featuring tips on how to live more sustainably, products to help you spend more time in nature and exclusive deals all week, so check in every morning to see what's new, and be sure to subscribe to the CNN Underscored newsletter to see it all.
There's no getting around it: Phones are a pricey investment. Whether it's the latest from Samsung, Apple or even Google, there's a lot of money involved. Complicating the matter is the fact that if you break your phone — or even worse, lose it — you're on the hook for even more money to get it fixed or replace it.
Google's Pixel phones have traditionally been on the more affordable side of things, but the company's current lineup — which consists of the $899 Pixel 6 Pro, $599 Pixel 6 and $449 Pixel 5a with 5G can still run you a good chunk of change. If you're on a tight budget, you may want to take some extra time to search for a good deal on a used or refurbished Pixel phone.
What is the difference between used and refurbished?
Refurbished Pixel phones have been through a certification process, where Google or a third party has examined the phone, tested it and certified that it works. There may be some cosmetic defects like scuffs on the corners or light scratches on the display, but the product listing should accurately reflect those.
Used phones are just that: used. A person has used the phone for a period of time and decided to sell it. You have to take the seller's word that the phone is free of any issues.
As long as you take precautions and do your research, it shouldn't matter whether you buy a used or refurbished phone. You just have to know what to look for when shopping.
What to look for
When buying a used or refurbished phone, there are a few things to keep in mind.
The first thing you want to look for is original photos of the phone, especially in listings from sites like eBay where individuals can sell items. If the seller refuses to take photos of the phone, move on.
Ask for the electronic serial number (ESN) or International Mobile Equipment Identity (IMEI) of the phone, and call your carrier to check that the phone isn't lost, stolen or still under a payment plan. If you don't want to call your carrier, you can use Swappa's IMEI tool to run a free basic check (more on this below).
Another thing to keep in mind is carrier support. Google sells unlocked phones, allowing you to put any SIM card in the phone and use it, regardless of carrier. However, phones sold from carriers like Verizon may be locked to that service. Again, it's a good idea to get the serial number to check with your carrier before finalizing your purchase.
Which Google Pixel is for you?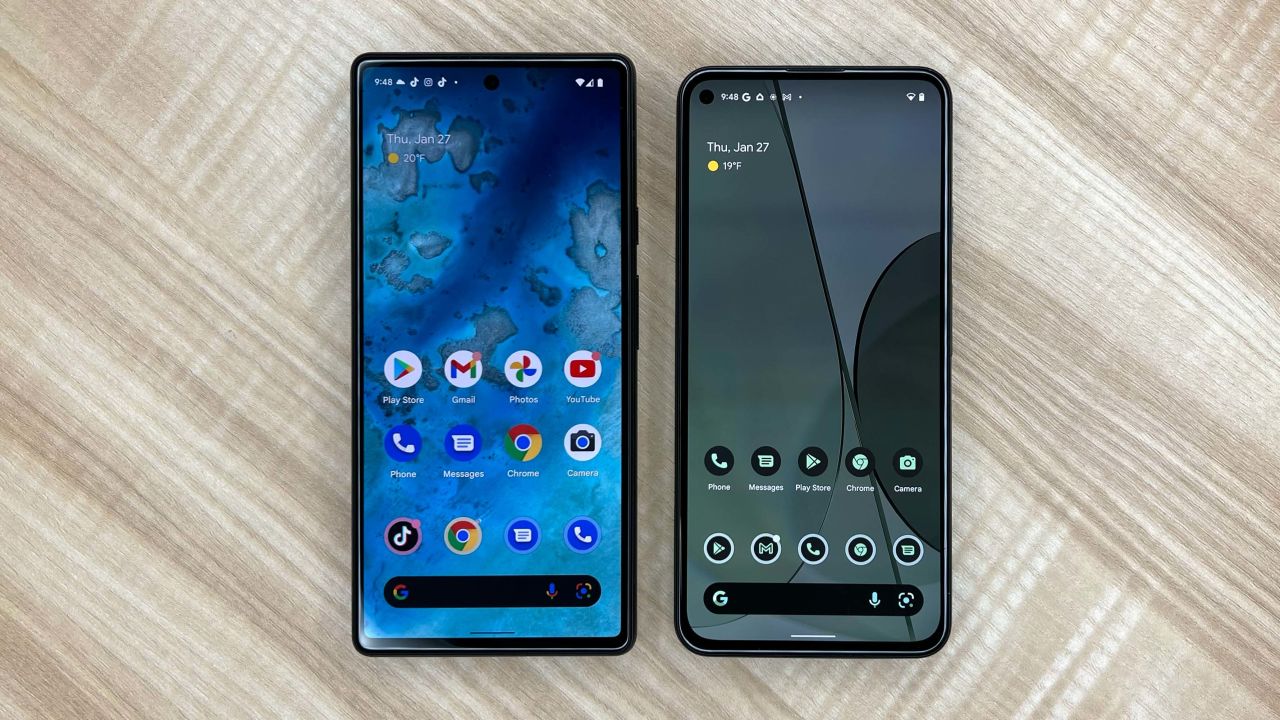 Google's current lineup of phones consists of the flagship $599 Google Pixel 6 and $899 Pixel 6 Pro as well as the more budget-minded $449 Pixel 5a with 5G. The Pixel 6 series is the way to go if you want the power of Google's new Tensor processor and the best cameras in a Pixel, while the 5a is a good pick if you want a great overall Android experience and can live with a less fancy design and slightly slower speeds. The problem is, barring a few exceptions, these newer phones are hard to find at a discount used.
Resellers like Decluttr and Gazelle have Pixels dating all the way back to the Pixel 2 and 2 XL, but should you actually buy one that old? The Pixel 3 and older are no longer getting software and security updates from Google, so we'd recommend staying away from those models. The Pixel 3a and Pixel 4 series are set to get updates through May 2022 and October 2022, respectively, so they won't stay up to date much longer. We'd recommend looking at the Pixel 4a or newer for a used phone — they'll get updates through August 2023, and you'll get a processor and camera that will get the job done for lots of folks who don't need the latest and greatest.
Where to look
There are many sites and services where you can find used and refurbished phones, but here are some of the most reputable places you can shop online.
Decluttr buys old phones, tests and certifies them, and offers a 12-month warranty for every phone sold on its site. Not only are you saving money, but the purchase comes with peace of mind — something you don't often get when buying a used or refurbished phone.
When browsing Decluttr's Pixel listing, you'll find the phone's condition, storage amount, color and carrier support. The seller has a range of fairly recent Pixel phones available for good prices, including a 2020 Pixel 5 for $379 in "pristine" condition. For that price, you're getting a still reliable Qualcomm Snapdragon 765G, an impressive set of dual cameras with Google's usual software smarts and the latest Android operating system updates.
If you don't mind going with an older phone, you can get a Pixel 4a 5G for as low as $229 in "good" condition, or a Pixel 3 for as little as $84 in the same condition. Prices and models will vary over time, but Decluttr generally offers a wide range of slightly older Pixels at a very low cost.
If you have patience and don't mind playing the bidding game, eBay is another reputable place to look for a deal. The reseller offers a number of used and refurbished phones — you'll want to look for the official eBay refurbished stamp on a product to ensure it's been tested by the company to meet its standards for excellent (like new), very good (minimal wear) or good (moderate wear) condition. Official eBay refurbished phones also come with a one-year warranty.
As of this writing, eBay largely carries Pixel 5 phones and older, though there are a few newer listings, such as this Pixel 6 model for $465.
Of course, you'll want to follow our best practices when buying from a third party, including going through the seller's rating and reviews. If you don't want a bidding war, narrow your search results for "Buy It Now" listings, where if the listing checks out, you can make a purchase without any back-and-forth.
Just make sure to read the fine print on each listing to verify whether the phone you're buying comes with any sort of warranty. Even if it is limited to just a few months, that added peace of mind is worth it.
Gazelle is one of the leading online stores for selling used electronics. Naturally, its selection of Pixel phones is extensive and, yes, affordable. Just keep in mind that, as of this writing, you'll be limited to Google Pixel 5 models and older. Gazelle lets you narrow the search results by device condition, model or price.
Similar to Decluttr, Gazelle puts each device it receives through a 30-point inspection before listing it. Every device purchased from Gazelle comes with a 30-day return policy for a full refund.
Anyone can sign up for a Swappa account and buy or sell used devices. But unlike, say, Craigslist, Swappa requires sellers to take several photos of the device with a unique listing number visible in each picture. The photos also need to show the overall condition of the phone, including a functioning display.
Swappa also checks the IMEI or ESN of each phone listed on its site, ensuring the phone hasn't been reported lost or stolen. And even if you're not using Swappa to buy a new-to-you phone, you can use its ESN check tool to verify a device isn't reported stolen.
Turn that old phone into cash
On the flip side, if you've recently upgraded to the latest Pixel (or another phone, for that matter), trade in your old Pixel to help offset the cost of your new phone.
Decluttr and Gazelle accept trade-ins, with prices ranging from $37 for a 128GB Pixel 2 XL on Decluttr to $212 for a 128GB Pixel 5 on Gazelle. Both sites take only a few minutes to get an offer from, after you answer a few questions about the phone's condition.
Alternatively, you can list your old gadgets on Swappa to try to squeeze a little more money out of potential buyers.
The best advice, whether you're buying or selling, is to have patience, shop around and buy from a company you're comfortable with.