Looking to buy a new Samsung TV just in time for spring? On Feb. 22, the company finally followed up on its CES announcements with the pricing and availability of the Samsung 2023 Neo QLED line as well as a new size for its already brilliant OLED TV.
And though we were able to get a brief viewing of the TVs back in January, Samsung allowed us to travel to its special testing facility in New Jersey to better kick the tires before they were officially unveiled. Lucky us.
After messing around with settings, watching streaming TV and sports and even getting some gaming time in on our Xbox Series S, we did notice that the upgrades are generally incremental from last year's models. Yes, you'll still get the same Samsung Gaming Hub the company announced last year, which lets you stream games from services like Xbox and Amazon Luna without hooking up a console, as well as the sometimes-buggy Tizen-operated Smart Hub. However, if you've been waiting to add the latest and greatest to your home theater setup, you will be rewarded with what we consider a promising 2023 lineup, which, according to Samsung, will be rolling out this week from authorized retailers.
Our biggest takeaways? Gaming-friendly 144Hz refresh rates, a slimmer, even brighter panel for its 77-inch OLED TV and a smaller and handier solar remote control should all make these already great TVs even better.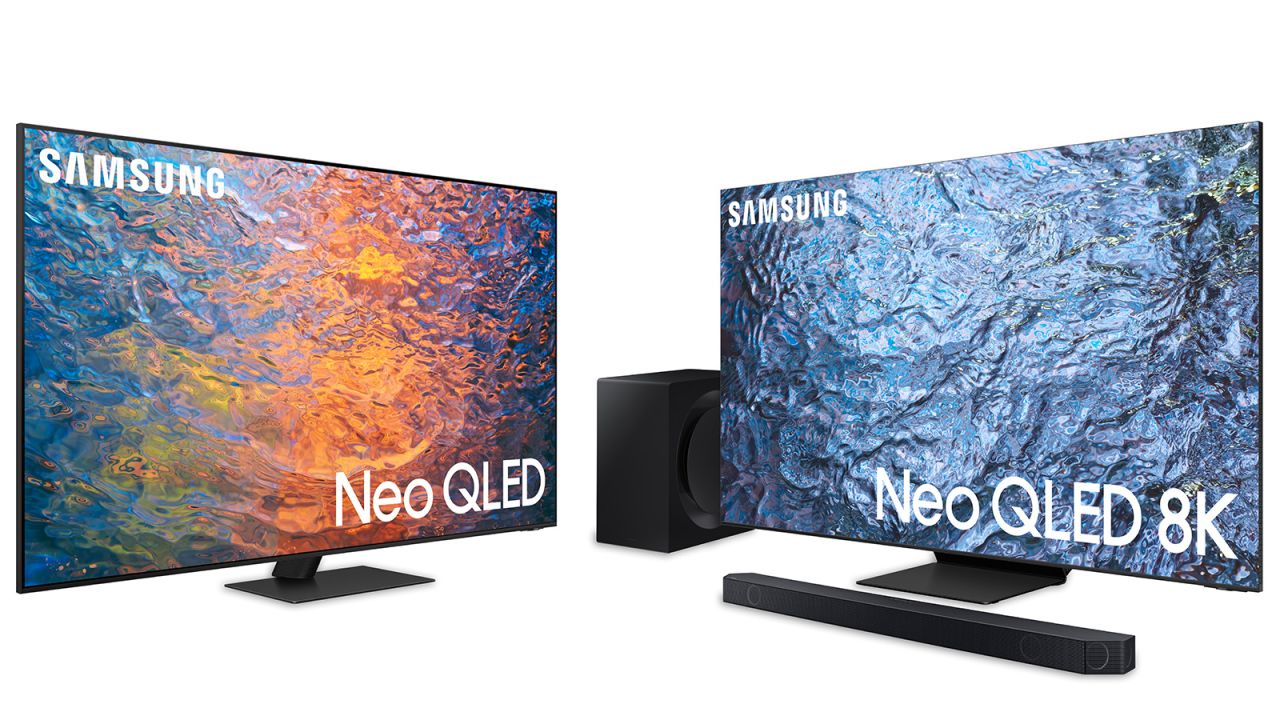 The 2023 Neo QLED line of TVs with Samsung's Anti-Glare and Ultra Viewing Angle technology are still the company's brightest Mini LED TVs and are available in both 4K and 8K. For the uninitiated, Mini LED technology is a backlit, superpowered version of a standard LCD display, using a ton of teeny-tiny light-emitting diodes (LED) to offer extra brightness, more contrast and better black levels. On the other hand, QLED is a Samsung branded feature, which uses technology called quantum dots along with Mini LED backlights to emit light all on their own. In comparison, a standard OLED panel does not use a backlight at all but rather creates its own light using pixels. Got it? Good.
And though specs promise a brand-new auto remastering feature, we didn't see a huge leap in picture from last year's models during our short-term testing. Of course, we look forward to a more in-depth review when we get them in for testing.
Samsung is taking full advantage of the newest and most hyped 8K technology — adding an even bigger screen size to the 2023 lineup, up from 2022's 75-inch. This year, you can nab two different models in 65-inch, 75-inch and 85-inch sizes, with the flagship QN900C starting at $5,000 and the slightly less pricey QN800C starting at $3,500.
Though 8K sounds fancy and oh-so-exciting, the technology is still something of a luxury for those who have extra cash, have extra space and may want to show off the latest and greatest. With almost no 8K content to watch at this time, what you will be getting is four times the amount of pixels of a 4K TV (and a whopping 16 times of a 1080p HD TV) — which simply means that an 8K TV will internally upscale your current HD and 4K content to what should be a much sharper, brighter picture. And though we did see a slight difference in color, contrast and details on the 75-inch screen when we streamed Netflix and some 4K football footage, and played games on the Xbox Series S, it wasn't until we fired up some 8K content on YouTube that we saw a clear upgrade in the picture.
The nature video we screened on the massive 75-inch screen was crystal clear and nearly 3D. Jaw-dropping is not an adage we use often, but if you are able to view 8K content on a large 8K TV, it does make a marked difference from 4K. All the more reason to keep an eagle eye on this up-and-coming technology (if you're not ready to make the investment now).
Both the QN900C and the QN800C come with Dolby Atmos for more engaging sound, and a Game Motion Plus feature that pairs with 144Hz for smoother gaming. Games looked nearly identical to how they did on the 4K model, though it's worth noting that we were using an Xbox Series S that primarily runs titles in 1080p. Unless you're using a souped-up gaming PC with your TV, you probably won't benefit much from this kind of panel when it comes to games.
If you want to be ready for the next wave of high-res content, Samsung's latest 8K TVs come in sizes ranging from 65 to 85 inches, and offer 144Hz for smooth gaming.
Though not a giant step up from their 2022 lineup, the new Neo QLED 4K TVs are available in three different models: the QN95C (65, 75 and 85 inches), starting at $3,300; the Q90C (43, 50, 55, 65, 75 and 85 inches), starting at $1,200; and the QN85C (55, 65, 75 and 85 inches), starting at $1,500.
As per our review of last year's QN90B, the newer sets were super bright and colorful, and packed with 33 million pixels. The contrast in the darker scenes in "Stranger Things" seemed less precise and more saturated, though we did come to the Neo QLEDs from those super-deep blacks of the OLED TV, which is a tough act to follow. The football game we streamed from Amazon Prime looked stunningly clear and the colors were more realistic than the Netflix footage, while the anime-esque action of Hi-Fi Rush looked vibrant (though not quite as great as on the OLED) while allowing us to hit our attacks with perfect timing, thanks to that responsive refresh rate.
The new Auto HDR remastering feature, which uses AI to create high dynamic range (HDR) effects on standard dynamic range (SDR) content, is optional — meaning you don't have to add the artificial enhancements. But Samsung claims it will make the picture brighter and more immersive. We are looking forward to getting more intimate with the new feature when we're able to perform a full review.
If you want all the smarts of the Neo QLED lineup at more attainable prices, the 4K models are available now in three different models.
Though not brand new for 2023, Samsung's S95C OLED 4K Smart TV is getting a fresh 77-inch size, which retails at $4,500. Last year, we oohed and aahed over the gorgeous colors, deepest blacks and engrossing nature footage we watched on the 65-inch OLED screen — which happened to be Samsung's first OLED panel in almost a decade. This year, we were equally as impressed with everything the bigger screen (which comes with an even thinner chassis) had to offer, including excellent contrast in the darker scenes from "Stranger Things" season four and vivid colors during Apple TV's "Prehistoric Planet." Games also looked best on this panel, whether we were playing the super-colorful Hi-Fi Rush or taking down demons in the darker, more cinematic Metal: Hellsinger.
Of course, you'll still get the 8.3 million pixels and a processor, which, like the Neo QLED TVs, uses AI to upscale content to 4K, as well as a sleek design with that handy OneConnect Box to hide those annoying cables. And, though we would expect anyone throwing down the cash for this TV to upgrade to a soundbar, the embedded speakers did just fine.
If you want the best color and contrast a Samsung TV has to offer within an extra-large size, Samsung's new 77-inch S95C OLED is available to order now.
The takeaway
In addition to its upgraded The Freestyle projector and great-looking lifestyle TVs like The Frame, Samsung's 2023 TVs offer promising new performance features, a slimmer chassis for its always gorgeous OLED TV and an introduction to the future of TV technology with its larger-screen Neo QLED 8K TV.
Though we were impressed with all the new TVs, we are especially wowed by the stunning contrast and realistic colors of the S95 OLED. However, the New QLED 8K TV offers something to chew on (if you have the cash), considering its impressive upscaling and even larger size — a formidable addition for anyone with a high-end home theater setup and the space to enjoy it.
And though we didn't have a chance to get a fully realized review of the Neo QLED 4K lineup, we are looking forward to spending time playing with the AI-powered HDR remastering feature.