If you've ever struggled to pull out your key from the bottom of your bag while juggling groceries and kids, worried about how the cat sitter is going to get in while you're on vacation or rushed home from work to let in houseguests, then you'll understand immediately how a lock that opens at your approach, with a simple tap or remotely can make life a whole lot more convenient.
We spent four months testing 12 of the latest smart locks to see which ones perform the best. Whether you're looking for an affordable, a basic or a top-of-the-line do-everything device, we've found the best smart locks for your home.
Best smart lock overall
The Yale Assure Lock 2 is a full-featured replacement smart lock with a sleek, modular design that lets you buy just what you need and upgrade as you like. We found it easy to use and share access to you home, and it integrates easily with smart HomeKit, Alexa and Google Home.
Best value smart lock
Detailed instructions make the affordable Wyze Lock Bolt simple to install, it's simple to use whether you're just looking to get into your home or share codes with guests and it looks nicer than other budget locks.
$150 (keypad) at Amazon or $180 (touchscreen) at Amazon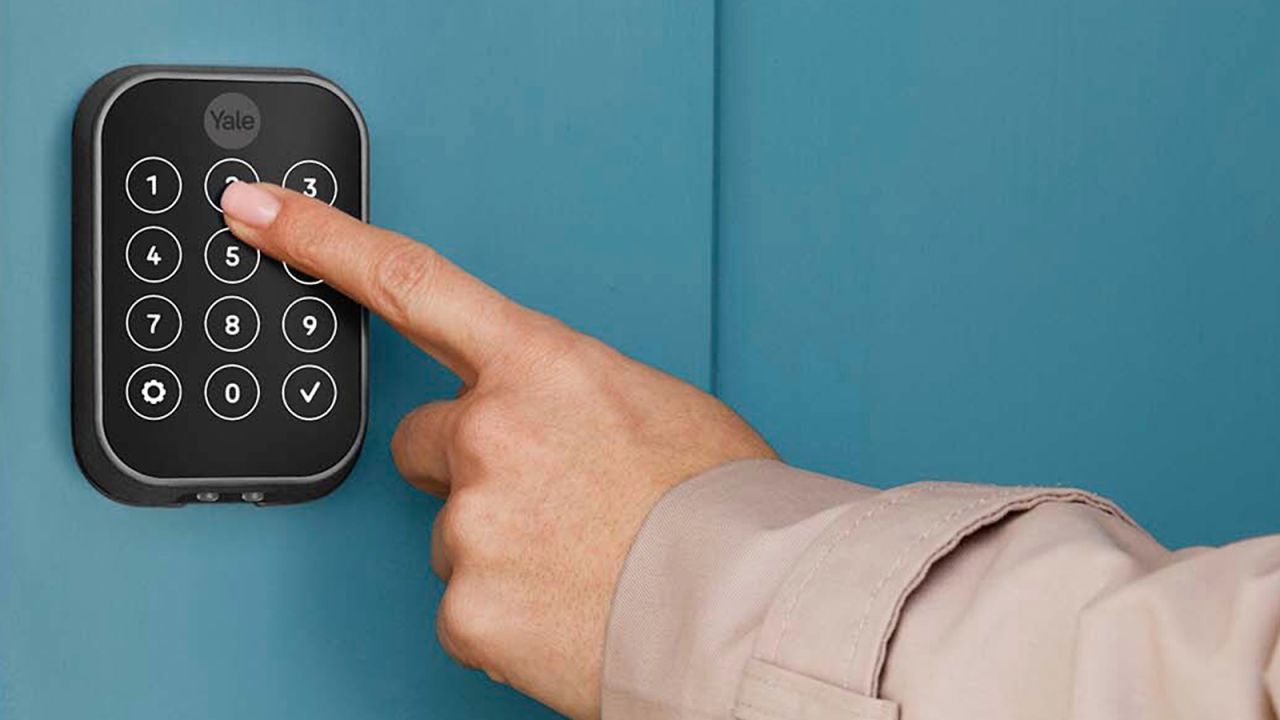 The Yale Assure Lock 2 is a full-featured replacement lock with a modular design that lets you buy exactly what you need to get the sort of access you want. Building on the same core unit, you can choose between keypad or touchscreen and keyed and keyless models, and whatever flavor of smart home connectivity suits your setup. It works well, it's simple to install and it's simple to upgrade to meet changing smart home standards.
What we liked about the Yale Assure Lock 2
To be worth the money, a smart lock needs to make life simpler than a plain old lock and key, letting you manage access to your home for you, your family, your houseguests and whoever else you invite over, and the Yale Assure really delivers. Yale's system lets us provide permanent or temporary access using just geofencing, codes and remote control more easily than any other lock we tested.
Using the Yale Access app, you can easily grant codes to anyone you need — we set up access for our family and our cat sitter right from our Apple Watch, but you can also use your phone and set up everything or control everything via the Apple Home app, even over Bluetooth.
Through the Yale Access app, I added our son to our lock (he had to download and set up the app on his phone) and was able to grant him PIN access using a code. Granting unique codes lets you see in the app's history log just who came and went — no need to loan out extra keys or worry about getting them back. I used that for our cat sitter and set up a Smart Alert to notify us when she used the lock. That way we knew what time the cats were last fed, so they couldn't pretend they were starving when we got home.
If you use the Wi-Fi module, then you can integrate with Amazon Alexa or Google Home and get full remote access using any of the big three smart home platforms. Z-Wave and Matter Smart models are slated to be available later this year (at $79 each), so you should be able to make the lock work with almost any smart home system.
We tested the keyless, touchscreen-equipped base unit, along with the Wi-Fi smart module. Installation was simple — you scan a QR code to open a tutorial that walks you through the setup process with detailed info and videos. We didn't have as smooth an experience with some other locks, and setting up the Yale was much easier and faster. The smart module attaches to the interior of the lock right above the battery and connects to our home Wi-Fi without any issues.
You can also set the Assure Lock 2 to auto unlock based on your phone's location, so you don't have to have anything in hand to open the door. A "Door Sense" feature can monitor when the door is open or closed and will auto lock after a set time (or alert you that it cannot). Smart Alerts can also be set to notify you when specific users have accessed the lock.
Unique, timed codes can be shared, making this an easy way to give guest access, great for a rental property. You'll also see a log of who came and went so you'll know if the cat sitter showed up or if the kids got home from school.
We tried out a keyless model, but if you opt for a keyless lock you won't need to worry about the battery running out — a set of prongs on the bottom lets you recharge the lock enough to get access using a 9V battery.
What we didn't like about the Yale Assure Lock 2
While the Yale Assure Lock 2 has almost all the features we looked for in a smart lock, it doesn't offer a fingerprint scanner, which some other smart locks do and we enjoyed using as an alternative. The backlit touchscreen keypad was responsive, but tapping the right spot to turn on the backlight took a few tries.
While the Wi-Fi module worked with the Apple and Google platforms, we did have some initial difficulty connecting it to Alexa; it took a couple of tries and didn't always connect quickly. Response to voice commands via an Amazon smart speaker was wonky.
Door Sense is a great feature in theory but frustrating in practice. Understandably, there's no way for the lock to close the door on its own, but if it kicks on when the door is open, it simply locks the door while it's open, which isn't helpful even if you know about it.
Bottom line
The Assure Lock 2 is more flexible and updatable than most of the competition, and if you don't need all the features, you don't have to pay for them. It's both less expensive and more future-proof than the similarly spec'd Schlage Encode Plus. And the Yale Assure Lock 2 has a sleeker and less cumbersome look (it comes in black, bronze and satin nickel finishes, though no brushed chrome) than some of the bulkier locks we tested, so it'll integrate with your decor as easily as it will with your smart home devices.
If you want keyless door entry but don't want to spend a lot of money, the Bluetooth-only Wyze Lock Bolt is the best value lock we tested. You get multiple options for unlocking the door — using the app, punching in a code on the backlit keypad or using a fingerprint reader — a surprise at this price, especially one that works as reliably as it does.
What we liked about the Wyze Lock Bolt
Although it lacks some of the features of a more expensive device like the Yale Assure Lock 2 or the Schlage Encode Plus, the affordable Wyze Lock Bolt looks pretty good on the door and provides most of the features you really need, including guest access, temporary codes, auto lock and a lock history so you know who has come in and out and if there were any failed attempts.
Detailed instructions made installing the Wyze Lock Bolt easy, and we completed it in 15 minutes. The matte black unit isn't as slick-looking as the Yale Assure Lock 2 or other pricier models, but it isn't overly clunky-looking either.
Using the lock was simple — it behaved as expected, locking and unlocking without fail — and the fingerprint scanner was responsive. If you prefer to use a code, then you simply type it in and tap the Unlock button. To lock the door when you leave, you simply tap the Lock button. An auto lock feature can be set to always lock after a certain amount of time, so you never have to worry about whether you forgot to lock the door.
The Wyze app stores up to 50 different fingerprints so everyone in the household can use it, as well as anyone you trust enough to give open access to. For temporary guest access, for our cat sitter, we assigned a unique code that worked only for the specific dates we would be out of town.
Wyze says the four included AA batteries should last about a year. Although it does warn you when the battery is running low, there's a fail-safe method in case you do find yourself locked out because of a dead battery. There's a USB-C port hidden on the bottom of the exterior you can use to quickly charge it up enough to unlock the door.
What we didn't like about the Wyze Lock Bolt
While this affordable lock is feature-rich, it is missing a lot of the features you get with more expensive locks with Wi-Fi connectivity, such as remote access. It can't interact with Alexa or Google, so there's no voice control, there's no geofencing for auto unlocking and since it isn't networked, even if you use other Wyze smart home products it won't integrate with them, although they share the same app. Also, because it can't tell whether the door is open or closed (as the Yale Assure Lock 2 can), the Wyze Lock Bolt might lock itself when the front door is left open for a reason.
Bottom line
The Wyze Lock Bolt is a budget-priced smart lock with many advanced features, including a keypad and a reliable fingerprint scanner for those households that want both. Without Wi-Fi it isn't as "smart" as some of the competition, but it's got enough features to make managing access to your home easier.
What to look for in a smart lock
Smart locks all do one basic thing — let you lock and unlock your door using an app on your phone or via integration with your smart home system over your network or even remotely. How they do it varies quite a bit. Here are five things to consider to help you choose the best smart lock for your home.
Connectivity
Your smart lock needs to connect to something — your smartphone or your home network — in order to communicate commands.
Most of the locks we tested used Bluetooth, one of the easiest ways to connect. Bluetooth uses very little power, so the batteries in Bluetooth-only locks can last a very long time (most last a year). On the other hand, it doesn't have as long a range as Wi-Fi, and since Bluetooth-only locks don't connect to your network, they don't offer remote control possibilities — to control a Bluetooth-only lock, you'll need to be home (so no generating custom codes for surprise guests while you're at the office) and, even when you are home, you'll need to be close — ideally no more than 30 feet away from the lock — when using the app.
More advanced locks connect to your home network via Wi-Fi so you can access them remotely wherever you are. Networking also means they can connect with other smart devices you may already have in the home, whether that means Alexa, Google Assistant, a home security system or a dedicated smart home device. We were pleasantly shocked the first time we set an alarm using our Echo Dot and Alexa let us know our front door was unlocked. And yes, Alexa offered to lock it for us without us having to get out of bed. A very minor downside of a Wi-Fi-enabled unit is that it will use more battery power, so you may need to replace your lock's batteries more frequently.
If you're going to invest in a Wi-Fi smart lock, then make sure you buy one that works with the ecosystem you already use (or prefer, if you're just building a system). Most of the more expensive locks work with either Amazon Echo and Google Assistant and only a few, like the Ultraloq U-Bolt Pro Wi-Fi, also include support for Samsung SmartThings. Some, like the Yale Assure Lock 2, Level and Schlage Encode Plus, also offer Apple HomeKit support.
Schlage and the Level Lock+ support the new Apple HomeKey protocol, which lets you unlock your door with a tap via NFC using your iPhone or Apple Watch and is a super-convenient way for Apple households to share access.
Since these devices aren't cheap, you'll likely want to think about future-proofing your purchase. Matter, a new smart home connectivity standard, has been in the works for years and should be rolling out next year. Apple, Amazon, Google and Samsung, among others, have made commitments to the standard in the effort to solve the issue of smart home devices not talking to each other and to make it easier for the home user. Once devices start to appear sometime in 2023, Matter should provide a standard protocol for smart home devices, regardless of who manufactured them, to talk to each other.
At this time of transition, however, only two locks we tested have announced support for Matter. Our favorite lock overall, the modular Yale Assure Lock 2, will get a smart module you can purchase to add onto your existing lock, and the Level Lock+ will be updated via firmware. The other locks will all work just fine in the future, of course, it's just that they won't be able to take advantage of the new connectivity standard, so they may not speak easily to new smart stuff you buy.
Replacement or retrofit?
Do you rent or own your home? Smart locks come in two varieties: those that replace your entire lock and those that work on top of your existing hardware.
Most likely, if you rent, you'll need a retrofit lock such as the August Wi-Fi Smart Lock or Wyze Lock Bolt. These attach to your current lock, on the inside, where they work like a miniature robotic hand that turns your deadbolt. This means you won't need to replace anything, rekey your current lock or have to negotiate with your landlord.
Most of the locks we tested replace an existing deadbolt and door hardware. It's a straightforward install and most include good directions for installation. On average, it took about 20 minutes to take off an old lock and install a new one on our front door.
When you swap out the deadbolt on a lock with a key, you'll likely get new keys to distribute to the family. The Kwikset Halo was one of our favorites in this respect because it comes with a device to rekey your new lock so you can use your existing keys.
If you do go this route, then you'll want to consider the design of the new door hardware. Locks like Schlage offer two designs to choose from: a traditional style and a more contemporary style. Most of the others come in just one style. The finish is important as well. Most smart locks come in a matte silver or black, but only a few come in a gold or polished brass finish, which can be an issue for some (like us) who live in an HOA that requires a certain color hardware.
Access types: apps, keypad, fingerprint scanner, geofencing or all of the options?
While all of the locks we tested let you lock and unlock the door using your phone, via a mobile app, geofencing or NFC, you should also consider whether you want to use a numerical keypad or fingerprint scanner as your secondary form of access. (There are, by the way, many keypad-only locks that don't use apps, but those aren't technically "smart" locks.)
Some people prefer a keypad lock so they can provide access codes for guests who have time limits and can be revoked. This is a great option for those who rent out their homes or people who have young children who don't use smartphones just yet.
For whole family access, fingerprint scanners are fast, worked well in our testing and were easy to set up. Some locks allow up to 50 fingerprints to be stored, so you can add frequent guests or visitors, but you can't control access remotely (or create time-limited access) like you can with a keypad code. The user will also have to download the lock's respective app to use the fingerprint access, which can be problematic if you're dealing with guests or family who aren't tech-savvy. Another downside is, if you live in areas with very cold temperatures, then you do have to remove your gloves to use a fingerprint scanner.
Security
Most of the better locks come with a feature (often referred to as PIN Genie) that lets you enter a few random numbers to either the beginning or end of your real code as you type it in. This is useful if you're punching in a code and don't want anyone near you to see what you're doing.
Emergency access features
What happens if your lock runs out of battery? This is a concern for many new and potential smart lock users, but it's unlikely to happen since the locks we tested all gave us ample warning of low battery status, with an alert through the app or a flashing LED on the lock itself.
That said, the higher-end locks we tested typically offered either a 9V battery terminal or a USB-C port on the underside of the lock that lets you add a quick charge if you arrive home and find the lock out of power.
How we tested
We installed and used all 12 locks on a residential front door over a four-month period. It was a little overwhelming at first and we had a friend assist with the first two installations until we got the hang of it. But thereafter, each installation took anywhere from 15 to 30 minutes — averaging around 20 minutes — including removal of the old door hardware and installation of the new lock. No special tools were required — just a screwdriver and a pair of reading glasses. Sometimes a flashlight.
We then tested the locks in daily use over several weeks. We looked at ease of use, security and access features, ease of rekeying, in what situations an app was required to interact with the lock, smart home integration and design considerations.
Other smart locks we tested
If you rent a home or an apartment and can't swap out your existing lock, the August Wi-Fi Smart Lock is the best lock you can get right now. You don't have to replace your deadbolt and/or rekey, turning your existing lock into a smart lock. It has built-in Wi-Fi (and HomeKit) so no need for a bridge, and it offers multiple ways to open and lock your door. It's small, unobtrusive and works reliably.
While no one looking at your door's exterior knows it's there, the lock on the inside of the door gives you smart features like remote access to let someone in or lock your door while you're not home. The auto unlock feature (using our phone's location) worked flawlessly, and an auto lock feature (with Door Sense) let us know whether our door was open or closed.
If you purchase the additional optional keypad, you can share permanent, scheduled or temporary access with friends, dog walkers and guests. We preferred this to the basic Wyze Lock, which lets you share unique codes but doesn't let you create temporary codes.
With the built-in Wi-Fi, we were able to connect our Alexa device and lock the door using our voice. It also supports Google Assistant and Samsung SmartThings. Most smart locks at this price work only with Alexa and Google. In addition, since it has HomeKit integration, Apple users can lock and unlock the door using an Apple Watch and Siri voice control.
August says the two CR123 batteries will last three to six months, a shorter life span than you'll get from Kwikset, Schlage and Yale locks, which run on four AA batteries. However, since we couldn't test the life span of either type of battery, it's also important to note that relying on Wi-Fi, which this lock does, does tend to drain the battery faster. You'll get notifications from the app when the battery level hits 25%, but, unfortunately, you can't check the level in the app.
The lock itself has a small, round, compact design, making it look just like any other door lock, and it comes in a silver or black finish. It doesn't look large and clunky on the door's interior either, as other replacement locks like Kwikset and Schlage do. The app is user-friendly, and the installation instructions were clear.
$350 at Eufy, $400 $350 at Amazon or $419 at Newegg
If you want a video doorbell integrated into your smart lock — either because you don't have room for both devices or your condo association doesn't allow a separately mounted camera — then Eufy's Security Video Smart Lock is expensive but adds a 2K resolution video camera to a full-featured smart lock. It has a fingerprint sensor and a keypad, it works with Google and Alexa smart speakers and you can access the house using the Eufy app or a regular key.
We found the 2K video quality and experience to be much better than with the more expensive Lockly Vision Elite, and the Eufy lock has features such as linger detection, which lets you know someone is at the door but they haven't pressed the doorbell yet. The fingerprint sensor is also in a better location, on the front as opposed to on the side of the lock.
You may want to keep in mind that, even though the video is stored locally on an SD card, there have been reports that thumbnail photos from Eufy security cameras have been uploaded to their cloud servers, even when cloud services were disabled in the app. We'll update when we know more, but if this concerns you, then you may want to hold off getting a Eufy security camera until the appropriate fixes have been widely distributed.
The Kwikset Halo Touch Smart Lock is an attractive, reliable fingerprint lock that's easy to install, works with Alexa and Google voice assistants (though not HomeKit), is simple to use and works well. However, we recommend it only if you aren't looking for an easy way to share temporary access with pet sitters or renters.
This smart lock has a fingerprint scanner and a (rekeyable) keyway, and you can add up to 50 users. But there's no keypad. So to share temporary access with others, you need to invite them to download the app and then create an account to use the app controls to gain entry. If your guest is tech-challenged or doesn't keep their phone charged, then you might want to stick to a smart lock with a keypad.
The Kwikset Halo Touch Smart Lock comes in two stylish designs: contemporary (in matte black or satin nickel) or a more traditional design, with curved, softer edges (in satin nickel or Venetian bronze). However, if you live in an HOA that requires a certain color hardware on your door, then note that it's not available in polished brass or matte gold.
$86 (SmartCode 260, keypad) at Amazon or $120 (SmartCode 270, touchscreen) at Amazon
The Kwikset SmartCode Electronic Deadbolt isn't really a smart lock. It has no Wi-Fi or Bluetooth connectivity — but it's the simplest replacement lock we tested and a great choice for anyone who wants the benefits of being able to use codes (giving house or pet sitters or guests access without having to distribute extra physical keys) without having to deal with connectivity, apps or the like. The SmartCode simply adds a 10-button numeric keypad (or touchscreen, depending on which version you get) with a designated lock button to a standard deadbolt, making for a simple and effective solution.
You can create up to 50 permanent codes and 10 temporary codes at a time (you do all of the programming on the keypad itself).
The SmartCode proved its worth when we went away for a weekend and our elderly neighbor came to feed our cats. She gets nervous about depending on technology and was worried about not being able to get inside. We created a code for her to use, and after we tried it together, she found it easy and straightforward to use, and had no issues all weekend. Once she entered the code, the door automatically unlocked and the "lock button" flashed green. To lock the door, she pressed the Lock button, and it flashed red to show her it was locked.
Kwikset makes two versions of the SmartCode electronic lock: the SmartCode 260 (which has physical buttons) and the SmartCode 270 (which has a touchscreen). Both are available in traditional or contemporary styles and nickel or bronze finishes. Both come with Kwikset's easy rekey tool, which lets you easily reset the lock yourself.
If beautiful design and Apple HomeKit integration are requirements, then the Level Lock+ is the one to get. With a sleek, understated design (created in partnership with Apple), and Home Key support along with HomeKit, it's a compelling offering for Apple enthusiasts. Also, the company promises a firmware update to support Matter once it's available.
Level gives you multiple ways to access your home. We were able to use a physical key, the Level app or just a touch of the capacitive surface of the physical lock. You also get programmable NFC key cards, which is great for kids who don't yet have a smartphone or watch.
It was easy to create timed access for a guest and to revoke it at any time. If you prefer giving guests access using a unique code, then you'll need to buy the optional Level keypad ($79).
The Level Lock+ is a replacement lock, but once installed (which we did in 20 minutes), it looks nothing like a smart lock. Both the interior and exterior hardware are sleek and small, the design incorporates the battery (it uses a watch battery) and all the smarts are inside the lock, not in a clunky module that sits on your door. It comes in satin nickel and black finishes only, so if you live in an HOA that requires gold hardware, then you may not be able to use it.
What makes this lock so easy for Apple households is that, once you add HomeKey to your Wallet, you can share it instantly with other family members; there's no need to repeat the setup. We used the auto unlock feature that unlocked the deadbolt as we approached the door, and we never had to have our phone out. However, if you want to control the lock remotely, then you need to have an Apple Home Hub such as a Home Pod or an Apple TV.
The Level Lock+ is a compelling lock for Apple users who want an easy-to-use, aesthetically pleasing design and who don't mind paying top dollar for it.
The Lockly Vision Elite is an expensive smart lock, with a built-in video camera doorbell that has a fingerprint sensor, a keypad, a traditional key slot and app-controlled access. It's also solar-powered so you'll never have to change the battery. The Vision Elite, like most devices that perform two tasks, doesn't perform both tasks at the same level; in this case, the lock portion is much better than the video doorbell.
The integration is great; when someone rang our doorbell, a video screen popped up on our phone to show us who was there, and we could have a two-way conversation or just open the door lock. But the motion detection isn't great, and the resolution is 1080p, lower than the more affordable Eufy's 2K resolution.
The Lockly requires you install its own hub to your router; the lock then communicates directly with this rather than broadcasting over your network. The company claims this keeps your stored video more secure, but it's another hoop to jump through during installation.
In our testing, the Schlage Encode Plus was a close runner-up to the Yale Assure Lock 2, but it has been in short supply at the time of publication, so we can't recommend it right now. Plus, it's pricier and doesn't provide an upgrade path to the forthcoming Matter smart home standard like the Yale lock does.
If you have an all-Apple household, then the Encode Plus is worth a look. This touchscreen lock does add HomeKey NFC support (which the Yale Assure Lock 2 skips) along with HomeKit. Apple users can tap their iPhone or Apple watch for easy entry. It also has built-in Wi-Fi, so there's no need for any modules or hubs, and it integrates with Alexa and Google Home.
And it's more expensive than the Yale Assure Lock 2, but the full features and choice of modern or traditional design are a compelling reason to get one, especially for Apple households. You just might have a difficult time finding one.
The SwitchBot is another retrofit lock that's suitable for renters looking for a simple installation, but overall, we think the August Wi-Fi Smart Lock is a better choice on performance and aesthetic grounds.
Like the August, the SwitchBot is designed to fit right over your existing door lock, so you aren't making any changes to your door. Installation is fussier than with the August, and the adhesive-mounted black plastic housing is clunkier-looking. Once mounted, the SwitchBot lock works well, but it has limited features.
On its own, it can only connect to the app via Bluetooth. You need to purchase the additional Hub Mini if you want to add Wi-Fi, and if you want a key-free experience, then you'll need to buy the separate keypad (for $40 $30) or the Keypad Touch (for $60) that adds a fingerprint reader and the ability to share codes with guests. Overall, it's not too expensive, and it's nice that you only need to buy what you need. But once you add on all the extras, we think the beautifully designed August Wi-Fi Smart Lock is worth paying a little more for.
Ultraloq's U-Bolt Pro Wi-Fi is a solid and dependable smart lock, offering several ways to unlock your door, along with support for voice command using Alexa and Google. However, for the money, we think the Yale Assure Lock 2 is a better value.
The U-Bolt Pro Wi-Fi has both a backlit numerical keypad and a fingerprint scanner, along with other compelling features like built-in Wi-Fi, temporary guest access and smart auto lock and unlock with a door sensor. But we had some issues with the fingerprint reliability, and, while it integrates with Google and Alexa, there's no support for Apple HomeKit.
We found the installation and setup more difficult than the Yale and Schlage locks, and the app instructions weren't as clear as some of the other locks we tried. The design lets everyone know you have a smart lock installed, and the backlit keys are difficult to see in the dark, so you have to punch in a number to get the keypad to light up.
The Wyze Lock is a reliable and affordable Wi-Fi-enabled smart lock for users who want to keep their existing door hardware. This makes it a good choice for renters who can't make changes to their lock or cylinder and don't want to spend the extra money for the August Wi-Fi Smart Lock.
The Wyze Lock gives you many of the features of a smart lock, such as auto open and auto lock, remote access (using your phone's location) and Alexa and Google voice control and the ability to use your existing key.
However, you'll also need to plug the included Gateway into an electrical outlet near the lock, while Wi-Fi is built into the August Wi-Fi Smart Lock. You can share unique codes with guests but can't limit them to specific times as you can with the August lock. So, if that matters to you, then you should spend the extra money for the August lock or buy the optional wireless backlit keypad (for $24 at Wyze) for the Wyze Lock. But keep in mind that you'll have to install it on a wall on the outside of your door, which might not be an option for renters.
Read more from CNN Underscored's hands-on testing: