Finding the right travel backpack can feel like an impossible feat, mainly because there are so many to choose from. There are backpacks aimed at business travelers just as there are backpacks geared toward leisure travelers, and hiking backpacks for adventure trips. In my search for the best backpack, I've discovered that, for the most part, I need an option that works well in various circumstances.
Among the dozens of travel backpacks I've tried over the years, I have almost exclusively used the Incase A.R.C. Travel Pack on my trips. Not only have I taken the A.R.C. Travel Pack on the majority of my short, weekend getaways where I needed to bring a laptop, but I've also used it for longer journeys to destinations in the Middle East and Europe.
The ideal travel backpack if you want to pack for several days away without checking a bag
The Incase A.R.C. Travel Pack is equal parts backpack and suitcase. Its butterfly-style packing system allows you to maximize space for packing clothes and other essentials, while it has a separate laptop compartment and plenty of additional pockets. While it's on the pricey side, its durable exterior and versatility make this a solid addition to your travel wardrobe.
One of the things that makes the A.R.C. Travel Pack my go-to is the way it expands for added storage when needed — I even took it on a 16-day European vacation when I wanted to avoid checking a bag. The A.R.C. Travel Pack made it possible to bring more clothing along, as well as my laptop and essentials for work, which wouldn't have been an option with other backpacks I've tried.
If you're looking for a backpack that looks professional and holds up during frequent trips, you may want to consider the A.R.C. Travel Pack. After having tested out this backpack for more than a year, I've found there to be more pros than cons, making it a staple in my travel wardrobe for any kind of trip.
What we liked about it
It's versatile thanks to expansion zippers
One of the biggest benefits of the A.R.C. Travel Pack is its size — and its ability to get even bigger. In its unexpanded size, the backpack measures 19 inches long by 13 inches wide and 8 inches deep for a total packing capacity of 25 liters. However, this backpack works similarly to expandable luggage since it has a side zipper that allows you to increase its volume when needed. When in its expanded setting, you'll find 33 liters of packing capacity — meaning this bag can expand by up to 8 liters.
The regular size of the bag is big enough for most things I've needed when traveling. That said, having the benefit of expanding it makes it ideal when packing not only my laptop and work gear but also clothing and toiletries. Being able to expand the backpack's capacity with a zipper and then compress the whole bag with exterior straps go a long way in giving you the opportunity to avoid a checked bag.
It's made with longevity in mind
About that name. A.R.C stands for "A Responsible Carry," referring not only to the recycled material the bag is made from but also the fact that it's got built-in user benefits like linings inside the bag and on the top and side handles that prevent bacterial build-up, as well as RFID-blocking technology.
The A.R.C. Travel Pack is made of a recycled polyester fabric that makes it very easy to keep clean. I usually wipe my bag off with a damp cloth after each use, and it still looks new after bringing it around the world when most bags would show heavy wear. Though I have the navy blue shade, the Travel Pack is also available in black and Smoked Ivy. The durable exterior is resistant to both water and stains, which is exactly what you need when you're looking for a long-term travel companion.
It's all about the organization
When considering a quality travel backpack, you also have to take into account the organization available — and I've found the A.R.C. Travel Pack to meet my expectations. The backpack includes a top zipper compartment with hidden zipper pockets inside for travel documents and other items you want to keep close by but only accessible to you. And, it's also got dedicated space for your water bottle so you always stay hydrated on the go.
If you're planning to travel for several days, the butterfly opening on the A.R.C. Travel Pack helps to set it apart. When it's open, it's more like a suitcase than a backpack. So, rather than jamming everything in the bottom of a bag, you can pack it suitcase-style. In other words, you can incorporate important tools like packing cubes to fit more inside.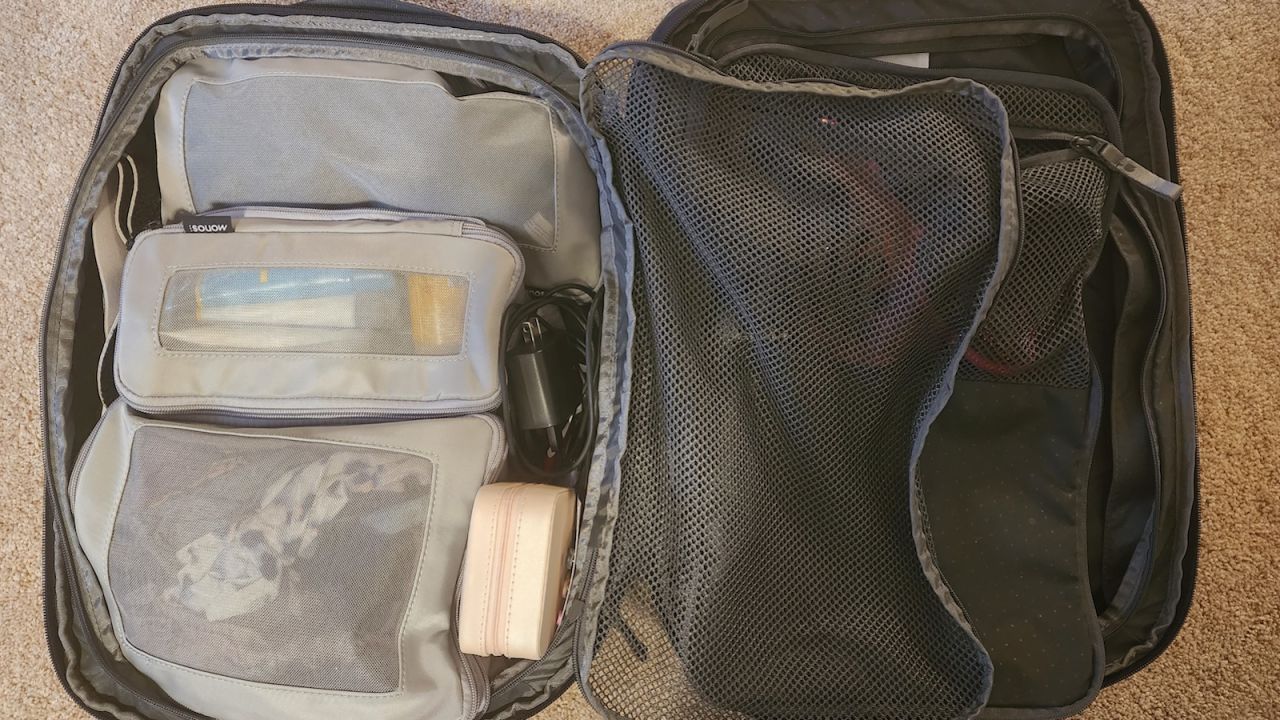 As mentioned, the organizational compartments in this backpack help to set it apart. If you're looking to keep dirty footwear away from everything else, the Travel Pack even has a dedicated shoe compartment. Though I personally use it for travel snacks, it's a great option to have a separate space for items of your choosing.
Inside the bag, you'll also find a dedicated and plush laptop compartment, which Incase says is large enough for up to a 16-inch MacBook and up to a 12.9-inch iPad, though I've found it big enough for my 17-inch HP Pavilion.
Comfortable carrying for easy transport
For longer trips when the bag is fully packed, the comfortable, padded shoulder straps make for easy carrying. (Or, if you prefer to carry it by a handle, there are options both on the top and side.) Additionally, it comes complete with a trolley sleeve so you can easily slip it over your carry-on bag for easy transport.
Ultimately, it's the variety of organizational features and massive capacity that help to set this backpack apart. If you're traveling for an extended period and want to avoid checking a bag, this backpack has room not only for your electronics but also for several days' worth of clothes and added compartments for all of your other travel gear.
What we didn't like about it
It's not great for day-to-day use
The main thing we don't love about this bag is the way the interior compartments work for certain types of trips. The A.R.C. Travel Pack isn't the typical open-from-the-top backpack where you can reach your hand in and file through. Instead, it has a side zipper that lets you open the backpack similarly to a piece of luggage.
I found this style to be great for long trips when I'm trying to pack a lot and be as organized as possible, but there are times when I would prefer a traditional backpack for easily accessing my belongings — particularly on shorter trips or for day-to-day use. Then again, with the A.R.C. Travel Pack, you can use the top zipper compartment to keep items you typically need close by during travel, such as your passport, vaccine card, pen and headphones.
It's an investment
Additionally, it's worth noting the high price point on the Incase A.R.C. Travel Pack. At $250, it's an investment. However, if you travel enough with just a backpack and can make use of its large packing capacity, it can easily be worth the cost — especially if you consider the amount of money you could save by not checking a bag.
How it compares
| | | | |
| --- | --- | --- | --- |
| Dimensions | 19 inches x 13 inches x 8 inches | 18 inches x 12 inches x 7.8 inches | 21.7 inches x 13.6 inches x 9.5 inches |
| Capacity | 25 liters; 33 liters when fully expanded | 28 liters | 45 liters |
| Weight | 3.7 lbs | 1.68 pounds | 3.32 pounds |
| Carry-on size? | Yes, with most airlines | Yes, with most airlines | Yes, with most airlines |
| Packing style | Butterfly style with additional laptop compartment and side storage | Backpack style with separate laptop compartment and additional pockets | Flat style with compression features, separate laptop compartment and additional pockets |
| Colors | 3 | 15 | 3 |
| Price | $250 | $30 | $220 |
Bottom line
If you're looking for a travel backpack that works well for many types of trips, the A.R.C. Travel Pack is worth checking out. This bag has a ton of hidden compartments for easy organization, and the way it expands makes it ideal for longer trips when you need to bring a lot of stuff. The durable materials the bag is made from also help it stay in good condition for longer than many bags I've tried.
That said, there are smaller bags out there that may work better for shorter trips and day-to-day usage when you need to be able to reach in to get what you want at any time.
However, if you're looking to get a travel backpack with loads of capacity and a suitcase-style packing method all in a chic design, look no further than the Incase A.R.C. Travel Pack.
Looking for a travel credit card? Find out which cards CNN Underscored chose as our best travel credit cards currently available.