CNN Underscored reviews financial products such as credit cards and bank accounts based on their overall value, but does not review all financial companies or all available financial offers. We may receive compensation for sending traffic to partner sites, such as CreditCards.com, and this compensation may impact how and where links appear on this site.
Just less than a year ago, a new credit card landed in the United States: the Chase Aeroplan® World Elite Mastercard® Credit Card. But with Aeroplan being tied directly to an international airline in Air Canada, there's a good chance you might have quickly overlooked the card, thinking that the Aeroplan loyalty program has no benefit if you don't live in or fly to Canada often.
But that's a big misconception, as the program and Aeroplan credit card have some big benefits for US-based travelers, even if Canada is not on your radar. Let's take a look at some of the reasons you may want to consider adding this card to your wallet, especially with the current welcome offer where you'll earn up to 100,000 points — you'll earn 60,000 points after you spend $4,000 on purchases in the first three months your account is open, plus 40,000 points after you spend $20,000 on purchases in the first 12 months.
Flexibility to redeem Aeroplan points on all travel purchases
The Aeroplan credit card offers some great bonus categories where you'll earn three points per dollar spent on dining out — including takeout and eligible delivery services — as well as grocery stores and purchases made directly with Air Canada. Additionally, you'll earn a 500-point bonus for every $2,000 you spend on the card per month, up to 1,500 points per calendar month.
And fortunately, with points earned on the Aeroplan credit card, you aren't pigeonholed into using these points solely for flights through the Aeroplan program.
With Chase's "Pay Yourself Back" tool, you can redeem points earned on the Aeroplan credit card at a rate of 1.25 cents per point on all travel-related purchases. In other words, you can use your points on all travel bookings, including hotels, airfare, car rentals and essentially anything that is coded as "travel" on your monthly statement. When using your points this way, the travel merchant will also consider your purchase as a paid reservation, which means you'll be able to earn points or miles in the provider's respective loyalty program.
This is a great redemption opportunity for those who prefer flexibility and don't want to deal with the hassle of award availability. With the points earned from the welcome offer, that equates to $1,250 towards travel, however, you are capped at redeeming 50,000 points per year through this redemption tool.
Automatic elite status that comes with the card
As part of the current welcome offer on the Aeroplan credit card, you'll also automatically earn Aeroplan 25K elite status for the calendar year in which you open the card and the entire following calendar year. So, if you apply for the card in 2023, you'll have 25K elite status through Dec. 31, 2024.
With many airline loyalty programs, elite status benefits can only apply to that specific airline. So, on the surface, you might not care about that benefit if you aren't flying with Air Canada. But, with Aeroplan elite status, there are select benefits that also extend to partner airlines.
For example, with Aeroplan 25K elite status, you'll automatically earn Star Alliance Silver status. Having this status will give you many benefits when flying with partners such as United Airlines. Some of these benefits include a priority reservations waitlist where you can put your name on a waitlist for a desired class of service if the seat is not currently available, as well as a priority airport standby that gives you higher priority on the standby list for your preferred flight.
Then, after the initial complimentary 25K elite status benefit that comes with the Aeroplan credit card, you'll be able to requalify for — or elevate your — status simply with credit card spend.
After the welcome bonus expires, when you spend $15,000 on the card in a calendar year, you'll receive 25K elite status. But, if you're able to spend $50,000 on the card in a calendar year, you'll earn Aeroplan 35K elite status. For those high spenders, you're able to continue to earn even more benefits at various spend thresholds.
For those who fly United Airlines often, having a credit card for a completely different airline that earns you status benefits could come in handy if you aren't able to earn United status on your own.
Complimentary NEXUS membership
One unique benefit of this card is that you'll receive a credit of up to $100 towards Global Entry, TSA PreCheck or NEXUS membership every four years. While there are many travel credit cards that offer a credit for Global Entry or TSA PreCheck, getting your NEXUS membership reimbursed is a rarity as a credit card benefit.
NEXUS gives pre-screened travelers expedited processing when entering the United States and Canada. If you believe you'll be traveling to Canada at all over the next four years, this is a great opportunity for a smoother travel experience.
And fortunately, NEXUS membership also includes Global Entry and TSA PreCheck, so this one application — where the fee is reimbursed — will give you access to all three programs.
Also, with the card, keep in mind you'll get the first checked bag for free when your travel originates on an Air Canada flight, no foreign transaction fees and preferred pricing on awards for card holders.
World Elite Mastercard benefits
Since the Aeroplan card is a World Elite Mastercard, you'll receive many perks that are part of Mastercard. While there are a ton of extra benefits, some of our favorites include complimentary DoorDash delivery, Lyft credits and a ShopRunner membership.
Aeroplan card holders will receive three free months of DashPass, DoorDash's monthly subscription membership. This membership will give you free delivery, reduced fees and exclusive offers when ordering from your favorite restaurants.
If you take Lyft rides often, you'll also be well on your way to saving some money simply by being a card holder. If you take three Lyft rides in a month, you'll receive a $5 credit once per month to use toward your next ride. That's up to $60 in credit per year, which can easily help offset the $95 annual fee of the Aeroplan credit card.
Or, if you shop online often, a complimentary ShopRunner membership will give you free two-day shipping and returns at more than 100 stores, including Saks Fifth Avenue, Brooks Brothers, American Eagle Outfitters, Bloomingdales, Chico's and more.
Redeeming points on partner airlines
One of Aeroplan's strong suits is that it partners with 45 airlines. So not only can you redeem your points directly with Air Canada, but you can also use your points earned to fly popular airlines such as United, Lufthansa, Swiss, Singapore Airlines and many others. With its strong distance-based award chart, the number of points required for a partner flight is fixed, making Aeroplan points very simple and easy to use when booking online.
And one of the best benefits of using Aeroplan points on partner airlines is that you won't be charged fuel surcharges. Instead, you'll only pay the standard taxes and third-party fees as well as a flat partner booking fee of CAD $39 (about $30) per ticket — or you can use points to cover the fee.
For example, you can fly from Chicago O'Hare (ORD) to Zurich (ZRH) on partner Swiss Air for 40,000 points in economy or 70,000 points in business class, each way.
Or, if you are looking for domestic US travel, you can also use your Aeroplan points on partner United Airlines for as little as 6,000 points one way.
For flights of less than 500 miles, such as between San Francisco (SFO) and San Diego (SAN), you can fly for just 6,000 points each way.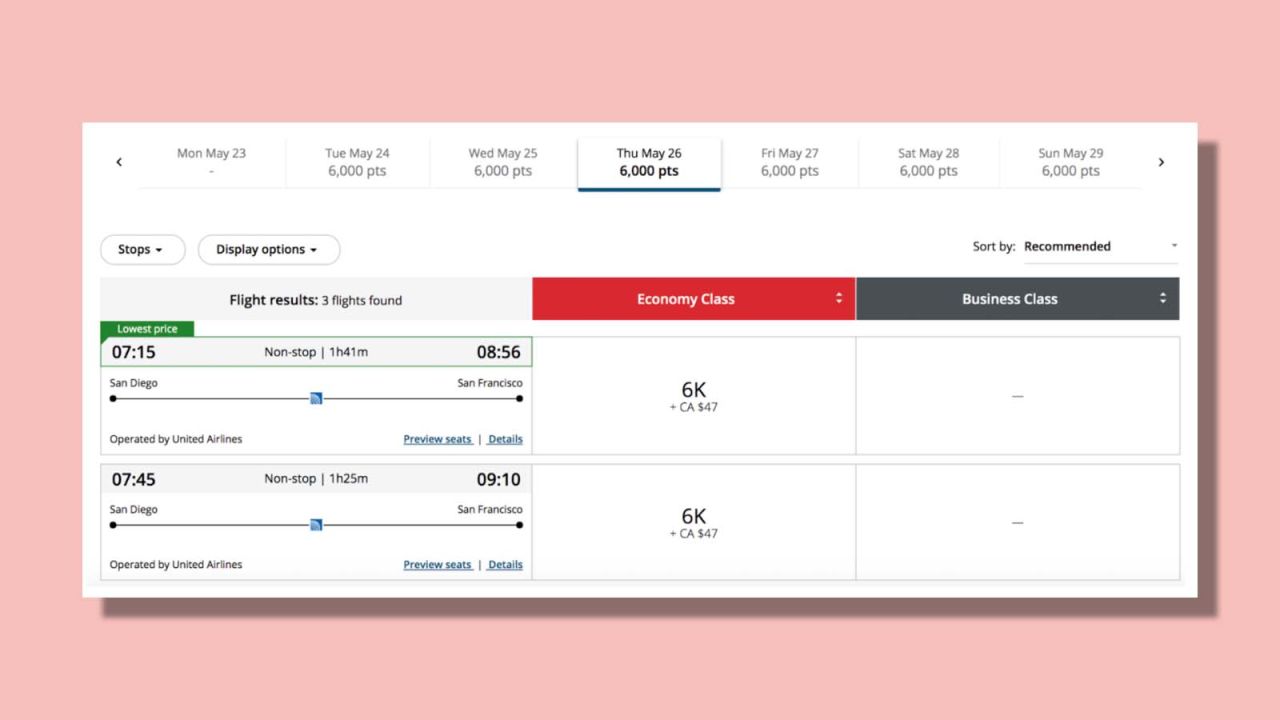 Or, if you're looking to jet off to the beaches of Mexico or the Caribbean, there are many United flight options, which follow the same North America award chart shown above. For example, a flight from Houston (HOU) to Cancun (CUN) costs just 10,000 points each way.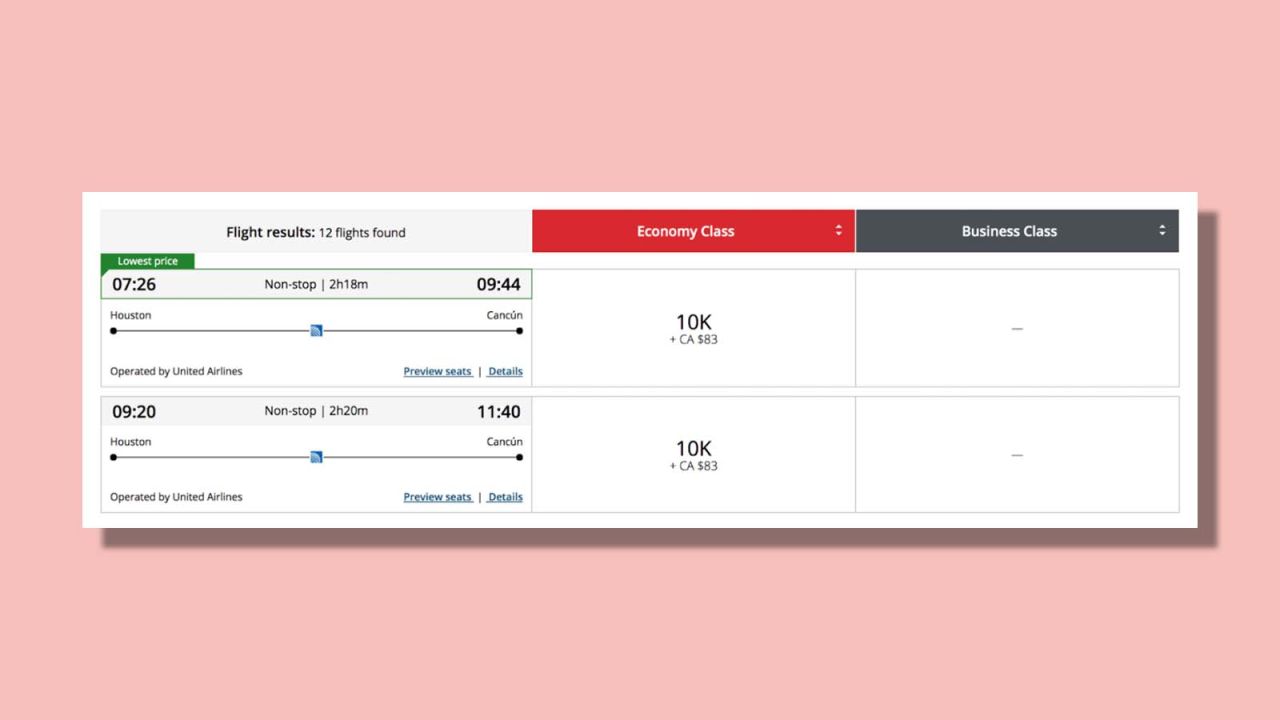 Additionally, Aeroplan allows for flexible routing where you can add a stopover for an extra 5,000 points on a one-way ticket. This means if you're looking to visit multiple cities on your trip, instead of booking separate reservations for each leg, you can add in an extra stop — all on the same itinerary — for minimal points.
Ultimately, with the high earning potential and the flexible redemption options, Aeroplan is a loyalty program you'll want to pay attention to, especially now with the addition of the Aeroplan credit card.
Looking for a travel credit card? Find out which cards CNN Underscored chose as our best travel credit cards currently available.