CNN Underscored reviews financial products such as credit cards and bank accounts based on their overall value, but does not review all financial companies or all available financial offers. We may receive compensation for sending traffic to partner sites, such as CreditCards.com, and this compensation may impact how and where links appear on this site. Terms apply to American Express benefits and offers. Enrollment may be required for select American Express benefits and offers. Visit americanexpress.com to learn more.
One of the best ways to save money — and travel rewards — on future travel is with free night reward certificates. Many hotel loyalty programs offer them — including Marriott Bonvoy and World of Hyatt — but when it comes to saving you the most amount of money, Hilton Honors comes out on top.
That's because with Hilton Honors free night reward certificates, there's no cap on how much the room can cost. As long as a standard room is available to be booked with points, the certificate can be applied (with very few exceptions). Many other hotel programs only allow you to use certificates at properties costing up to a certain number of points, but not Hilton. With standard rooms costing up to 95,000 Hilton Honors points per night, these free night reward certificates can offer huge savings.
To receive maximum value from these free night rewards, the best strategy is to use them at a high-end hotel. Since there's no dollar or point value restriction, this means you'll ideally want to use these certificates when the nightly rate costs in points or cash is incredibly high. But, at the end of the day, free is free, so the best use is also somewhere that will allow you to enjoy yourself on that much-needed vacation — for free.
How to earn Hilton free night reward certificates
As an ongoing benefit, many Hilton credit cards give you the opportunity to earn an additional certificate annually by hitting a certain amount of credit card spend. Additionally, many of the cards are also offering a free night reward as part of their welcome offer bonus.
With the Hilton Honors American Express Aspire Card, one of its benefits is that you'll receive a free night reward certificate on an annual basis. Plus, if you spend $60,000 on the card within a calendar year, you'll receive another free night reward.
All information about the Hilton Honors American Express Aspire Card has been collected independently by CNN Underscored. The Hilton Honors American Express Aspire Card is not currently available through CNN Underscored.
The Hilton Honors American Express Surpass Card also comes with the opportunity to receive a free night certificate on on annual basis, but requires you to spend $15,000 on your card in a calendar year. And with the current welcome offer, not only will you earn 130,000 bonus points after spending $2,000 on purchases in the first three months, you'll also receive a free night reward.
Similarly, with the Hilton Honors American Express Business Card you can also earn up to two free night reward certificates annually — one after you spend $15,000 in a calendar year, plus another certificate after you spend an additional $45,000 in the same calendar year. New card members can also earn 150,000 bonus Hilton Honors points and a free night reward after spending $4,000 on the card in the first three months after opening the account.
And since all cards are treated as separate products, if approved, you could potentially earn multiple free night reward certificates after meeting the spend requirements.
How to redeem Hilton free night reward certificates
To add to the flexibility of these certificates, they can be used any night of the week without any black out periods. Additionally, all certificates expire 12 months from when they are deposited into your account and are typically posted between eight and 12 weeks from when they're earned. One thing to note is that this expiration date is a "stay by" date, not a "book by" date, meaning your hotel stay has to be completed by the certificate's expiration.
To redeem your certificate, you'll have to call Hilton at 1-800-446-6677. Unfortunately, reward certificates — unlike points — cannot be booked online.
Best Hilton properties to redeem free night reward certificates
One of the nicest and most luxurious properties in Hawaii is the Grand Wailea. Sitting on 40 acres, it's the second-largest hotel in Maui, with access to beautiful Wailea Beach. The hotel features nine pools spread over six levels and connected by a whitewater river rapid. Adults and kids can venture to the multi-size waterslides, rope swing, whitewater rapids slide, waterfalls, caves, multiple jacuzzis and a swim-up bar. You'll also find the world's first water elevator.
Those traveling sans kids will also appreciate the 4,850-square-foot adults-only Hibiscus Pool. For the more adventurous, there's also a scuba diving training pool. And of course, a trip to Hawaii wouldn't be complete without surfing, which you're able to mimic in the hotel's rotating barrel pipe.
While the hotel typically charges 110,000 points per night, you can instead use your free night reward certificate to stay in a 640-square-foot room with a private lanai, oversized shower and views of Mt. Haleakala. To be able to use a certificate at this property, you'll want to be flexible with your travel dates or book 11 months in advance.
Park City is one of the easiest ski trip destinations. At just 30 miles from Salt Lake City Airport, you can be off the plane and on the slopes in no time. And with no shortage of hotel options, it's an easy place to stay for free using hotel loyalty programs — despite paid rates costing a pretty penny during ski season.
One of the most luxurious options is the Waldorf Astoria Park City. The property is located on the Canyons Village side of the resort with a gondola to get you to the base of the mountain. The ski valet will store your skis and boots overnight, and you'll love the heated outdoor pool and hot tubs after a long day of skiing.
The hotel offers a shuttle to Main Street (located just five minutes away), Park City Base area and Deer Valley resort. Aside from getting to and from the airport, you likely won't need to get into a car again.
If you're looking to stay during peak ski season, the property can easily cost more than $1,000 per night for a standard room. Alternatively, the property requires sometimes over 100,000 points per night. But, instead of draining your points, you can use your free night reward certificate for a free night's stay.
Located right in Beverly Hills and less than a 15-minute walk to famous Rodeo Drive, there's nothing not to love about the Waldorf Astoria Beverly Hills — especially when your free night reward certificate will land you an oversized room with floor-to-ceiling windows and a private balcony. Since this property typically costs 120,000 points per night, it's a great use of your certificate.
Each room also features an Italian marble bathroom with a separate shower and bathtub and Bluetooth speakers. You'll actually find that the entire room is set up with state-of-the-art technology where, with the touch of a button, you can control the lights, drapes and entertainment.
There are also plenty of on-site dining options, including a rooftop restaurant with views of Beverly Hills and Hollywood. Here, you'll find a menu set by renowned chef Jean-Georges Vongerichten. There's also a 5,000-square-foot spa, a heated rooftop pool, a 24-hour fitness center and an on-site salon.
If you'd prefer to stay along the coast during a visit to Los Angeles, another option is the Oceana Santa Monica, LXR Hotels & Resorts. At around 110,000 points per night, you'll get great value at this property — with the beach right across the street.
One of the most iconic resorts in California is the Hotel del Coronado. Located right on the beach in Coronado — across the bay from downtown San Diego — you'll find yourself staying in a historic Victorian property with lots of charm. With plenty of availability throughout the year, booking a standard room with your certificate is quite easy and will save you around 95,000 points per night — or cash, if you were to go that route.
With a true resort setting, you can spend your day at the beach or the pool, or embark on one of the many activities offered by the hotel. There's a fire pit to roast marshmallows in the evening, surf and stand-up paddleboard lessons, spin classes on the beach, beach yoga, paddleboard yoga and tennis courts.
The property also boasts an ocean-themed kids-club program. With both half-day and full-day sessions available, kids between the ages of 5 and 12 will be able to experience a living classroom and an interactive tide pool.
Many New York City hotels can be small and cramped, but a stay at the Conrad New York Midtown will make you feel like a king or queen. Located on a relatively quiet street in between Sixth Avenue and Seventh Avenue, you're only a five-minute walk to Central Park, seven minutes from Times Square and 10 minutes from Rockefeller Center. And, with many subway stations nearby, the hotel is a very central location to explore the entire city.
With your free night reward certificate, you can avoid paying around 95,000 points per night. And best of all, there's typically a lot of availability, so you'll be able to visit New York City during a time that works best for you.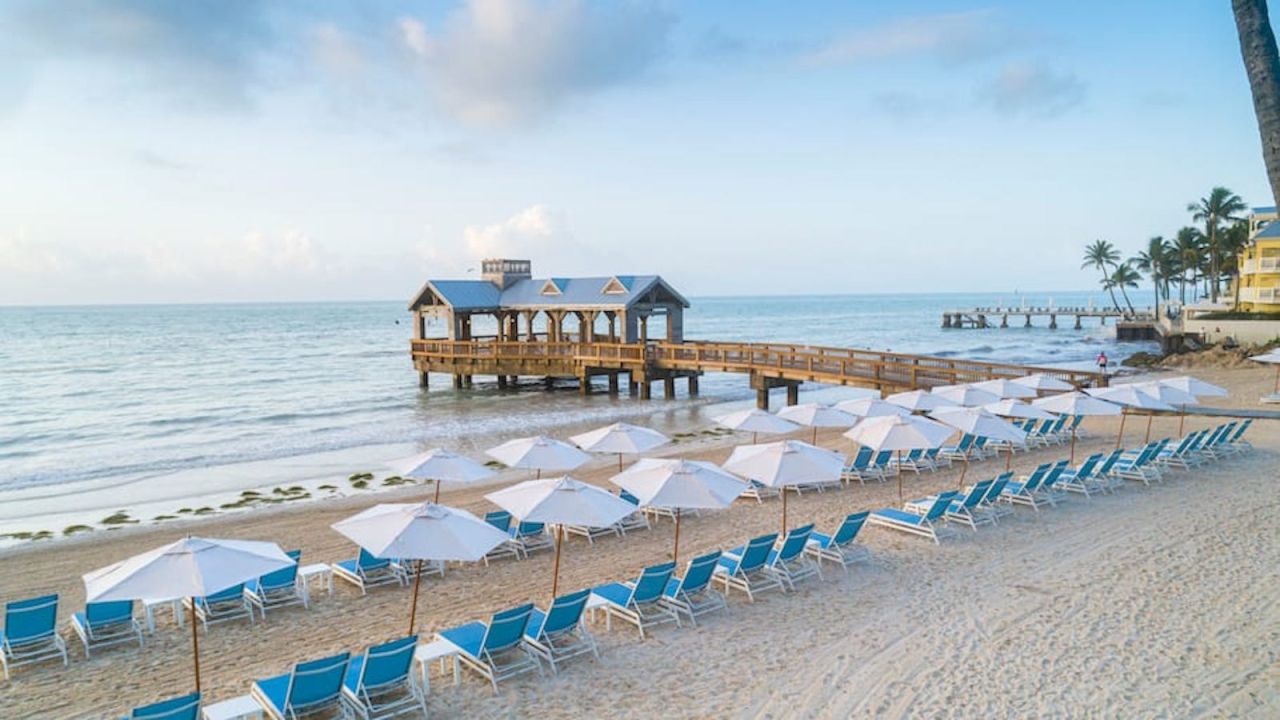 If you're looking for a Caribbean vacation feel without leaving the United States, Key West could be a great option. But Florida hotels can be incredibly pricey, making your Hilton free night reward certificate even more valuable. The Reach Key West — one of Hilton's higher-end properties — is typically around 95,000 points per night and is located on the only private natural sand beach in Key West.
Just a few blocks away from Duval Street, you'll have access to many bars and restaurants, and The Ernest Hemingway Home and Museum is less than a 15-minute walk away. At the hotel, you can enjoy many water sports, such as sailing, scuba diving and snorkeling.
There's also a shuttle that'll take you to the sister property next door — the Casa Marina Key West, A Waldorf Astoria Resort — where you can enjoy additional pools and restaurants. Since it's also a Hilton hotel, you could opt to use your free night reward certificate at this property instead.
The Conrad Punta de Mita is located along a 2-mile beach in Riviera Nayarit and is only 20 miles away from Puerto Vallarta Airport. At around 95,000 Hilton Honors points per night, it's the perfect place to use your free night reward certificate.
The hotel features an adults-only pool as well as a kid's pool with waterslides and a splash zone. There are plenty of loungers and umbrellas on the beach, or you can rent your own cabana at the pool for pure relaxation.
If you're looking for daytime activities, there's plenty to keep you occupied both on land and in the water. From kayaks and stand-up paddleboards to shuffleboard and pickleball courts, kids and adults alike will never get bored at the property. And, of course, there are many off-property excursions as well.
Standard rooms are very roomy at this property, ranging between 646 square feet and 705 square feet — depending on if you select a room with one king or two queen beds — plus a furnished patio. The bathrooms are also top-notch, with marble finishings and a walk-in shower.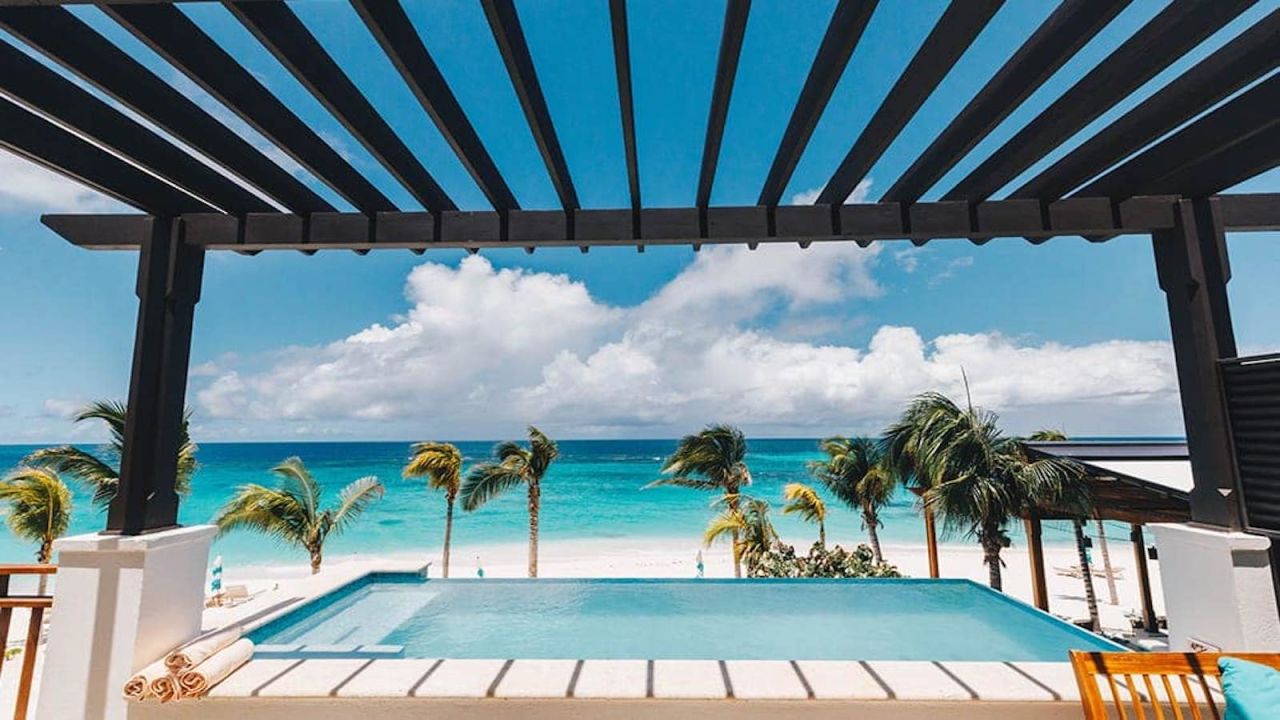 Although getting to Anguilla can be slightly more challenging compared to some of the other Caribbean Islands, it's well worth it to stay at the Zemi Beach House. This luxury hotel costs around 110,000 points per night and has plenty of availability. Due to the high prices for both a paid and points reservation, using a free night reward certificate is a great idea.
All standard rooms include a private balcony with views of either the pool or garden. The bathrooms also include a walk-in glass shower and a deep soaking tub.
The hotel is located right on Anguilla's coastline, featuring crystal blue waters and many water sports. You'll also have access to multiple swimming pools, five restaurants and bars and a juice bar. There's also a complimentary kids club for those between 4 and 12 years old and weekly movie nights.
Best of all — even when using a free reward night certificate — all guests receive complimentary breakfast.
With London being such a popular destination with pricey hotels, it could be the perfect place to use your free night reward certificate — especially during peak summer dates when room rates are typically around 80,000 points per night.
The Conrad London St. James is located in London's Westminster neighborhood, only a 10-minute walk from Buckingham Palace. A visit to this hotel will also put you in close proximity to the Thames River, Big Ben, Westminster Abbey, Churchill War Rooms and even the London Eye.
The hotel also features a world-class art collection, themed afternoon tea, local craft ales and a contemporary British cuisine restaurant.
If you're looking for something more exotic, you'll love your stay at the Conrad Bora Bora Nui. Your free night reward certificate can score you a 1,000-square-foot suite with a separate lounge area and a large private terrace, which typically goes for around 120,000 Hilton Honors points per night. You can even bring the family, as the room fits up to three adults or two adults and two kids.
To add to the unique experience, the Conrad offers many Polynesian activities throughout the day and evening. There are also many water sports, land activities, a golf simulator and a complimentary kids club.
One downside is that finding standard award availability is extremely hard to come by. This property opens up its award calendar exactly 12 months in advance, and your best chances of snagging a room are by booking the day the room is released for the following year.
If you aren't able to find availability but you're still yearning for that once-in-a-lifetime experience in French Polynesia, you can also look into the Hilton Moorea Lagoon Resort & Spa. Alternatively, the Maldives also offers some top-notch — and expensive — Hilton properties, such as the Waldorf Astoria Maldives Ithaafushi and Conrad Maldives Rangali Island.
Learn more about the Hilton Honors American Express Card with no annual fee.
Learn more about the Hilton Honors American Express Surpass card.
Learn more about the Hilton Honors American Express Business card.
Learn more about the Hilton Honors American Express Aspire card.
Looking for a travel credit card? Find out which cards CNN Underscored chose as our best travel credit cards available right now.