Latest: The 2019 Grammy Awards
12:08 a.m. ET, February 11, 2019
Cardi B becomes first woman to win best rap album
Cardi B just won best rap album for "Invasion of Privacy," becoming the first solo woman artist to win the Grammy in that category.
(In case you're wondering, Lauryn Hill won in 1999 for R&B album, not rap album.)
She was clearly emotional, appeared to be shaking and held tight to husband rapper Offset's hand, telling him at one point, "I can't breathe, babe."
Cardi then joked, "Maybe I need to start smoking weed."
She thanked her daughter, Kulture, explaining that her pregnancy forced her to get her album and videos done before her stomach started showing.
"I want to thank all the artists that took their time and did verses for my album," Cardi B said before turning to Offset. "You, husband, thank you."
11:25 p.m. ET, February 10, 2019
It's all love for Chloe x Halle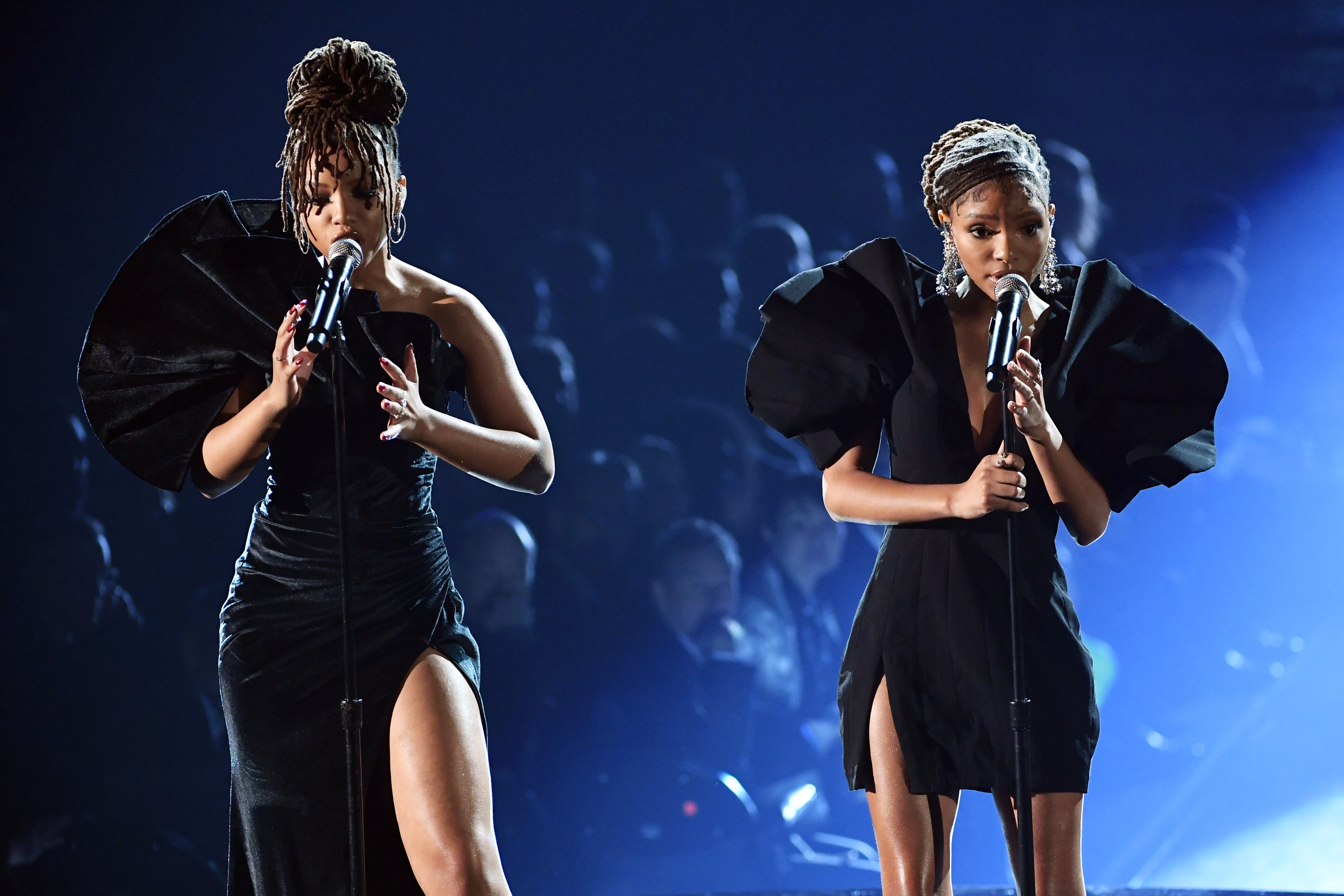 Beyonce chose well.
Queen Bey signed Chloe x Halle, sisters and former YouTube stars, to her label in 2015.
The R&B duo were up for best new artist tonight. And they didn't disappoint.
The pair paid tribute to the late singer Donny Hathaway by performing a flawless rendition of "Where Is The Love," his 1972 hit duet with Roberta Flack.
12:08 a.m. ET, February 11, 2019
H.E.R. wins best R&B album. It wasn't really an album.
Newcomer H.E.R. won best R & B Album for her self-titled project and promptly reminded the audience that it's actually an EP, not an LP. (An EP is a smaller collection of songs.)
It's almost not correct to call her a "newcomer" to the business, either, as she was signed to her label, RCA, when she was 14 years old (she's now 21).
H.E.R. said she was overwhelmed by the honor, thanked God, invited her team to join her on stage and got played out as she tried to thank the rest of the village that has contributed to her success.
Full album or not, H.E.R. is having a moment.
10:58 p.m. ET, February 10, 2019
Let's talk about Jennifer Lopez doing the Motown tribute
Who thought it was a good idea that Jennifer Lopez perform a medley of Motown hits?
No, seriously, we need a word.
Had they not been reading the tweets for the past week? Twitter was not here for the idea when it was first announced.
Even during the performance folks seemed puzzled.
Lopez is an amazing dancer. We acknowledge that. And it was definitely a high-energy set.
And don't get it twisted: This is not at all a race thing. She's Latina, and the Motown legacy is a rich and diverse one.
One of the songs Lopez sang, "Square Biz," was by the late singer Teena Marie, who was white.
But having her join Smokey Robinson and Ne Yo to pay tribute to the legendary R&B label was a bit head-scratching.
It was sweet that she dedicated it all to her mom Lupe, though.
Don't at us if you disagree. Take it up with Twitter.
10:54 p.m. ET, February 10, 2019
You may have been the only person not on stage with Travis Scott
A line in Travis Scott's hit "NO BYSTANDERS" goes "The party never ends," and he proved that with his Grammy performance.
Scott performed most of the song in a cage, surrounded by a huge swarm of people who rushed the stage and pretty much turned it into a rave.
But how else was he supposed to crowd surf if he didn't have a ton of people up there with him?
Scott started out his performance a tad bit more mellow, singing another song with James Blake and Philip Bailey from Earth, Wind and Fire.
A cage, though? This year's show is oh, so many things.
10:36 p.m. ET, February 10, 2019
Diana Ross' 9-year-old grandson might have stolen the show
The Grammys are celebrating the legendary Diana Ross' 75th birthday.
But her 9-year-old grandson Raif-Henok Emmanuel Kendrick, who introduced her, might have stolen the show.
Host Alicia Keys welcomed the "distinguished little guy" to the stage. But Raif-Henok wasn't having it.
He quipped, "Did she say little guy? I'm almost 4 foot 9."
Raif-Henok went on to thank Keys and express his feelings about his "grand mommy Diana Ross."
"She is amazing and young people like me can look up to her for her independence, confidence and her willingness to be her unique self. She has shown the whole world that nothing is beyond our reach," Raif-Henok said.
Ross -- who has actually never won a Grammy, although they gave her a lifetime achievement award -- went on to perform "The Best Years of My Life" and "Reach Out and Touch (Somebody's Hand)."
10:52 p.m. ET, February 10, 2019
Lady Gaga slays "Shallow"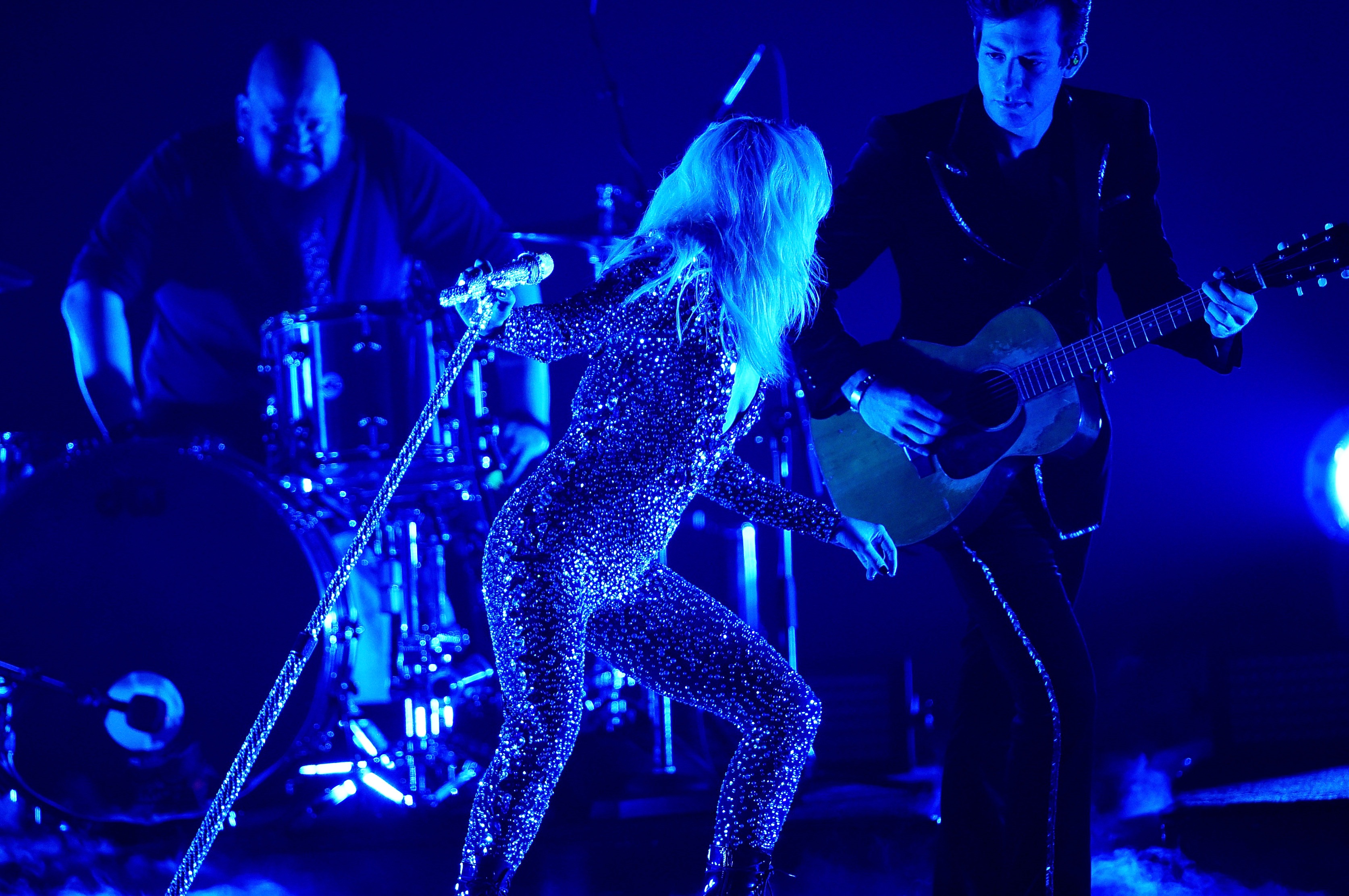 Let's be honest: This is Gaga's time to shine.
People knew her as a singer and fashion icon, but she stunned critics with the depth of her acting in "A Star Is Born."
It didn't seem to matter Sunday that she had lost to Glenn Close in the best actress category at the Golden Globes and Screen Actors Guild Awards.
The Grammys are her people, and Gaga was right at home inside the Staples Center.
She gave a full-throated, rock star performance of "Shallow," her big song from the movie.
Going full David Bowie/Ziggy Stardust in a sparkly body suit, platinum blonde hair and platform shoes, Gaga was mesmerizing.
Which is good news for the rest of us. She'll sing the song again in two weeks at the Oscars.
10:22 p.m. ET, February 10, 2019
Dan + Shay had us sipping "Tequila" before Drake got cut off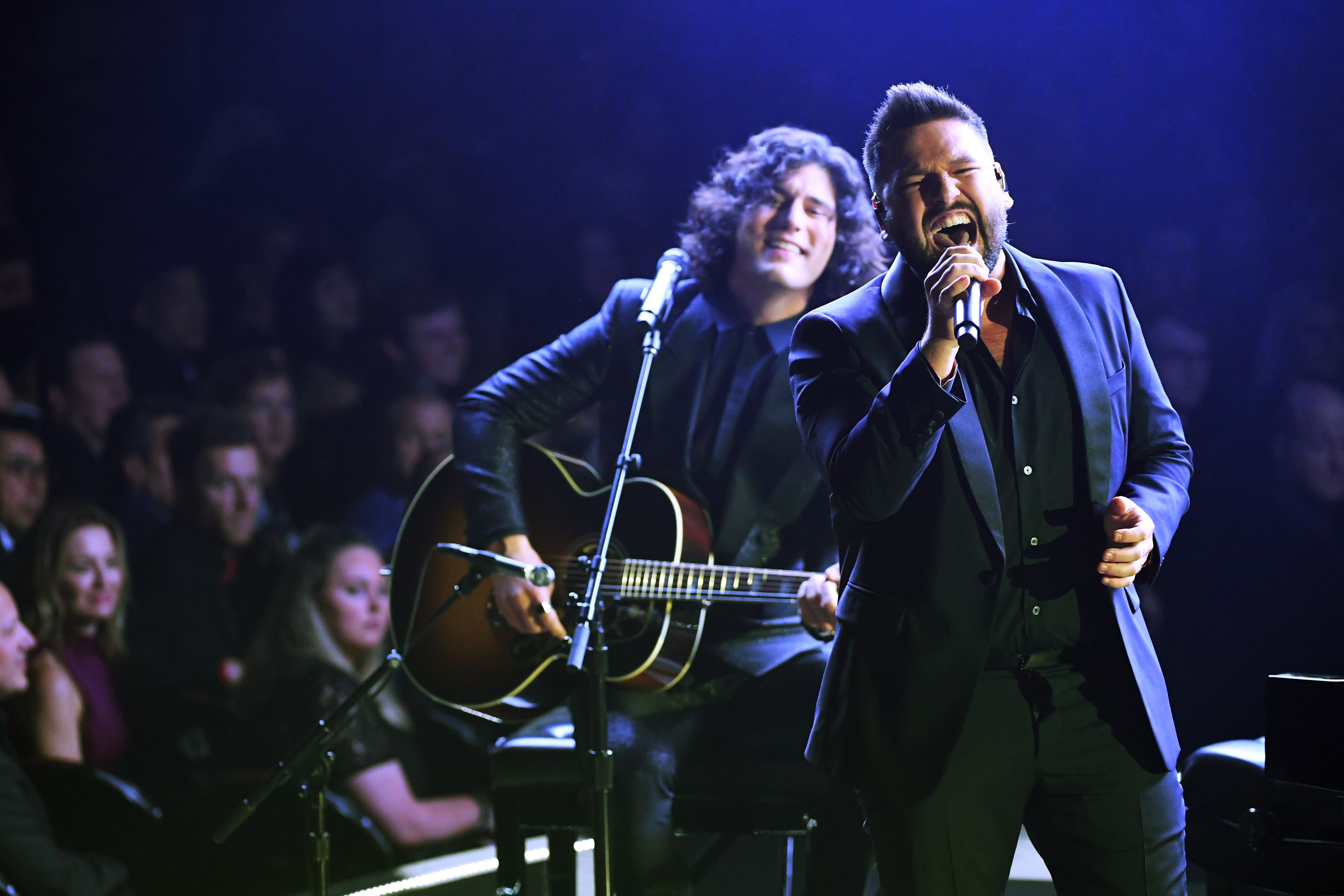 Country fans already know that Dan + Shay have perfect pitch.
They proved that with their performance of their single "Tequila" which earned them a standing ovation.
Earlier the song won them the best country duo/group performance Grammy.
They also presented the best rap song Grammy to Drake for "God's Plan."
Now Drizzy didn't perform, but unlike fellow winner Childish Gambino he did turn up to collect his trophy.
Drake had some deep things to say to the young people pursuing music.
That was until the producers cut him off mid-sentence and went to commercial.
Oops!
10:05 p.m. ET, February 10, 2019
Alicia Keys plays two pianos at once
Alicia Keys just took us to her super chill and timeless world, which she called "Club Keys."
The 15-time Grammy winner used her musical prowess to dazzle the audience with a performance packed with major hits.
Flanked by two pianos, Keys performed everything from Lauryn Hill's "Doo Wop (That Thing)" to Roberta Flack's "Killing Me Softly With His Song" to Kings of Leon's "Use Somebody."
At one point during her medley, Keys played on both pianos at the same time.
"Music is just, you know, those songs that just live inside of you. It lives inside of me. And you just love it so much because it was done so well that you wish you wrote it. That's how I feel about these songs. I wish I wrote them," she said.