Latest: The 2019 Grammy Awards
12:05 a.m. ET, February 11, 2019
Our live coverage of the Grammys has ended. Thanks for reading!
12:01 a.m. ET, February 11, 2019
Kacey Musgraves wins album of the year for "Golden Hour"
From CNN's Lisa Respers France
Shout out to Kacey Musgraves' little sister.
Musgraves thanked her sis for shooting and designing all of her album covers, including the one for her latest, "Golden Hour" -- which took home the prestigious album of the year Grammy.
The album takes Musgraves' country sound in a poppier direction, adding dance beats on a few songs.
In all, the singer-songwriter took home four Grammys, making her one of the night's biggest winners.
And Musgraves' acceptance speech may have been the closest we had all night to a political statement.
"Life is pretty tumultuous for all of us right now...and because of that I feel like art is really important right now," the 30-year-old country star said.
She also won for best country album, best country solo performance for "Butterflies" and best country song for "Space Cowboy."
12:10 a.m. ET, February 11, 2019
Why some high-profile nominees weren't at the Grammys
Some of the music industry's biggest names were no-shows at tonight's Grammy Awards.
Taylor Swift skipped the show at the Staples Center in Los Angeles, according to Variety. The 10-time Grammy winner is filming the musical adaptation of "Cats" in London.
Childish Gambino, who won record of the year, best rap/sung performance and best music video, didn't attend the show, even though his hit "This is America" made history by being the first rap tune to win song of the year.
Rapper Kendrick Lamar was also a no-show. His song "King's dead" tied with Anderson .Paak's "Bubblin" for best rap performance.
Meanwhile, Ariana Grande was so over the Grammys. She took to Twitter on Thursday to air her grievances after she said Grammy producer Ken Ehrlich stifled her creativity and self-expression.
"It's just a game y'all.. and i'm sorry but that's not what music is to me," she tweeted. 
Kelly Clarkson, who was also nominated tonight, didn't walk the red carpet and go to the show because she's on tour.
And Lady Gaga and her "A Star is Born" co-star Bradley Cooper split award-show duties tonight. Cooper attended the BAFTAs in London while Gaga performed "Shallow" at the Grammys and won for best pop duo/group performance.
12:23 a.m. ET, February 11, 2019
Gambino's "This is America" becomes first rap song to win record of the year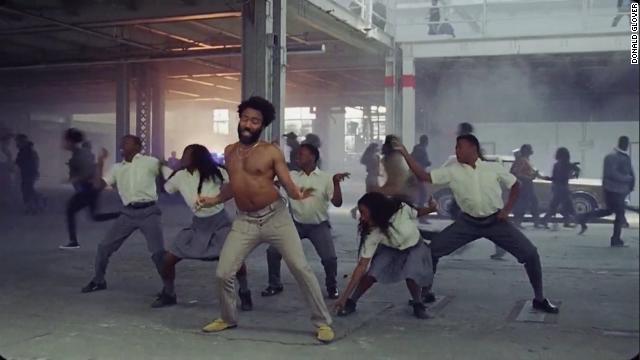 Childish Gambino's "This is America" just took home record of the year. It's the first time a rap song has won in that category.
Earlier tonight, Gambino's ambitious record also made history by being the first rap song to win song of the year.
The artist, the musical alter ago of actor Donald Glover, reportedly declined an invitation to perform at the Grammys.
11:43 p.m. ET, February 10, 2019
That Aretha Franklin tribute, though
From CNN's Lisa Respers France
Listen up awards shows: This is how you do a tribute.
You gather performers like Andra Day, Fantasia and Yolanda Adams, who can sing their faces off, and then you get the hell out of the way.
Because it should give you chills.
That's just what the trio's version of "(You Make Me Feel Like) A Natural Woman" did.
It was worthy of giving honor to the Queen of Soul, who died in August.
11:33 p.m. ET, February 10, 2019
Dua Lipa snags best new artist Grammy
From CNN's Lisa Respers France
Dua Lipa followed up her sexy performance with St. Vincent with a win for best new artist.
The "New Rules" singer thanked her team and fans "who have allowed me to be the best version of myself."
"I'm so nervous, so grateful and so excited," said Lipa, who beat out H.E.R, Chloe x Halle and five others for the award.
The singer continued to talk even as she was played off. She paid tribute to individuality and being true to yourself.
"I'm proof that you can do whatever you put your mind to," she said.
12:08 a.m. ET, February 11, 2019
Cardi B becomes first woman to win best rap album
Cardi B just won best rap album for "Invasion of Privacy," becoming the first solo woman artist to win the Grammy in that category.
(In case you're wondering, Lauryn Hill won in 1999 for R&B album, not rap album.)
She was clearly emotional, appeared to be shaking and held tight to husband rapper Offset's hand, telling him at one point, "I can't breathe, babe."
Cardi then joked, "Maybe I need to start smoking weed."
She thanked her daughter, Kulture, explaining that her pregnancy forced her to get her album and videos done before her stomach started showing.
"I want to thank all the artists that took their time and did verses for my album," Cardi B said before turning to Offset. "You, husband, thank you."
11:25 p.m. ET, February 10, 2019
It's all love for Chloe x Halle
From CNN's Lisa Respers France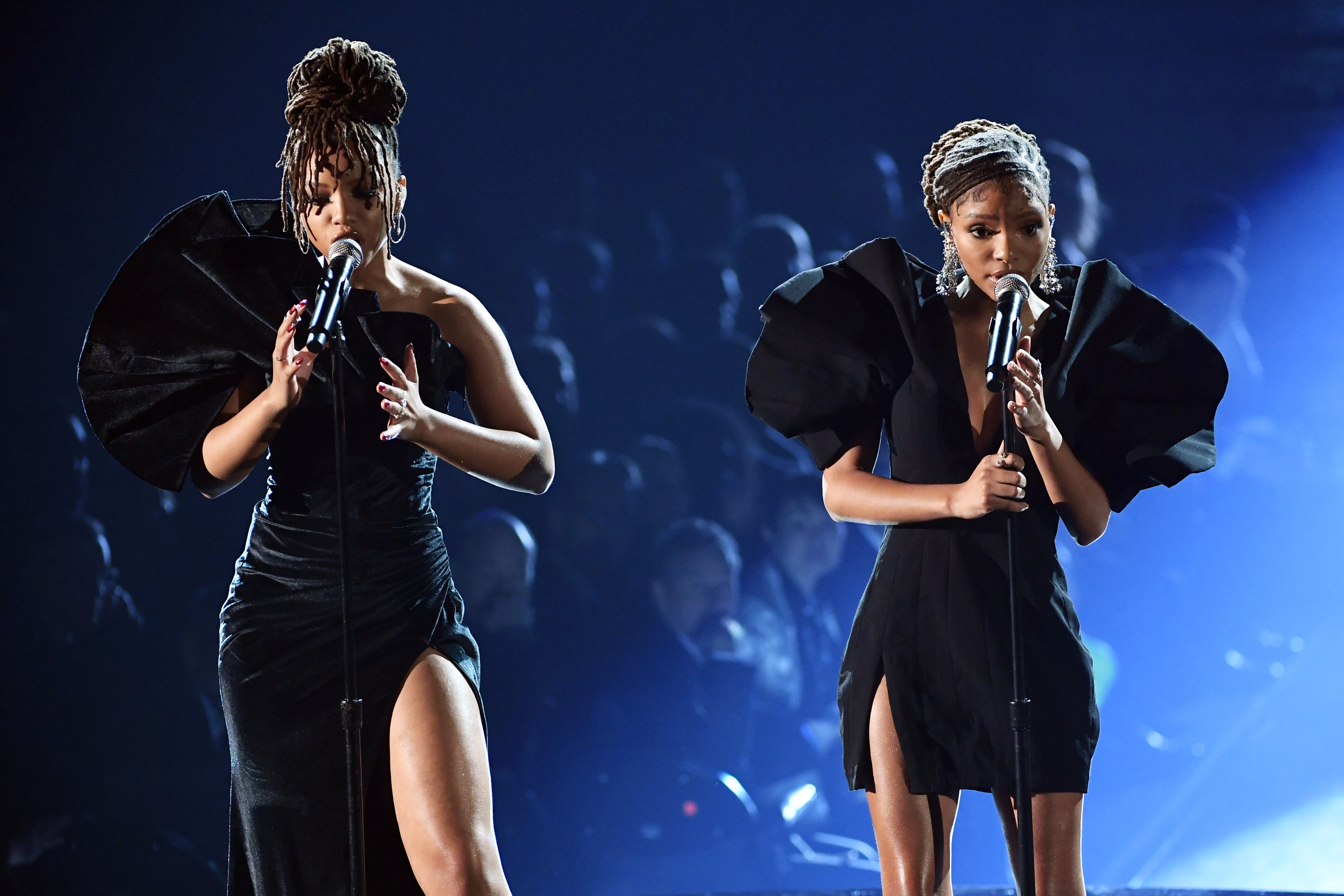 Beyonce chose well.
Queen Bey signed Chloe x Halle, sisters and former YouTube stars, to her label in 2015.
The R&B duo were up for best new artist tonight. And they didn't disappoint.
The pair paid tribute to the late singer Donny Hathaway by performing a flawless rendition of "Where Is The Love," his 1972 hit duet with Roberta Flack.
12:08 a.m. ET, February 11, 2019
H.E.R. wins best R&B album. It wasn't really an album.
From CNN's Lisa Respers France
Newcomer H.E.R. won best R & B Album for her self-titled project and promptly reminded the audience that it's actually an EP, not an LP. (An EP is a smaller collection of songs.)
It's almost not correct to call her a "newcomer" to the business, either, as she was signed to her label, RCA, when she was 14 years old (she's now 21).
H.E.R. said she was overwhelmed by the honor, thanked God, invited her team to join her on stage and got played out as she tried to thank the rest of the village that has contributed to her success.
Full album or not, H.E.R. is having a moment.