10:01 p.m. ET, February 24, 2019
Oscars are so not white this year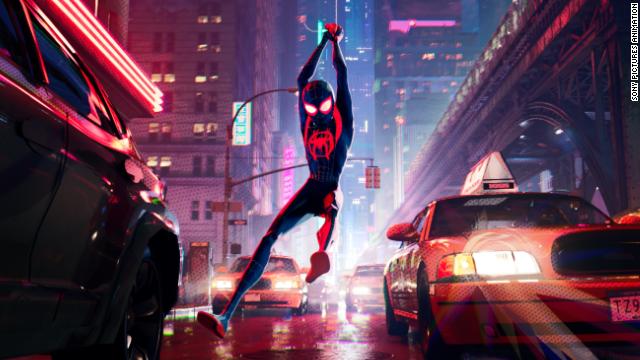 Diversity is on display at the Oscars.
From the presenters to the winners, this year's ceremony just feels more inclusive.
Some of the presenters spoke in Spanish.
History was made, with Ruth Carter becoming the first African American woman to win an Oscar for costume design and Peter Ramsey being the first black director to win for an animated film with "Spider-Man: Into the Spider-Verse."
The latter featured the first Afro-Latina Spider-Man and one of the writers of the screenplay mentioned the importance of inclusion in his acceptance speech.
Phil Lord said that when they hear a kid acknowledging that Spider-Man looks like them or speaks Spanish, "we feel like we already won."
"We see you. You're powerful. This world needs you," Ramsey said. "Ok? So please, we're all counting on you."
But Twitter was quick to point out that as great as the awards ceremony has been, there is still work to be done.
9:56 p.m. ET, February 24, 2019
Party on! Wayne and Garth show us we're not worthy
A very grown up version of Wayne and Garth just showed up to Oscars.
Mike Myers and Dana Carvey reprised their roles as the lovable rockers to present "Bohemian Rhapsody," which is nominated for best picture.
Remember: The pair and their buddies rocked out to Queen's "Bohemian Rhapsody" in their film "Wayne's World."
While Myers and Carvey were not dressed as their characters (they wore black tuxedos), they brought out their classic one liners.
Here's how that went down:
Myers: "We're not worthy!"
Carvey: "I think I'm gonna hurl."
Myers: "Don't hurl. 'Cause if you hurl, I'll spew."
Carvey: "If you spew, I'll blow chunks. So I shall not hurl."
10:25 p.m. ET, February 24, 2019
Mahershala Ali takes home his second Oscar
Mahershala Ali just won best supporting actor for his role in "Green Book."
Ali is the second African-American actor to win multiple Oscars. (Denzel Washington is the other actor.) Ali is also a Golden Globe and Critics' Choice winner.
In his acceptance speech, Ali thanked co-star Viggo Mortensen and dedicated the award to his grandmother.
"I want to dedicate this to my grandmother, who has been in my ear my entire life. Telling me that if at first I don't succeed, try, try, try again. That I can do anything I put my mind to. Always, always pushing me to think positively and I know that I would not be here without her, that she's gotten me over the hump in a lot of ways," he said.
Ali and Mortensen starred in the fact-based story about the relationship between pianist Don Shirley (Ali) and the man hired to drive the African-American musician during a tour of the South in the early 1960s. The title refers to the guide that lists what restaurants, hotels and gas stations served black people at the time.
Ali also won a best supporting actor Oscar three years ago for his role in the film "Moonlight."
10:48 p.m. ET, February 24, 2019
Moms are the true winners tonight
So many of the Oscar winners are remembering where they came from.
Literally.
The winners for best actor, best supporting actress, costume design, sound mixing and film editing all thanked their moms because honestly, where would we be without them?
Best supporting actress winner Regina King brought her mother to the awards ceremony, as did nominee Bradley Cooper and "Black Panther" star Michael B. Jordan.
Mamas are everything, and they deserve of all the accolades.
9:21 p.m. ET, February 24, 2019
The Divine Miss M takes the stage
Bette Midler performed the absolute perfect song for her.
Midler sang "The Place Where Lost Things Go," from the film "Mary Poppins Returns," which is nominated for original song.
Honestly, Midler kind of reminds us of Mary Poppins, so it fits.
Plus, she's a diva deserving of all the respect, which is what she got with a standing ovation.
11:07 p.m. ET, February 24, 2019
"Roma" is first foreign film from Mexico to win this award
Netflix's "Roma" won best foreign language film.
It's the ninth movie from Mexico to be nominated, and the first to win the Oscar for foreign language film, according to the Academy Awards.
In accepting the award, director Alfonso Cuarón said he was inspired by films like "Jaws," "Citizen Kane," "The Godfather and "Breathless."
Cuarón offers a semi-autobiographical tribute to the women who raised him, focusing on the family maid (Yalitza Aparicio) amid a period of unrest, both within the family and society at large, in his native Mexico in the 1970s. Shot in black and white, the film is Netflix's first best picture nominee.
9:00 p.m. ET, February 24, 2019
Jennifer Hudson held that note longer than you ever could
Remember when Jennifer Hudson got eliminated way too early on "American Idol?"
We don't either because it still hurts!
Anyway, the singer showed up and showed out in a striking pantsuit with a train (a train, people!) to perform the song "I'll Fight," from the CNN Films documentary "RBG."
It wasn't her strongest performance, but even a less than 100% Hudson is better than so many other singers.
8:55 p.m. ET, February 24, 2019
Ruth Carter makes history with costume design win
The award for best costume design went to Ruth Carter and in her own words, it was "a long time coming."
Carter won for "Black Panther" and became the first African American to take home the statue.
She thanked Spike Lee for giving her her start and said she hoped she made him proud.
She also paid homage to the film that made her a trailblazer.
"Marvel may have created the first black superhero, but through costume design, we turned him into an African king," Carter said.
She also showed love to her mother.
"This is for my 97-year-old mother watching in Massachusetts," Carter said. "Mom, thank you for teaching me about people and telling their stories. You are the original super hero. "
8:52 p.m. ET, February 24, 2019
Melissa McCarthy brought the funny — and the bunnies — to present
Melissa McCarthy mocked "The Favourite" in probably one of the wackiest costumes to grace the Oscars stage.
McCarthy walked on stage with Brian Tyree Henry, who also wore an early 18th century gown, to present the best costume award.
Her dress was dotted with stuffed bunny rabbits — an homage to the main character in "The Favourite."
As McCarthy presented the award, she performed ventriloquism with the rabbits.
"These artists create a pastiche of textiles with authenticity, yet never distract from the story. Costume designers construct the looks that ground a character to a particular time and place in the subtlest of ways," McCarthy said.
It was a strange bit, but it brought plenty of laughs.