11:02 p.m. ET, August 26, 2019
New Jersey hip hop stars close out the VMAs
You down with NJHH?
That's New Jersey hip hop whose stars paid homage to this year's MTV Video Music Awards held in Newark, New Jersey.
First off, who even knew Ice T was from Jersey?
The rapper and "Law & Order: Special Victims Unit" star introduced fellow Garden State natives Fetty Wap, Naughty by Nature, Wyclef Jean, Lords of the Underground, Redman and — of course — Queen Latifah.
The group closed out the awards show and naturally shut.it.down.
Thus ends the 2019 MTV VMAs.
Hip hop hooray!
10:42 p.m. ET, August 26, 2019
Twitter thinks Normani won the VMAs
Is Normani the "new Beyonce?"
That seems to come up every time the former Fifth Harmony member performs.
With her rock hard abs, dance moves and singing chops, some people can't help but make the comparison.
Mind you WE aren't saying it, so don't come for us Hive.
Normani did slay her performance of "Motivation" tonight and social media took note.
10:35 p.m. ET, August 26, 2019
Marc Jacobs becomes first-ever recipient of the MTV Fashion Trailblazer Award
Marc Jacobs paid tribute to MTV while accepting the Fashion Trailblazer Award tonight.
He went on to explain how MTV taught him how to "see music I listened to and love."
"You gave artists a platform to express their music and ideas through moving image, and me, a dynamic source of inspiration," Jacobs said.
Jacobs is the first-ever recipient of the MTV Fashion Trailblazer Award.
10:44 p.m. ET, August 26, 2019
The Jonas Brothers are living "the Jersey dream"
Vincent Pastore you owe Jamie-Lynn Sigler $20.
The two "Sopranos" stars joined fellow cast member Drea de Matteo to present the VMA for best pop video in honor of the hit HBO series 20th anniversary.
HBO is owned by CNN's parent company.
Pastore offered the cash to Sigler if she announced the Jonas Brothers as the winners.
And she did.
The trio thanked their fans and Joe Jonas noted "to get this award from the 'Sopranos,' it's a Jersey dream."
10:12 p.m. ET, August 26, 2019
John Travolta at least knows himself
You have to love John Travolta.
While presenting the video of the year award with Queen Latifah, Travolta said, "I shouldn't do this because I'll just mispronounce s**t and f**k it up," before handing the envelope to her.
For those who don't remember, the superstar famously mispronounced Tony Award-winning actress/singer Idina Menzel on the Oscars stage as "Adele Dazeem."
Oops.
And while he didn't mispronounce Taylor Swift's name when she won the VMA tonight, the internet still thinks he flubbed it by attempting to give the award to a member of her entourage instead of her.
Maybe he was kidding around?
10:12 p.m. ET, August 26, 2019
Miley's breakup anthem is even sadder than we thought
We will resist the temptation to say that Miley Cyrus was giving full on revenge body with her little black dress tonight.
She performed "Slide Away," a tune that seems to have special meaning when you consider she released it soon after breaking up with husband Liam Hemsworth.
Watching Cyrus belt it out, surrounded by musicians, on a stage shot in black and white, just felt...forlorn.
She turned it out though and her parents were in the audience cheering her own.
It felt right that immediately after her dad, Billy Ray Cyrus, won song of the year with Lil Nas X for "Old Town Road."
9:51 p.m. ET, August 26, 2019
Taylor Swifts wins video of the year
Taylor Swift thanked fans for supporting her as she took home the video of year award for "You need to calm down."
Swift noted that fans select the category winner.
"I first want to say, 'Thank you' to the fans because in this video several points were made, so you voting for this video means that you want a world, where we're all treated equally under the law," she said.
She also thanked fans for signing a petition, which was featured at the end of her video and called for the Equality Act.
10:05 p.m. ET, August 26, 2019
Shawn Mendes and Camila Cabello turn up the heat in New Jersey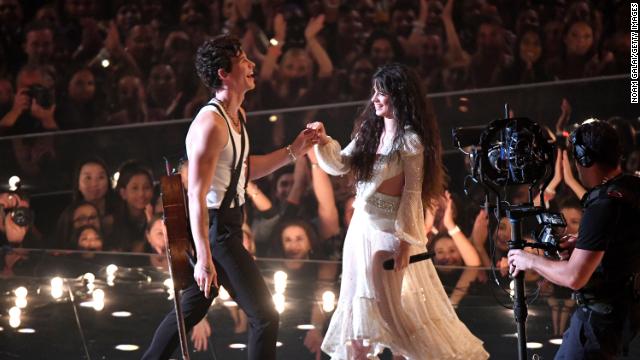 If they haven't been having a summer romance, they need to.
Shawn Mendes and Camila Cabello turned up the heart for the performance of their hit single "Señorita."
The pair have not confirmed chatter that they are a couple, but wowzers they did a good job playing one during that song.
There was plenty of "will they or won't they kiss" moments and we did get Cabello rubbing noses with Mendes at the very end at least.
We ship them SO HARD.
9:44 p.m. ET, August 26, 2019
Missy Elliott has been the future since the past
Watching Missy Elliott kill it on the stage at the VMAs was just a reminder of how innovative the singer/rapper/producer has been since the 1990s.
She worked it out to a medley of hits, including "Get Your Freak On" and "The Rain (Supa Dupa Fly)," in her out of this world outfits. It was a blast from the past and a look at where the music industry needs to go.
As Cardi B noted while presenting her the Video Vanguard Award, Elliott is "the voice we need."
Her win was greeted with a standing ovation and chants of "Missy, Missy!"
She thanked everyone from her mom to the late singer Aaliyah.
"I want to dedicate this award to the dance community all around the world," she said. "When y'all get on the stage with these artists, y'all are not just props. Y'all are the icing on the cake. Y'all are the beat to the heart."
Way to be humble, flip it and reverse it Missy!