Boris Johnson asks Queen to suspend UK Parliament ahead of Brexit
3:53 a.m. ET, August 29, 2019
3:41 p.m. ET, August 28, 2019
Protesters gather at UK Parliament
From CNN's James Frater, Lauren Kent, Florence Davey-Attlee, Anna Stewart and Nada Altaher
Protesters gathered outside the UK Parliament on Wednesday afternoon after Prime Minister Boris Johnson announced his request to the Queen for Parliament to be suspended. 
A large number of protesters stormed the media pen outside the Parliament around 6 p.m. local time. The area had been cordoned off to members of the public by the police.
Police officers on the ground told CNN that they estimated between1,000 and 1,500 protesters were in the area. The Metropolitan Police press office declined to give an estimate of the number of protesters. 
"We have an appropriate policing plan in place," a spokesperson for the Met police told CNN.
A group later moved to the gates of Downing Street, blocking off Parliament Square on their way. Protesters were heard shouting, "Boris is a liar" and "Bring him down."
3:17 p.m. ET, August 28, 2019
How 3 residents of a pro-Brexit town feel about where things stand now
From CNN's Hadas Gold
The town of Romford sits just East of central London — technically it's part of the greater London area, but vastly different when it comes to politics.
Unlike London, Romford's borough voted overwhelmingly — nearly 70 percent — in favor of leaving the European Union in the 2016 referendum.  
So for the Brexiteers shopping at the famous market that sprawls out in front of the historic St Edward's Church, the move to suspend parliament is a fine one — as long as it helps get Brexit done. 
Many weren't quite sure what suspending parliament the way Prime Minister Boris Johnson has called for actually means: But they do understand that it may be part of a wider goal to finally push Brexit through, a daring move they recognize may be one of few options left.
 Here's how three residents reacted to the news:
"Well it's probably the only move he could have had," said Lawrence Rosen, a London cab driver who has lived in Romford for more than 50 years and voted to leave. "Most people don't understand what he's doing but he probably thinks it's to get his idea through."
Graham Gibbons owns a household goods stall in the market. he voted to leave and said he believes the Queen's agreeing to suspend parliament shows she's following "the wishes of the people." "We had a referendum, we voted, we voted to leave and we just need to carry on," he said. 
Robert Brown, called the situation "desperate." Brown said he wishes they could leave with a deal and lamented Prime Minister Theresa May as an "honorable woman" who just couldn't get the job done. "Boris feels he has to do this, it's a bit of a strange one," he said. 
12:19 p.m. ET, August 28, 2019
Why no-deal Brexit is such a big deal
Boris Johnson's decision has sparked outrage because it makes a no-deal Brexit more likely. Experts have been warning that scenario would have major implications, because the UK's membership in the European Union touches on almost every aspect of the country's economy.
Here are some potential problems:
EU membership allows British businesses to trade freely across the bloc, without the need to have extra permits or pay tariffs.
If the UK crashes out without a deal, that link will be severed abruptly and businesses will face extra costs. Business lobby groups say these could be too much for some companies, which may not survive. If companies start collapsing, jobs will disappear and the economy will suffer.
Food and medicines shortages
A no-deal Brexit would likely mean new checks at the borders, which could delay imports. For some products border delays could prove catastrophic -- fresh fruit and other foodstuffs could rot while stuck in lorry queues.
Medical supplies coming from Europe could be affected too, because of extra red tape. French drugmaker Sanofi and its Swiss rival Novartis said they would stockpile key medicines ahead of Brexit.
According to the government's own assessment published in November, leaving without a deal would result in the UK economy being 7.7% smaller 15 years after Brexit.
The damage would be even greater if net migration from the European Union substantially dropped, the government said.
The UK is a major agricultural exporter and the National Farmers' Union had warned that a no-deal scenario would be devastating for the sector. Up to 65% of Britain's agriculture exports go to the EU.
A study by Imperial College in London found that two extra minutes spent checking each vehicle, be it at the ferry port in Dover in southern England, or the Eurotunnel terminal nearby, could translate to jams of up to 29 miles.
Read a full overview of the risks of no-deal Brexit here.
12:17 p.m. ET, August 28, 2019
How the Queen got dragged into the Brexit mess
From CNN's Max Foster
The chaos surrounding Brexit has put the Queen exactly where she doesn't want to be -- at the center of the biggest political crisis in modern British history.
Queen Elizabeth is revered for her ability to remain above politics, barely expressing any personal views, let alone party political ones. She sticks rigidly to the custom of only acting on the advice of ministers, to avoid the monarchy being used as a political football.
Read the full analysis here.
11:35 a.m. ET, August 28, 2019
Europe won't be drawn on latest Brexit surprise
From CNN's James Frater and Nada Bashir
European Commission spokesperson Mina Andreeva declined to comment on the UK government's move to suspend Parliament, telling reporters on Wednesday that this is a matter for the British government to answer.
"We don't comment on internal political procedures of our member states and we're also not going to speculate what this means in terms of next steps in the UK's parliament procedures," Andreeva said.
"I think this is for the UK to answer," she added.
10:56 a.m. ET, August 28, 2019
The pound doesn't like this
The British pound dropped by as much as 1.1% against the dollar on Wednesday, after Boris Johnson had asked the Queen to suspend Parliament.
Sterling slipped to below $1.22 before bouncing back slightly. It was trading 0.7% lower against the dollar by the end of the trading session in London.
The pound has been volatile since the Brexit referendum in June 2016. Investors are worried the UK could crash out of the European Union without a deal, an event that even the Treasury's own forecasters believe could push the country into recession.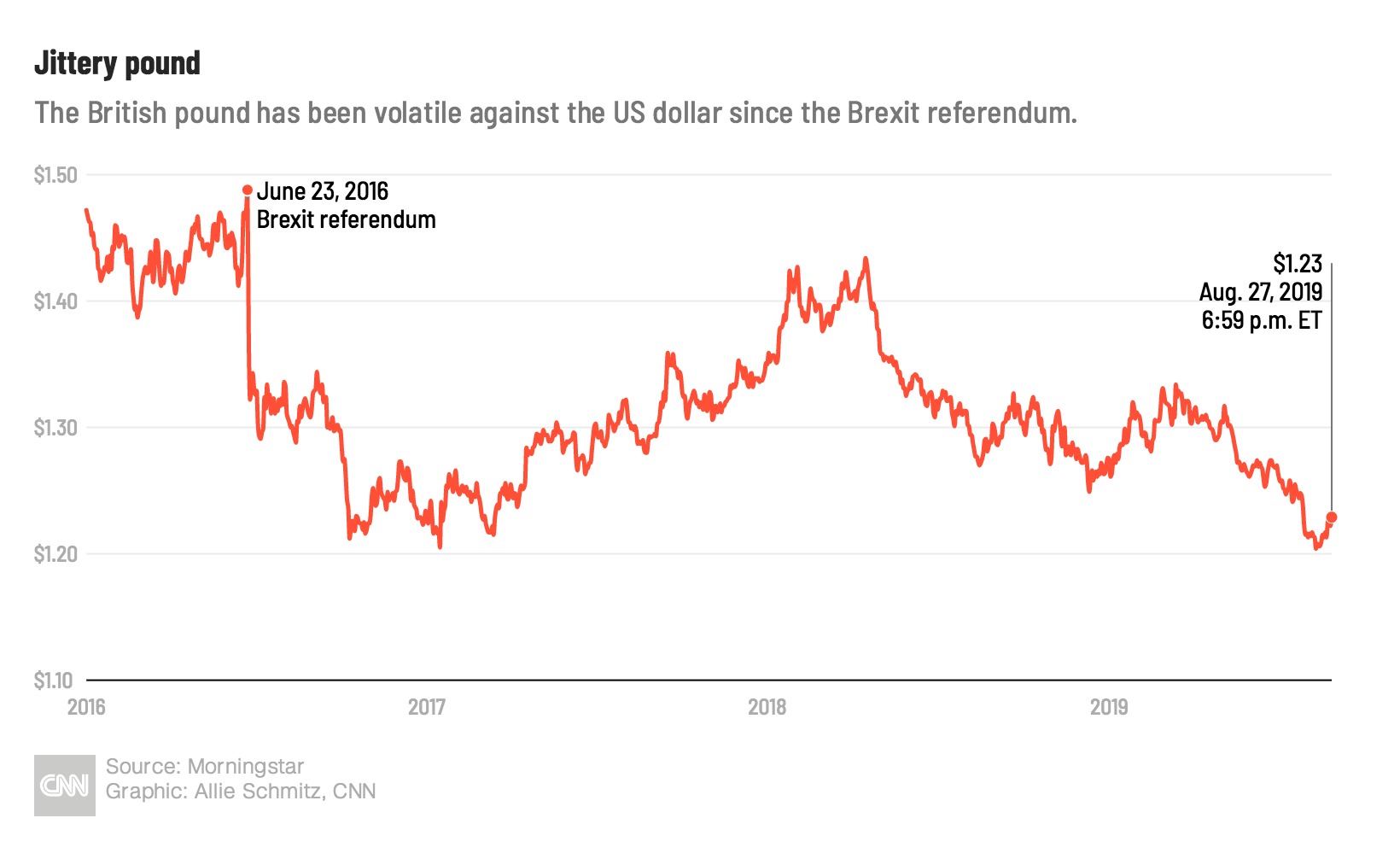 11:13 a.m. ET, August 28, 2019
Why "no deal" is the default Brexit scenario
Lawmakers opposing the idea of United Kingdom crashing out of the European Union without a deal are up in arms over Boris Johnson's decision to suspend Parliament.
That's because the move will mean they will have less time to attempt to block a no-deal Brexit before the current deadline.
That is the current default scenario: unless Parliament agrees on a different plan, the UK will crash out of the bloc on October 31 without a trade deal to protect its economy.
Lawmakers have previously tried to find consensus, for example by holding a series of "indicative votes" on Brexit, but no option has gathered the support of a majority.
12:16 p.m. ET, August 28, 2019
What's next? Here is your guide
From CNN's Henrik Pettersson
The Queen has formally approved Boris Johnson's plan to suspend Parliament.
The clock is ticking on Brexit and Johnson's decision means there will be even less time for those who oppose hard Brexit to stop the UK from crashing out of the bloc without a deal.