Champions League: Tottenham humiliated by Bayern, Real fights back against Club Brugge
6:03 p.m. ET, October 1, 2019
That's all, folks
Well, that's it for another action-packed night of Champions League drama.
If Wednesday's fixtures are half as entertaining then we're going to be in for a real treat.
See you then!
6:00 p.m. ET, October 1, 2019
'A joke'
Real Madrid's draw against Club Brugge feels like a lifetime ago.
While there was certainly more than an element of comical good fortune for Club Brugge's two goals, Real Madrid boss Zinedine Zidane though they were no laughing matter.
For his first-half brace, Emmanuel Dennis completely lost control of his feet but on both occasions managed to find the back of the Real net.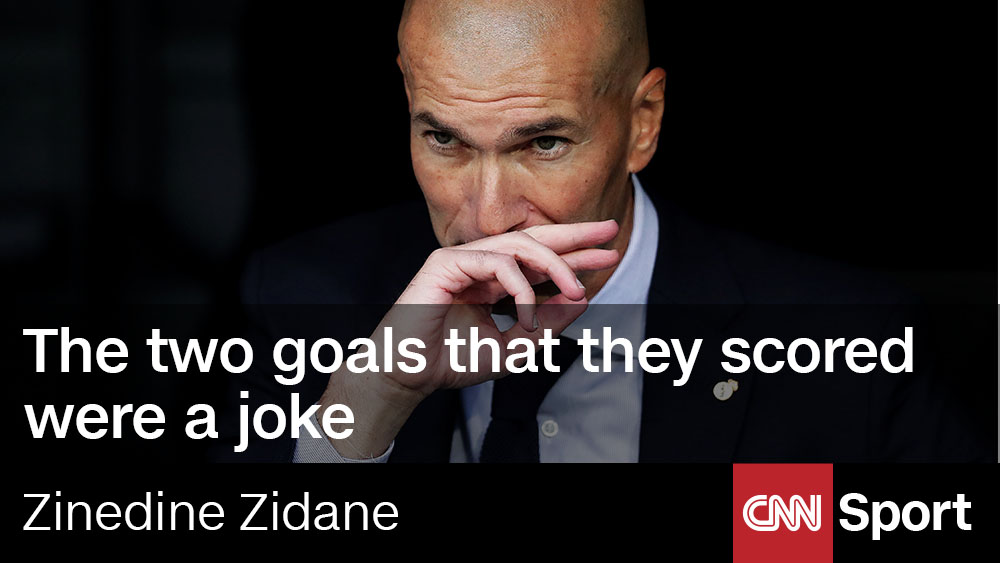 What happened in the first half can happen to you. The opposition can make life difficult for you. We knew all about the three quick players they had up top, but the problem is that when they score, that gives them a boost.
In the second half everything changed, we showed some heart, commitment and played in the opposition's half."
You can read the full match report here.
5:50 p.m. ET, October 1, 2019
'North London is red'
Tottenham fans probably thought they had seen the last of Serge Gnabry after the German left rivals Arsenal in 2016 ... but he was back with a vengeance in north London to help Bayern Munich thrash Spurs 7-2 in the Champions League.
For a full recap of an astonishing, record-breaking evening, you can find Ben Church's match report here.
5:44 p.m. ET, October 1, 2019
'It's my responsibility'
Up next for Tottenham is a trip to Brighton in the Premier League.
Several of these players now need to stand up and be counted.
Maybe you are bored by my speech but football is about today, not yesterday. We need to show [improvement] today and tomorrow, football is not about what happened three months ago, football is always what happened today. What disappointed me more was Bayern was clinical, they scored with every single touch.
You need to face this situation. It's tough and that type of situation you need to face strong and keep going, we need to stay all together, helping each other.
The best medicine is to be all together, not to find [someone] guilty or escape the situation -- it's my responsibility. When we receive this type of result it's important we bounce back and stay together and believe in yourself."
5:35 p.m. ET, October 1, 2019
'It's hard to accept this type of result'
After keeping his Tottenham players behind in the dressing room for quite some time, Mauricio Pochettino has finally spoken to the media.
Oh to have been a fly on the wall for that post-match debrief.
The Argentine was speaking to BT Sport.
"I think we played 30 minutes really, really well. We started the game compact, aggressive, pressing high, we dominated the first 30 minutes. It was unlucky we conceded at the end of the first half in the last minute.
Of course, after that they were very clinical, there's not much difference in amounts of shots but they were very clinical. After we scored the penalty it was 4-2, then we had some chances to score the third but from minutes 83-88 we conceded three more goals and it's a tough result.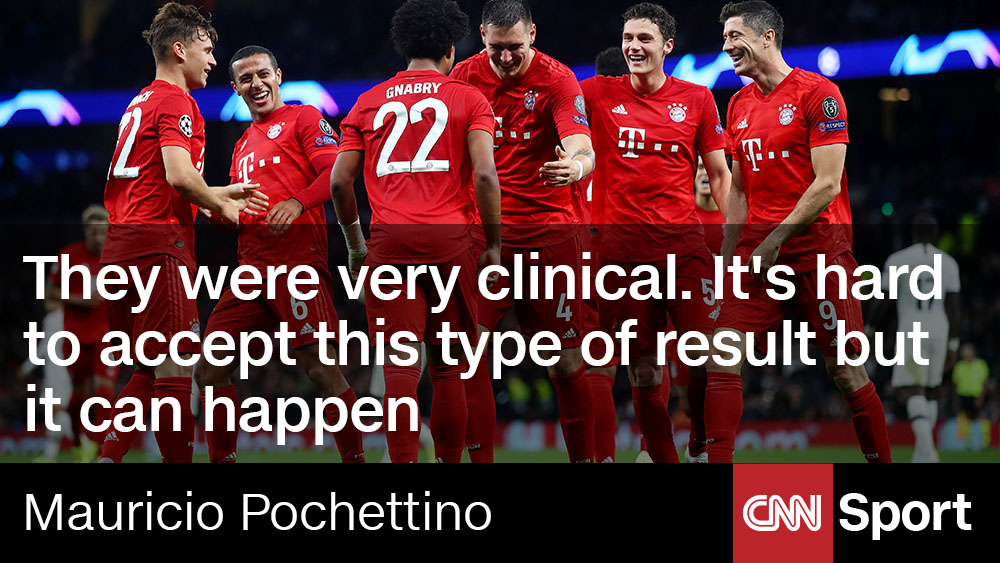 It's hard to accept this type of result, but it can happen when the opponent has quality and is clinical, every touch was inside [the goal]. We are of course disappointed and very upset, we need to stay together and have a good mentality and on Saturday we have another game.
5:14 p.m. ET, October 1, 2019
Unwanted history
It goes from bad to worse for Tottenham, as Mauricio Pochettino's side make history.
But not the good kind.
5:03 p.m. ET, October 1, 2019
Touchdown!
I think this is what's known as 'rubbing salt into the wounds.'
4:55 p.m. ET, October 1, 2019
All pain, no gain
If only there was a photo that summed up Tottenham's night ...
4:51 p.m. ET, October 1, 2019
Full time: Tottenham 2-7 Bayern Munich
It feels a long, long time ago that Son Heung-min put Spurs ahead (and deservedly so it must be said).
Since then, it's all been downhill as Bayern embarrass the north Londoners on home soil.
If Spurs boss Mauricio Pochettino wasn't already under pressure, he certainly is now.
There will be a few in that Tottenham dressing room who will need to take a long, hard look at themselves.