European elections results 2019
12:48 p.m. ET, May 27, 2019
Thanks for joining us
After a non-stop 24 hours, we're wrapping up our live coverage of the European elections after 28 countries voted over four days to select who will represent them in the EU Parliament for the next five years.
You can read more about how the results revealed some unexpected outcomes here, plus the eight key takeaways this year:
Alternatively, if you'd like to read more about why European politics is becoming increasingly fragmented, as millions of voters abandon traditional parties which have dominated Europe's institutions for decades. You can read the analysis by CNN's Luke McGee here:
10:52 a.m. ET, May 28, 2019
A surge of the Greens
The Green Party alliance posted its strongest ever performance in European elections, winning 69 seats -- a rise from 2014 when they took 50 seats.
Much of the party's gains came from northern Europe, including the UK, Ireland, France and Germany, where young people have staged marches calling for political action over climate change.
See a breakdown of the surge in the graphic below: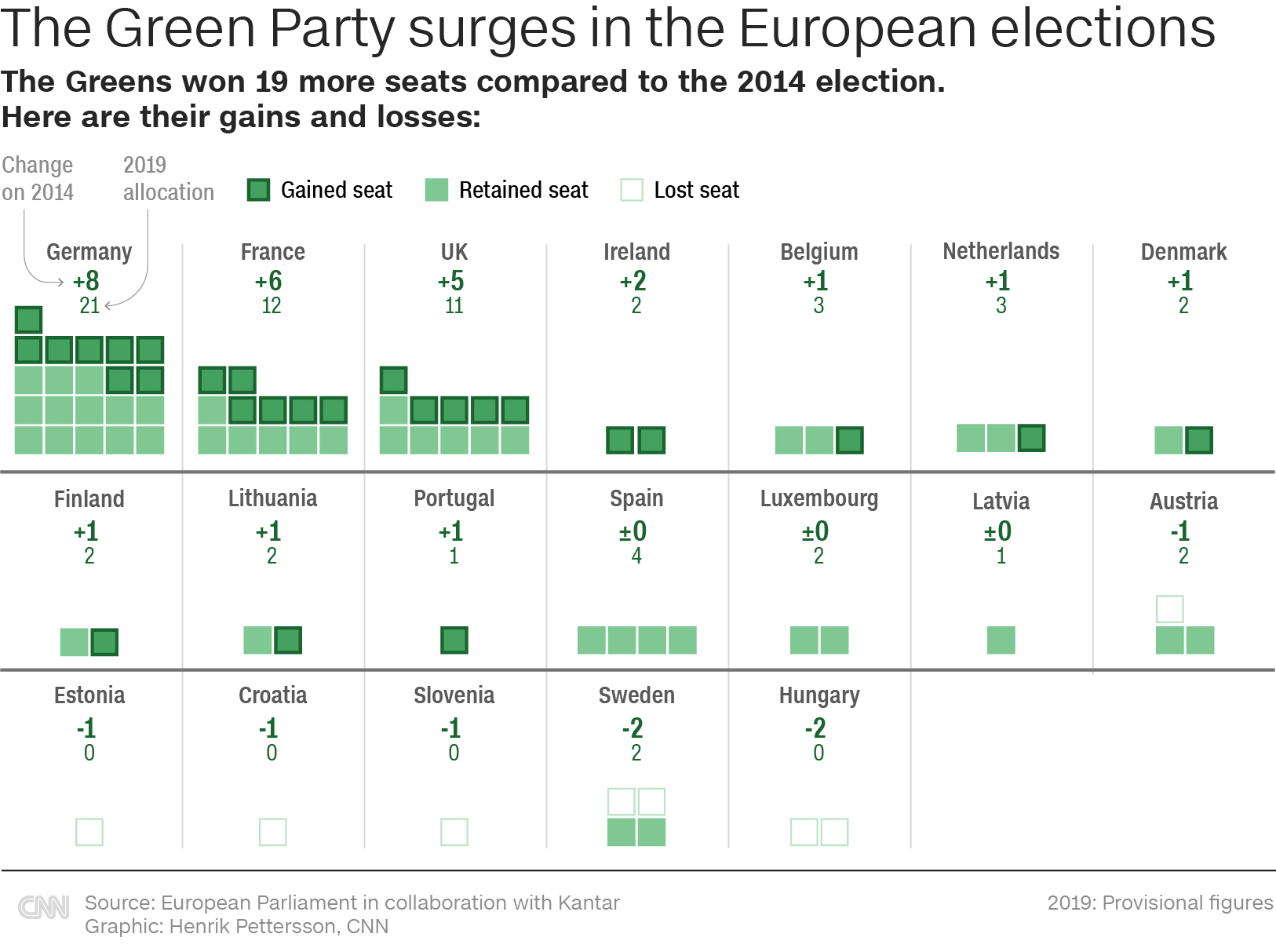 This graphic has been updated to correct the number of seats the Greens gained in France.
11:26 a.m. ET, May 27, 2019
Scottish First Minister Nicola Sturgeon hopeful Scotland will become an independent nation
Nicola Sturgeon, Scotland's First Minister, said during an event in Dublin on Monday that she wants Scotland to hold a fresh referendum on independence in the second half of 2021.
"There will be another Scottish independence referendum and I will make a prediction today that Scotland will vote for independence and we will become an independent country just like Ireland, and the strong relationship between our two countries now will become even stronger soon," she said, according to Britain's Press Association news agency.
It comes after Sturgeon's Scottish National Party secured "a historic victory" in the European elections.
The First Minister tweeted overnight that it was "emphatically clear that Scotland doesn't want Brexit."
11:10 a.m. ET, May 27, 2019
Austrian Chancellor Sebastian Kurz loses vote of no confidence
Despite a convincing win in the European elections, Austrian Chancellor Sebastian Kurz has just lost a vote of no confidence.
It comes after Kurz's government was plunged into crisis earlier this month when a video emerged of his Vice Chancellor -- Heinz-Christian Strache, of the far-right Freedom Party of Austria (FPÖ) -- appearing to offer state contracts to a woman falsely claiming to be the niece of a Russian oligarch.
There was no count for the vote; instead a majority of deputies in the chamber simply stood up to indicate their unwillingness to put further trust in Kurz.
The vote came after Kurz's Austrian People's Party (OVP) received 34.9% of the vote in the European Elections.
Read more about the no-confidence vote in this report, from Denise Hruby in Vienna.
9:46 a.m. ET, May 27, 2019
Theresa May to travel to Brussels on Tuesday
Outgoing UK Prime Minister Theresa May will travel to Brussels on Tuesday, where she will meet Donald Tusk, the President of the European Council.
A spokesman at Downing Street has played down May's trip, telling CNN "it's not a big event."
1:05 p.m. ET, May 27, 2019
Nigel Farage confident the Brexit Party's success can translate to a national victory
The anti-EU Brexit Party was only registered in February, but it came top in the UK after receiving 31.69% of votes across the nation, according to provisional results.
CNN's Nina dos Santos spoke to Nigel Farage following the Brexit Party's strong results; he told CNN he was confident his party's win in the EU elections would translate to a national victory when the UK faces its next general election.
You can watch that interview here:
This post has been corrected to reflect the number of votes received by the Brexit Party
9:39 a.m. ET, May 27, 2019
How 2019's European election results compare to previous Parliament
The graphic below shows which parties have made the most gains and losses in the European Parliament.
The Alliance for Liberals and Democrats for Europe (ALDE) has gained 40 seats, according to provisional results, while the "grand coalition" of the European People's Party (EPP) and the Progressive Alliance of Socialists and Democrats' have lost their majority, after losing 75 seats.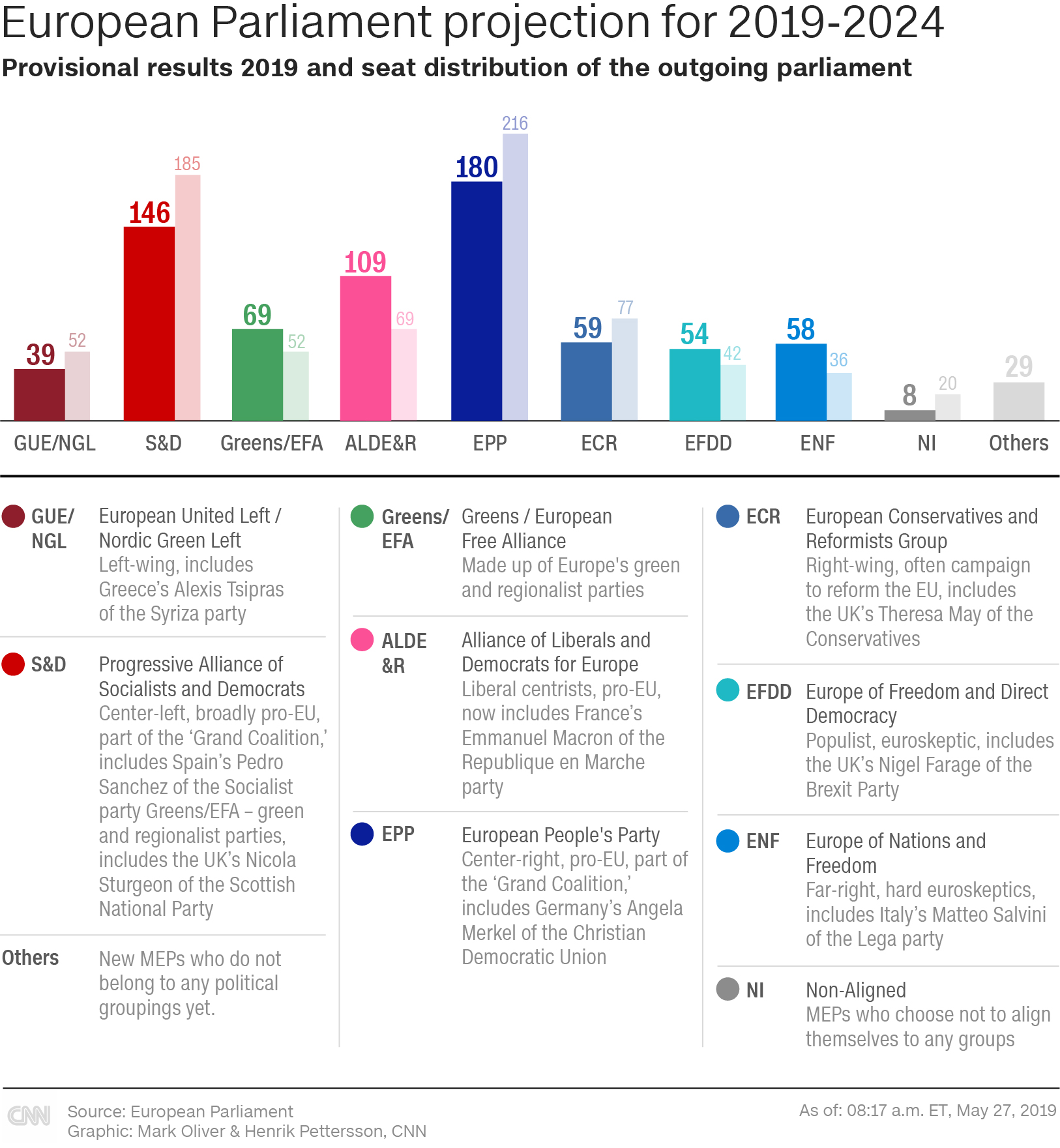 It's important to note that these groups may change once incoming MEPs form new alliances and groups. The above projection is based upon the previous European Parliament groupings.
9:37 a.m. ET, May 27, 2019
Confusion as two MEPs with same name elected in same region
Some have been left a little confused after voters in South East England elected two MEPs called Alexandra Phillips.
While they might have the same name, the pair hold very different views when it comes to politics. One Phillips (from the Green Party) wants the UK to remain in the European Union while the other Phillips is a hardline Brexiteer who will represent Nigel Farage's Brexit Party in Brussels.
9:02 a.m. ET, May 27, 2019
Nigel Farage demands a seat at Brexit talks
Nigel Farage, the leader of the Brexit Party -- which won the most votes in the UK -- has said it should be part of the negotiating team when it comes to exiting the EU.
"At the end of the day it's about what voters want. I think either the Conservatives and Labour parties take us towards Brexit, or they are going to have to be replaced -- it's as simple as that," Farage said, according to Britain's Press Association news agency.
"This is the vote that says put 'no deal' Brexit back on the table, make it part of our negotiations because without that we have no chance of getting a sensible, fair trade deal and I want us, as the Brexit Party, to be engaged in that."
In what appears to be a swipe at Farage's demands, the chief spokesman for the European Commission, Margaritis Schinas, said in a statement Monday that the EU's "only interlocutor is the government of the UK."