Deadly wildfires burn in Greece
9:39 p.m. ET, July 24, 2018
Our live coverage has ended. Go here or scroll through the posts below to read more about the wildfires.
3:39 p.m. ET, July 24, 2018
Greek government approves $23 million for fire relief
The Greek government approved 20 million euros (about $23 million) to address the immediate needs of people and towns affected by the country's devastating wildfires, Greek government spokesman Dimitris Tzanakopoulos said Tuesday.
At least 74 people have died in the wildfires near Athens, Greece.
11:10 a.m. ET, July 26, 2018
Top Greek soccer team donates $1.1 million to fire victims
Greek soccer team Olympiacos and its owner Evangelos Marinakis are donating 1 million euros (about $1.1 million) to help people affected by the country's wildfires, the club announced Tuesday.
They're also opening bank accounts, so the team's fans can make donations.
"In these difficult times, all us Greeks need to stand united at the side of our fellow citizens who suffer," the team said in a statement on their website.
12:01 p.m. ET, July 24, 2018
Greek fires by the numbers: 500 firefighters battle 5 fires
Around 500 firefighters are currently battling the five deadly major wildfires around Greece, a fire official said.
There are 71 adults and 11 children who have been hospitalized as a result of the fires across Greece, Greek National Fire Brigade spokeswoman Stavroula Malliri said Tuesday. They are among the 164 adults and 23 children she described as injured earlier.
One fire is to the east of Athens near Kineta; one to the west of Athens in Kallitexnoupolis, near Mati; one near Corinth and two in Crete in the Chania region.
Around 500 firefighters are battling these 5 major fires in different parts of the country, she said.
The search for missing people is being carried out by patrol groups of 130 people from the Armed Forces and the Fire Brigade in the areas of Neos Voutzas, Mati and Rafina, she added.
11:13 a.m. ET, July 24, 2018
At least 74 dead in Greek wildfires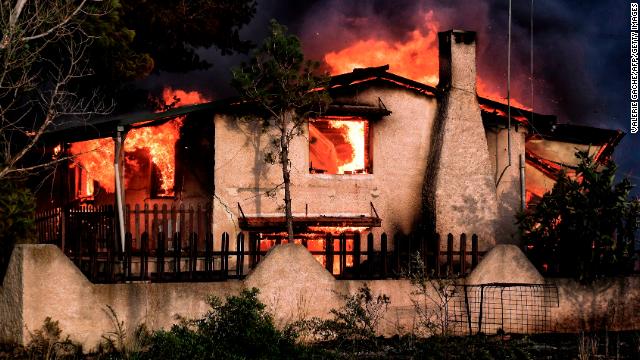 At least 74 people have died in the wildfires near Athens, Greece.
The fires are the deadliest to have hit the country since blazes that burned through the southern Peloponnese in August 2007, killing dozens.
In addition to the deaths, officials report that...
At least 164 adults have been injured.
23 children have been hurt.
715 people have been evacuated, mainly from the area of Mati.
10:23 a.m. ET, July 24, 2018
Ash turned the sky yellow in this Greek beach town
Wildfires have also hit the western coast of Attica coast. Alexis Kastanias filmed video of smoke billowing from wildfire over the town of Kineta, where he owns a beach home. 
"The sky was yellow from ashes. It was scary," he told CNN. 
He later went to check his house and took a video of flames and smoke engulfing trees there:
2:33 p.m. ET, July 24, 2018
Athens could get rain later this week. That may not be a good thing.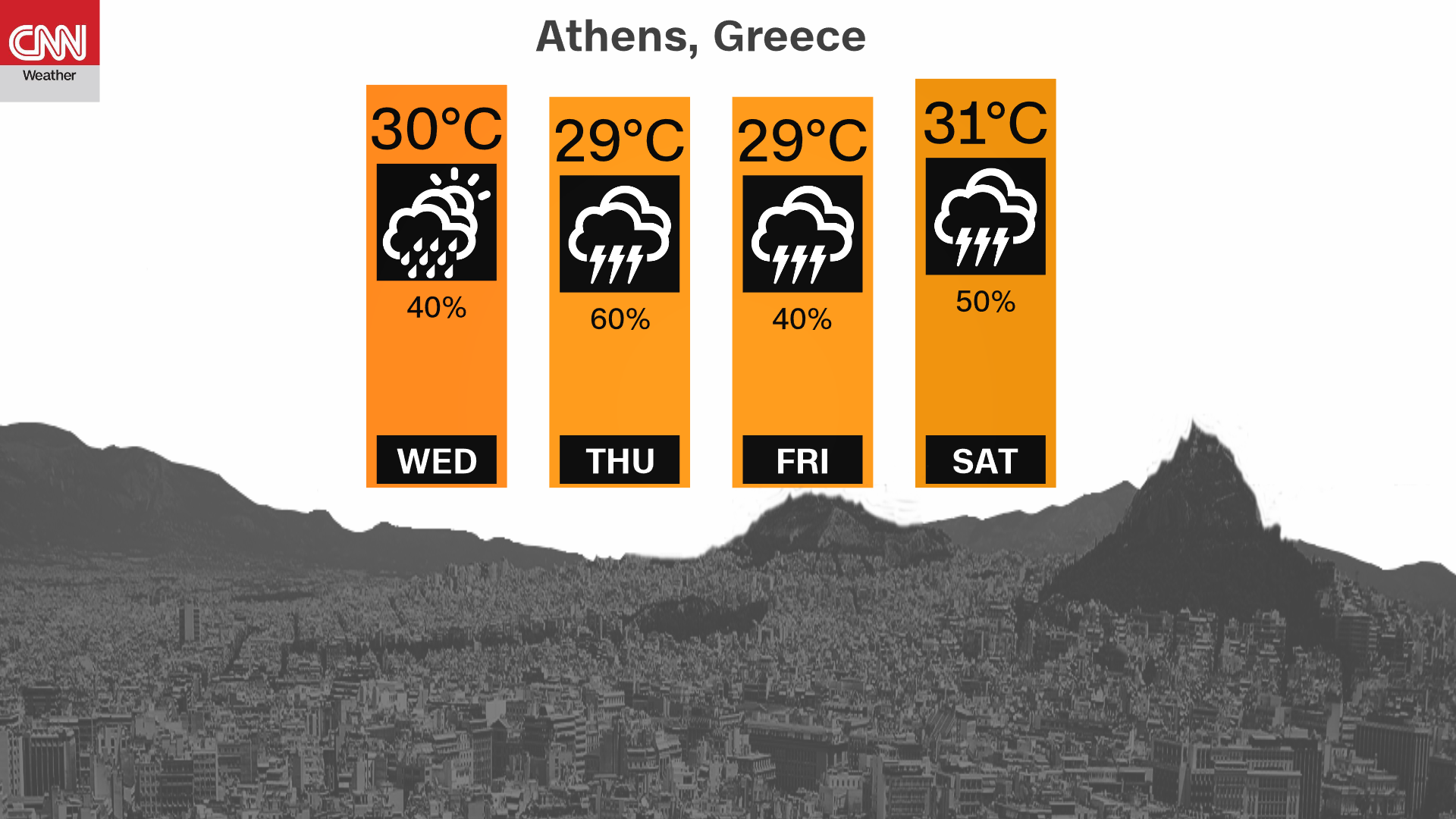 There are slight chances for rain in the forecast for Athens this week. Most of the rain chances are at least 30%, with Thursday looking like the most likely day for rainfall.
But that's not necessarily good news: These will be hit-and-miss afternoon-type storms, and they will not produce too much rainfall. In fact, they can end up making firefighting efforts harder by increasing winds and swirling the wind directions.
Here's the forecast radar: