The royal wedding: How it unfolded
8:31 a.m. ET, May 19, 2018
Meghan's dad is watching: "My baby looks beautiful"
Meghan's father, Thomas Markle, told celebrity website TMZ that watching the royal wedding was "emotional and joyful."
My baby looks beautiful and she looks very happy. I wish I were there and I wish them all my love and all happiness," Markle said, according to TMZ.
Markle was supposed to walk Meghan down the aisle, but pulled out for health reasons. His decision not to travel to Windsor came after a week of family drama.
8:24 a.m. ET, May 19, 2018
Some biked 30 miles to get here. Other crossed the Atlantic Ocean.
Crowds been gathering on the Long Walk outside Windsor Castle for hours and now they're being rewarded for their patience. The Duke and Duchess of Sussex are riding through the streets of the town, and the procession will culminate with a roughly one-mile section of the Long Walk.
Lynne and Harold, clad in Lycra, cycled 30 miles to get here today.
"The roads were so clear it was wonderful, it was easier to get here than on a normal Saturday," Lynn said. She added: "It's been so lovely, everyone has been so friendly."
This group of friends from Nova Scotia, Canada, have a message of congratulations for the newlyweds.
Monique, originally from Nigeria but now living in London, says she's only here today for Harry.
"I wouldn't normally come to these events but it's Harry and I love him. He's my adopted son and I've loved him ever since his mother passed away. I prayed for him to have a good wife. Meghan seems like a nice person. It's a good match. She is making history and that's so important."
8:23 a.m. ET, May 19, 2018
Crowds go wild in Windsor
8:26 a.m. ET, May 19, 2018
And now, a carriage ride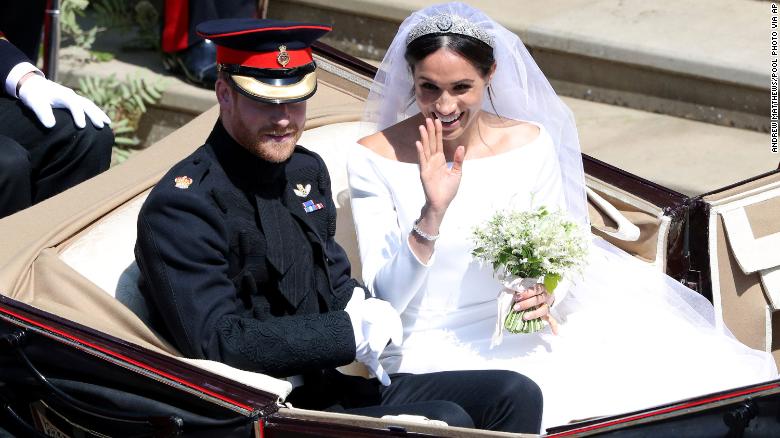 The Duke and Duchess of Sussex just left the chapel in a carriage.
The route takes them on a roughly two-mile procession, traveling along the High Street through the town of Windsor, before returning to the castle by the Long Walk, according to the Palace. The procession is expected to take around 25 minutes.
They will travel in an Ascot Landau carriage pulled by Windsor Grey horses.
Windsor Grey horses have a long royal pedigree -- they have been pulling the carriages of British monarchs and members of the royal family since the 1900s.
8:14 a.m. ET, May 19, 2018
The Duke and Duchess of Sussex kiss on the steps of St. George's Chapel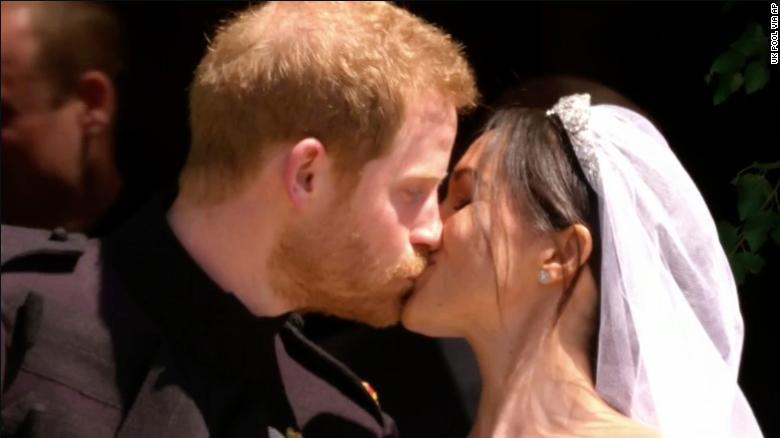 Prince Harry and Meghan emerged from the chapel -- Household Cavalry lining the steps -- and shared their first kiss as a married couple. The crowd cheered wildly.
Couples do not typically kiss in Church of England wedding ceremonies, but it has been tradition for royal couple to kiss publicly soon after for the world to see.
8:03 a.m. ET, May 19, 2018
The ceremony ends with "God Save the Queen"
As the Duke and Duchess of Sussex return to the Quire and we reach the culmination of the ceremony, the congregation is singing the British National Anthem.
Here are the lyrics, if you're following along:
God save our gracious Queen, 
Long live our noble Queen,
God save The Queen! 
Send her victorious, 
Happy and glorious, 
Long to reign over us, 
God save The Queen!
8:02 a.m. ET, May 19, 2018
The 19-year-old cellist is performing
Cellist Sheku Kanneh-Mason, 19, is performing during the signing of the register -- the part of the ceremony that completes the legal requirements for marriage.
He is performing three songs:
Sicilienne by Maria Theresia von Paradis (1759-1824) arr. Chris Hazell (b.1948)
Après un rêve by Gabriel Fauré (1845-1924) arr. Chris Hazell
Ave Maria by Franz Schubert (1797-1828) arr. Chris Hazell
Kanneh-Mason was the first black musician to win the BBC Young Musician of the Year award in 2016.
He is a student at the Royal Academy of Music.
Before the wedding, Kanneh-Mason said he was "honored" to perform at the ceremony.
"I was bowled over when Ms. Markle called me to ask," he said.
7:47 a.m. ET, May 19, 2018
The Duke and Duchess of Sussex share a moment
7:44 a.m. ET, May 19, 2018
Harry and Meghan are now husband and wife
Harry and Meghan, now the Duke and Duchess of Sussex, are officially married.
It became official when the Archbishop read this:
In the presence of God, and before this congregation, Harry and Meghan have given their consent and made their marriage vows to each other. They have declared their marriage by the joining of hands and by the giving and receiving of rings. I therefore proclaim that they are husband and wife.