The royal wedding: How it unfolded
11:36 a.m. ET, May 19, 2018
Ready for a different type of royal wedding celebration?
With her ascent into the upper echelons of the British royal family, the Duchess of Sussex will help bring people together, according to CNN's Don Lemon.
And that certainly seems to be the case judging by the parties springing up around England.
In Brixton -- a multicultural area in south London that didn't celebrate the last royal wedding -- there are street parties taking place today, royal commentator Kate Williams reports.
And in London, an alternative royal wedding party is underway. The Alternative George Michael Royal Wedding is a celebration of LGBT+ love and the life of gay icon George Michael.
Damien Arness Dalton, one of the attendee told CNN: "Whilst everyone is in Windsor, we're here celebrating and fundraising for the Outside Project, which is a queer homeless response service."
"To give credit where it's due, Harry has said he would advocate for LGBT rights. So there is this idea of having a monarchy who have an investment in their people and want to advocate for change too," Dalton added. "We absolutely celebrate and wish Harry and Meghan well, but we're here in wedding frocks to say: we can have same sex love too!"
11:31 a.m. ET, May 19, 2018
If you're just waking up, here's what you missed
We know not everyone will have woken up in the early hours -- the ceremony started at 4 a.m. PT, afterall -- to watch the royal wedding.
But don't worry, we got you covered with all of the details.
Here's what you need to know about the wedding:
Meghan Markle's gown: It was a simple boat-neck, all-white number designed by Givenchy's Clare Waight Keller.
And that veil: The 16.5-foot silk tulle veil was hand-embroidered with flora representing the 53 countries of the Commonwealth.
The guests: Oprah, Serena Williams and Amal and George Clooney were just a few of the major celebrities at the wedding. They donned colorful ensembles and bold architectural headpieces. Queen Elizabeth II wore light green, with pops of yellow and purple.
The ceremony: The bride walked herself down the aisle and about halfway through, Prince Harry's father Prince Charles joined her. The first thing Harry said to her was, "You look amazing." Harry and Meghan held hands through almost the entire service. A majestic version of "Stand By Me" was performed by the Kingdom Choir, a Christian gospel group based in southeast England.
The Chicago preacher: One of the highlights of the ceremony was an address given by Michael Curry, an American preacher who is also the Presiding Bishop of the Episcopal Church. During the speech, Curry quoted Martin Luther King, Jr. and mentioned slavery and the healing power of love.
Sarah Ferguson was there: The Duchess of York is divorced from her husband, Prince Andrew, and has been somewhat of a pariah in the royal family. She wasn't invited to Prince William and Catherine's wedding, and her presence was one indication of Prince Harry's reputation as a peacemaker in the family.
Princess Diana's presence: Her memory was strongly felt throughout the day. Diana's brother, Earl Charles Spencer, and her youngest sister, Lady Jane Fellowes, gave a reading at the ceremony. A hymn that was played at Diana's funeral and William and Catherine's wedding was also performed before the ceremony.
11:18 a.m. ET, May 19, 2018
Elton John performs at the Queen's reception
Sir Elton John has performed at the lunchtime reception for guests celebrating the newly-married Duke and Duchess of Sussex.
Prince Harry asked Sir Elton to perform at the reception which was hosted by Queen Elizabeth II at St. George's Hall at Windsor Castle.
Sir Elton has long held ties with to the British royals and was known to be a close friend of Prince Harry's mother, Princess Diana.
11:11 a.m. ET, May 19, 2018
Famous fans send well-wishes to the newlyweds
When it comes to royal weddings, it's not just the public that gets excited.
A few famous faces are popping up on social media platforms to share their messages of congratulations including Canadian PM Justin Trudeau and Australian actor Russell Crowe.
10:59 a.m. ET, May 19, 2018
There's a (very polite) human traffic jam in Windsor
The crowds are showing no sign of dispersing in the streets of Windsor, and the town's shops and cafes cashing in. There are huge lines for bathrooms and plenty seeking respite from the bright sunshine.
This being Britain, everyone keeps apologizing to one another for bumping into them as they try to pass. It's perhaps the most polite human traffic jam yet. 
There's entertainment in the town's streets, too. Here's video of a singer serenading the crowd:
10:56 a.m. ET, May 19, 2018
Royal palace tweets: "Thank you to the amazing crowds in Windsor"
Kensington Palace just tweeted a series of photos of the crowds that gathered in Windsor today for the royal wedding.
10:36 a.m. ET, May 19, 2018
There's another big event in Britain today: A football championship
A few short hours after the Duke and Duchess of Cambridge tie the knot, British football teams Manchester United and Chelsea will play at London's Wembley stadium for the FA Cup final.
Manchester United posted a cheeky photo of its former star player David Beckham arriving at the wedding earlier, along with the caption: "We'll be done by 5:15pm, right?"
Prince William usually attends the final as president of the Football Association -- English football's governing body -- but has put his duties as brother and best man first today.
10:32 a.m. ET, May 19, 2018
It's Twitter official now
The official Twitter account for Kensington Palace updated its profile description to include The Duke and Duchess of Sussex, Harry and Meghan's new official titles.
The profile picture includes both Harry and Meghan, as well as William and Catherine, Duke and Duchess of Cambridge.
The account will share any news about the couple on its feed going forward.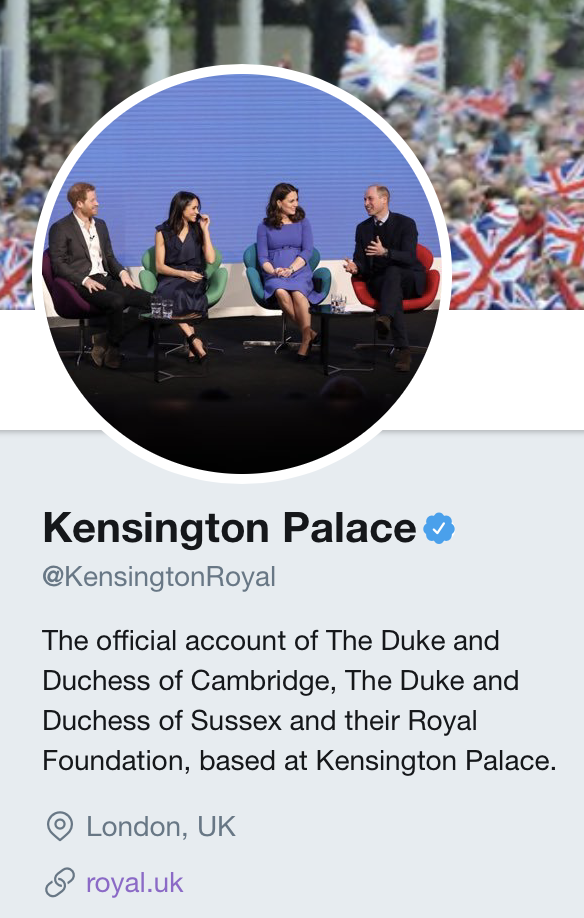 10:20 a.m. ET, May 19, 2018
James Blunt shuts down question about why he was invited
British singer James Blunt may have shot to fame with his 2004 hit "You're beautiful" but these days he's perhaps better known as a poet with a character count.
Blunt can often be found on the micro-blogging platform trolling his haters. And today is no exception.
He took a few minutes from sipping champagne and eating canapes at the Queen's reception for the Duke and Duchess of Sussex to tweet back to someone who questioned his presence at the royal nuptials.