March 10, 2023 Russia-Ukraine news
7:56 p.m. ET, March 10, 2023
Our live coverage for the day has ended. Follow the latest Ukraine news here or read through the updates below.
7:55 p.m. ET, March 10, 2023
Russia has launched nearly 100 missiles at Ukraine over the past day. Here's what to know
From CNN staff
Russia has launched nearly 100 missiles of various types over the past day, the Ukrainian military said Friday.
Much attention has been focused on several launches of Kinzhal air-launched ballistic missiles, which are especially difficult to stop. Ukrainian officials have acknowledged their defense systems are not holding up well enough.
Here's what to know:
4:16 p.m. ET, March 12, 2023
A POW's last words were "Glory to Ukraine." Ukrainians want to honor him as a war hero
From CNN's Josh Pennington and Jennifer Hauser
There's a petition on the Ukrainian presidential office's website to posthumously award Oleksandr Matsiyevsky with Hero of Ukraine honors after a video of his execution spurred outrage throughout the country.
The Ukrainian military confirmed Matsiyevsky was the prisoner of war who shouted, "Glory to Ukraine!" before he was executed by Russian forces in the clip, according to the petition, which was posted on a government website. The petition is an online form for the public to petition the president.
Earlier this week, there were differing reports on the identity of the service member, whose execution was shared widely on social media.
On Wednesday, reports emerged that the POW could be Matsiyevsky, a soldier with the 163rd Battalion of the 119th Separate Tank Brigade of the northern Chernihiv region.
His mother, Paraska Mikhailovna Demchuk, his son Mykhailo and the soldiers of his unit recognized him in the footage and confirmed his identity, according to a post by the Ukrainian military's northern Regional Territorial Defense Force Facebook page.
"On December 30, 2022, on the outskirts of Soledar, he and four other servicemen were engaged in a counterattack with superior enemy forces while moving. At about 12 p.m., visual contact and communication with them was lost. Reinforcements could not break through to their position due to continuous mortar fire and heavy small arms fire," the unit wrote.
The post said the full details of the battle are still unknown and that the military does not have information on how Matsiyevsky was taken prisoner.
"There were no witnesses left — all are dead or missing," the statement reads.
The service member's commander told Ukrainian public broadcaster Suspilne Wednesday that he's sure the soldier shown in the video was Matsiyevsky, citing factors ranging from his mannerisms to his voice and a characteristic eyebrow wound.
Matsiyevsky's mother told Suspilne that the recording of her son's execution haunts her, but she said she feels a strong sense of pride in his actions.
"I didn't sleep the entire night. It kept flickering before my eyes," she told the broadcaster. "But I felt some kind of lightness and some kind of ray of light when I saw how my son died."
"It's so hard, but I really felt like I saw my son's character — so resilient, so unbreakable," she continued. "Because he said: 'Mom, I will never surrender to captivity.' I kept hearing him repeat 'Glory to Ukraine' throughout the night. He was such a warrior, so brave and fearless, you wouldn't even imagine."
5:07 p.m. ET, March 10, 2023
Biden and EU chief discuss continued support for Ukraine during White House meeting
US President Joe Biden and European Union chief Ursula von der Leyen discussed Russia's war in Ukraine, among other topics, during a meeting at the White House Friday. The United States and European Union pledged "security, economic, and humanitarian support" to Ukraine for as long as it needs, the two leaders said.
"We remain committed to providing and mobilizing international support," including from the private sector, to ensure Ukraine's economic stability, Biden and von der Leyen said in a joint statement. They added that military aid and training will also continue.
The leaders outlined initiatives aimed at helping Ukraine rebuild and highlighted efforts — including sanctions — to "further degrade Russia's capacity to wage its illegal war and its military-industrial system," according to the statement.
The statement touted the success of a US and EU partnership put in place a year ago to reduce Europe's dependence on Russian fuel, something the leaders said they continue doing.
"Putin thought that he would divide us, and yet we are more united than ever. We stand together in our unwavering support for Ukraine for as long as it takes," the statement said.
3:29 p.m. ET, March 10, 2023
GOP presidential candidate Nikki Haley defends US support of Ukraine
From CNN's Brian Rokus
Republican presidential candidate Nikki Haley defended United States support of Ukraine at an event in Iowa Friday after she was interrupted by someone in the crowd arguing Ukraine isn't an ally of the US. 
"Ukraine's not our ally, why are we doing this?" an audience member at a foreign policy forum hosted by the Bastion Institute shouted out as Haley was speaking.
Haley responded that although Ukraine is not a direct ally, "we had no better ally at the United Nations than Ukraine," and argued losing the war in Ukraine could lead to a world war.
"This isn't about starting a war, this is about preventing a war," Haley said.
Haley argued how the US response to the war in Ukraine could impact how other international situations play out, namely concerns about tension between China and Taiwan.
"China's watching what we do with Ukraine. They're watching who we've sanctioned. They're watching what other countries are joining us. If they see us stay true on Ukraine with our allies, they will hold off on Taiwan. That's the big issue of why this all matters," she said.
The US will have committed more than $32 billion to Ukraine since the start of the war more than one year ago. The latest package worth about $400 million was announced by officials last Friday. 
Some context: The moment highlights a divide within the Republican party over the level of involvement the US should have in Ukraine, now more than a year since the war started.
There is a split among possible GOP 2024 hopefuls on the issue, with some, like Florida Gov. Ron DeSantis, arguing the US is too involved in supporting Ukraine's efforts and others, former Secretary of State Mike Pompeo, arguing the US should be doing as much as possible to aid the nation.
Republicans, who control the House of Representatives, are bitterly divided on Capitol Hill over whether to continue sending weapons and aid to the nation. 
2:59 p.m. ET, March 10, 2023
Why Russian missile bombardment is unlikely to force a major breakthrough in the war
From CNN's Rob Picheta
Russia launched a total of 95 missiles of various types over the past day — 34 of which were intercepted — the General Staff of the Armed Forces of Ukraine said in a morning update on Friday, as well as a number of Iranian-made Shahed drones.
Nearly half a million people are without power in Kharkiv, Ukraine's second-largest city, following the latest barrage of strikes, according to the regional governor.
And there are concerns about how effectively Ukraine can stand up to such bombardments.
But aerial strikes like these are not going to win Russia the war, Western experts say.
"There is a long history of nations trying to win wars through strategic bombardment, to break the will or capacity of an opposing state to resist," Justin Bronk, senior research fellow for airpower and technology at the London-based Royal United Services Institute (RUSI) think tank, told CNN. "It has an incredibly poor record of success."
Russia's limited stockpiles mean it's unlikely they will force a major breakthrough in the war through the skies, so long as its air force is unable to gain supremacy above Ukraine.
New strategy?: The use of so many different weapons systems in one night has increasingly become Russia's preferred method of striking through the skies, but with larger gaps between the raids, Bronk said.
The use of hypersonic missiles in particular follows the Kremlin's years-long push to equip its military with such weaponry – a move that the United States and the West has been less keen to adopt, given the trade-offs in pursuing hypersonic capabilities.
"What you get is a missile that is much harder to intercept and gives your opponent much less warning. What you lose is that it's much more expensive, and often can only be carried by a much more limited number of platforms," Bronk explained.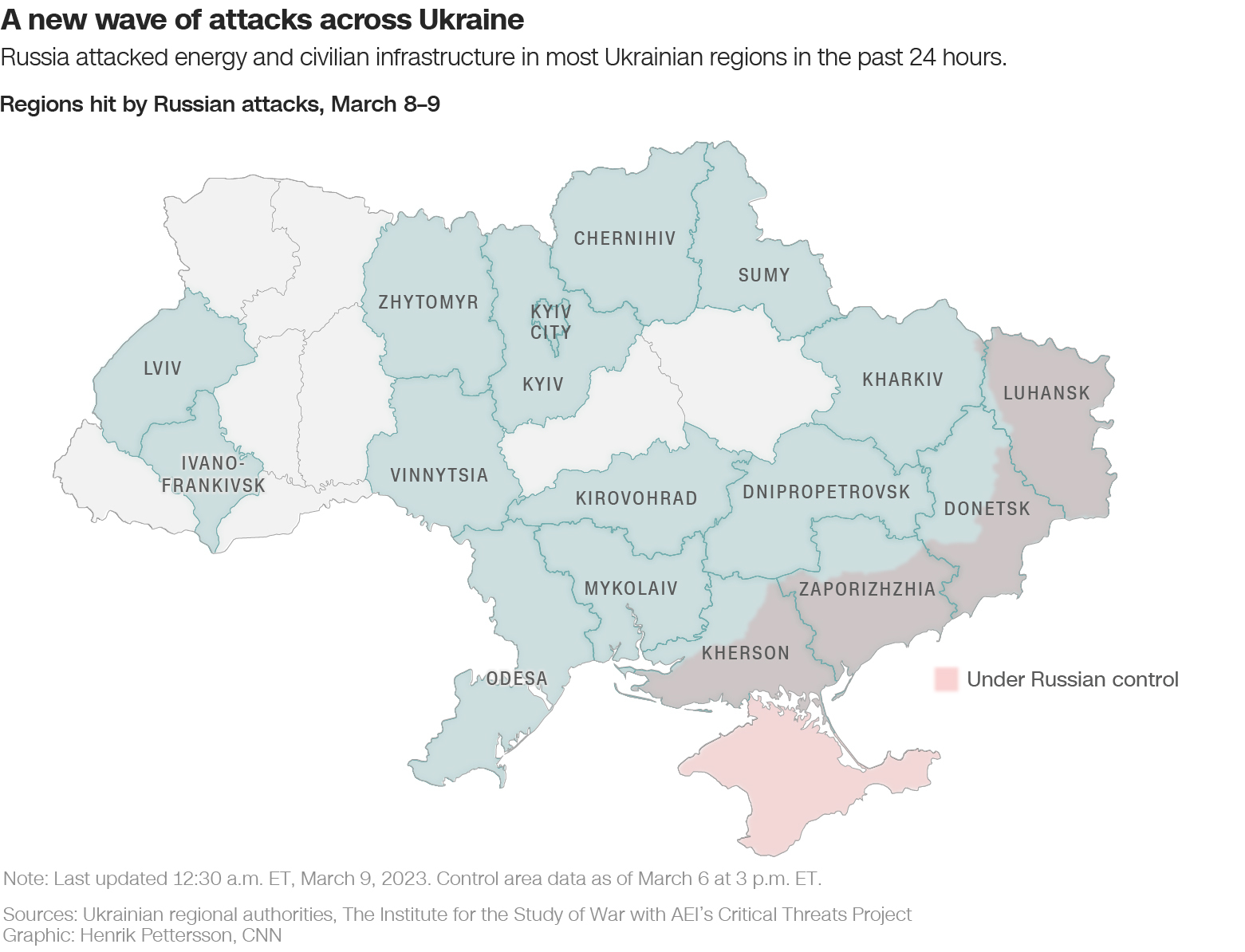 How Ukraine's defenses held up: "They are not coping well enough," an adviser to Ukrainian President Volodymyr Zelensky said.
The Kinzhal missiles are a specific challenge: They are immune to Ukraine's air defenses. An air-launched variant of the Iskander short-range ballistic missile (SRBM) which has also, more frequently, been used in Ukraine, the Kinzhal was unveiled by President Vladimir Putin in 2018 as a cornerstone of a modernized Russian arsenal.
Future attacks?: While Russia has deployed a handful of missiles that Ukraine is currently unable to stop, it appears unlikely that such attacks will become a regular or decisive feature of the conflict – because, by most Western assessments, Russia is running low on supplies.
12:50 p.m. ET, March 10, 2023
UN experts call recruitment of prisoners by Russia's Wagner Group "alarming"
From CNN's Sebastian Shukla and Radina Gigova
The recruitment of prisoners serving sentences in Russian correctional facilities by the Russian private military company Wagner is "alarming," a group of UN experts said in a joint statement released by the Office of the United Nations High Commissioner for Human Rights (OHCHR) on Friday. 
Members of the Wagner group are reportedly "offering pardons for criminal sentences" and "a monthly payment" to the prisoners' relatives of those who agree to join, the experts said.
Wagner has allegedly recruited both Russian and foreign nationals serving sentences in correctional facilities, they said, adding that in some cases, Wagner used threats, intimidation and pressure tactics to recruit.
Recruited prisoners "have been involved in a range of activities – including providing military services, rebuilding infrastructure, and taking direct part in hostilities on the side of the Russian forces," the statement added.
The experts say they "have information that several recruits have been executed for attempting to escape and, in other cases, seriously injured in public as a warning to other recruits. Such tactics constitute human rights violations and may amount to war crimes."
The group has expressed its concerns to the Wagner Group and the Russian government. It has also urged Moscow to protect detainees from "violence, exploitation and intimidation," according to the statement.
2:59 p.m. ET, March 10, 2023
Power restored for critical infrastructure and many residents in Kharkiv, regional governor says
From CNN's Dennis Lapin in Kyiv
Power has been restored to 65% of consumers in the city of Kharkiv and to 90% of consumers in the larger Kharkiv region, regional governor Oleh Syniehubov said in an update on Telegram Friday.
"We continue to work on restoring power supply and eliminating the consequences of a massive Russian missile strike on the critical infrastructure of the region," he said. 
"In Kharkiv, power has been fully restored to critical infrastructure facilities, including the water utility, sewage treatment systems and heating networks," he added. 
Russia has launched a total of 95 missiles of various types over the past day, the Ukrainian military said Friday. While Ukraine's defenses knocked down 34 of the strikes, dozens of missiles pounded infrastructure targets, further battering the country's fragile energy systems.
Earlier Friday, Syniehubov said nearly half a million people lost power in the city of Kharkiv following the barrage.
1:25 p.m. ET, March 10, 2023
Ukrainian military spokesperson: 3rd wave of Wagner fighters being replaced by Russian army in Bakhmut area
From CNN's Dennis Lapin and Radina Gigova
The eastern Ukrainian city of Bakhmut is still "the hottest spot on the front line" and continues to be the target of some of the heaviest direct Russian fire, a spokesperson for the Ukrainian military told CNN.
"Bakhmut is still the hottest spot on the front line, with 20 of the 188 attacks of the entire Bakhmut direction this day coming directly at the town of Bakhmut," said Serhii Cherevatyi, spokesperson for the eastern grouping of the Ukrainian Armed Forces.
Cherevatyi also said a third wave of fighters from the Wagner private military company fighting in the area are being replaced by Russia's regular army.
"The first wave, which began last February, consisted of professional military, people associated with the FSB and the Interior Ministry. The second wave of Wagner consisted of those mobilized from prisons, who were almost all wiped out during the so-called 'meat assaults,' when Wagner tried to break through the defenses with live fire," he said. 
"Now we see the replacement of Wagner's group by the regular army. This is probably due to Prigozhin's conflict with the leadership of the Russian army," he added. 
Wagner head Yevgeny Prigozhin has publicly attacked the Russian Defense Ministry, blaming it for not supplying his fighters with enough ammunition to prevent their deaths.
Cherevatyi also said he cannot confirm the status of the village of Dubovo-Vasilyevka, located north of Bakhmut, which Prigozhin claimed to have been captured by his fighters on Wednesday.  
Prigozhin's Telegram post was accompanied by a video that purported to show several Wagner fighters standing next to the group's flag, one of them playing an accordion.
CNN is not able to independently verify Prigozhin's claims.