March 23, 2023 - Russia-Ukraine news
12:38 a.m. ET, March 24, 2023
9:21 p.m. ET, March 23, 2023
Biden to discuss Ukraine war with Trudeau during visit to Canada
From CNN's Sam Fossum and Phil Mattingly
US President Joe Biden will make a long-awaited trip to America's northern neighbor Thursday evening, a 24-hour whirlwind visit where he will press to elevate a concerted effort to repair a bilateral relationship as the two nations confront growing geopolitical challenges.
Despite the brief nature of the trip, White House officials say the crowded agenda underscores the relationship's importance — and the substantial shift away from the fractures that developed during former President Donald Trump's time in office.
Still, they acknowledge there are a series of economic, trade and immigration challenges that must be navigated between the two governments.
Biden's visit includes a meeting with Canadian Prime Minister Justin Trudeau, an address to the nation's parliament in Ottawa, and a cozy reception at an elaborate gala dinner.
For Biden, who last traveled to Ottawa shortly after Trump was elected in 2016, the visit will also mark a moment to underscore close ties and the critical role Canada has played in the Western alliance that has supported Ukraine since Russia's invasion more than a year ago.
The two men are expected to discuss Russia's ongoing invasion of Ukraine. Trudeau, the longest-serving leader in the G7, has been an ally to Biden in providing military and financial assistance to the country during the Kremlin's invasion.
9:21 p.m. ET, March 23, 2023
Zelensky visits front lines and calls for increased cooperation from allies. Here's the latest news 
From CNN staff
After paying a visit to the front lines in the southern region of Kherson, Ukrainian President Volodymyr Zelensky expressed optimism that cooperation with European allies could bring a victory by the end of the year.
He warned, however, that there were still problematic areas such as delays in the supply of armaments.
Meanwhile, Ukraine is eyeing a counteroffensive in Bakhmut as Russian forces in the besieged city appear to be losing momentum, one of Kyiv's top generals said Thursday.
Here are the latest headlines:
Zelensky calls for increased support: The Ukrainian president shared his view that the end of the war could come this year if European allies don't waver in their support. Zelensky identifies several areas where he feels cooperation could improve, including supplies of long-range missiles and modern combat planes and increased sanctions on Russia. "If our joint efforts are resolutely focused on Ukraine's victory, the victory will be gained already this year," he said. 
Russian forces said to be stalling in Bakhmut: Russian forces are depleted in Bakhmut and are "running out of energy," Oleksandr Syrskyi, the commander of Ukraine's land forces, said Thursday. "Very soon, we will take advantage of this opportunity," he added. However, Russia's heavy bombardment of the area continues, with attacks intensifying in the nearby town of Avdiivka. Some Ukrainian officials worry Avdiivka could be the next Bakhmut.
Infusion of supplies from allies: Slovakia announced it has handed over four of its Soviet-era MiG-29 fighter jets to Ukraine, days after pledging to send 13 such jets. Additionally, Spain is expected to send its first shipment of modern battle tanks to Ukraine by the end of the week, the Spanish Defense Ministry said in a statement Thursday.
Ukraine retracts report of Russian retreat from Kherson: The Ukrainian military swiftly backtracked its earlier claim that Russian forces had withdrawn from the strategic town of Nova Kakhovka in Ukraine's southern Kherson region. That's after Russian officials and military bloggers slammed the report. The General Staff of the Ukrainian Armed Forces said the mistake was the result of "incorrect use of available data." 
Russian athletes: World Athletics, the international governing body for track and field and other sports, lifted its ban on Russian and Belarusian athletes, but announced the athletes will still be excluded "for the foreseeable future" due to Russia's invasion of Ukraine.
Reconstruction could top $400 billion: Reconstruction efforts in Ukraine after Russia's invasion could cost an estimated $411 billion, according to an updated assessment by the World Bank.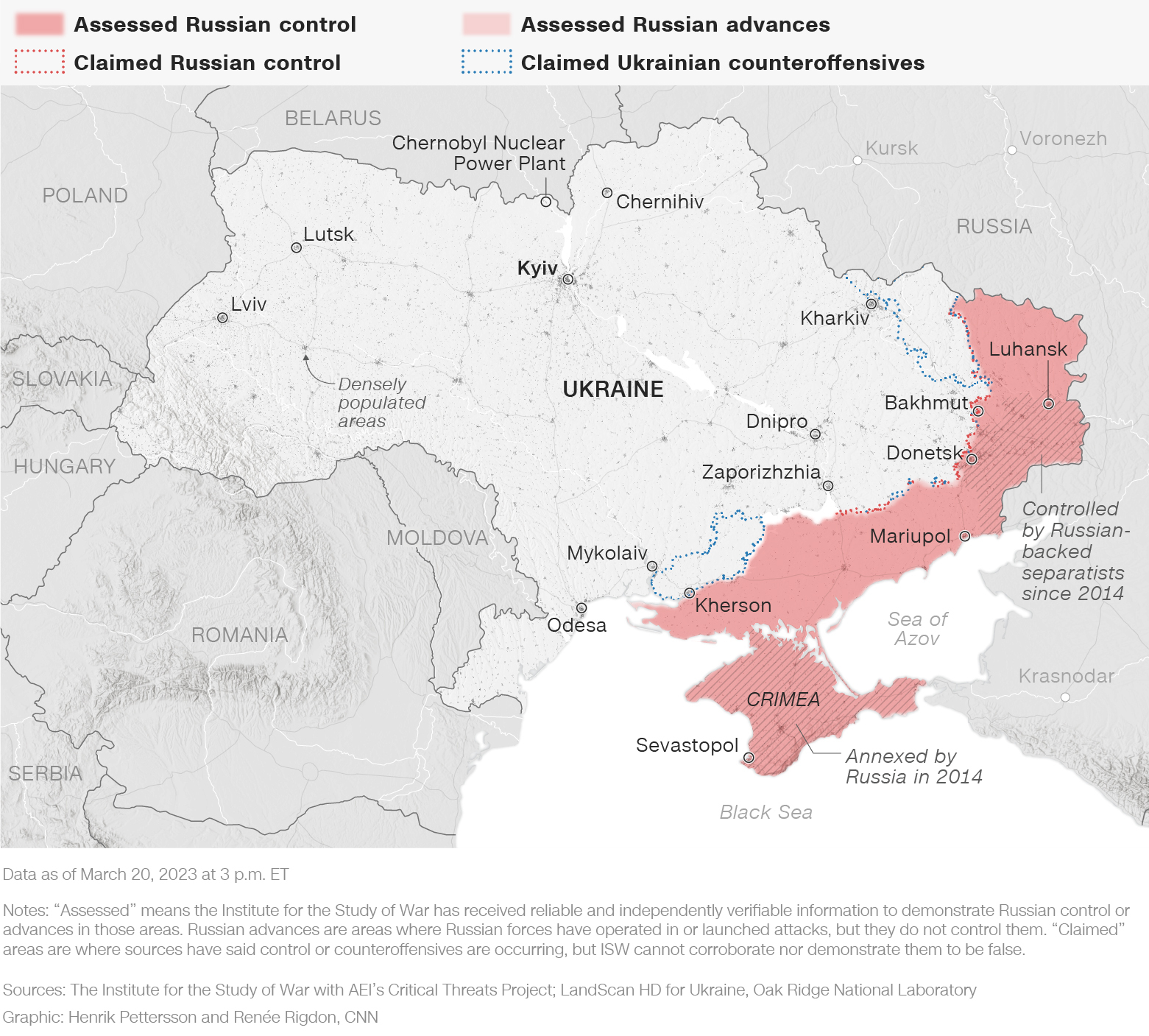 7:06 p.m. ET, March 23, 2023
Ukraine intercepted two Russian cruise missiles fired at Odesa, officials say
From CNN's Olga Voitovych
Ukrainian officials said its air defenses have intercepted two cruise missiles fired at the Odesa region.
Ukraine's Air Command South said Thursday evening that "the air defense forces shot down two Kh-59 air-to-surface guided missiles fired by Russian Su-35 fighters from the Black Sea in Odesa region."
It's the second time this week that Kh-59 missiles have been fired at the Odesa region.
4:28 p.m. ET, March 23, 2023
Zelensky says victory possible this year but warns allies of inadequate cooperation in several areas
From Tim Lister and Olga Voitovych
Ukrainian President Volodymyr Zelensky had an optimistic view on the end of the war for his European allies, while also warning of some areas that he believes need improvement.
He said, "if our joint efforts are resolutely focused on Ukraine's victory, the victory will be gained already this year."
"No one knows for sure how long the war will last and which battles will bring us success faster and which ones will require more effort. But what is clear is that if there are no delays or stagnation in our cooperation, that if our joint efforts are resolutely focused on Ukraine's victory, the victory will be gained already this year," Zelensky told a meeting of the European Council.
The Ukrainian president said he appreciated European support for the work of the International Criminal Court and efforts to launch a compensation scheme that would use billions in seized Russian assets to rehabilitate Ukraine.
But he said there were several areas where cooperation was still lacking:
Delays in supplying long-range missiles. Zelensky referred to the Russian missile attack on Wednesday against Zaporizhzhia.
Ukraine's need for modern combat planes. Zelensky said he was grateful to Poland and Slovakia for sending MiG 29s to Ukraine – "but we need modern aircraft."
Delays to a new sanctions package. Zelensky said "global efforts are not yet sufficient to prevent Russia from adapting to the sanctions and from circumventing them through third countries."
International support for Ukraine's peace formula. Zelensky said he was ready for a summit to discuss what he called "the only realistic and comprehensive plan to restore Ukraine's territorial integrity and guarantee security for our people and for the whole of Europe."
Zelensky said Ukraine was progressing in developing its institutions to European standards and its "transformation into a modern, fully accountable to society, corruption-free and institutionally stable" state. It was critical that its accession path to the European Union not be impeded.
"Ukraine is ready for a decision to start accession negotiations on EU membership already this year. The same readiness is needed from all of you – every leader in Europe."
Zelensky ended his speech by warning that "If Europe hesitates, evil may have time to regroup and prepare itself for years of war."
3:45 p.m. ET, March 23, 2023
New Zealand national who fought alongside Kyiv's forces dies in Ukraine
From CNN's Sahar Akbarzai
New Zealand national Kane Te Tai has died in Ukraine, a spokesperson from New Zealand's government said in a statement to CNN.
Ukrainian authorities confirmed Te Tai's death, New Zealand's Ministry of Foreign Affairs and Trade spokesperson said Thursday.
"The New Zealand Embassy in Warsaw is in contact with the Ukraine authorities to confirm further details. For privacy reasons no further information will be provided," the spokesperson said.  
According to previous CNN reporting, Te Tai fought with Ukraine's International Legion, a band of foreign fighters who have bolstered the Ukrainian military.
3:18 p.m. ET, March 23, 2023
Ukraine says it mistakenly reported Russian retreat in Kherson as Moscow slams Kyiv for the report
From CNN's Tim Lister and Olga Voitovych
The Ukrainian military quickly retracted its claim that Russian forces had withdrawn from a strategic town in Ukraine's southern Kherson region Thursday, as Moscow-backed leaders mocked Kyiv over the report.
The General Staff of the Ukrainian Armed Forces initially said in an update Thursday that all Russian military units had pulled out of the town of Nova Kakhovka on the east bank of the Dnipro River.
It would have marked a significant development, as the first east bank settlement of any size seized by Ukraine since forcing Russia's troops out of Kherson and seizing the west bank last November.
But the General Staff retracted the claim a short time later, writing in a statement on Facebook: "The occupiers are still temporarily located in Nova Kakhovka. The information about the enemy's alleged withdrawal from this settlement was made public as a result of incorrect use of available data."
Russia slammed the report: By the time of Ukraine's retraction, Russian-appointed officials and military bloggers had already loudly denied Ukraine's claims of a military withdrawal from Nova Kakhovka.
Vladimir Saldo, the Russian-appointed head in the occupied Kherson region, said "all Russian military personnel in Nova Kakhovka, as well as in other locations on the east bank of the Dnipro river, remain in their positions."
Saldo theorized the claim was tied to Ukrainian President Volodymyr Zelensky's recent visit to the region, which he said had a "weak PR effect."
Vladimir Leontyev, the Russia-backed leader in Nova Kakhovka, also said the claim was false, calling it "misinformation" and the work of propagandists.
Russian military correspondent Aleksandr Kots mocked the report on Telegram.
Recent developments in the area: While Russia has fortified many settlements on the east bank of the river near Kherson, those nearest the Dnipro have been subjected to frequent attacks by Ukraine, including special forces assaults.
Nova Kakhovka is a notable territory to monitor in the fighting, because it's the site of a major hydroelectric project and the entrance to a canal that feeds fresh water to Crimea from the Dnipro River.
According to unofficial social media accounts, explosions rocked the town last weekend, and a fire broke out close to or in the town's grain elevator.
Some Telegram channels said a fuel dump had been set on fire, along with Russian military equipment. Those accounts could not be verified.
In mid-March, the Russian state news agency RIA Novosti reported Ukrainian troops had launched a massive artillery strike on the neighborhood of Sokol in Nova Kakhovka, killing a woman and damaging houses, stores and power lines.
3:02 p.m. ET, March 23, 2023
Warmer weather conditions right for Russians to start rolling heavy equipment, Wagner chief says
From CNN's Josh Pennington and Allegra Goodwin 
Warming spring weather is creating ideal conditions for Russia to begin rolling heavy military equipment through Ukraine, said Yevgeny Prigozhin, the head of the Russian private military group Wagner.
"Spring is coming. The soil is drying," Prigozhhin said, which means "everything is in place for us to start rolling heavy equipment through the fields."
Prigozhin, in an interview shared on Telegram, acknowledged Ukraine also had received a large amount of support from NATO countries, including military equipment, armored vehicles and Leopard tanks, as well as around 200,000 trained reserves. 
Officials in Kyiv have long warned of a spring offensive amid ramped-up military attacks from the Kremlin.
6:56 p.m. ET, March 23, 2023
World Athletics announces decisions on Russian and Belarusian athletes
From CNN's David Close
The ban against Russian and Belarusian athletes has been lifted, World Athletics President Sebastian Coe said.
However, athletes from those countries will still be excluded "for the foreseeable future" due to Russia's invasion of Ukraine, he said at a news conference Thursday. 
World Athletics is the international governing body for the sports of track and field, cross country running and more. It hosts several international events and competitions, according to its website.
"The Council agreed to the reinstatement of the Russian Federation (RusAF) following seven years of suspension and that of course was due to the egregious institutional doping violations. However, athletes, officials and supporting personnel from Russia and Belarus are still excluded from competition for the foreseeable future due to Russia's invasion of Ukraine," the World Federation said in a statement.
Some background: In January, the International Olympic Committee outlined a multi-step plan for Russian and Belarusian athletes to participate at the upcoming 2024 Summer Games in Paris and the 2026 Winter Games in Milan.
IOC president Thomas Bach defended the decision Wednesday, calling for officials to "keep politics and sports apart." The plan would allow competitors to participate as neutral athletes, without representing their home country via flag, anthem, uniform or other identification.