As Wednesday winds down in Ukraine, these are the latest developments in Russia's war:
Missiles struck two areas of the city of Sloviansk in eastern Ukraine: No casualties have been noted so far, Mayor Vadym Liakh said, and authorities are assessing the resulting damage. Sloviansk is the main goal of Russian forces trying to push south into the Donetsk region, and has been a key focus since Russia revised its strategy away from northern Ukraine in early April.
Ukraine suspended some of its Russian gas exports to Europe on Wednesday due to interruptions at key transit points: The country had been continuing the gas transportation operations through the ongoing invasion but it's currently "impossible to fulfill obligations" to European partners due to "the interference of the occupying forces," the Ukrainian gas transmission system operator (GSTOU) announced in a statement Tuesday. It said Russia's interference, including the unauthorized gas offtakes, had "endangered the stability and safety" of Ukrainian gas transportation system.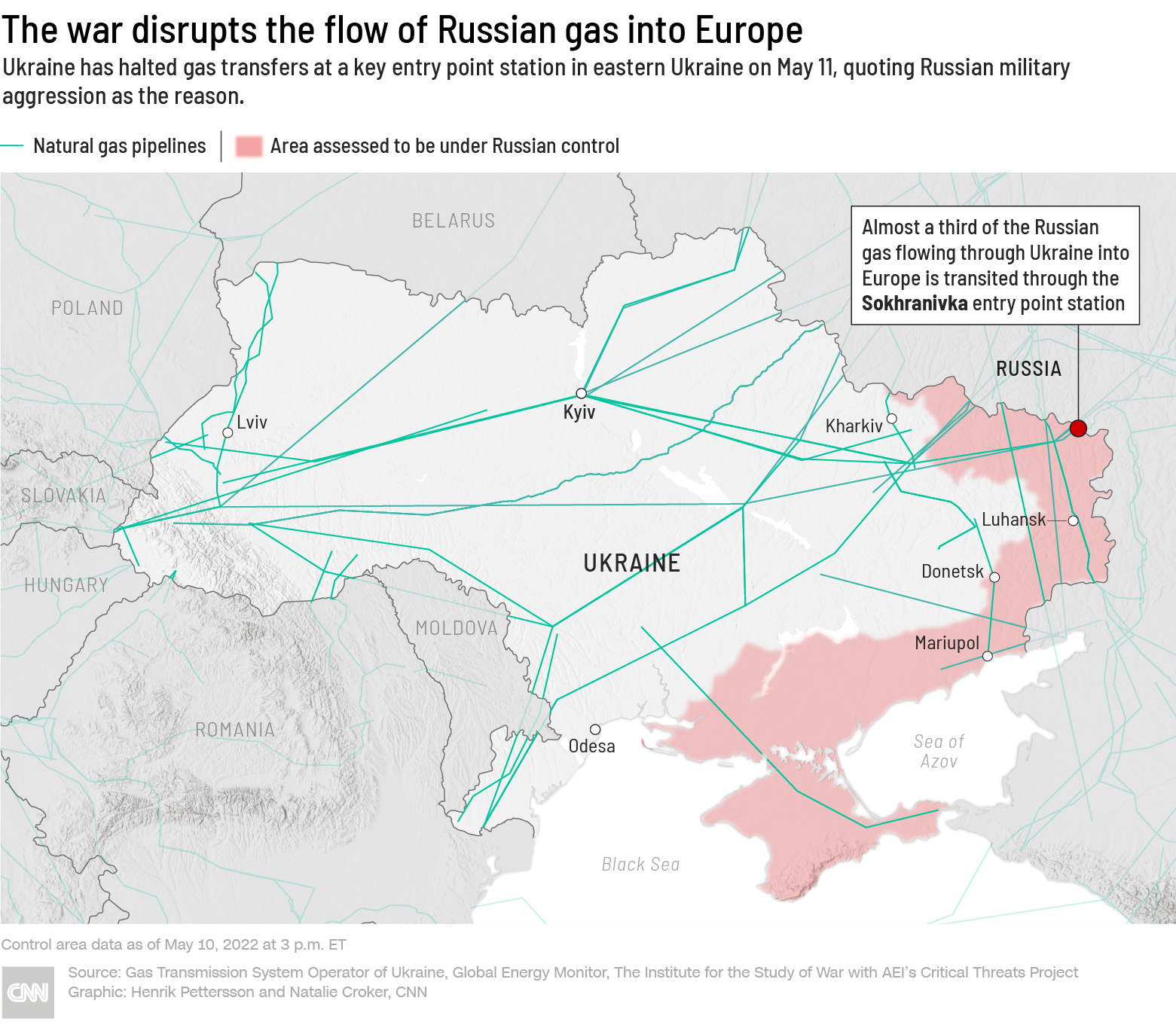 Ukrainians have retaken several villages between Kharkiv and the Russian border to the north: Oleh Syniehubov, head of the Kharkiv military administration, says more settlements to the north of the city have been retaken by Ukrainian troops.Video geolocated by CNN show signs of a chaotic Russian retreat from the area at the beginning of the month, with several vehicles half submerged in a river after a road bridge was struck. In some areas to the north and east of Kharkiv, Ukrainian units — which include highly mobile contingents of the Azov regiment, are within a few kilometers of the Russian border. Despite being under Ukrainian control, much of the area is still within range of Russian artillery fire.
Ukraine's desire to negotiate declines "with each new Bucha, with each new Mariupol," Zelensky says: Ukrainian President Volodymyr Zelensky warned that Kyiv's patience is running out for negotiations with Russia, given mounting evidence of atrocities committed by the Russian army, in a virtual address to French university students on Wednesday. "We are ready to conduct these negotiations, these talks, as long as it is not too late," Zelensky said. Zelensky also expressed his determination that Kyiv will win the war and take back all territories that belong to Ukraine. 
Prosecutor says first Russian soldier will stand trial in death of Ukrainian man: Ukraine has announced the first Russian soldier set to stand trial in the death of a 62-year-old man in Ukraine's Sumy region, according to a statement published by the country's prosecutor general's office on Wednesday. The prosecutor general's office said it has filed an indictment against Vadim Shishimarin, commander of the military unit 32010 of the 4th Tank Kantemirov Division of Moscow region. The investigation alleges the 21-year-old Russian killed an unarmed 62-year-old resident who was riding a bicycle along the roadside in the village of Chupakhivka in Sumy region on Feb. 28
Foreign weapons are at the front lines: Ukraine's deputy defense minister, Hanna Maliar, says that weapons supplied to Kyiv by the US and other partners are already deployed to the front lines. "Apart from the Javelins and Stingers, 155 mm American howitzers are already being used at the front," Maliar said in a briefing on Wednesday. "We are working to accelerate the pace of aid, as this is the life of our soldiers." A senior US defense official told reporters on Tuesday that 89 of the 90 Howitzers the US agreed to give to Ukraine have been transferred to Ukrainian possession.
Nearly 5 million Ukrainians have lost their jobs since Russian invasion began, UN agency report says: An estimated 4.8 million people in Ukraine have lost their jobs since the Russian invasion began in February, according to a new brief by the International Labour Organization (ILO), a UN agency. The ILO report also pointed out that the Ukrainian government has made considerable efforts to keep the national social protection system operational by guaranteeing the payment of benefits, including to internally displaced persons, through the utilization of digital technologies. Out of 4.8 million people who lost their jobs, a total of 1.2 million of them are refugees who fled to neighboring countries and 3.6 million of them are unemployed living in Ukraine, according to the ILO report. More than 5.23 million refugees who are mainly women, children, and people over the age of 60 have fled to neighboring countries since Feb. 24, the report said Wednesday.