Russia said Wednesday that nearly 1,000 Ukrainian soldiers have surrendered at the Azovstal steel plant in Mariupol since Monday. It comes the day after Ukrainian President Volodymyr Zelensky said that evacuations at the plant -- a powerful symbol of Ukrainian resistance in the otherwise Russian-occupied city -- were still ongoing.
Meanwhile, Finland and Sweden have formally handed in their applications to join NATO, the military alliance's Secretary-General Jens Stoltenberg said Wednesday, in defiance of Russian warnings.
Here are the latest developments on the war in Ukraine:
Mariupol evacuations: Russian Defense Ministry spokesman Maj. Gen. Igor Konashenkov said Wednesday that a total of 959 Ukrainian soldiers, including 80 wounded, had laid down their arms and surrendered since May 16. He reaffirmed that 51 wounded were sent to the hospital at Novoazovsk, which is in the self-declared region of the Donetsk People's Republic (DPR). CNN is unable to confirm the Russian tally. The Ukrainian President said Tuesday the negotiation process on evacuating the last soldiers from the Azovstal steel plant continues with Russia.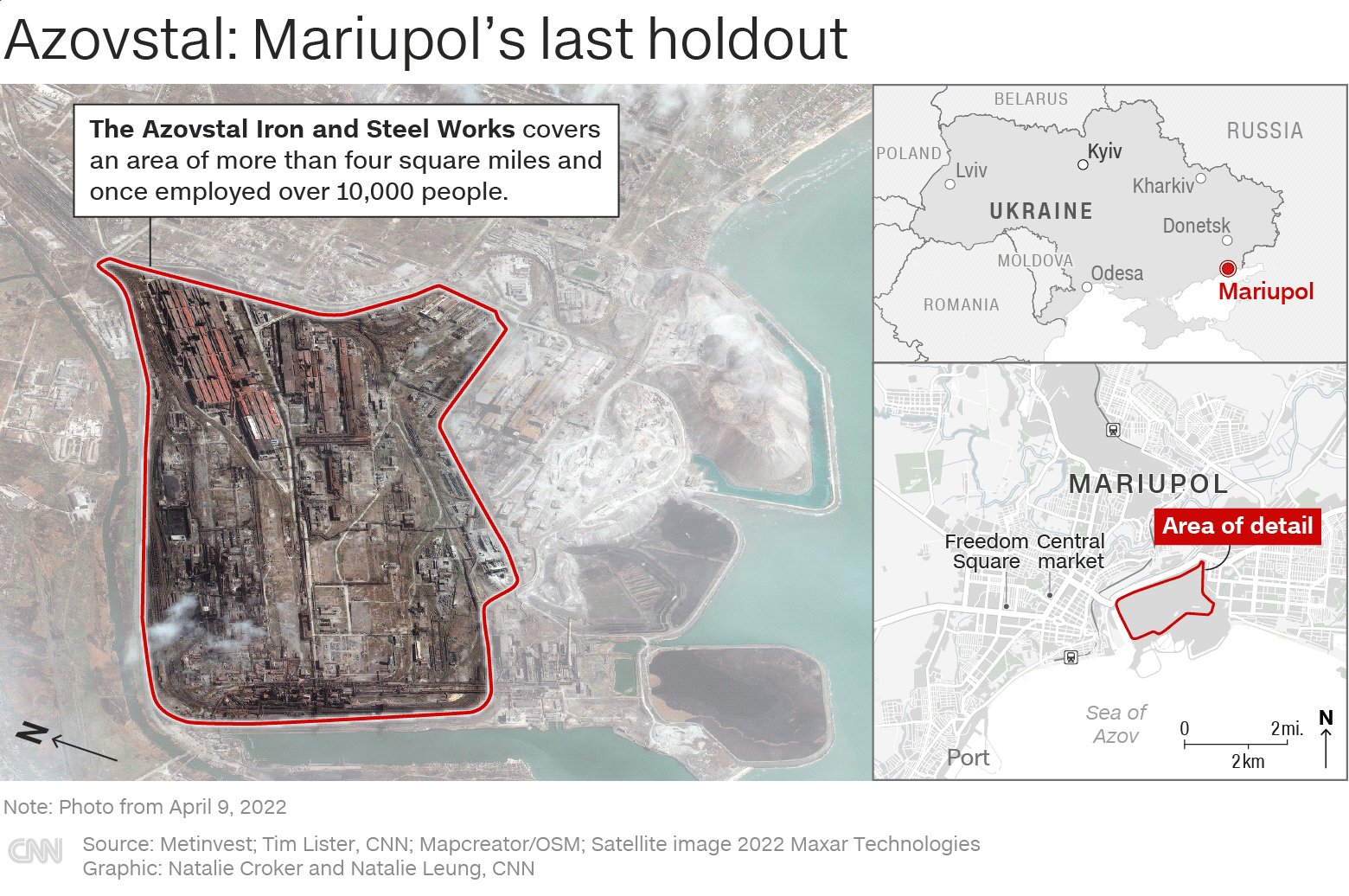 Nordic NATO bids: NATO Secretary General Jens Stoltenberg said Wednesday that Finland and Sweden have formally handed in their applications to join the military alliance. Stoltenberg called the applications a "historic step" and said NATO is "determined" to "reach rapid conclusions."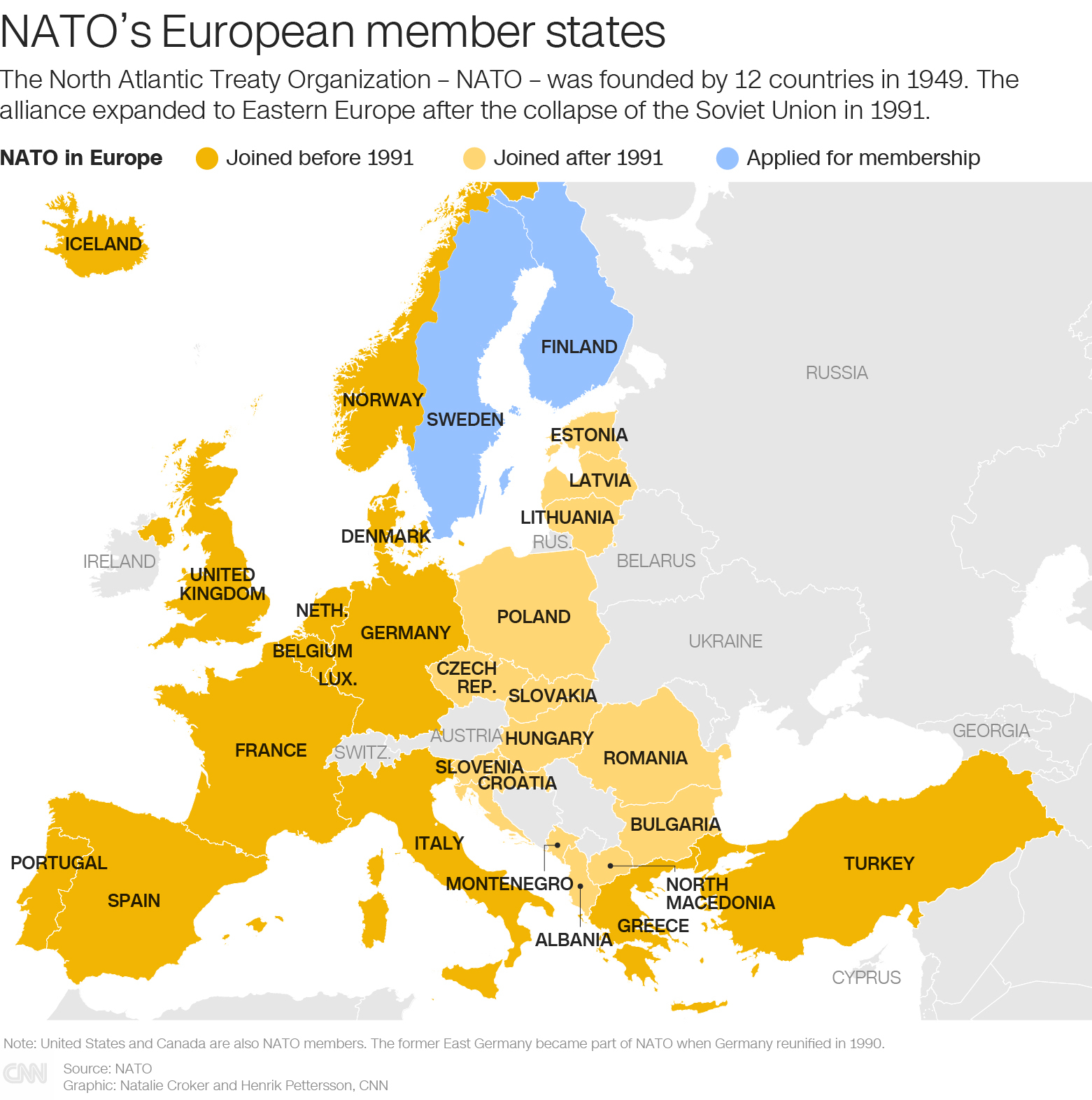 First war crimes trial: A 21-year-old soldier has pleaded guilty to war crimes at a trial in Kyiv. Vadim Shishimarin appeared before the first war crimes trial since Russia invaded Ukraine back in February. He is accused of killing a 62-year-old man in Ukraine's Sumy region, according to the country's prosecutor general's office.
Russian former colonel criticizes invasion: In rare public criticism of the conduct of Russia's military operations in Ukraine, a former senior Russian officer has warned on state television that the situation will get worse. Despite pushback from the show's presenter, retired Col. Mikhail Khodarenok said Ukraine could arm 1 million people. 
Race for grain: The Biden administration is working closely with European allies to try to develop routes to get Ukrainian wheat and corn out of the country after Russia blocked Ukrainian ships from departing with grain that is vital for food supplies around the world, particularly in Africa and the Middle East.
Russian vehicles litter countryside: A CNN team traveled to the eastern Ukrainian town of Bilohorivka, where Russia is believed to have suffered one of its biggest single defeats of the war. There, the charred remains of Russian armored vehicles littered a field just a few hundred meters from the front line. They found destroyed Russian tanks separated from their turrets, armored personnel carriers, heavy machine guns with barrels twisted into spirals ⁠-- and the charred body parts of Russian soldiers.
Here's a look at the latest situation on the ground: