May 18, 2022 Russia-Ukraine news
12:01 a.m. ET, May 19, 2022
10:10 p.m. ET, May 18, 2022
Senate confirms Bridget Brink as US Ambassador to Ukraine
From CNN's Manu Raju
The US Senate has confirmed Bridget Brink as US ambassador to Ukraine.
The appointment was confirmed by voice vote on Wednesday night.
Brink is a career foreign service officer who was serving as US Ambassador to Slovakia.
The US Embassy to Ukraine has been without a confirmed ambassador since Marie Yovanovitch was recalled in May 2019 by then-President Donald Trump, under pressure from Trump's former attorney Rudy Giuliani and others.
9:14 p.m. ET, May 18, 2022
Russia expels 85 European diplomats in retaliatory moves
From CNN's Alex Hardie and Chris Liakos
Russia's Foreign Ministry declared 85 European diplomats "persona non grata" on Wednesday in response to the expulsion of dozens of Russian diplomats in several European countries.
Among the diplomats expelled from Moscow are 24 from Italy, 27 from Spain, and 34 from France.
Italian Ambassador to Russia Giorgio Starace was summoned to the Russian Foreign Ministry "due to Italy's openly hostile and unjustified actions with regard to 30 expelled employees of the Russian diplomatic mission," the Russian statement said. 
Spain's Ambassador to Moscow, Marcos Gomez Martinez, was also summoned and "strong protest was expressed in connection with the provocative decision" of Spanish authorities to declare 27 Russian diplomats in France "persona non grata," the ministry said. 
The French diplomats were expelled from Moscow in response to a decision by France to expel 41 Russian diplomats from the country in April, according to the Russian Foreign Ministry.
8:58 p.m. ET, May 18, 2022
Turkey's security concerns should be met "not in words, but in practice," Ankara foreign minister says
From CNN's Isil Sariyuce and Zahid Mahmood
Turkish Foreign Minister Mevlut Cavusoglu said it is "unacceptable" for countries that want to become NATO members to impose defense export restrictions and support organizations that threaten Turkey.
"There are security threats today, coming from different sources," he said on Wednesday.
Some context: Turkey has said it would not support Finland and Sweden's bids to become NATO members if they sanction the country. Turkish President Recep Tayyip Erdogan has accused the two countries of harboring members of the separatist militant Kurdistan's Workers Party, or PKK, and supporters of US-based cleric Fethullah Gulen, who Turkey accuses of masterminding a 2016 coup attempt, which Gulen denies.
"It is unacceptable for an ally that wants to be an ally to impose restrictions on another ally with defense products. What's the reason? Our struggle with the PKK. They see the PKK as closer to themselves than us. Is this something acceptable?" Cavusoglu said.
After meeting US Secretary of State Anthony Blinken at UN Headquarters in New York on Wednesday, Cavusoglu said Turkey's concerns should be met, "not in words, but in practice."
"This applies not only to Sweden and Finland, but also to other allies," he said.
The PKK has been designated a terrorist organization by Turkey, the United States and the European Union.
On Monday, NATO chief Jens Stoltenberg said the alliance must consider Turkey's security concerns.
"Turkey is a valued ally, and any security concerns need to be addressed. We must stand together at this historic moment," Stoltenberg said on Twitter after speaking with Cavusoglu.
8:45 p.m. ET, May 18, 2022
Russian forces killed 10 civilians in Donetsk, governor says
From CNN's Josh Pennington and Hira Humayun
Russian forces killed 10 civilians in the Donetsk region, according to regional governor Pavlo Kirilenko in a Facebook post on Wednesday.
"Russia is killing civilians! On May 18, the Russians killed 10 civilians in the Donetsk region: seven in Lyman and three in Bakhmut. Two children were killed: one in Lyman and one in Bakhmut," said Kirilenko, who is head of the Donetsk region military administration.
Kirilenko said seven more civilians were injured on Wednesday.
"It is still impossible to determine the exact number of victims in Mariupol and Volnovakha. All Russians will be held accountable for these crimes!" he added. 
Some context: Ukrainian officials in Donetsk said the whole front line is being "shelled day and night" by Russian forces. Kirilenko said that settlements — namely Bakhmut, Kostiantynivka and Soledar — more than 20 kilometers (about 12 miles) from the front line were also being attacked with airstrikes.
7:43 p.m. ET, May 18, 2022
Former Russian colonel contradicts earlier statements criticizing Russia's military operations in Ukraine
From CNN's Katya Krebs and Hira Humayun
Retired Russian colonel Mikhail Khodarenok said any talk about Ukraine being able to counterattack is a "big exaggeration," just a day after he criticized Russia's military operations in Ukraine saying the situation for Russia could "get worse."
Speaking to a Russian state TV channel on Wednesday, Khodarenok said, "When people talk about Ukraine acquiring the ability to counterattack, well it's a big exaggeration. And as concerns the actions of our supreme command, there is every reason to believe that the implementation of these plans will in the very near future give Ukraine an unpleasant surprise."
He also said it would be impossible for the Ukrainian armed forces to gain aerial supremacy in the next few months, and in terms of gaining naval supremacy, he said, "while our Black Sea Fleet is in the Black Sea, Ukraine's Black Sea Fleet having supremacy is out of the question."
On Tuesday however, Khodarenok said information being spread about a "moral or psychological breakdown" of Ukrainian armed forces is not even "close to reality." He also said Ukraine could arm one million people, and that Russia needs to consider that in its operational and strategic calculations.
"The situation for us, will frankly get worse," he said on Tuesday. He also criticized Russia's geopolitical isolation from the world, and prior to the invasion he warned that it would be more difficult than many anticipated to wage war in Ukraine.
Earlier reporting from CNN's Tim Lister, Anastasia Graham Yooll and Taras Zadorozhnyy.
6:45 p.m. ET, May 18, 2022
Ukraine launches new fundraising initiative, Zelensky says
From CNN's AnneClaire Stapleton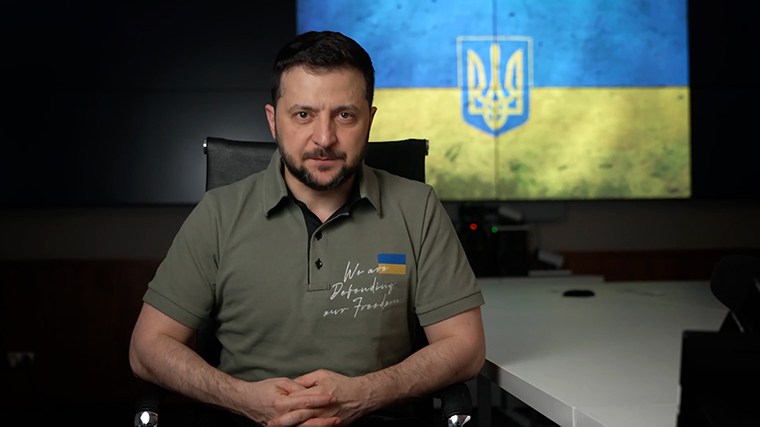 In his nightly address on Wednesday, Ukrainian President Zelensky announced an initiative called UNITED24. 
UNITED24 was launched as the main venue for collecting charitable donations in support of Ukraine, according to its website and Zelensky. Funds will be transferred to the official accounts of the National Bank of Ukraine (NBU) and allocated by assigned ministries to cover the most pressing needs, the website says. 
The first ambassador of the brand is Andriy Shevchenko, a prominent Ukrainian soccer player and coach. 
"The state needs this platform right now, which allows​ to raise funds to support Ukraine. Anyone in the world — in one click — can contribute to our victory," Zelensky said. 
The first event in support of UNITED24 will take place on June 8, he said. It will be a charity evening auction in London. 
4:38 p.m. ET, May 18, 2022
Blinken calls it "false" that the US sanctions deepened food crisis from Russia-Ukraine war
From CNN's Kylie Atwood and Michael Conte
Secretary of State Tony Blinken said it is "false" that the sanctions imposed on Russia by the US and its allies have deepened the food crisis resulting from the Ukraine War.
"Some have tried to blame the sanctions imposed on the Russian Federation by the United States and many other countries for worsening this crisis. This is false. When we imposed sanctions on Russia in order to end the war as quickly as possible, we deliberately and carefully created exceptions for agricultural goods and fertilizer. We're working every day to get countries any information or assistance they need to ensure that sanctions are not preventing food or fertilizer from leaving Russia or anywhere else," Blinken said.
Instead, he said that only Russia is at fault for the food security challenges.  
"As with its decision to start this unjustified war, responsibility for the disruption of these supplies and the suffering that its causing around the world lies squarely and solely with the Russian government," Blinken said.
4:10 p.m. ET, May 18, 2022
Blinken announces $215 million in new emergency food assistance to Ukraine
From CNN's Kylie Atwood and Haley Burton
US Secretary of State Tony Blinken announced that the US would be giving an additional $215 million in new emergency food assistance to the crisis in Ukraine and called on other countries to swiftly aid the growing global food crisis due to Russia's invasion of Ukraine.
"Today, given the urgency of the crisis, we're announcing another $215 million in new emergency food assistance, and we'll do much more," Blinken said at the United Nations on Wednesday during a ministerial meeting on global food security. "We expect our Congress very soon to approve approximately $5.5 billion in additional funding for humanitarian assistance and food security."
Blinken also said that the US would be committing $500 million to boost US production of fertilizer. This comes as there is an increased need for fertilizer in countries that traditionally got it from Russia which is the world's largest exporter of fertilizer. And the cost of fertilizer, essential for farmers to hit their production targets for crops, has also risen in cost as output in Europe has also plunged thanks to the surging price of natural gas -- a key ingredient in nitrogen-based fertilizers like urea.
Blinken called on other countries that have fertilizer and grain, which is also facing global shortages because of the Ukraine War, to rapidly help with this growing crisis. 
"The cost of doing business for vital organizations like the World Food Programme, the Food and Agricultural Organization, UNICEF and others, the cost of doing business is going up. We have to help them continue to do their business," Blinken said. "In particular as well, countries with significant grain and fertilizer reserves as well as those with financial resources need to step up and do it fast. The United States has announced more than $2.3 billion in new funding for emergency food assistance to meet global humanitarian needs since Russia's invasion of Ukraine."