May 19, 2023 - Russia-Ukraine news
11:57 p.m. ET, May 19, 2023
Our live coverage for the day has ended. Follow the latest Ukraine news here or read through the updates below.
11:55 p.m. ET, May 19, 2023
Zelensky to arrive in Hiroshima on a French government plane, diplomatic source says
From CNN's Xiaofei Xu in Paris 
Ukrainian President Volodymyr Zelensky will arrive at the Hiroshima G7 summit aboard a French government plane, a diplomatic source confirmed to CNN Saturday.
The source declined to comment on when Zelensky would arrive in Hiroshima. 
Zelensky traveled to the Arab League summit in Jeddah, Saudi Arabia, on Friday also aboard a French government plane, according to the French ambassador to Saudi Arabia.
9:56 p.m. ET, May 19, 2023
Debris from an air attack in Kyiv has caused a fire, officials say
From CNN's Josh Pennington 
Debris from an air attack has fallen on the streets in two districts of Ukraine's capital city, the Kyiv City Military Administration (KCMA) said on Saturday.
"A fire broke out on the roof of a 9-story building in a residential complex in the Dniprovskyi district," Kyiv Mayor Vitali Klitschko said in Telegram updates Saturday.
Serhiy Popko, the head of KCMA, said in a statement Saturday that "debris has fallen on several streets in Darnytskyi and Solomianskyi districts of Kyiv."
"Information on casualties and damage is being updated," Popko added. "Stay in your shelters until the air raid alarm is dismissed!"
9:33 p.m. ET, May 19, 2023
White House lays out Biden's reversal on providing Ukraine F16 fighter jets
From CNN's Kevin Liptak
President Joe Biden reversed his previous objections to providing Ukraine with F16 fighter jets because he believes in equipping the country for a long-term fight against Russia, national security adviser Jake Sullivan told reporters Saturday in Japan.
Sullivan confirmed Biden told his Group of Seven counterparts that the US would support a joint effort to train Ukrainian pilots on the fighter jets, suggesting the decision came at a turning point in the conflict and was meant as a "long term commitment to Ukrainian self defense."
"Now that we have delivered everything we said we were going to deliver so we can put the Ukrainians in a position to make progress on the battlefield, we've reached a moment where it's time to look down the road and to say what is Ukraine going to need as part of a future force to be able to deter and defend against Russian aggression. F16 fourth generation fighter aircraft are part of that," Sullivan said.
He said the aircraft weren't currently what Ukraine needs in its battle against Russia, but that they would play a role later.
"Our view is that where the F16 fits into the fight is not right now," he said.
He affirmed the longstanding US position that military equipment provided to Ukraine isn't meant to launch attacks in Russian territory.
"All of the capabilities that the United States has provided to Ukraine come with the basic proposition that the United States is not enabling or supporting attacks on Russian territory," he said.
Sullivan declined to provide a timetable for how long the training would take place.
9:21 p.m. ET, May 19, 2023
Biden will meet with Zelensky in Hiroshima, White House says
From CNN's Betsy Klein
National security adviser Jake Sullivan confirmed the in-person attendance of Ukrainian President Volodymyr Zelensky at the G7 Summit in Hiroshima, Japan, and indicated that President Joe Biden will meet with him.
"I think it's a safe bet that President Biden will meet with him," Sullivan told reporters in Hiroshima Saturday morning local time. 
He added that he did not have a formal announcement on a meeting to share at this time, but that Biden "looks forward to the opportunity to be able to sit down face-to-face" with Zelensky.
Sullivan did not provide details on Zelensky's travel to Japan, but said the US was "not the party – the country – that flew him here."
Japan's Prime Minister Fumio Kishida also confirmed Zelensky's attendance.
Kishida said in a Ministry of Foreign Affairs statement that Japan's government has decided to hold a session on Ukraine with G7 leaders on Sunday, which is the last day of the summit.
"The decision was made to hold a session on Ukraine with the G7 leaders, with face-to-face participation by President Zelensky," the statement read. "President Zelensky will also participate as a guest in the session on peace and stability with the G7 Heads of State and Government and the leaders of the invited countries."
The statement confirmed that Kishida and Zelensky also plan to hold a bilateral meeting on Sunday. 
Kishida reiterated that "the situation in Ukraine" is one of the main agenda items of the G7 Hiroshima Summit and that it "is important to reflect the voice of Ukraine."
Some context: Zelensky's in-person participation seemed more in flux Saturday morning in Japan, leaving open the possibility he could ultimately join only virtually. The sensitive nature of his security arrangements meant officials were wary of saying exactly how he would participate in the meeting.
CNN's Junko Ogura in Hiroshima, Japan, contributed reporting. 
8:18 p.m. ET, May 19, 2023
Biden to announce new security aid as Zelensky's in-person G7 participation is now unclear
From CNN's Kevin Liptak
President Joe Biden plans to announce a new military aid package worth hundreds of millions of dollars during this weekend's G7 summit in Japan, officials familiar with the matter said.
Biden was expected to unveil the $375 million package after world leaders heard from Ukrainian President Volodymyr Zelensky, who officials had earlier said would travel to the summit in person.
Zelensky's in-person participation seemed more in flux Saturday morning in Japan, leaving open the possibility he could ultimately join only virtually.
While a top Ukrainian official said Friday on national television that Zelensky's in-person participation was "extremely important," the sensitive nature of his security arrangements meant officials were wary of saying exactly how he would participate in the meeting.
Officials who earlier said Zelensky would join in-person declined to say Saturday whether those plans remained intact.
However he decides to address the leaders, Zelensky was likely to continue his appeals for more advanced weapons and tougher sanctions on Russia.
The new American aid package was likely to include new artillery, ammunition and rocket launchers, officials said.
8:10 p.m. ET, May 19, 2023
In pictures: Ukraine's unsung heroes – the "Iron People"
From CNN's Kyle Almond and Jelle Krings
The evacuation trains began in the morning, just hours after Russia invaded Ukraine.
Overnight, railway workers became rescue workers. Tens of thousands of refugees were pouring into train stations from Ukraine's east.
Photojournalist Jelle Krings spent about a week at one station in Lviv, watching those first trains come in.
"That's when it hit me how courageous these men and women were for going back into the war zone and sacrificing their safety and their opportunity to leave the country in order to help others," he said.
Since the Russian invasion began, Krings has been documenting these unsung heroes in a photo series he calls Iron People.
"It's what railway workers have been generally referred to before the war, because it refers to their strength and iron will and, of course, the iron that you recognize on a railway track," he said. "But it's also a certain characteristic that people see in these railway workers. After the war, it has become a way to also refer to their courage and stepping up and keeping intact this incredibly important institution."
Ukraine's railway system, with nearly 15,000 miles of tracks, is the 12th-largest in the world. It has become an essential lifeline during the war, helping millions of Ukrainians find safety.
"It's hard, but you have to do your job to get all these people out," said Viacheslav Anatoliiovych Chumak, a train driver who has been working for the railways since 1996. "It's our duty."
Krings explained that there are two basic ways that the railways have been indispensable for Ukraine in this war.
The first is, of course, the evacuation effort. At least 10 million Ukrainians — almost a quarter of the population — have been forced to flee their homes, the head of the United Nations' refugee agency said in March. Most of them have been internally displaced; others have found refuge in nearby countries such as Georgia, Poland and Romania.
But the railway system has also made a huge impact on the battlefield, and in different ways, Krings said. There's the logistical value, transporting massive military equipment to help in the war effort. And then there's a more subtle benefit.
"Ukraine's a huge country, and (the railway) is being used for military personnel to be able to travel around and go back to their families between their trips to the front lines," Krings said. "This has been a huge morale booster."
8:32 p.m. ET, May 19, 2023
Ukrainian tennis player refuses to shake Russian opponent's hand after semifinal victory
From CNN's Matt Foster
Ukrainian tennis player Anhelina Kalinina refused to shake hands with her Russian opponent following her victory in the semifinals of the Rome Masters in Italy on Friday. 
"We didn't shake hands because the girl is from Russia basically. It's no secret why I didn't shake, because this country actually attack Ukraine," Kalinina told reporters after the match against Russian player Veronika Kudermetova.
"So yeah, this is sport, I understand, but it's also kind of political thing. So, yeah, it has nothing personal. But in general, yes, it's not acceptable," she said.
Kudermetova, when asked about her relationship with Kalinina and the influence of "political overtones," said, "Here we're athletes. We're here, and we love what we do here. Doesn't matter from which country you are. We're athletes and that's it. We are here to play tennis."
Kalinina denied the idea that her opponent's nationality influenced the topsy-turvy nature of the match, describing Kudermetova as "a top player, a very great player. It was about tennis."
Kalinina, who came into the tournament ranked 47th in the world compared to Kudermetova at 12th, won in three sets. 
The 26-year-old Ukrainian said a bomb exploded near the tennis academy where her parents work in Kyiv. She also said her grandparents had moved away from Nova Kakhovka, her hometown, after an explosion near their house.
7:03 p.m. ET, May 19, 2023
New sanctions, secret shipments and other headlines you should know
From CNN staff
Russia is banning "500 Americans" from entering the country.
The move is in response to the "regularly anti-Russian sanctions" imposed by the US administration, according to a statement from Russia's Ministry of Foreign Affairs on Friday.
The rambling, indiscriminate list of names includes former President Barack Obama, former US Ambassador John Huntsman, several US senators and the next expected chairman of the joint chiefs of staff, Charles Q. Brown Jr. Also included is CNN anchor Erin Burnett.
Hours earlier, at the Group of Seven summit, the Biden administration unveiled new sanctions targeting Moscow for its war in Ukraine.
Here are other headlines to know:
Zelensky heads to Japan: President Volodymyr Zelensky will travel in person to Japan for the G7 summit, according to officials familiar with the planning, a stark display of confidence and Western solidarity as Ukraine's wartime leader tries to keep crucial support from allied nations flowing. The surprise trip – which would be the Ukrainian president's first to Asia since Moscow's invasion of his country last February – comes as Kyiv is preparing a highly anticipated counteroffensive against Russia and building pressure on partner governments for more military aid amid intensifying aerial attacks.
Arab League meeting: Zelensky told Arab leaders Friday in Saudi Arabia that "here among you" are people who "turn a blind eye" to Ukraine's suffering, urging them to "take an honest look." Syrian President Bashar al-Assad attended the Arab League summit for the first time in a decade and was seen on camera in the conference room minutes ahead of Zelensky's speech. Syria was only one of only two countries in the world (along with North Korea) to recognize Russia's claimed annexations last year of four Ukrainian regions.
On the ground: There were at least two explosions Friday night in the Russian-occupied city of Mariupol, according to social media video and the accounts of residents on community channels. An adviser to the mayor of Mariupol in southeastern Ukraine claims the explosions took place at a base for Moscow's forces. CNN cannot independently verify the officials' claims, and the local Russian-installed administration has not yet commented on the explosions or what caused them
Meanwhile, the pace of Ukrainian counterattacks around Bakhmut slowed down Friday, but "very fierce fighting continues" in the eastern city, according to Ukrainian Deputy Defense Minister Hanna Maliar. Ukrainian forces have claimed advancements in several areas in recent days, despite coming under heavy fire from Russian troops. But Maliar acknowledged that Russian forces had made advances within the city limits.
US diplomatic appointment: US President Joe Biden formally nominated James O'Brien to serve as the top State Department official for European affairs — a key role for guiding Washington's response to Russia's war in Ukraine.
CNN's Kylie Atwood first reported that O'Brien was expected to be tapped for the role. He currently serves as the head of the sanctions coordination office at the State Department.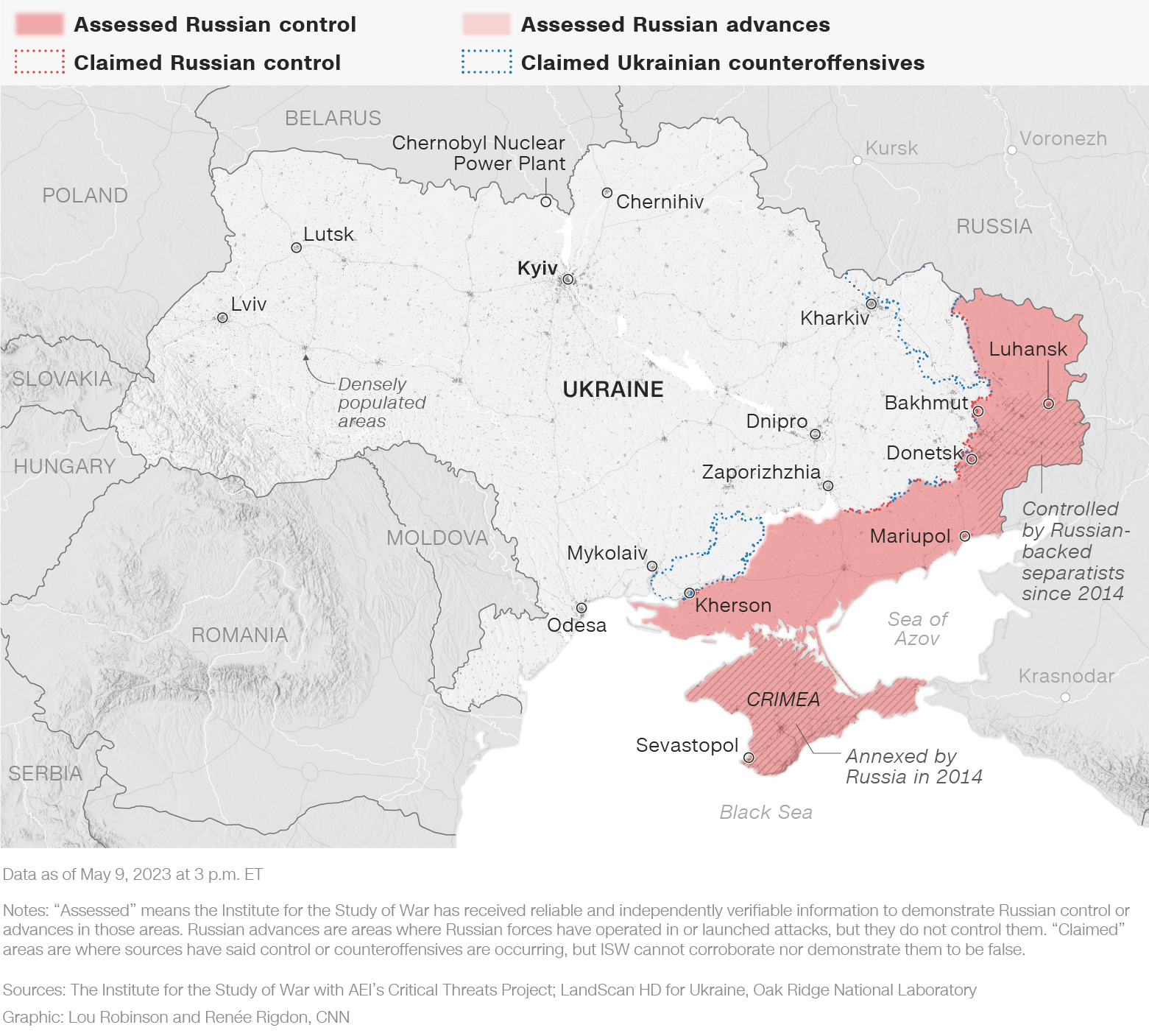 Secret shipments: The Russian mercenary organization Wagner Group has been working to obscure its efforts to acquire military equipment for use in Ukraine, including by trying to source the materials from Mali, where the group has a strong foothold, a US official told CNN. There are no signs yet that Wagner has successfully procured the equipment, but the group has continued working to procure mines, drones, radar and counter-battery systems from contacts in Mali for use in Ukraine, the official said.
US assistance for pilots: President Joe Biden on Friday told G7 leaders the United States will support an effort to train Ukrainian pilots on advanced aircraft, including F-16s, a senior administration official tells CNN. The joint training effort is not expected to happen in the US, the official said, and will likely happen entirely in Europe. But US personnel will participate in the training alongside allies and partners, the official said. It is expected to take several months to complete.
NATO developments: Turkish President Recep Tayyip Erdogan told CNN he is still not prepared to support Sweden's NATO membership, repeating his claim that Stockholm has allowed terrorist organizations to harbor in the country. "As long as Sweden continues to allow the offshoots of terror groups in Turkey to roam free in Sweden, in the streets of Stockholm, we cannot look favorably on Sweden's membership in NATO," Erdogan said.