"Fierce battles" are taking place around the strategically important city of Severodonetsk in eastern Ukraine, according to Ukrainian officials. It comes as Russian forces intensify efforts to take full control of the Luhansk and Donetsk regions, parts of which have been controlled by Russian-backed separatists since 2014.
Here's the latest on Russia's war in Ukraine:
Battle for Severodonetsk: Russian shelling of the industrial city, which is key to controlling Luhansk, has increased "exponentially," a top Ukrainian military official said Wednesday as Russian troops transfer from different regions to push through in the region "at any cost." "The next week is important," said Serhiy Haidai, head of the Luhansk military administration. "If they do not succeed by Saturday or Sunday, they will run out of steam, and the situation will at least stabilize for us."
Russian attacks in Donetsk: Meanwhile, Ukraine's Defense Ministry said Russian forces are "conducting an intense offensive" on the key town of Lyman in the neighboring Donetsk region. Lyman is an important rail hub, and if the Russians are able to consolidate control there, the nearby city of Sloviansk becomes more vulnerable to attack by artillery — and Ukrainian troops to the southeast of the town become more at risk of encirclement.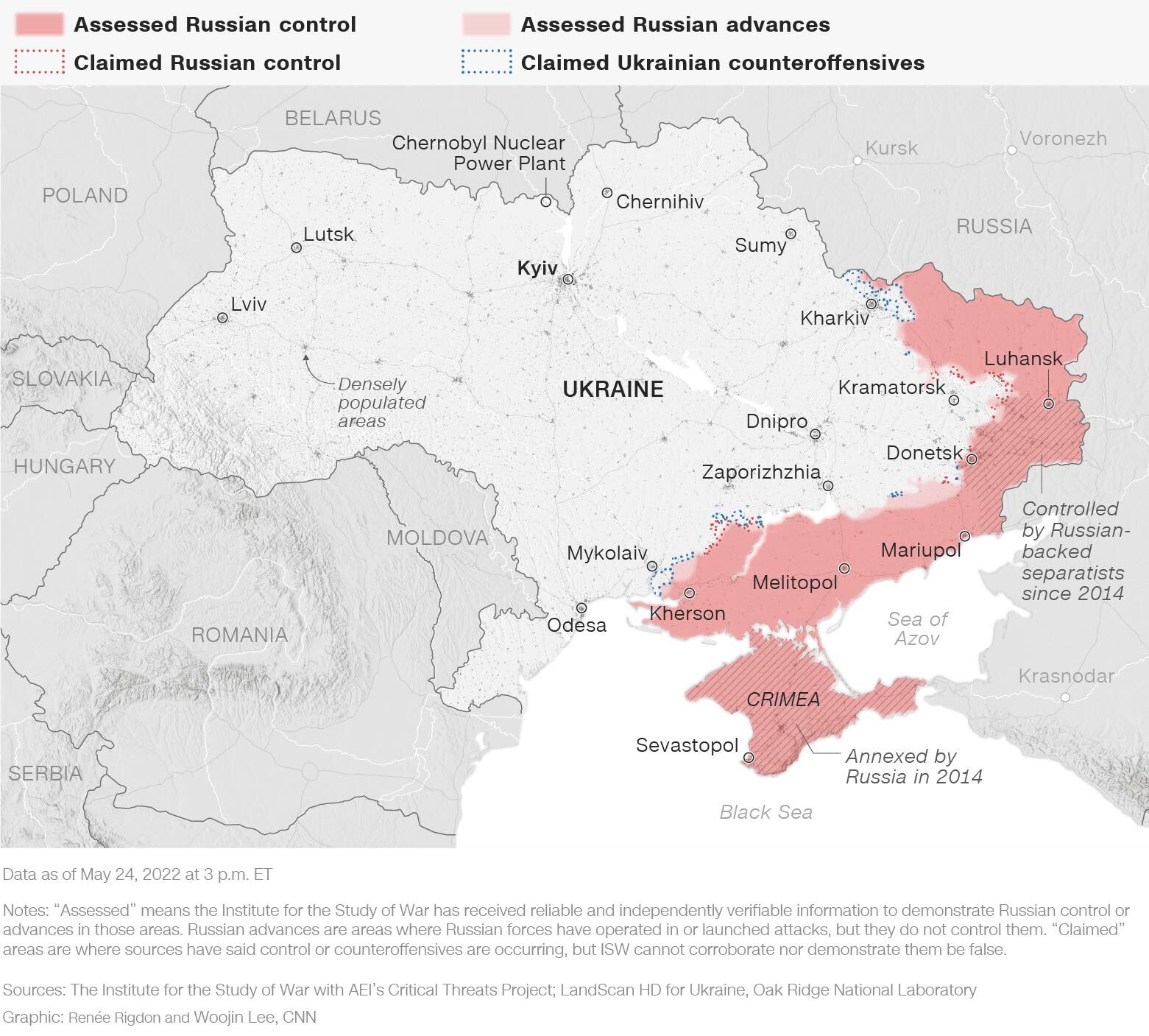 Food crisis: Russia is trying to "blackmail" the international community with an offer to unblock Ukrainian sea ports if sanctions against it are lessened, Ukraine's foreign minister said. He warned that if Moscow does not lift its blockage of Ukrainian exports of crops, the entire agricultural cycle will be interrupted and could spur a "multi-year food crisis."
Putin's sweeteners: Russian President Vladimir Putin met Wednesday with soldiers wounded in Ukraine during a rare visit to a military hospital, according to footage released by the Kremlin. It comes as he announced that state pensions and the minimum wage will rise substantially in Russia from June 1 amid rising inflation.
Passports for separatists: Also on Wednesday, Putin signed a decree making it easier for Ukrainians in the parts of Kherson and Zaporizhzhia regions occupied by Russian troops to obtain Russian citizenship. Ukraine's Foreign Ministry condemned the move. 
EU oil ban talks: European Council chief Charles Michel is "confident" that any issues over a proposed ban on Russian oil imports will be resolved by the next council meeting on May 30. "We are working very hard in order to be able to stay united," he said. 
Rallying call: Britain's foreign secretary will travel to Bosnia on Thursday, where she will use an address to the country's armed forces to urge the UK's Western partners to ensure Putin loses in Ukraine and warn against appeasing the Russian leader.