May 29, 2022 Russia-Ukraine news
By Nectar Gan, Andrew Raine, Joshua Berlinger, Hannah Ryan and Kathryn Snowdon, CNN
Updated
0411 GMT (1211 HKT) May 30, 2022
12:07 a.m. ET, May 30, 2022
Our live coverage of the war in Ukraine has moved here.
10:09 p.m. ET, May 29, 2022
Pushing Ukrainian military out of Donbas region an "absolute priority," Russian foreign minister says
From CNN's Mitchell McCluskey
Pushing the Ukrainian army out of the Donbas region is a priority for Moscow, Russian Foreign Minister Sergei Lavrov said in an interview with French broadcaster TFI.
Our absolute priority is the liberation of the Donetsk and Luhansk regions, which are now recognized by the Russian Federation as independent states," Lavrov said.
Asked if Russia would annex the territories in Donbas, Lavrov responded: "It's not about annexation. This is a military operation requested by the sovereign states of the People's Republics of Donetsk and Luhansk, under the United Nations Charter, Article 51, which provides for the right of individual and collective self-defense. We defend the populations, and we help them to restore their territorial integrity," Lavrov said.
Lavrov also told TFI that the other regions will be able to decide their fate.
"Our obvious objective is, of course, to push the Ukrainian army and the Ukrainian battalions out of the Donetsk and Luhansk regions. For the rest of the territories in Ukraine, where there are people who do not want to break ties with Russia, it will be up to the populations of these regions to decide," Lavrov said.
9:28 p.m. ET, May 29, 2022
Ukraine reports counterattack south of Kryvyi Rih
From CNN's Tim Lister and Kostan Nechyporenko
Ukrainian forces have launched a "successful counterattack south of Kryvyi Rih," according to Oleksandr Vilkul, head of the Kryvyi Rih military administration in southern Ukraine.
Sixty-three invaders and 19 units of enemy equipment were destroyed, including modern T-72 tanks, a Grad multiple launch rocket system, artillery, helicopters and one SU-35 aircraft," Vilkul said.
He provided no further details, and the claim cannot be verified. But the Ukrainian military had earlier claimed significant advances south in the area where Kherson and Mykolaiv regions meet.
Vilkul also said the internally displaced from Russian-occupied areas or communities under attack continued to arrive in Kryvyi Rih.
"Refugees continue to arrive in the city. There are already more than 45,000 officially registered migrants in the city, but in reality, this number is more than 60,000.
8:54 p.m. ET, May 29, 2022
Wives, girlfriend of Azovstal defenders say there's little information on whereabouts of loved ones
From CNN's Yulia Kesaieva and Daria Markina
Two wives and a girlfriend of Ukrainian troops captured by Russian forces or unaccounted for after defending the Azovstal factory in a lengthy siege told CNN they had little or no information about the whereabouts of their loved ones.
"I have not been in touch with my husband or got any information about him lately," said Anna Ivleva, the wife of Anton, a marine who was seriously wounded in Azovstal. "The last time we spoke was on April 13. And then his brothers-in-arms would send me texts that he was still alive."
Ivleva said Ukrainian government officials had been in touch but added that there was "no information" on where Azovstal fighters were being kept and under what conditions. ​She is holding out hope her husband is alive, even if in captivity. ​
"We all -- families, wives and mothers of the marines, are sticking to each other, we are always in touch with each other 24/7," she said. "We always exchange any available news, we are like a family."
The besieged Ukrainian port city of Mariupol fell under complete Russian control earlier this month with the surrender of Azovstal, the ​city's last bastion of Ukrainian defense. It is unclear how many Ukrainian troops are now in Russian custody, but the Russian military has claimed that over 2,000 Ukrainian servicemembers surrendered there. Russian state propaganda has demonized Azovstal defenders as "Nazis," raising serious concerns about how they may be treated in captivity.
A woman named Yana helped organize events in Kyiv in support of Azovstal fighters. Her boyfriend is a marine who was in Azovstal. ​She spoke on the condition of anonymity, citing security concerns.
"I have not heard from him or anything about him," she said. "Last time we were in touch was on May 11."
She said the Ukrainian government had not provided any information on where her boyfriend might be. ​
"My boyfriend's mother was contacted by the ICRC [the International Committee of the Red Cross], I can't remember when exactly," she said. "They only told her he was alive, that's it." ​
The ICRC has been involved in registering combatants leaving the Azovstal plant since May 17 ​-- partly to help prisoners of war keep in touch with their families. The organization has been working in Ukraine since 2014, when the war in Ukraine's Donbas region began.
Another wife of an Azovstal defender, Tetiana, said her husband managed to call her from an unknown number ​after the surrender and said some of his comrades were being held in a town in separatist-held Donetsk oblast. ​CNN agreed not to report her surname for the same reasons.
"His voice was calm and confident," she said. "He said that the conditions they were being kept in were OK. He said it might be possible in ​the future that they would be allowed to receive some packages."
Tetiana said she spoke with her husband for about 10 minutes, and that her husband said that he would try to call again.
"That's it, no more calls or news," she said.
8:57 p.m. ET, May 29, 2022
Zelensky speaks about his visit to Kharkiv, says he fired local security chief
From CNN's Tim Lister and Kostan Nechyporenko
Ukrainian President Volodymyr Zelensky has spoken of his visit Sunday to the city of Kharkiv, his first trip outside the region of the capital since the Russian invasion.
"Kharkiv suffered terrible blows from the occupiers. Black, half-ruined apartment buildings face east and north – where Russian artillery was firing from, where Russian combat aircraft were arriving," Zelensky said. 
Russia has already lost not only the battle for Kharkiv, not only the battle for Kyiv and the north of our country," he said. "She lost her own future and any cultural ties to the free world."
Zelensky praised authorities in Kharkiv but said: "Unfortunately, I can't say the same about the local leadership of the SBU [the security service]." 
He said he had dismissed the head of the regional SBU who "didn't work to protect the city from the first days of a full-scale invasion and thought only of himself personally."
Zelensky said that "one-third of the Kharkiv region is still under occupation. We will definitely unoccupy the whole territory."
Turning to the fighting in Donbas, Zelensky said that 90% of the housing in Severodonetsk had been damaged. 
"Capturing Severodonetsk is a fundamental task for the occupying contingent. And they don't care how many lives will have to pay for this attempt to raise the Russian flag."
9:02 p.m. ET, May 29, 2022
Ukrainian military reports more cross-border shelling and Russian attacks in Severodonetsk
From CNN's Tim Lister
The Ukrainian military says that Russian shelling across the border into the northern regions of Sumy and Chernihiv resumed Sunday.
In its operational note, the General Staff of the Armed Forces also said that in Donbas, "the main goal of the enemy is to surround our troops in the areas of Lysychansk and Severodonetsk and to block the main logistics routes."
(Russian forces) are trying to gain a foothold on the north-eastern outskirts of the city of Severodonetsk, conducting assault operations in the direction of the city center," it said.
Ukrainian troops continue to maintain positions in Severodonetsk and neighboring Lysychansk, despite constant shelling and airstrikes.
The General Staff said Russian efforts to degrade Ukrainian defenses further west continued, with artillery, mortar and multiple rocket systems being used against several towns and villages in the direction of Bakhmut.
It said that Russian efforts to cross the Siverskyi Donets River in certain areas continued. 
Among several towns and villages in northern Ukraine that were hit by cross-border shelling were Hirsk and Hrinivka in Chernihiv and Bachivsk and Seredyna-Buda in Sumy. Analysts say Russian attacks on these areas are designed to prevent Ukrainian forces from being redeployed to the main fronts in Donbas. 
The military gave no further details about a Ukrainian counter-offensive in the southern regions of Kherson and Mykolaiv that was launched on Saturday. But it said Russian bombardments of settlements near the city of Kryvyi Rih, also in the south, had used mortars, air strikes and artillery. The front lines in that region have changed little in recent weeks.
11:40 a.m. ET, May 29, 2022
Russian ship arrives in Syria with more grain allegedly stolen from Ukraine
From CNN's Tim Lister
New satellite imagery shows that a Russian freighter full of grain allegedly stolen from Ukrainian farms has arrived in the Syrian port of Latakia -- its second trip within four weeks.
The new images -- provided by Maxar Technologies -- show the bulk carrier Matros Pozynich at Latakia on May 27.
It is one of three ships that have been loading grain in the Crimean port of Sevastopol since the Russian invasion of Ukraine. It was last seen in Sevastopol on May 19 and subsequently tracked transiting the Bosphorus strait and south along the Turkish coast. It's estimated that the ship can carry about 30,000 tons of grain. 
The Matros Pozynich's sister ship has also loaded grain at Sevastopol in the last two weeks. 
Some context: CNN has previously reported that convoys of trucks have been seen carrying grain from farms and silos in southern Ukraine into Crimea. Ukrainian authorities estimated earlier this month that Russian forces in occupied areas had seized more than 400,000 tons of grain. 
The grain thefts are threatening this year's harvest in Ukraine -- which is one of the most important grain-producing countries in the world.
For Russia, grain is an attractive commodity. The price of wheat is about $400 a ton on world markets and has moved sharply higher this year.
11:22 a.m. ET, May 29, 2022
Russia to continue to supply gas to Serbia, says state media
From CNN's Stephanie Halasz
Russia has agreed to continue supplying uninterrupted natural gas to Serbia, according to state-owned news agency RIA Novosti.
It comes after Russian President Vladimir Putin met with his Serbian counterpart Aleksandar Vucic on Sunday.
"Putin and Vucic confirmed the desire of both Russia and Serbia to strengthen their strategic partnership on the basis of traditionally close connections between peoples of both countries," Ria Novosti reported.
Serbia is not a member of the European Union or NATO. It is almost entirely dependent on Russian gas, while its army maintains ties with Russia's military.
Although the country backed two United Nations resolutions condemning Russia's invasion of Ukraine, it refused to impose sanctions against Moscow.
The Kremlin also supports Belgrade's opposition to the independence of Kosovo by blocking its membership to the United Nations.
CNN has reached out to the Serbian Presidency for comment.
Some background: Several European nations have committed to weaning themselves off of Russian oil and gas since Putin's invasion of Ukraine.
The European Union recently unveiled a €210 billion ($221 billion) plan to reduce consumption of Russian gas and oil.
Putin has previously warned that "unfriendly" nations will need to pay for crucial Russian shipments of natural gas in rubles instead of euros. Following payment disputes, Russia has turned off the gas flow to Finland, Bulgaria and Poland.
EU leaders have described Russia's insistence that countries pay in rubles for gas as "blackmail."
10:43 a.m. ET, May 29, 2022
Ukraine's military says it's made advances in the southern Kherson region
From CNN's Tim Lister and Yulia Kesaieva 
The Ukrainian military says it has begun a counter-offensive against Russian forces in the south and has claimed significant advances in the direction of Kherson.
Serhii Hlan, a deputy who sits on the Kherson region council, said on Saturday Ukrainian forces "continued offensive operations and pushed the enemy back 9 kilometers (5 miles) in the Beryslav district."
Hlan also claimed that Ukrainian units "broke the enemy grouping into two parts and actually encircled the enemy grouping in Davidiv Brid." 
Davidiv Brid has been on the front lines for weeks and became an escape route for civilians trying to leave Kherson, often under fire.
The Ukrainian military published video of artillery strikes, purportedly against Russian positions. It said on Facebook that "the artillery war continues."
"Ukrainian soldiers chase and burn the occupiers' equipment on the lands of Kherson and Mykolaiv regions," it said. "Kherson hold on, we're close!"
There is no independent evidence of the Ukrainian advances.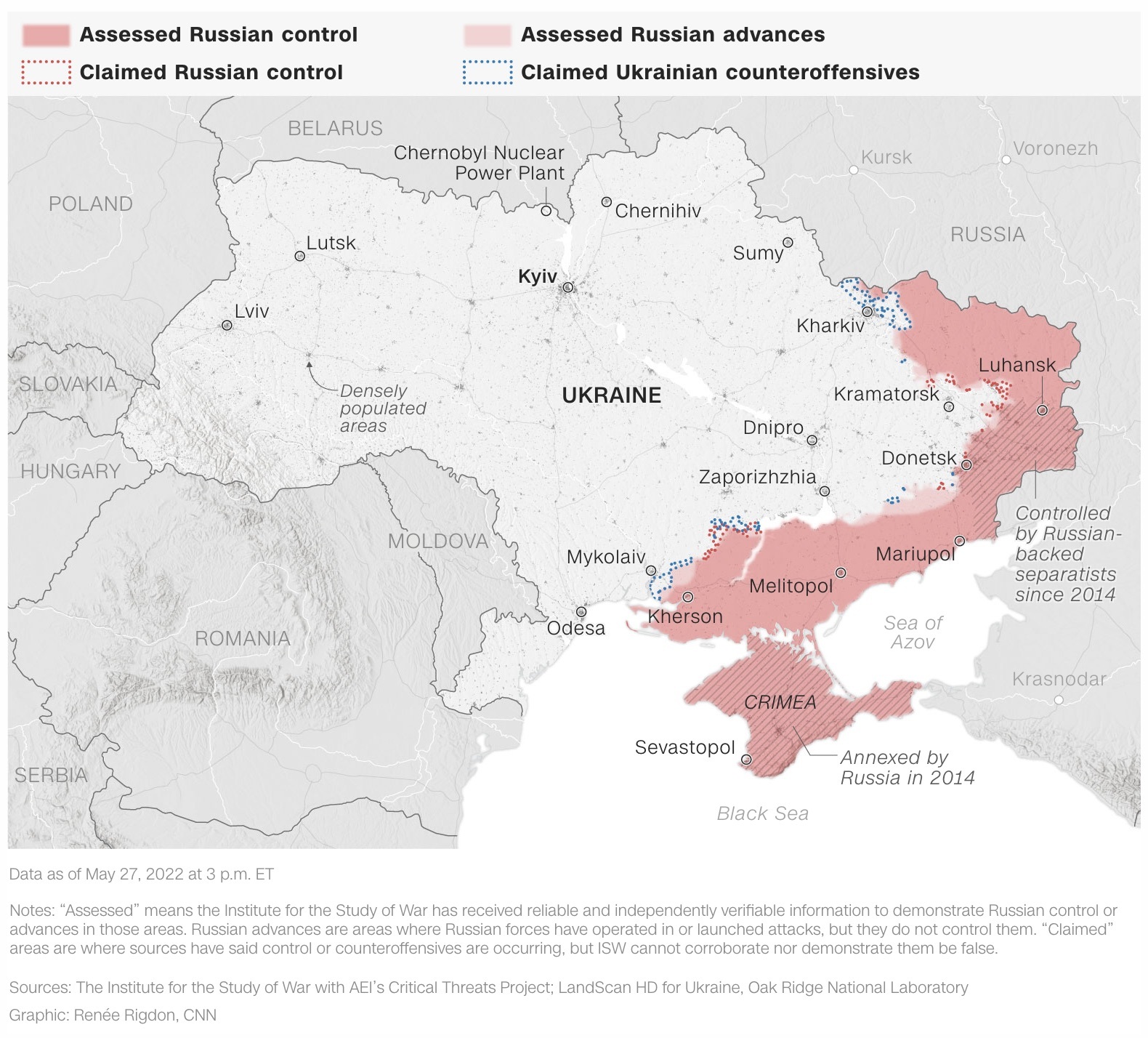 Impossible to leave: Hlan said that now "it's impossible to leave the Kherson region," as exits are being blocked by Russian forces.
Russian forces continue to shell Ukrainian towns and villages in the Mykolaiv region, according to Ukrainian officials. They said there had been strikes against several communities but reported no injuries. The town of Bereznehuvate had been hardest hit, they said.
Some context on the fighting in southern Ukraine: Russia appears to consolidate its gains there and attack further afield in places like Mykolaiv, which is close to the front line but remains under Ukrainian control.
The Institute for the Study of War, a US-based think tank, assessed that Russian forces have "continued to fortify and equip their positions throughout southern Ukraine in an effort to retain permanent control over the territory."