May 31, 2022 Russia-Ukraine news
12:01 a.m. ET, June 1, 2022
11:41 p.m. ET, May 31, 2022
Ukraine is losing up to 100 soldiers every day, Zelensky says
Ukraine is losing 60 to 100 soldiers every day, Ukrainian President Volodymyr Zelensky told Newsmax in an interview that aired on Tuesday.
The situation in the east [of Ukraine] is very difficult. We are losing 60 to 100 soldiers every day and something like 500 wounded in combat," Zelensky said.
The President also told Newsmax that shipments of grain are being blocked by Russia in the Black Sea.
"Currently, 22.5 millions tons of grain are blocked by Russia," Zelensky said. "In order to de-block this territory with an exit to the sea, with an exit to water, with an exit to our people, we need to fight and we need to have weapons with effective range as far as 120-140 kilometers."
Some context: Earlier on Tuesday, US President Joe Biden announced a new package of rocket systems to be sent to Ukraine. Senior administration officials said the rocket systems would have the capability to launch rockets as far as 80 kilometers, far less than the long range weaponry Zelensky has asked for, but far greater than anything Ukraine has been sent to date.
In the interview with Newsmax, Zelensky was adamant the rockets would be used in Ukraine – not on Russian soil.
"I know some of the people in the United States are saying, or people in the White House are saying, we might be using them to attack Russia: Look, we're not planning to attack Russia. We're not interested in the Russian Federation. We're not fighting on their territory," Zelensky said.
"We have the war on our territory. They came to our country. We want to de-block our cities. For that purpose, we need ammo that can reach as far as 100 kilometers."
11:14 p.m. ET, May 31, 2022
New US rocket systems will enable Ukraine to hit targets 50 miles away -- its greatest range yet, US administration officials say
From CNN's Natasha Bertrand
Senior US administration officials confirmed to reporters on Tuesday that the United States will be sending Ukraine US-made High Mobility Artillery Rocket Systems, known as HIMARS, as part of the country's 11th package of security assistance to Ukraine. 
The officials said the HIMARS will be equipped with munitions that will allow Ukraine to launch rockets about 80 kilometers (49 miles).
Some context: That is far less than the maximum range of the systems, which is around 300 kilometers (186 miles), but far greater than anything Ukraine has been sent to date. The M777 Howitzers the US sent to Ukraine last month, for example, marked a significant increase in range and power over previous systems, but even those top out at around 25 kilometers (18 miles) in range.
Further weapons: The new security assistance package, to be announced officially on Wednesday, will also include air surveillance radars, additional Javelin anti-tank weapons, anti-armor weapons, artillery rounds, helicopters, tactical vehicles, and spare parts to help the Ukrainians continue maintenance of the equipment, the officials said.
CNN previously reported that US officials were debating for weeks whether to send Ukraine the advanced rocket systems, because they can strike so much further than any weapons they already have. The weapons' long range, technically capable of striking into Russian territory, raised concerns that Russia might view the shipments as provocative. 
The officials said on Tuesday that the US is "not encouraging or enabling Ukraine to strike beyond its borders," and is "not seeking to prolong the war."
They also said they had received assurances from Ukraine that they would not use the systems to launch attacks inside Russia. But they emphasized that as the conflict evolves, the US will "continue to tailor" its assistance to Ukraine's most urgent needs. 
The officials also said the new rocket systems will help put Ukraine "in the strongest possible position at the negotiating table" with Russia, and reiterated that the US will "not pressure the Ukrainian government in public or in private to make any territorial concessions." 
8:11 p.m. ET, May 31, 2022
Biden announces new rockets and munitions to Ukraine in op-ed
From CNN's Kevin Liptak
US President Joe Biden said the United States is providing Ukraine "more advanced rocket systems and munitions" as its war with Russia grinds on.
Writing in a New York Times op-ed, Biden said the US goal in Ukraine is "to see a democratic, independent, sovereign and prosperous Ukraine with the means to deter and defend itself against further aggression."
He said the new shipment of arms would "enable them to more precisely strike key targets on the battlefield in Ukraine."
Biden sought to spell out clearly what the US aims in Ukraine were, and was careful to note the US is not looking to directly engage Russia.
"We do not seek a war between NATO and Russia. As much as I disagree with Mr. Putin, and find his actions an outrage, the United States will not try to bring about his ouster in Moscow," Biden said, roughly two months after declaring in Warsaw that Putin "cannot remain in power."
"So long as the United States or our allies are not attacked, we will not be directly engaged in this conflict, either by sending American troops to fight in Ukraine or by attacking Russian forces," he wrote.
He went on to say that the US is "not encouraging or enabling Ukraine to strike beyond its borders. We do not want to prolong the war just to inflict pain on Russia."
Biden said that US officials "currently see no indication that Russia has intent to use nuclear weapons in Ukraine, though Russia's occasional rhetoric to rattle the nuclear saber is itself dangerous and extremely irresponsible."
"Let me be clear: Any use of nuclear weapons in this conflict on any scale would be completely unacceptable to us as well as the rest of the world and would entail severe consequences," Biden wrote.
7:10 p.m. ET, May 31, 2022
Here's what the Donbas means to Putin — and why fighting has intensified in the region
From CNN's Rob Picheta
Fighting in Ukraine has rounded on Donbas, a sprawling and beleaguered heartland region that has suffered years of conflict and now serves as the bloody stage on which Russia's war could be decided.
Donbas blankets much of eastern Ukraine, and has been the front line of the country's conflict with Moscow since 2014.
But now its people, already scarred by eight years of fighting, are enduring an assault even more intense. Russian forces are closing in on the city of Severodonetsk, and are making gradual progress in some parts of the region. Some assaults have been repelled by stubborn Ukrainian counteroffensives.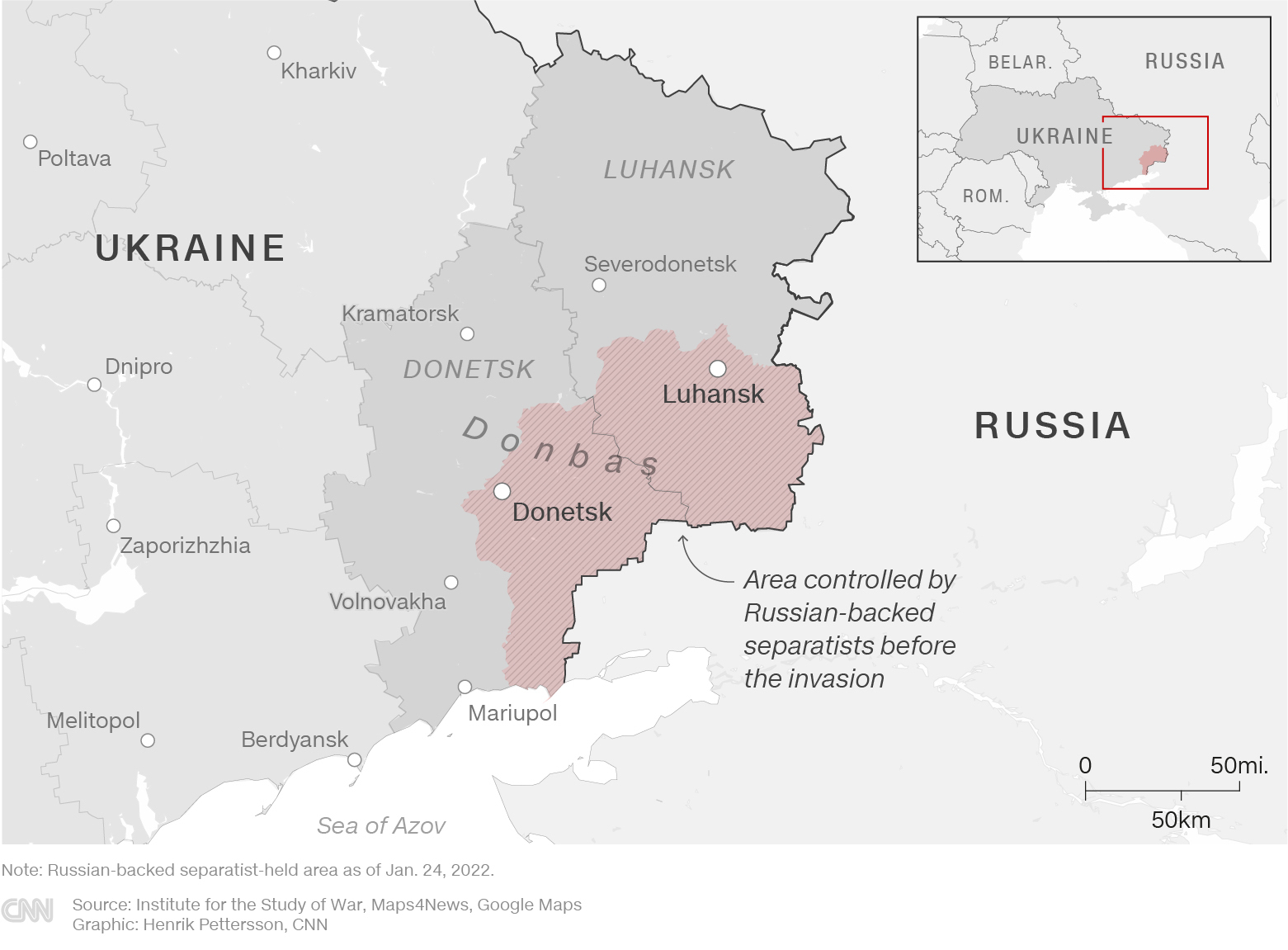 Failures to take Kyiv and central Ukrainian regions in the invasion's early months meant Donbas became the centerpiece of Russian President Vladimir Putin's military ambition.
A Russian victory in the region would appall the West but could salvage Putin's war aims, while a defeat could cement his invasion as a historic failure. Either way, it is almost certain to devastate yet more of the Donbas region, a historically and culturally significant place whose proximity to Russia has dictated much of its turbulent existence.
Those who have lived in and studied the region describe it as an independent and gritty center of industry that has remained suspicious of outside forces for decades.
But the waves of conflict there since 2014 have reshaped and wounded its cities, and it is along its line of contact that both the Ukrainian and Russian military are most dug in — making for a familiar but unpredictable new phase of war.
What Donbas means to Putin: Despite its move into independence along with the rest of Ukraine in 1991, Donbas has maintained a place in the psyche of Russian leadership.
A famous Soviet propaganda poster from 1921 dubbed Donbas "the heart of Russia," depicting the region as a beating organ with vessels stretching across the Russian empire. Before then, the region was part of the concept of "Novorossiya," or New Russia, a term given to territories towards the west of which the Russian empire had expansionist ideas.
Cities like Luhansk and Donetsk are historically "places that (Russians) could see a certain version of themselves," Finnin said.
And that historical image could still persist inside Putin's own worldview, experts suggest.
Observers have often suggested that Putin's desired endgame is to rebuild the Soviet Union in which he first rose up the ranks. Anna Makanju, former director for Russia at the US National Security Council, suggested that Putin "believes he is like the czars," the imperial dynasties that ruled Russia for centuries, "potentially called by God in order to control and restore the glory of the Russian empire."
A new Russian assault: Whether the raging battle for Donbas will be the final chapter of Russia's war, or merely its current phase, remains to be seen. But by zeroing in on the region, Putin has brought his assault on Ukraine full circle.
The so-called "liberation" of Ukraine's Donbas region was described as an "absolute priority" for Russia by its foreign minister Sergei Lavrov, in an interview with French broadcaster TFI in late May.
The secessionist conflict in Donbas had been costly but stagnant since the initial surges of pro-Russian forces in 2014; the lines of the conflict barely moved in several years, with trenches running along the point of contact from the southern coast to the Ukrainian-Russian border north of Luhansk.
But Russia has made a number of advancements into parts of the Donbas in the weeks since the battle there began.
Read more here:
6:09 p.m. ET, May 31, 2022
World oil prices close at highest level in nearly 3 months after EU deal on partial ban of Russian oil imports
From CNN's Matt Egan 
Brent crude oil closed on Tuesday to the highest level in nearly three months after the European Union reached a deal to ban 90% of its Russian oil imports by the end of the year.
However, oil finished well off its highs of the day after a new report signaled OPEC could be preparing to finally ramp up badly-needed production.
Brent crude, the world benchmark, gained 1% on the day, settling at $122.84 a barrel – the highest close since March 8. Earlier in the session, Brent traded as high as $125.28.
After initially rallying, US crude closed at $114.67 a barrel, down 0.4% on the day.
This comes after the EU forged an agreement on a partial ban on Russian oil imports in a bid to punish Moscow for its invasion of Ukraine. Although new sanctions were widely expected, this move will further scramble global energy supplies.
Europe is the biggest buyer of Russian energy, with about 2.4 million barrels of Russian crude getting sent to Europe every day in 2021, according to the International Energy Agency. 
"Somehow, between now and the end of the year, the world has to figure out a way to make up this deficit," said Andy Lipow, president of Lipow Oil Associates.
That's why Lipow expects gasoline prices to continue to march higher, reaching his forecast of $4.75 a gallon nationally within the next 10 days.
The national price for regular gasoline hit a fresh record of $4.62 a gallon on Tuesday, according to AAA, up 52% from a year ago.
The good news for consumers is that the oil market cooled off after The Wall Street Journal reported that some OPEC members are considering suspending Russia's participation from an oil-production deal. A spokesperson for OPEC did not immediately respond to a request for comment.
Such a move could pave the way for Saudi Arabia, Kuwait and the United Arab Emirates to accelerate the return of production sidelined when Covid-19 erupted in the spring of 2020.
Hit by the war and sanctions, Russia's oil production is projected to fall significantly this year. That's on top of supply shortfalls within OPEC that have prevented supply from meeting demand.
"This would allow OPEC+ some maneuvering room to make up for production shortfalls. It would give them cover," Lipow said.
6:25 p.m. ET, May 31, 2022
Ukrainian forces are making progress in Kherson and Kharkiv, Zelensky says
From CNN's Mitchell McCluskey
Ukrainian forces have made progress in the regions of Kherson and Kharkiv and are holding back Russian forces in Zaporizhzhia, Ukrainian President Volodymyr Zelensky said in an address on Tuesday night.
"Our defenders show extreme bravery, despite the fact that Russia has a substantial advantage in force and weapons," Zelensky said, "We want all of our people liberated but it needs to be done with caution."
Zelensky also applauded the new sanctions package approved by the European Council, which would cut down on imports of Russian oil, as well as suspend Russia propaganda channels and remove Sberbank from SWIFT, the international bank messaging system.
"I am thankful for everyone to reach this agreement," Zelensky said, "It will leave Russia at the outskirts of the world economy. Russia will not be able to adapt and this means it will be defeated."
4:04 p.m. ET, May 31, 2022
NATO's chief is traveling to Washington, DC, Tuesday to meet with top US officials
From CNN's Sugam Pokharel in London  
NATO chief Jens Stoltenberg is traveling to Washington, DC, on Tuesday for a working visit, the alliance said in a statement.
Stoltenberg will be in the US capital until Friday and is expected to meet with top US officials, including Secretary of State Antony Blinken, Secretary of Defense Lloyd Austin and National Security Advisor Jake Sullivan, according to the statement.  
He will also give a speech at the Johns Hopkins University School of Advanced International Studies (SAIS), NATO said.  
6:58 p.m. ET, May 31, 2022
State Department: US welcomes proposed EU Russian oil ban
From CNN's Michael Conte
The US welcomes the European Union's announcement of a proposed ban of Russian oil, according to a State Department spokesperson.
"We applaud the steps by our European allies and partners to reduce their reliance on Russian oil and natural gas by diversifying their sources of energy and reducing consumption in line with our shared climate goals," said State Department spokesperson Ned Price.