June 1, 2022 Russia-Ukraine news
12:01 a.m. ET, June 2, 2022
9:09 p.m. ET, June 1, 2022
Villagers north of Kyiv say they're still finding bodies more than a month after Russian troops left
From CNN's Elise Hammond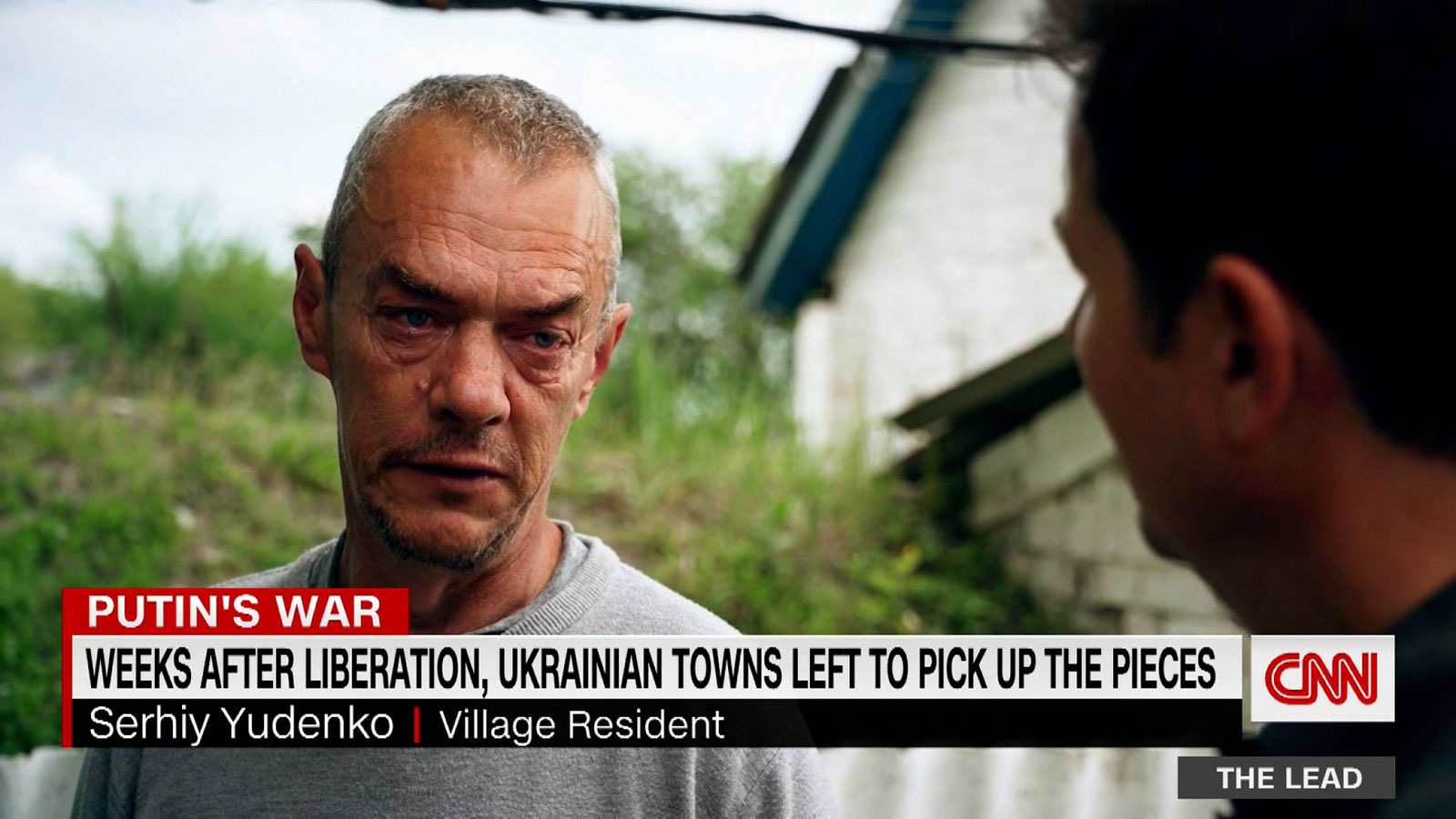 More than a month after Russian soldiers were pushed from the area, people in villages north of Ukraine's capital of Kyiv say they are still finding their neighbors buried in shallow graves.
"Sometimes, I have nightmares and can't sleep at night," village resident Serhiy Yudenko told CNN's Matthew Chance. "And I pray they won't ever come back."
Yudenko said he was shot by Russian troops and left for dead. He now has scars from the bullets but says the emotional scars run deeper.
"I'll never forgive Russians for what they did," he said.
Officials say more than 300 people are still missing from that region.
Yevhen Yenin, Ukraine's deputy interior minister, said he thinks of the families every time they find a new body.
"You cannot imagine the eyes of mothers whose children they lost. You cannot imagine the eyes of relatives whose beloved have been captured or have been killed on the front line," Yenin said, standing next to a grave.
8:16 p.m. ET, June 1, 2022
Russian cruise missiles strike railway in western Ukraine, Ukrainian officials say 
From CNN's Tim Lister and Kostan Nechyporenko
Russian missiles have hit a railway in western Ukraine, according to Ukrainian officials.
The strikes occurred close to the Beskyd tunnel in the Carpathian mountains — not far from the border with Slovakia.
It's the second time the route has been targeted by Russian cruise missiles.
Maksym Kozytskyi, the head of the Lviv region military administration, said two people had been injured.
Anton Gerashchenko, an adviser to the interior minister said the goal of the strikes was to "disrupt rail traffic and stop the supply of fuel and weapons from our allies."
"We are checking out the level of infrastructure damage. There are no victims among the railway workers. Three passenger trains are delayed. They are in safe places, and passengers are safe," Oleksandr Kamyshin, CEO of state-owned Ukrainian Railways, said.
9:10 p.m. ET, June 1, 2022
19 EU nations are speeding up their renewables transition 
From CNN's Ivana Kottasová
Despite concerns that Russia's war in Ukraine might mean a return to more fossil fuels, most countries in the European Union are laying out more ambitious plans to boost renewables.
Nineteen of the EU's 27 member states have announced more ambitious medium-term plans in response to the war and soaring fossil fuel prices, according to a new report from Centre for Research on Energy and Clean Air, an independent research group based in Finland, and Ember, a UK energy think tank.
The report, published Thursday, said that compared to their plans in 2019, EU countries have slashed the total amount of power they are aiming to source from fossil fuels by 2030 by almost a third. 
Instead of sourcing 55% of electricity from renewables, as previously planned, EU countries are now aiming to achieve a 63% share by 2030, the report said. As of January 2022, the EU was sourcing 22% of its energy from renewables. 
"The electricity transition is not solely an issue of climate concerns, but also one of ensuring stable supplies of energy for European households and businesses," the report said. "This is especially obvious for the biggest importers of Russian fuels, with Germany, Italy and the Netherlands scaling up wind and solar ambitions, France subsidising housing insulation, and others ramping up heat pump installations and electrifying transport."
The report said that Portugal, the Netherlands, Austria and Denmark are on a path to source almost all of their electricity from renewables by 2030. 
Germany, the largest importer of oil and gas from Russia, is now planning to source 80% of its electricity from renewables by 2030, up from 62% it has previously announced. Italy, Ireland and Greece are all coming for up to a 70% share of renewables in electricity production, the report added.
The EU has pledged to reduce greenhouse gas emissions by 55% by 2030, compared with 1990 levels, and become carbon neutral by 2050. Being carbon neutral means emissions are dramatically reduced and any that remain are offset, whether using natural methods like tree planting or technology to "capture" emissions. 
Hungary, Poland and Slovakia, the three countries with the lowest planned shared of renewables, have not updated their plans since 2019, the report said. 
The report comes just days after Hungary negotiated an exemption from the EU's ban on Russian oil imports. The oil embargo, which is a part of a new EU sanction package against Russia over its war on Ukraine, includes around 90% of Russian oil imports, but not the roughly 10% that flows to Hungary, Slovakia and the Czech Republic through the Soviet-era Druzhba pipeline.
Poland has agreed to the embargo and will stop importing Russian oil, but it is still planning to source 67% of its electricity from fossil fuels in 2030, because of its large reliance on coal. 
8:36 p.m. ET, June 1, 2022
UK will give Ukraine rocket systems capable of hitting targets about 50 miles away, defense secretary says 
From CNN's Oren Liebermann and Arnaud Siad
The United Kingdom will send multiple-launch rocket systems to Ukraine to help defend itself against Russia, British Defence Secretary Ben Wallace said on Wednesday.
Britain will send M270 launchers able to strike targets up to 80 kilometers (49.7 miles) away, offering "a significant boost in capability for the Ukrainian forces," according to a statement from the British Foreign Office.
The move has been "coordinated closely" with the United States decision to provide Ukraine with its High Mobility Artillery Rocket System (HIMARS) – a variant of the multiple-launch rocket systems that will be gifted by the UK, the statement added.  
"The UK stands with Ukraine and has taken a leading role in supplying its heroic troops with the vital weapons they need to defend their country," Wallace said.
"As Russian's tactics change, so must our support to Ukraine. These highly capable multiple-launch rocket systems will enable our Ukrainian friends to better protect themselves against Russia's brutal use of long-range artillery, which Putin's forces have used indiscriminately to flatten cities," he added.
The British government also said that Ukrainian troops will be trained on how to use the launchers in the UK, so the effectiveness of the launchers can be maximized.
7:22 p.m. ET, June 1, 2022
Biden will meet NATO secretary general at the White House on Thursday
From CNN's Kevin Liptak
US President Joe Biden will meet NATO Secretary General Jens Stoltenberg at the White House on Thursday as the alliance considers the next steps of the war in Ukraine.
White House press secretary Karine Jean-Pierre said Biden would join a meeting between Stoltenberg and national security adviser Jake Sullivan, in part to discuss NATO's next meeting in Spain. 
They will "discuss preparations for the NATO summit in Madrid and the strength of the transatlantic alliance," Jean-Pierre said. The Madrid summit is scheduled for the very end of June.
Biden has endorsed applications by Finland and Sweden to join NATO.
6:37 p.m. ET, June 1, 2022
NATO doesn't foresee Russia retaliating against US decision to send Ukraine advanced weapons, chief says 
From CNN's Arnaud Siad
NATO does not foresee any Russian retaliation to the decision by the United States to supply advanced weapons to Ukraine, Secretary General Jens Stoltenberg told CNN on Wednesday. 
"No, I don't foresee that because what NATO allies and NATO is doing is to provide support to Ukraine to uphold the right for self-defense, and this is a right which is enshrined in the UN treaty," Stoltenberg said.
US President Joe Biden announced on Tuesday the US is providing Ukraine "more advanced rocket systems and munitions" as its war with Russia grinds on.
Writing in a New York Times op-ed, Biden said the US goal is "to see a democratic, independent, sovereign and prosperous Ukraine with the means to deter and defend itself against further aggression." 
He said the new shipment of arms would "enable them to more precisely strike key targets on the battlefield in Ukraine."
Stoltenberg held a news conference alongside US Secretary of State Antony Blinken in Washington, DC, on Wednesday and is set to meet with Biden at the White House on Thursday.
6:00 p.m. ET, June 1, 2022
Ukraine is now one win away from men's FIFA World Cup after emotional 3-1 victory over Scotland
From CNN's Matt Foster
Ukraine beat Scotland 3-1 at Hampden Park in Glasgow, Scotland, in the World Cup playoff semifinal on Wednesday. The result leaves them one win away from officially qualifying for the 2022 FIFA World Cup in Qatar. 
Ukraine enjoyed the better of the first half, creating good chances and forcing Scotland goalkeeper Craig Gordon into action on multiple occasions in the opening 20 minutes. The visitors made that pressure tell after West Ham forward Andriy Yarmolenko expertly controlled a pass from Ruslan Malinovskyi and chipped Gordon to score in the 33rd minute.
Ukraine's aggressive play was rewarded once again within five minutes of the second half starting, as striker Roman Yaremchuk doubled their lead with a cushioned header and provoked wild scenes of celebration amongst the supporters. 
Scotland worked hard to get back into the game, with manager Steve Clarke making a number of substitutions to try and inspire a comeback. That intent paid off when Callum McGregor's bouncing shot crept over the goal line to set up a nail-biting final 10 minutes.
However, Ukraine sealed the result with a third goal of Artem Dovbyk in the closing moments to end Scotland's hopes of reaching the tournament in Qatar.
The Ukraine team took to the field before the start of the match with every player draped in their country's flag. Fans in the stadium, some of them refugees, could be seen holding signs reading "Stop War" as the team and supporters alike passionately sang the national anthem.
The last competitive match played by Oleksandr Petrakov's team was a 2-0 win away against Bosnia and Herzegovina on Nov. 16, 2021. The match was originally due to take place on March 24, but was postponed in the wake in of the Russian invasion of Ukraine. 
Ukraine now face Wales in Cardiff on June 5 to determine which team will compete in the 2022 FIFA World Cup.
The 2022 World Cup is scheduled to begin on Nov. 21 and run through Dec. 18 in Qatar.
5:20 p.m. ET, June 1, 2022
Ukrainian official says about 80% of Severodonetsk is occupied by Russian forces
From CNN's Tim Lister and Kostan Nechyporenko
Serhiy Hayday, the head of Luhansk's regional military administration, says street fighting continues in the eastern city of Severodonetsk but Russian forces now occupy about 80% of the city.
"On some streets, our defenders are successful," Hayday said. Six Russian soldiers have been captured, he said.
Hayday said the remaining parts of Luhansk region still under Ukrainian control were under constant shelling but local volunteers had gotten trucks with humanitarian cargoes to many settlements and also evacuated people.
The Ukrainian official said the neighboring city of Lysychansk "is under Ukrainian control. This is a militarily advantageous position. The location of the city on a hill gives many opportunities. The city's defense is strong."
Hayday said that heavy fighting continued in settlements to the south and west of Severodonetsk as Russian forces try to encircle the Ukrainian defenses.
"Despite the simply constant, daily shelling, it is still possible to bring humanitarian supplies both to the Hirske community and to Lysychansk," Hayday said.