June 2, 2022 Russia-Ukraine news
12:01 a.m. ET, June 3, 2022
8:53 p.m. ET, June 2, 2022
Analysis: After 100 days of war, Putin is counting on the world's indifference
Analysis from CNN's Nathan Hodge
Rewind the clock to February 23, the day before Russia launched its all-out invasion of Ukraine, and one might be tempted to guess that Ukrainian President Volodymyr Zelensky's days in office were numbered.
After all, Russia's military outspent that of Ukraine by roughly 10 to one. Moscow enjoyed a twofold advantage over Kyiv in land forces; and the nuclear-armed power had 10 times the aircraft and five times the armored fighting vehicles of its neighbor.
A visibly angry Russian President Vladimir Putin had appeared on television just days before, delivering a rambling historical monologue that made clear he expected nothing less than regime change in Kyiv.
The Kremlin leader seemed to be gambling that Zelensky would flee his capital, much as the US-backed president of Afghanistan had left Kabul just a few months earlier, and that Western outrage would subside, albeit with the temporary pain of new sanctions.
100 days later, whatever plans Putin may have had for a victory parade in Kyiv are on indefinite hold. Ukrainian morale did not collapse. Ukrainian troops, equipped with modern anti-tank weaponry delivered by the US and its allies, devastated Russian armored columns; Ukrainian missiles sank the guided-missile cruiser Moskva, the pride of Russia's Black Sea Fleet; and Ukrainian aircraft stayed in the air, against the odds.
In late March, Russia's military began withdrawing its battered troops from around the Ukrainian capital, claiming they had shifted focus to capturing the country's eastern Donbas region. Three months after its invasion, Russia no longer appears to be aiming for a short, victorious war in Ukraine — nor does it seem to be capable of achieving one.
Read the full analysis:
6:14 p.m. ET, June 2, 2022
Zelensky says Ukrainian troops have "some success" in battles in Severodonetsk
From CNN's Tim Lister
President Volodymyr Zelenksy said that Ukrainian forces are withstanding the Russian onslaught around the city of Severodonetsk in the eastern region of Donbas.
"We have some success in the battles in Severodonetsk. But it's too early to tell. It's the hardest thing there now. As in the cities and communities nearby — Lysychansk, Bakhmut and other cities where [there is] such a powerful attack by Russia," Zelensky said in his daily video message.
Reports from Thursday said that street fighting continued in Severodonetsk. 
"The Russian army uses all its armed capabilities and does not count people at all. It is especially cynical that in the first line of attacks, the occupiers very often use those people who were recruited into their army in the previously occupied territory of the Donetsk and Luhansk regions," Zelensky said, referring to the militia of the so-called Donetsk and Luhansk People's Republics.
"The longer the war lasts, the more vile, shameful and cynical things Russia will forever write in its history," he said. 
Zelensky also addressed the new rockets and munitions that the US will be sending Ukraine.
"The United States has confirmed that modern HIMARS fire missile systems are being sent to our country. These weapons will really help save the lives of our people and protect our land. I am grateful to President Biden, all our American friends, and the people of the United States for their support," he added.
On the issue of Ukraine's bid to join the European Union, Zelensky said: "It is very important that now — in a few weeks — we are waiting for the answer of the European Union on the issue of candidate status for Ukraine. We are very much looking forward to it."
Here's a look at the areas Russian forces control in Ukraine: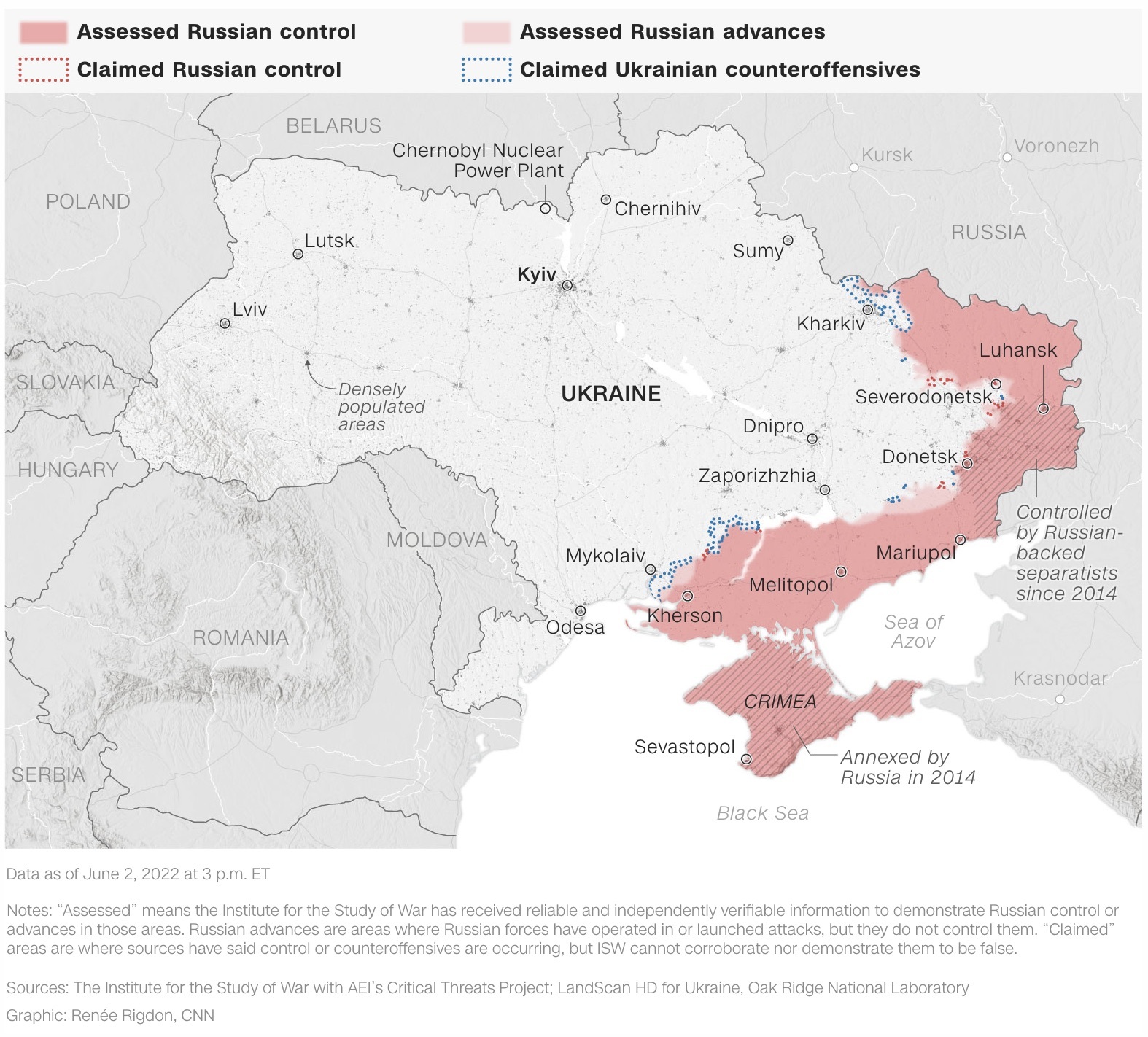 4:15 p.m. ET, June 2, 2022
Ukrainian forces claim significant progress in southern offensive
From CNN's Tim Lister and Kostan Nechporenko
Ukrainian forces say they have made significant progress during an offensive against Russian positions in the occupied southern region of Kherson.
"In the Kherson region, the Armed Forces have liberated 8 kilometers (about 5 miles) of occupied territory," the Territorial Defence AZOV Dnipro unit posted on Telegram late Thursday.
Ukrainian forces launched the offensive into Kherson from several vantage points to the north last weekend. Since then, there has been little information about the operation, but Ukrainian forces appear to have taken a number of villages in the northern part of Kherson and consolidated a bridgehead across the river Inhulets.
On Wednesday, the head of the Kherson Regional State Administration, Gennady Laguta, said 20 settlements had been liberated.
5:47 p.m. ET, June 2, 2022
It's 10 p.m. in Kyiv. Here are the latest developments from the Russian invasion of Ukraine.
One-fifth of Ukrainian territory is under Russia's control, with Donbas "almost entirely destroyed," Ukrainian President Volodymyr Zelensky said while addressing Luxembourg's lawmakers on Thursday.
If you're just joining us, here is what you need to know about Thursday's developments in the Russian invasion of Ukraine.
Severedonetsk holding out: Ukraine's army has carried a series of counterattacks in the eastern city of Severodonetsk, but Russian forces still control "most" of the city, said Serhiy Hayday, head of Luhansk regional military administration. Severodonetsk is one of the last remaining strongholds held by Ukraine in Luhansk.
Areas of Donetsk region "under constant rocket fire": The cities of Bakhmut and Slovyansk are among the areas under bombardment, said Pavlo Kyrylenko, head of the Donetsk military administration, on Thursday. Russian troops are also "moving along Lyman-Izyum direction to capture Sloviansk and Kramatorsk territories," and the highway from Bakhmut to Lysychansk "remains under enemy fire," he said.
At least seven people have been killed and 10 more wounded in the last 24 hours in the Donetsk region, Kyrylenko said. Just 340,000 of the 1.6 million people who used to live in the region remain.
Russia's blockade of Ukrainian seaports could spark a global food crisis: "About 22 million tons of grain are stuck in ports and cannot reach consumers, especially in Africa and Asia," said Ukraine's foreign ministry spokesperson Oleg Nikolenko on Thursday, adding that land routes alone won't solve the problem. Russia is also "stealing Ukrainian grain in the occupied territories in order to sell it illegally to third countries," Nikolenko said.
CNN has previously reported on multiple Russian ships carrying stolen Ukrainian grain.
US confirms it conducted offensive cyber operations in support of Ukraine: Cyber Command, the US military's hacking unit, has conducted offensive cyber operations in support of Ukraine as it defends itself against Russia's invasion, the head of the command has confirmed. The disclosure underscores how important projecting power in cyberspace has been to the Biden administration as it continues to avoid directly engaging Russia in a shooting war. 
It's a rare public acknowledgment from US military officials of hacking operations that are often shrouded in mystery. 
Angela Merkel speaks out for the first time since leaving office: Speaking to 200 people, former German Chancellor Angela Merkel said Russia is waging a "barbaric war of aggression" in Ukraine. The invasion constitutes blatant breach of international law and ''a profound break'' in the history of Europe after the end of World War II, she added.
2:23 p.m. ET, June 2, 2022
US confirms military hackers have conducted cyber operations in support of Ukraine
From CNN's Sean Lyngaas
Cyber Command, the US military's hacking unit, has conducted offensive cyber operations in support of Ukraine as it defends itself against Russia's invasion, the head of the command has confirmed. 
The disclosure underscores how important projecting power in cyberspace — in support of Ukraine's defenses and to potentially deter Russia from conducting cyberattacks against US infrastructure — has been to the Biden administration as it continues to avoid directly engaging Russia in a shooting war. 
"We've conducted a series of operations across the full spectrum: offensive, defensive, [and] information operations," Gen. Paul Nakasone said in an interview with Sky News. A spokesperson for the command did not dispute the accuracy of the article but declined to elaborate on what the command's operations in Ukraine have entailed. 
It's a rare public acknowledgment from US military officials of hacking operations that are often shrouded in mystery. 
Read more here.
1:58 p.m. ET, June 2, 2022
Oil prices climb after OPEC agrees to boost supply
From CNN's Matt Egan
Oil prices moved solidly higher on Thursday as investors react to OPEC's production hike with a collective shrug.
US crude jumped 1.9% to $117.45 a barrel in recent trading. That's about $5 to $6 above where oil was trading at in the hours before the announcement by OPEC and its allies, known as OPEC+. 
Brent crude, the world benchmark, gained 1.5% to $118 a barrel, up from around $113 a barrel earlier in the day.
This comes after OPEC+ announced it will increase supply by 648,000 barrels per day in July and August, about 200,000 barrels per day more than scheduled.
Yet the reaction in the market underscore a sense that the extra supply from OPEC+ won't be enough to solve the supply crunch.
"It's too small to move the needle," said Robert McNally, president of consulting firm Rapidan Energy Group. 
McNally said the shift from OPEC+ — and Saudi Arabia in particular – is very important symbolically. But it won't be enough to arrest the upward move in oil prices. 
"It's 90% symbolic and 10% fundamentally important," he said. "It's a concrete gesture. It's just not a lot of concrete."
More is needed given the scale of the problem. 
Russia's invasion of Ukraine – and sanctions from the West – has distorted global energy markets. Russia is not just the world's largest oil exporter, but the biggest natural gas exporter. 
New numbers released Thursday from the Energy Department show that US commercial oil inventories tumbled by 5 million barrels last week, nearly four times more than expected and another sign of the supply-demand imbalance. 
Helima Croft, global head of commodity strategy at RBC Capital Markets, described the OPEC decision as a "diplomatic triumph" for both Saudi Arabia and the Biden administration.
However, the former CIA analyst is skeptical that this OPEC production hike – or any OPEC production hike, for that matter – will significantly ease strained energy markets.  
"The problem is I'm not sure OPEC can solve for a war involving a global commodity superstore," she said. "This is probably beyond OPEC's ability to solve. The burden is too high."
2:29 p.m. ET, June 2, 2022
NATO chief says he believes war will "end at the negotiation table" after meeting with Biden
From CNN's Betsy Klein
NATO Secretary General Jens Stoltenberg said Thursday he had a "great meeting" with US President Joe Biden, Vice President Kamala Harris and national security adviser Jake Sullivan.
Stoltenberg commended the US for its leadership and support of Ukraine and leadership in support of the Transatlantic alliance. US support is "making a difference on the battlefield every day," he said. 
"President Putin wanted less NATO and therefore he invaded Ukraine, but he's getting more," Stoltenberg told reporters after the meeting. 
They also discussed preparations for the late June NATO summit in Madrid, which he said "takes place at a pivotal time for security." He said he looked forward to welcoming Biden to Spain. 
Asked by CNN's MJ Lee about his assessment of the endgame of Russia's invasion in Ukraine, he said, "wars are, by nature, unpredictable and therefore we just have to be prepared for the long haul." He added that it has become a "war of attrition," where the Ukrainians are "paying a hard price for defending their country on the battlefield" but also "Russia is taking high casualties." 
He said he believes the war will "end at the negotiation table," and Ukraine continues to need NATO's support. 
When asked about Turkey's block on Sweden and Finland's NATO membership applications, Stoltenberg expressed confidence it will get resolved.
"When an ally, Turkey, raises concerns, we have to do what we always do and that is to sit down, address those concerns, then find a united way forward. We are in close contact with Ankara, leadership there," he said, as well as close contact with Sweden and Finland. 
Stoltenberg said he would be convening a meeting with senior officials from Stockholm, Helsinki and Ankara in the coming days. 
Turkey, he noted, is an "important ally." 
4:09 p.m. ET, June 2, 2022
Ukrainian military reports heavy fighting north of Sloviansk as Russians continue bombardments
From CNN's Tim Lister
The Ukrainian military said Thursday that fighting continues in multiple parts of the Luhansk and Donetsk regions, with Russian forces trying to advance from several directions as they seek to take more of the area. 
Much of the fighting has been on the approaches to the city of Sloviansk. The nearby town of Sviatohirsk — which is home to a historic monastery on the banks of the Siverskiy Donets river — was shelled, and the Orthodox Church of Ukraine said three monks were killed. 
The General Staff of the Ukrainian Armed Forces said that three other settlements in the area were under fire, and there was fighting underway in several more places. The locations named by the Ukrainians — Studenok, Sosnove and Yarova — suggest that Russian forces have made modest progress toward reaching the river. Observers said, however, that Ukrainian forces have prepared defenses around Sloviansk.
The military said that "in the Severodonetsk direction, the occupiers continue to fire on the Armed Forces positions in the districts of Severodonetsk and Lysychansk."
There has also been Russian airstrikes in adjacent communities. Ukrainian troops continue to hold the western edges of Severodonetsk, but the rest of the city is now in Russian hands.
The military said Russians were also continuing efforts to close in on the town of Bakhmut, a supply hub for Ukrainian forces, and fighting continued around settlements to the east and south of the town.
Oleksandr Zaika, head of Lysychansk City Military-Civil Administration, said that Thursday was "very difficult" in the city, which is across the Siverskiy Donets river from Severodonetsk. 
"The shelling has become more powerful. They are firing all over the city. They are firing continuously. Almost every minute, something arrives, so the situation is very difficult," Zaika told Ukrainian television.
He said that the highway linking Lysychansk with Bakhmut is under Ukrainian control, but said "they fire there all time, so it is very difficult to drive there, but it is possible. There is an alternative road on which you can move, but it is also dangerous."
He said 80,000 people — out of a population of about 100,000 — had left Lysychansk, and that 60% of the infrastructure and housing had been destroyed.