June 2, 2023 - Russia-Ukraine news
10:06 p.m. ET, June 2, 2023
Our live coverage for the day has ended. Follow the latest Ukraine news here or read through the updates below.
9:32 p.m. ET, June 2, 2023
Analysis: Ukraine's cross-border tactics aimed at destabilizing Russia appear to be working
From CNN's Sam Kiley
Ukraine has opened a new front in its battle to drive out the Russian invader — in Russia. But it is oddly coy about admitting that it has sent troops, fired artillery and flown drones into its neighbor's territory.
The operations of Russian citizens, carrying Ukrainian military ID, wearing Ukrainian uniforms and attacking from Ukraine, remain officially opaque. It is Kyiv's contribution to what's become known as "hybrid warfare" in the "grey zone" of contemporary conflict.
The Russian Volunteer Corps and the Freedom for Russia Legion – which fall under Ukraine's Defence Intelligence structure – have been conducting short cross-border raids into Russia.
The principal aim? Destabilization.
In Ukraine, it suits Kyiv to have Russians invade Russia on its behalf.
The tactical results may be limited. Brief incursions into small border villages. But the desired effect of destabilization in Russia is achieved.
The point is to make the attacks inside Russia feel like they have a significant Russian flavor – to suggest that more Russians are heeding the dissident "Cry Freedom" and joining in a homegrown effort to depose Russian President Vladimir Putin.
As far as Ukraine is concerned, the more Russians think that their compatriots are involved in attacking the Russian regime the better. Doubt itself is destabilizing.
Judging by the rhetoric coming from Russia, it's working.
9:10 p.m. ET, June 2, 2023
United Nations nuclear watchdog chief to visit "extremely vulnerable" Zaporizhzhia nuclear power plant
From CNN's Mariya Knight
Rafael Grossi, chief of the International Atomic Energy Agency (IAEA), said he plans to visit the Zaporizhzhia nuclear power plant (ZNPP) as it has been in an "extremely vulnerable" state for the past three months. 
The visit would be the third time he has done so during the war in Ukraine, the IAEA said in a statement published on their website on Friday, adding that the plant "has been without external back-up power for three months now, leaving it extremely vulnerable in case the sole functioning main power line goes down again."  
The IAEA did not note when Grossi plans to visit the plant in Zaporizhzhia.
The statement said the plant being without external back-up power undermines one of "the five concrete principles" that Grossi presented to the United Nations Security Council on Thursday that states off-site power to the ZNPP "should not be put at risk" and that "all efforts should be made to ensure that off-site power remains available and secure at all times."  
"The general situation at the site remains highly precarious and potentially dangerous," Grossi noted. "There is a need for intensified efforts to ensure a more stable and predictable external electricity supply."  
According to the IAEA statement, "the planned rotation of the current team of IAEA experts at the site – the eighth since the mission was established last September – has been delayed because of local weather conditions." 
"The ZNPP continues to rely on the only remaining operational 750 kilovolt (kV) power line for the external electricity it needs for reactor cooling and other essential nuclear safety and security functions. Before the conflict, the plant had four such off-site power lines available," the IAEA noted. 
The agency reported hearing two landmine explosions near the power plant site, "highlighting the tense situation in the region."
8:02 p.m. ET, June 2, 2023
Ukraine reports Russian attacks on the ground and missile barrages by sky. Here's what you need to know
It's early morning in Kyiv, and Ukraine's military reported another day of fierce fighting with Russia on Friday.
If you're just catching up on the day's news, here's the latest from the war in Ukraine:
Russian onslaught: Russia carried out at least 62 airstrikes and 15 missile strikes in the last 24 hours, according to the Ukrainian military, which said its forces also rebuffed more than a dozen ground assaults. The areas under fire included Kupyansk in the northeastern Kharkiv region and several areas further south in the eastern Luhansk and Donetsk regions.
Car bombing: A deadly car bombing targeted "Kremlin collaborators" in the Russian-occupied part of the Zaporizhzhia region Friday, according to Ivan Fedorov, the Ukrainian mayor of Melitopol. A Russia-backed official in the region said a local businessman active in the "United Russia" party was killed in the blast.
Attacks on Russian soil: At least two people were killed and six others were injured in shelling in Russia's Belgorod region Friday, the governor there said. The governor is one of a number of Russian officials to report attacks on their regions Friday as the war spills over from Ukraine's borders into Russian territory.
Diplomatic news: US Secretary of State Antony Blinken is on a diplomatic visit to Finland, which recently joined NATO, helping shore up the alliance's border with Russia. Blinken declared Russia's war in Ukraine a "strategic failure" during a speech in Helsinki. Ukraine's President Volodymyr Zelensky, meanwhile, acknowledged that Ukraine cannot follow Finland's lead and join NATO while its war with Russia is still raging.
This map shows the latest state of control in Ukraine: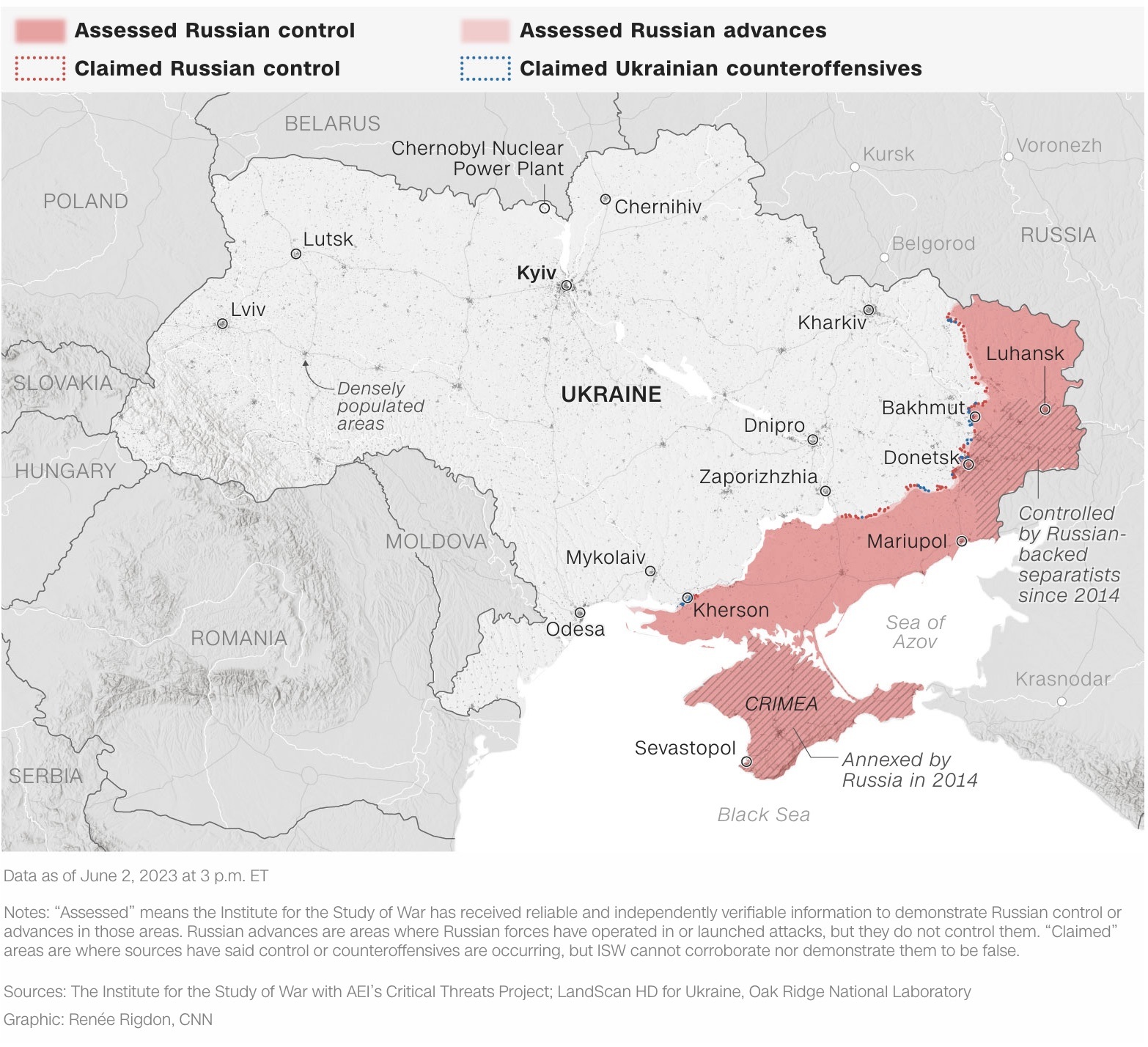 7:42 p.m. ET, June 2, 2023
Wagner chief claims Russian defense ministry placed mines on group's exit routes from Bakhmut 
From CNN's Mariya Knight
Yevgeny Prigozhin, the head of the Wagner private military company, claimed in a Telegram post on Friday that the representatives of the Russian defense ministry had placed mines on Wagner Group's fighters' exit routes from Bakhmut. 
Prigozhin didn't provide any evidence that supports his claim.
"Shortly before our departure, we detected suspicious activity along our exit route. [...] we called law enforcement and began to investigate our exit routes along the roads," Prigozhin said. "We found about a dozen places where various explosive devices were placed, ranging from hundreds of anti-tank mines to tonnes of plastic explosives [...] Those who rigged those areas with explosives were representatives of the Ministry of Defense." 
"When asked why they did it, they point their fingers up," Prigozhin said referring to pointing at the Russian leadership. 
Prigozhin noted that "there was no need to place those devices to hold the enemy forces back, as it was located in the rear zone." 
"We can therefore assume that those explosives were destined to meet the Wagner's units, although we do not walk in columns," he added.  
The Wagner chief said, as of Friday, "almost all, 99% of the Wagner PMC units left Bakhmut." 
"All positions have been handed over to the Ministry of Defense at the appropriate time," he said. 
7:18 p.m. ET, June 2, 2023
Ukrainian tennis player snubs handshake with Russian opponent, saying it's out of respect for soldiers at war
From CNN's David Close
Ukrainian tennis player Elina Svitolina refused to shake hands with her Russian opponent after winning a match Friday, saying she did so out of respect for the men and women defending Ukraine from Moscow's invasion.
"I'm standing for my country. I'm doing everything possible in a way to support, to give a good spirit for the men and for the women who are right now in the front lines, fighting for our land and for our country. So, can you imagine the guy or the girl who is right now on the front lines, looking at me, and I'm like, acting like nothing is happening?" Svitolina said, following her three-set win over Russian Anna Blinkova in the third round of the French Open.
After Friday's victory, Svitolina avoided Blinkova while the two took turns shaking the hand of the chair umpire.
The Ukrainian said she would continue to snub any opponents from Russia or Belarus, the close Moscow ally.
"What the Russian government and Russian soldiers are doing on our land is really, really terrible," the 28-year-old Svitolina said. "It touches many different areas. It touches sport. It touches acting. It touches all different areas. So, we are all united Ukrainians and this is our position."
Svitolina said she would like to see Russian and Belarusian players speak out and call for their countries to end the war.
Belarusian bows out of media appearance: World No. 2 Aryna Sabalenka, meanwhile, did not participate in a customary post-match news conference Friday.
In her last media appearance Wednesday, the Belarusian had been repeatedly asked to comment on the war in Ukraine and Belarus' role, but she repeatedly declined to do so. This continued until the moderator halted the line of questioning.
Sabalenka said she had not felt safe during the Wednesday news conference.
"For my own mental health and well-being, I have decided to take myself out of this situation today, and the tournament has supported me in this decision," she said in an interview released by tournament organizers.
Top Russian player weighs in: Last month, Daria Kasatkina, Russia's top-ranked women's tennis player, expressed her sympathy for Ukrainian players who refuse to shake her hand after matches.
"Well, the saddest part is the war still going on," Kasatkina said. "So, of course, players from Ukraine have got a lot of reasons to not shake our hands. I accept it and it is how it is. It's a very sad situation and I understand."
Kasatkina, a ninth seed, will face the unseeded Svitolina in the fourth round Sunday.
5:58 p.m. ET, June 2, 2023
At least 2 people killed and 6 injured following shelling in Belgorod, governor says 
From CNN's Mariya Knight and Josh Pennington
At least two people were killed and six others were injured in shelling in Russia's Belgorod region on Friday, the governor there said.
Vyacheslav Gladkov said in a Telegram post that the people killed were in the yards of their homes when the attack came. Two children were among those injured, he said, adding that they were hurt by shrapnel.
Gladkov said that the two injured children were "a 13-year-old boy [who] suffered a closed fracture of the left shoulder and an 11-year-old girl [who] sustained shrapnel wounds to the left eye."  
 The Belgorod region, which is located near the border with Ukraine, has seen intensified violence in the last several days, the governor previously said.
"A direct hit from a shell set an outbuilding and a garage in two private residences on fire" and there is damage to four more houses in the area, according to Gladkov. 
7:25 p.m. ET, June 2, 2023
Car bombing targets Russian "collaborators" in Zaporizhzhia region, Ukrainian official says
From CNN's Mariya Knight and Josh Pennington
A deadly car bombing targeted "Kremlin collaborators" in the Russian-occupied part of the Zaporizhzhia region Friday, according to Ivan Fedorov, the Ukrainian mayor of Melitopol.
Ukrainian and Russian-appointed officials offered differing accounts on the ultimate toll of the attack.
Fedorov claimed on Telegram that four Kremlin "collaborators and occupiers" were headed to a cafe in the town of Mykhailivka — north of Melitopol — but they "didn't quite make it." The group's car "flew skyward just outside their destination," the mayor said.
Fedorov, who is himself not in the region, said a businessman who owned a local cafe was among those killed.
A Russian-appointed official in the occupied southern region also reported the car bombing, publishing an initial post on his Telegram account and then sharing an updated message.
Vladimir Rogov, who serves on the council of the Russia-backed administration for the Zaporizhzhia region, said a car carrying three people was blown up, killing the cafe owner and leaving two others wounded.
"They are being provided with all the necessary medical care, and doctors assess their condition as stable," Rogov said in his updated Telegram post.
Rogov called the explosion "a terrorist attack" and identified the businessman as 53-year-old Sergey Gidovodyuk, who Rogov said had become active with the ruling "United Russia" party.
Several Russian-appointed officials in occupied parts of southern Ukraine have been wounded or killed, usually with improvised explosive devices, since the start of Russia's full-scale invasion.
This post has been updated with new information about the attack.
2:28 p.m. ET, June 2, 2023
Ukrainian military says it's fending off ground assaults as Russia launches dozens of airstrikes
from CNN's Yulia Kesaieva and Tim Lister
Russia carried out at least 62 airstrikes and 15 missile strikes in the last 24 hours, according to the Ukrainian military, while its forces also rebuffed more than a dozen ground assaults.
Areas that came under attack, according to Ukraine's General Staff, included Kupyansk in the northeastern Kharkiv region, where mortar and artillery fire hit a number of settlements.
Further south, "the enemy conducted unsuccessful offensives near Makiivka in Luhansk region and Spirne in Donetsk region over the last day," the General Staff said.
In both areas, as well as around the eastern cities of Bakhmut and Avdiivka, there were Russian airstrikes, it said. Russia has been trying to surround Avdiivka for months.
Elsewhere in eastern Ukraine: Earlier Friday, the Russian defense ministry said Chechen units were launching an assault against the ruined town of Marinka in the Donetsk region. "Our defenders repelled all 8 enemy attacks," the General Staff said.
On Russian soil: Ukraine's military also claimed the Russian military was sending cadets to help defend Russia's border after settlements in the Belgorod region have come under increased fire by anti-Putin groups.
CNN is unable to verify claims on battlefield developments.