June 9, 2022 Russia-Ukraine news
2:54 a.m. ET, June 10, 2022
6:46 p.m. ET, June 9, 2022
Ukrainian officials report dozens of civilians killed in Russian shelling
From CNN's Mariya Knight
Valentyn Reznichenko, head of Ukraine's Dnipropetrovsk region military administration, says the city of Kryvyi Rih, located in the central part of the country, is now under constant fire from Russian forces.
"The communities of Zelenodolsk and Shyrokiv suffer the most. Unfortunately, six people died there — 179 houses, two schools, a kindergarten and a hospital were destroyed or damaged," Reznichenko said.
Reznichenko said villages and towns in Kryvyi Rih are "littered with cluster munitions due to shelling" and there is a problem with gas, electricity and water supply.
Meanwhile, in Kharkiv, five people were killed and 14 were injured in Russian attacks, according to Oleh Syniehubov, the head of Khakiv's regional military administration.
"Today the enemy attacked Kharkiv region, in particular settlements in the northern and northeastern directions," Syniehubov said, adding that attacks hit residential buildings in Zolochiv.
"Five houses were destroyed. The enemy also struck at Chuhuiv district today,'' Syniehubov said Thursday in a live question and answer broadcast on Ukrainian national television.
Syniehubov said Ukraine's armed forces "hold their positions in the northern and northeastern directions."
When asked why the Russian military is shelling civilian infrastructure, even though there are no visible confrontations between Russian and Ukrainian armies in the Kharkiv region at the moment, Syniehubov replied that the Russian forces "concentrated their attention on the terror of the civilian population." 
6:30 p.m. ET, June 9, 2022
Fierce fighting continues in critical city of Severodonetsk, Ukrainian officials say
From CNN's Jonny Hallam
Ukrainian forces say the battle for the city of Severodonetsk continues to rage late on Thursday. 
"The situation is consistently difficult. Our defenders are holding the line of defense, leveling the line of defense," Serhiy Hayday, head of Ukraine's eastern Luhansk region military administration, said on national television.
"The fiercest fighting continues in Severodonetsk," Hayday said. The city has seen intense battles in recent days.
Hayday accused the Russians of using "lies and propaganda" in claiming victory in the Severodonetsk. 
While "the Russians had already reported that they had taken the city," the official said, Russian forces had withdrawn some of their units.
Oleksandr Striuk, head of Severodonetsk's military administration, said on television on Thursday that there is "constant street fighting."
"The humanitarian situation in the city is critical. The bridge is under fire, so it is impossible to deliver goods. There is no water supply," Striuk said.
"The Ukrainian Armed Forces controls approximately one-third of the city now," he added, saying it will be "very difficult to liberate Severodonetsk [if it falls]." 
Hayday said there are no direct battles in the neighboring city of Lysychansk, but he accused Russian forces of heavily shelling the area. If Russian troops took control of Lysychansk and Severodonetsk, it would place all of the Luhansk region under Moscow's control.
Here's a look at the areas under Russian control: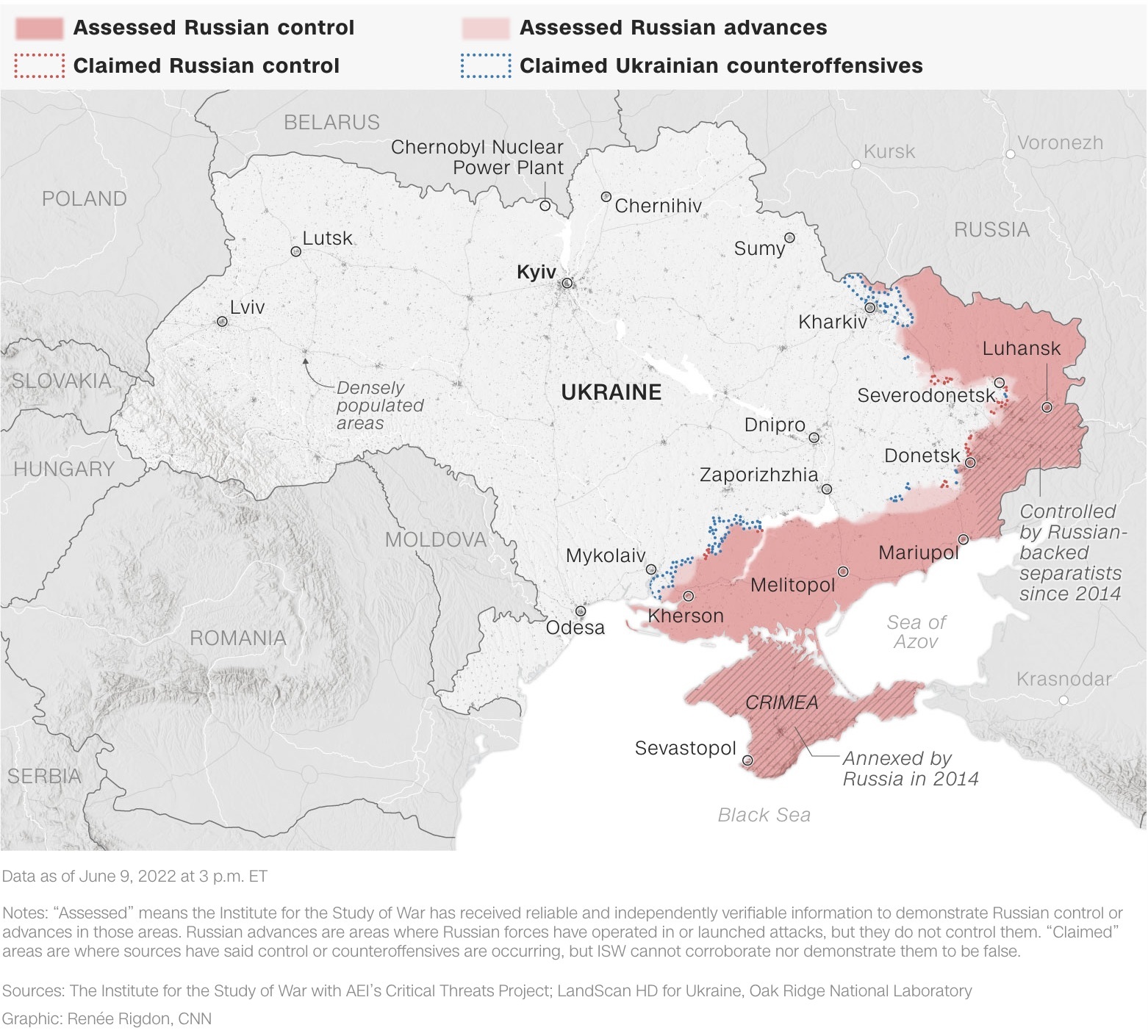 4:59 p.m. ET, June 9, 2022
In call with Zelensky, Macron says France "will remain mobilized to meet Ukraine's needs"
From CNN's Xiaofei Xu and Elise Hammond
Ukrainian President Volodymyr Zelensky and French President Emmanuel Macron discussed humanitarian and military support during a call Thursday, according to a statement from the French government, as troops continue to battle for a key eastern city.
Local Ukrainian officials say the city of Severodonetsk is now mostly controlled by Russian forces. Earlier in separate remarks, Zelensky said the region "remains the epicenter of the confrontation in Donbas."
According to the statement describing the nature of the call between Zelensky and Macron, the French president said his country "will remain mobilized to meet Ukraine's needs, including heavy weapons."
Macron also asked Zelensky about his needs "in terms of military equipment, political support, financial support and humanitarian aid."
The statement said the two leaders agreed to stay in touch, "especially in light of the opinion that the European Commission is going to deliver on Ukraine's application to join the European Union."
11:48 a.m. ET, June 9, 2022
UK government is "deeply concerned" by death sentences for British citizens by pro-Russian court
From CNN's Zahid Mahmood in London
The UK government is "deeply concerned" with the sentencing of British citizens by a pro-Russian court, the British prime minister's deputy spokesperson said Thursday in a statement to CNN.
A court in the self-proclaimed Donetsk People's Republic on Thursday sentenced to death three men — British citizens Aiden Aslin and Shaun Pinner and Moroccan national Brahim Saadoune — that it has accused of being "mercenaries" for Ukraine, according to Russian state media outlet RIA Novosti.
"We've said continually that prisoners of war shouldn't be exploited for political purposes. Under the Geneva Convention, prisoners of war are entitled to combatant immunity, and they should not be prosecuted for participation in hostilities," the British spokesperson said. 
"We will continue to work with Ukrainian authorities to try and secure the release of any British national who was serving in the Ukrainian Armed Forces and who are being held as prisoners of war," according to the spokesperson.
Britain's Foreign Secretary Liz Truss said Thursday she "utterly condemns" the sentencing of Aslin and Pinner, calling them "prisoners of war."
"This is a sham judgment with absolutely no legitimacy. My thoughts are with the families. We continue to do everything we can to support them," she said on Twitter.
11:41 a.m. ET, June 9, 2022
Next year's harvest could be slashed by 40%, Ukrainian agriculture official says
From CNN's Chris Liakos
Next year's harvest in Ukraine could be cut by up to 40% due to the ongoing Russian invasion, Ukraine's Agrarian Policy and Food Deputy Minister Taras Vysotskyi told CNN Thursday.
"We have lost 25% of the arable area. In terms of volumes, of course, it is more. We anticipate that the harvest will be around 35% less than previous years, which means around 30 million tonnes less, 35-40% less, almost half of the previous year harvest," Vysotskyi said.
The deputy minister also said that an estimated 500,000 metric tons of grain have been stolen by Russia in territories controlled by Russian forces.
On Wednesday, Russian Foreign Minister Sergey Lavrov said that issues related to grain exports from Ukraine could be resolved, but Ukraine needs to de-mine the waters to ensure the safe passage of the ships.
Vysotskyi said Lavrov's remarks are not true.
"It's untrue. The problem is Russian military ships, it's not the case of Ukraine. So far, they don't allow safely really to keep the civilian ships move in and out of Ukrainian ports," he said, noting that until safety guarantees on behalf of international partners are received by Ukraine, "we can't talk about letting these ships out."
The mines could be cleared quickly, but for that to happen, the war needs to end or there has to be some form of ceasefire, he added.
"If we receive the victory and the war is ended, of course we can clear it quite quickly," he said, adding that the process physically is not complicated but it depends on other obstacles including the ongoing war.
"Ukraine is ready to fulfill all the obligations in order to supply necessary food for international food security. So the point is very clear, Russia should stop the war," he said.
Ukraine has also accused the Russians of placing mines in the Black Sea.
1:33 p.m. ET, June 9, 2022
2 Britons and Moroccan sentenced to death by pro-Russian court in self-proclaimed Donetsk People's Republic
From CNN's Jonny Hallam, Uliana Pavlova and Anna Chernova
A court in the pro-Russian self-proclaimed Donetsk People's Republic on Thursday sentenced three men to death that it has accused of being "mercenaries" for Ukraine, according to Russian state media outlet RIA Novosti.
British citizens Aiden Aslin and Shaun Pinner and Moroccan national Brahim Saadoune appeared in court on Thursday, where they were handed down the death penalty. 
The three men — all foreign fighters for the Ukrainian military — were captured by Russian forces in mid-April in Mariupol. 
Saadoune, Aslin and Pinner were sentenced to death and will be shot, according to RIA Novosti's reporting from the court in Donetsk.
The "head of the judicial board" in Donetsk said that the convicted men "can appeal the decision within a month," according to RIA Novosti.
One of the defendants' lawyers, Pavel Kosovan, said that his client would appeal the verdict, Russian state media TASS reported after the death penalty was handed down.
On Wednesday, Pinner, Aslin and Saadoune pleaded guilty to acts of "seizing power by force," state media reported at the time.  
"The relevant article of the Criminal Code of the DPR provides for the death penalty," according to RIA Novosti.
Aslin also pleaded guilty under the article "training in order to carry out terrorist activities," according to state media.
The so-called Donetsk People's Republic, a pro-Russian area in the east of Ukraine, is not an internationally recognized government; therefore, the court's decisions are not considered legitimate by the international community.
11:27 a.m. ET, June 9, 2022
European Central Bank to hike rates for the first time since 2011 as inflation hits new record
From Chris Liakos and Julia Horowitz
The European Central Bank (ECB) plans to raise interest rates from historic lows in order to counter record high inflation fueled by the war in Ukraine.
ECB kept rates unchanged in today's meeting but confirmed plans to hike rates when it next meets in July. It said today it is looking at a 0.25% increase next month.
"The Governing Council intends to raise the key ECB interest rates by 25 basis points at its July monetary policy meeting. In the meantime, the Governing Council decided to leave the interest rate on the main refinancing operations and the interest rates on the marginal lending facility and the deposit facility unchanged at 0.00%, 0.25% and -0.50% respectively. Looking further ahead, the Governing Council expects to raise the key ECB interest rates again in September," ECB said in an announcement Thursday adding that "beyond September, based on its current assessment, the Governing Council anticipates that a gradual but sustained path of further increases in interest rates will be appropriate."
The announcement comes as annual inflation among the 19 countries that use the euro reached 8.1% in May, an all-time high.
"High inflation is a major challenge for all of us. The Governing Council will make sure that inflation returns to its 2% target over the medium term," said ECB.
The European Central Bank also significantly cut its eurozone growth outlook compared to its March projections. It now expects annual real GDP growth at 2.8% in 2022 and 2.1% in 2023. In its March meeting it had projected that the economy would grow at 3.7% in 2022 and 2.8% in 2023.
"Russia's unjustified aggression towards Ukraine continues to weigh on the economy in Europe and beyond. It is disrupting trade, is leading to shortages of materials, and is contributing to high energy and commodity prices. These factors will continue to weigh on confidence and dampen growth, especially in the near term," said ECB. "Once current headwinds abate, economic activity is expected to pick up again."
8:46 a.m. ET, June 9, 2022
Russia has started paying Mariupol pensioners in rubles, according to Ukrainian official
From CNN's Julia Presniakova and Mick Krever
Russian forces in Mariupol have begun paying pensions in Russian rubles, using cash, an adviser to that city's Ukrainian mayor said on Thursday.
"It is now known that the occupiers have already delivered trucks with cash," Petro Andrushchenko said on national television. "Russian pensions are being handed to pensioners in Russian rubles – which shows very well what the Russian economy is, that such a sum of money can be stupidly brought in cash and start handing out."
"But you understand what's going on there: Huge queues, fights, scandals, because of the heat, because there is no organization really. That is, no process is organized," he said.
Andrushchenko is not in the city but has been a reliable conduit for information from Mariupol.
Russian state news agency RIA Novosti has reported that around 46,000 applications for pension payments have been received, and that the self-declared Donetsk People's Republic has begun paying out those benefits.
Andrushchenko said that those figures can "more or less" be trusted.
"But we must add another 20 to 30 percent of our elderly Mariupol people who do not accept the occupation and deliberately did not submit documents, and another 5 percent who could not physically come and submit documents. This is a critical amount for the city in which it is located," he said.