June 13, 2022 Russia-Ukraine war news
2:59 a.m. ET, June 14, 2022
6:13 p.m. ET, June 13, 2022
Battle for Donbas is "one of the most brutal battles in and for Europe," Zelensky says
From CNN's Victoria Butenko and Jen Deaton
The battle for the Donbas region in eastern Ukraine "will surely go down in military history as one of the most brutal battles in Europe and for Europe," Ukraine's President Volodymyr Zelensky said in his nighty address on Monday.
This comes after Ukrainian military officials earlier in the day said their troops had been pushed back from the Severodonetsk city center, which along with its twin city Lysychansk, is at the heart of the current battle for what's still in Ukrainian control in the Luhansk region in Ukraine's eastern Donbas.  
Officials also said three key bridges linking Severodonetsk to Lysychansk are now impassable to vehicles, meaning supply routes in and evacuations out via those routes are impossible.
Zelensky said Ukrainians face the "significant advantage of the Russians in the amount of equipment, and especially — artillery systems."
"The price of this battle for us is very high. It's just scary. And we draw the attention of our partners on a daily basis to the fact that only a sufficient number of modern artillery for Ukraine will ensure our advantage and finally the end of Russian torture of the Ukrainian Donbas," he added.
Zelensky said a boy was killed on Monday by Russian shelling in the battle for Lysychansk.
"This is it: a six-year-old boy on Moskovska Street is also, as it turned out, a dangerous enemy for the Russian Federation," he said.
5:23 p.m. ET, June 13, 2022
All 3 bridges into Severodonetsk are now impassable, Luhansk region leader says
From CNN's Julia Presniakova, Yulia Kesaieva, Jen Deaton and Mick Krever
All three bridges connecting the embattled city of Severodonetsk with its twin city Lysychansk to the west, are now impassable for vehicles, severely limiting evacuation options for those trying to flee the city and supply routes in, according to Serhiy Hayday, head of the Luhansk region military administration.
"The bridges made it possible to carry at least some humanitarian cargo, something related to reserves. It is currently impossible to use the bridges," Hayday said.
A second of three bridges were destroyed over the weekend. Hayday's office explained that the third bridge, which has come under sustained shelling, is now impassable for vehicles.
The destruction of the bridges gives the Russian military another advantage since supply lines are interrupted, Hayday said. Getting in weapons and reserves is now "difficult, but not impossible," he said.
Hayday said that travel between Severodonetsk and Lysychansk was still possible, but did not go into detail for security reasons.
"Lysychansk is already being shelled very powerfully, with a heavy caliber [weapons], they are destroying everything: both humanitarian headquarters and hospitals. But from Lysychansk there is still an opportunity to evacuate people and pick up humanitarian goods every day," he said.
Hayday also said of Severodonetsk that Russian forces "really control most of the city," estimating about 70% to 80%.
But he denied claims by the self-declared Luhansk People Republic (LPR) that Severodonetsk has fallen, saying "this is not true."
"Part of the city is still controlled by Ukrainian defenders. If they had complete control of the city, Russian soldiers would not have died there," Hayday said.
Hayday also said that even if Ukrainian forces won back the city, it would be impossible to "restore the infrastructure completely before the winter. The only possible thing is to put radiators that will keep the temperature warm in the tents. And yes, everything is broken. With water, with electricity — there will be huge problems with everything."
11:41 a.m. ET, June 13, 2022
"High-intensity hostilities" continue in Severodonetsk, Ukrainian official says
From CNN's Julia Presniakova in Lviv and Jen Deaton
Intense fighting continues inside Severodonetsk, one of the last holdouts for Ukraine in the Luhansk region, and more widely, the entirety of the country's eastern Donbas, Ukraine's Ministry of Defense spokesperson Oleksandr Motuzianyk said in a briefing Monday.
"High-intensity hostilities" continue in Severodonetsk, where Ukrainian troops fight to repel Russia's advances, Motuzianyk said. 
Russian forces already in control of the city center are "actively using artillery, multiple rocket systems," he added.
He said that Russia's advantage is their airpower, which is why they are advancing, adding that Russia is losing troops in armed combat.
In terms of the street fighting happening in Severodonetsk, Russian forces are trying to encircle Ukrainian troops, but "the enemy is suffering significant losses in the infantry units of the Russian Guard and the Russian armed forces. And they are advancing only by using assault aircraft," Motuzianyk said.
Earlier Monday, the Armed Forces of Ukraine said that Russia had pushed Ukrainian forces back from the city center.  
10:17 a.m. ET, June 13, 2022
Russian missiles fired on Chernihiv region prompt evacuations, Ukrainian officials say 
From CNN's Yulia Kesaieva in Kyiv
Russian forces fired three missiles on Pryluky district in Ukraine's northern Chernihiv region, forcing evacuations of some residents due to the fear of fire spreading, according to officials. 
A still image of the aftermath showed a massive, black plume of smoke rising above the skyline.
"At about 1:15 p.m., the occupiers fired three missiles at Pryluky in the Chernihiv region," Ukraine's Operational Command "North" said in a statement on Facebook.
Evacuations have been announced for the villages of Zaiizd, Petrivske, Tykhe and Sukhostavets of Pryluky district.
"The reason for that is the threat of fire spreading," said Serhii Boldyrev, director of the Department of Civil Defense of the Chernihiv Regional State Administration, told Ukraine's public broadcaster.
While there are no known casualties, the Chernihiv region has not been a regular target of Russian strikes or shelling recently. 
In March of this year, Chernihiv "suffered great losses," specifically the city of Chernihiv, after coming under sustained Russian attack leaving scores dead.  
Chernihiv was then occupied by Russian forces, but they withdrew in April. 
7:54 a.m. ET, June 13, 2022
Ukrainian military spokesperson derides "complacency" of Western donor countries
 From Oleksandra Ochman and Mick Krever
 The spokesperson for the Ukrainian military's international legion on Monday derided a "sense of complacency" among Ukraine's military patrons, saying that the country needed far more support if it is to defeat Russia's invasion.
"There's a certain sense of complacency that seems to have fallen over our western partners that the arms deliveries that Ukraine has been already provided with are somehow enough to win the war," said Damien Magrou, spokesperson for the International Legion for the Defense of Ukraine, during a press conference.
"They are not! They do not come near anything that would be close to enabling us to defeat the Russians on the battlefield."
Magrou said that Ukraine's long-range artillery capability was severely lacking.
"Please keep sending heavy artillery, heavy weapon systems, long-distance rockets, anti-ship rockets. All of these things are needed today on the battlefield. They also were needed yesterday. The longer we wait, the more deaths there will be. And these deaths will be not only of Ukrainian armed forces but also our legioners," he added.
7:38 a.m. ET, June 13, 2022
"Arbitrary arrest" of anti-war protesters in Russia "worrying" says UN Human Rights Commissioner
From CNN's Benjamin Brown in London
The United Nations High Commissioner for Human Rights Michelle Bachelet has called the "arbitrary arrest of a large number of anti-war protesters" in Russia "worrying."
Speaking at the UN's Human Rights Council session in Geneva Monday, Bachelet added that Russia had introduced "new criminal law restrictions" that included "general prohibitions on the dissemination of information based on vague and ambiguous notions, including 'false news' or 'non-objective information.'"
I also regret the increase in censorship and restrictions on independent media," Bachelet, a two-time former Chilean president, told the session.
Bachelet had earlier told diplomats that "the war in Ukraine continues to destroy the lives of many, causing havoc and destruction" and the "horrors inflicted on the civilian population will leave their indelible mark, including on generations to come."
7:00 a.m. ET, June 13, 2022
It's 2 p.m. in Kyiv. Here's the latest on the war in Ukraine
Russia could encircle Severodonetsk within days and plans to "completely cut off" the key eastern city, according to Ukrainian military officials, who warn that Russia has pushed Ukrainian forces back from the center of the city.
Here are the latest headlines on the war in Ukraine:
The battle for Luhansk: The Luhansk region in eastern Ukraine is at the epicenter of the conflict with much of the area already under Russian control. The focus of the fighting is on the twin cities of Severodonetsk and Lysychansk. 
Russia has pushed Ukrainian forces back from the center of Severodonetsk, the Armed Forces of Ukraine (AFU) said Monday morning.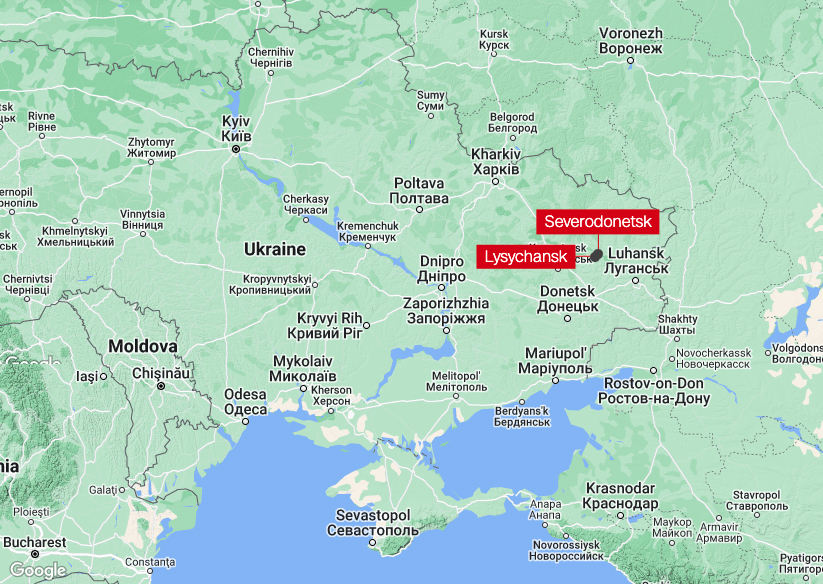 "The enemy, with the support of artillery, carried out assault operations in the city of Severodonetsk, had partial success, pushed our units away from the city center, and hostilities continue," said the AFU.
Russia was seeing success "due to a significant advantage in artillery," said Serhiy Hayday, head of the Luhansk region military administration, via Telegram.
IAEA says Russian-occupied Ukrainian nuclear plant has re-started remote data transmission: The International Atomic Energy Agency (IAEA) said on Sunday that it is once again getting remote data transmission from the Zaporizhzhia nuclear power plant, which is currently in Russian-held territory. The transmission of "vital safeguards data" from the plant was cut on May 30 and restored on Sunday, the IAEA said.
Amnesty accuses Russia of war crimes in Kharkiv: Amnesty International has accused Russia of war crimes during its efforts to capture the north-eastern Ukrainian city of Kharkiv. In a new 40-page report, Amnesty has documented the alleged use of cluster munitions and other indiscriminate means of attack. The United Nations Convention on Cluster Munitions, which came into force in 2010, bans the use of cluster munitions. Russia is not party to the treaty (neither is the United States).
Ship carrying Ukrainian corn arrives at port in northwestern Spain, officials say: A ship carrying 18,000 tons of Ukrainian corn arrived early Monday at a port in northwestern Spain, using what a regional animal feed producers group described as a "new maritime route" that aims to avoid Russia's blockade of Ukraine's ports on the Black Sea.
The cargo ship Alppila, carrying the corn, arrived at Spain's port of A Coruña before dawn on Monday and is due to be unloaded by Tuesday, the port's press office told CNN. Russia's war in Ukraine could push up to 49 million people into famine or famine-like conditions because of its devastating impact on global food supply and prices, and countries are scrambling to find a way around the blockade. On Sunday, a Ukrainian government official told Reuters Ukraine has identified alternate routes to export grain stores. 
6:22 a.m. ET, June 13, 2022
French president has no "fixed" plans to visit Ukraine
From CNN's Joseph Ataman in Paris
French President Emmanuel Macron has no firm plans to make a wartime visit to Ukraine, the Elysee Palace said Monday.
"The President said he would visit Ukraine at the appropriate moment. Several options are being studied, nothing is fixed at this stage," the Elysee said.
Unlike several European leaders, Macron hasn't visited Ukraine since the Russian invasion began on February 24. The French president, who is currently chairing the European Union Council, has repeatedly said that he will travel to Ukraine when it is "useful."
Macron visited Kyiv on February 8 as part of efforts to de-escalate tensions around Ukraine.
EU Commission President in Ukraine: European Commission President Ursula von der Leyen returned to Kyiv on Saturday to meet with Zelensky and discuss Ukraine's EU membership progress.
"As you know the Commission is currently preparing the recommendations of so-called opinion for the EU member states," she said in Kyiv. "We have been working day and night on this assessment and I promise to you in April dear Volodymyr that we will be tirelessly working on it. So, the discussions today will enable us to finalize our assessment by the end of next week."