Russian President Vladimir Putin said Friday that Russia has "nothing against" Ukraine joining the European Union. 
"The EU is not a military-political bloc, unlike NATO, therefore we have always said and I have always said that our position here is consistent, understandable, we have nothing against it," Putin said during a panel discussion following his speech at the St. Petersburg International Economic Forum. 
"It is the sovereign decision of any country to join or not to join economic associations, and it is up to this economic association to accept new states as its members or not. As far as it is expedient for the EU, let the EU countries themselves decide. Whether it will be for the benefit or to the detriment of Ukraine is also their business," Putin said. 
"This is the business of Ukrainian people and the Ukrainian current leadership, but the structure of the Ukrainian economy is such that it will require very large subsidies. Well, if you do not protect the internal market, Ukraine will turn into such a semi-colony, in my opinion. But, at the same time, it will receive quite significant support for current expenses. It is unlikely that this will lead to the restoration of the lost aircraft industry, shipbuilding and the electronics industry," he added. 
More context: Ukraine's bid to join the European Union received a major boost on Friday morning, after the European Commission's President Ursula von der Leyen said the bloc believed the country should be formally considered for candidate status in the wake of Russia's invasion.
Speaking in Brussels, von der Leyen said the commission recommends "that Ukraine is given candidate status," adding that "this is of course on the understanding that the country will carry out a number of further reforms."
The Kremlin said Friday's development about possible EU candidate status required Moscow's "increased attention."
"We all know about the intensification in Europe and discussions about strengthening the defense component of the EU. Therefore, there are different transformations that we observe," spokesperson Dmitry Peskov said during a daily call with reporters.
Russia has lambasted the intention of Finland and Sweden, both EU member states, to join NATO due to the war in Ukraine. Russian Deputy Foreign Minister Sergei Ryabkov said that the move would be a "mistake" with "far-reaching consequences," according to state news agency TASS.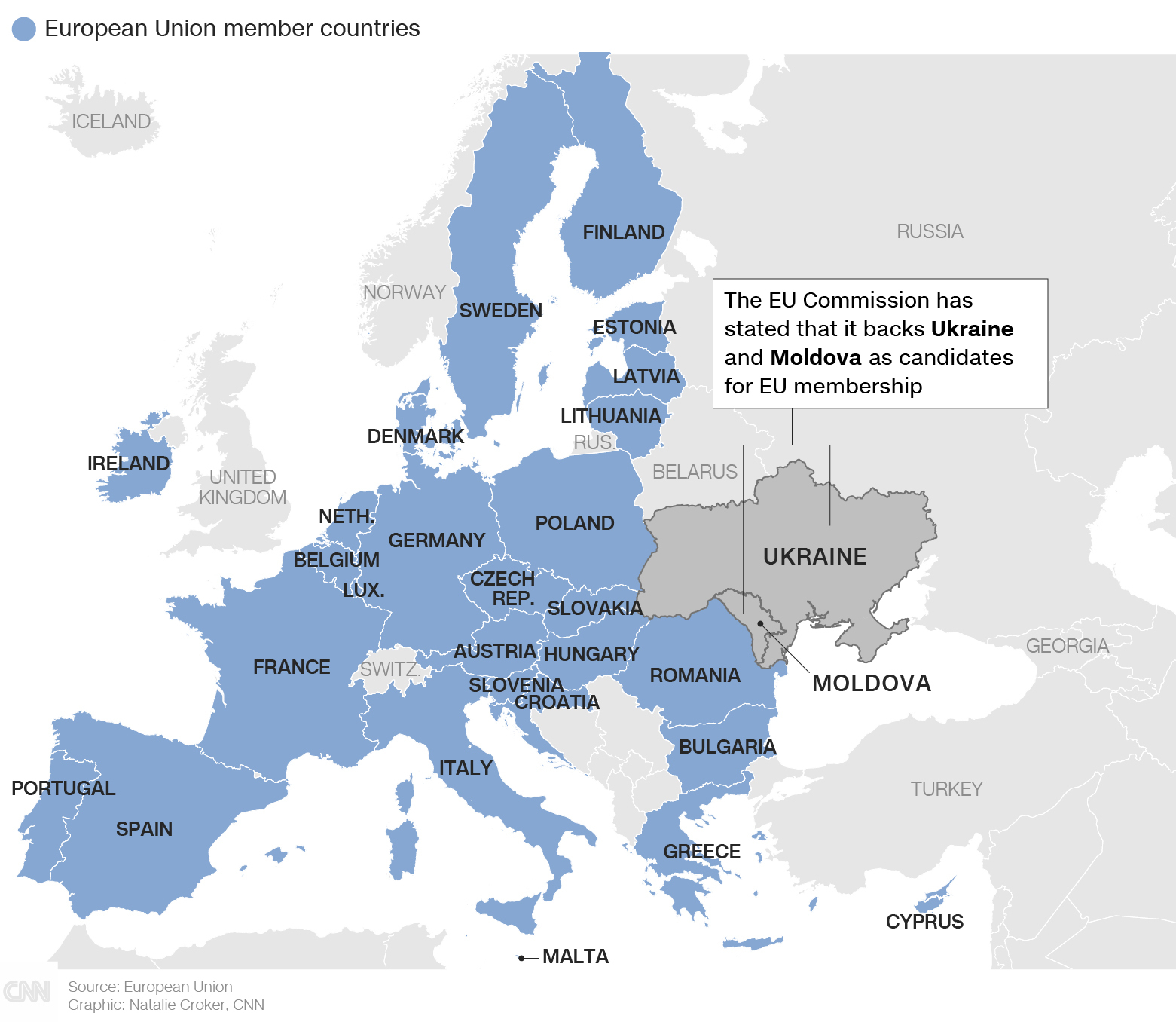 CNN's Luke McGee contributed reporting to this post.