June 17, 2022 Russia-Ukraine news
7:00 p.m. ET, June 17, 2022
Follow the latest news on Russia's war in Ukraine here and read more about today's developments in the posts below. 
6:25 p.m. ET, June 17, 2022
Key things to know about Ukraine's bid to join the EU 
Analysis from CNN's Luke McGee
The European Union Commission said on Friday that Ukraine should be considered a candidate state. It is now up to the 27 EU member states to decide whether or not they agree with the Commission's opinion.
Here are key things to know about Ukraine's bid to join the EU:
What is the process for becoming a part of the EU? On paper, the process is relatively straightforward. A country applies and the Commission gives a verdict on whether or not it should be considered for candidacy. As is likely to be the case with Ukraine, the Commission will probably present a few ways for member states to go about accepting a new candidate.
As European Commission President Ursula von der Leyen made clear on Friday, Ukraine will still have to meet a series of criteria before proper accession negotiations can begin, even if the EU 27 agree to accept its candidate status next week.
The Copenhagen Criteria is a fairly opaque trio of requirements that the EU must be satisfied a candidate state has met in order to enter the proper accession negotiations. They focus on whether or not that country has a functioning free-market economy, if the country's institutions are fit to uphold European values such as human rights and the EU's interpretation of the rule of law and whether the country has a functioning, inclusive democracy.
Once the country has deemed to have met this criteria, they can begin the EU's 35 chapters of negotiation, the final three of which return to some areas of the Copenhagen Criteria.
Then, when the leaders of the EU member states have agreed, it must then be ratified in the EU Parliament and by the legislative branches of each member state's government.
How do EU countries feel about Ukraine joining the EU? This is where it starts to get complicated. While the EU and its 27 members have broadly supported Ukraine in its war effort, having a country that's currently at war start the accession process raises all sorts of issues.
There are a number of candidate states that have been in the accession process for years, and have in some cases had their accession slowed down because of domestic political instability. One example of this is the case of Turkey, whose application has been essentially frozen following fears over a backslide over the rule of law and human rights. Starting the process with a country currently at war will raise questions from other candidate states who have had their applications similarly frozen.
There are also real concerns that Ukraine is a long way from meeting the Copenhagen Criteria any time soon. According to Transparency International's 2021 Corruption Perceptions Index, Ukraine is 122nd on its list of 180 countries. For comparison, Russia sits in 136th place. Given that parts of Ukraine are currently occupied by Russia and could be long after the war is over, it is hard to predict if this improves or worsens in the coming years. Some EU officials have also expressed fears that after the war, it is hard to tell what human rights will look like inside Ukraine.
How long would it take? It really depends on what state Ukraine is in when war ends. It seems highly unlikely that Ukraine will be anywhere near meeting the criteria to even start negotiations for a significant period of time after the end of the war. Aside from the rebuilding project, Ukraine will have to make the transition from a country operating under various degrees of martial law and curfews to a functioning democracy.
The average time for a country to join the EU is four years and 10 months, according to the London think tank, UK in a Changing Europe. Member states that might be considered a sort of blueprint for Ukraine's membership — Bulgaria, Romania, Poland, Slovenia -- were all over the average wait time.
What would joining the EU mean for Ukraine? Ukraine would be a member of the world's largest trading bloc, the EU's single market and customs union, and would have the protection of EU courts and access to the EU budget.
Joining the EU would also place Ukraine very clearly in the club of countries that are considered to be part of the Western alliance and US-led world order.
Read more about Ukraine's bid here and see a map below of the current EU members countries: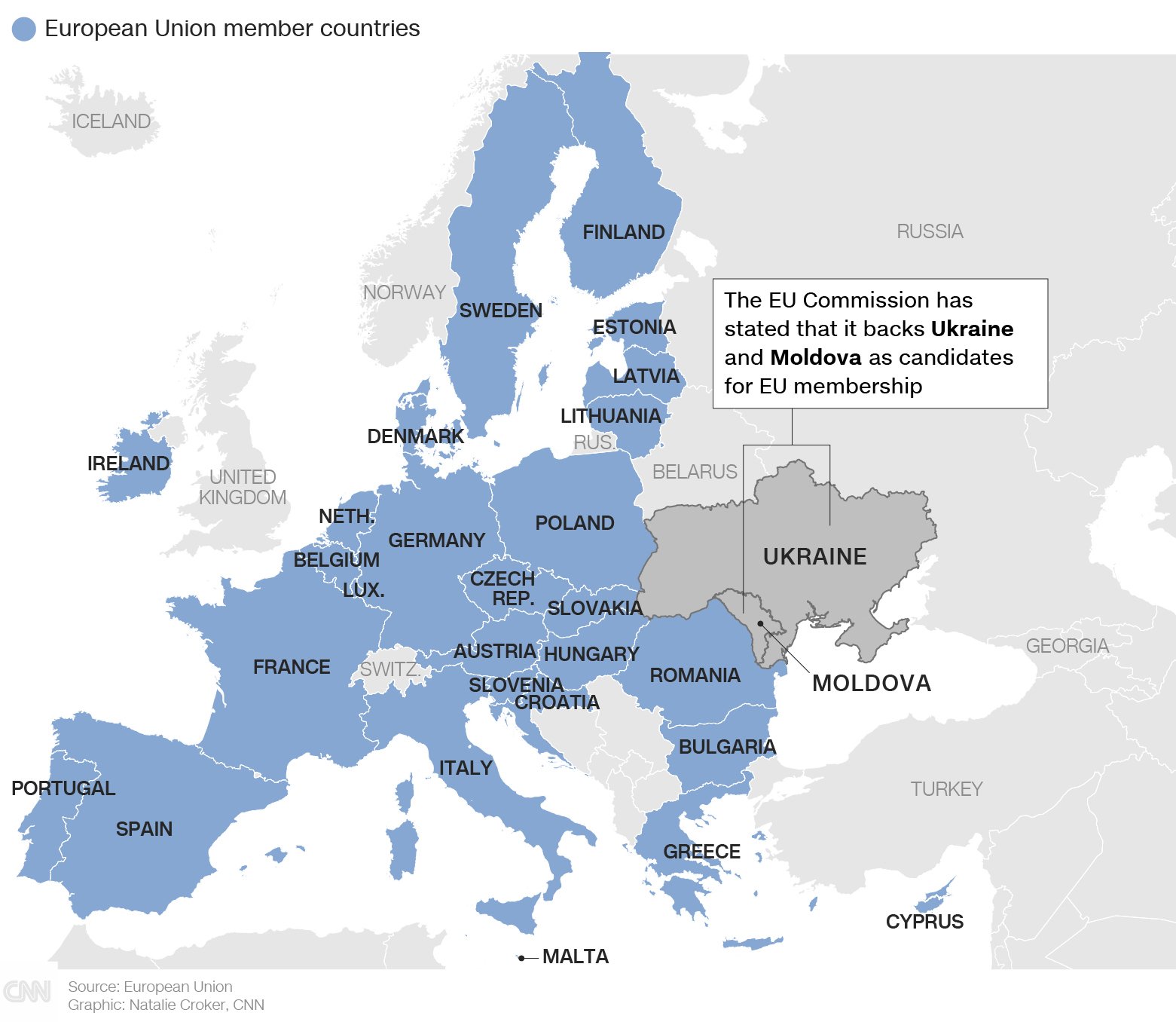 6:51 p.m. ET, June 17, 2022
Exclusive: Former US serviceman in Ukraine describes battle where American fighters were reportedly captured 
From CNN's Sarah El Sirgany and Maija-Liisa Ehlinger 
Speaking exclusively to CNN's Sam Kiley, a former US serviceman fighting with Ukrainian forces recounted the battle he witnessed on June 9 where American volunteer fighters Alexander John-Robert Drueke and Andy Tai Ngoc Huynh were reportedly captured by Russian forces. 
The man, who asked to be identified with the code name "Pip," said his team was sent out on a mission east of Kharkiv where a full scale Russian armored assault was underway.
Drueke and Huynh fired a rocket-propelled grenade (RPG) at a BMP vehicle that was coming through the woods and destroyed it. But the team had to quickly withdraw as more than 100 Russian infantry began advancing and the American fighters found themselves in a village they previously thought was in Ukrainian hands. 
When asked about what happened to Drueke and Huynh, Pip said that "we suspect they were knocked out by either the T-72 tank shooting at them or by the blast of the mine. This is only speculation we don't know what really happened to them." 
A photo of the two men emerged Thursday with their hands tied behind their back and in the back of a Russian truck. 
"I know for a fact that Andy and Alex did not come here for money, they did not come here for glory. They came here with a firm belief that Ukraine as a blossoming democracy needs help," Pip told Kiley during the interview.
"As far as I'm aware, we're paid about the same if not exactly the same as a Ukrainian soldier who is on the front... And money is certainly not my motivation for being here. And I know that it's not Andy's and it's not Alex's either," he continued.
More background: On Wednesday, CNN reported that Drueke, 39, from Tuscaloosa, Alabama, and Huynh, 27, from Hartselle, Alabama, had been missing for nearly a week and there were fears that they may have been captured by Russian forces, according to their families and a fellow fighter. Drueke and Huynh had been fighting alongside Ukrainian forces north of Kharkiv.
CNN on Thursday reported a third American whom the State Department had identified as missing in action in Ukraine was US Marine veteran Grady Kurpasi. He served in the US Marine Corps for 20 years, retiring in November 2021.
US President Joe Biden said Friday he has been briefed on the three Americans who have gone missing in Ukraine. In brief remarks to reporters as he left for a weekend on the beach in Delaware, Biden said repeatedly Americans should not travel to Ukraine at this time.
"We don't know where they are, but I want to reiterate: Americans should not be going to Ukraine now," Biden said in response to a question from CNN's MJ Lee at the White House.
State Department spokesperson Ned Price said the department is in contact with the families of the missing Americans as well as Ukrainian authorities and the International Committee of the Red Cross.
The US State Department on Thursday told the family of one of the Americans missing in Ukraine that there is potential evidence Drueke was captured, but could not verify the photo at the time, Bunny Drueke, Alexander's mother, told CNN.
On Friday, videos surfaced on pro-Russian channels and social media appearing to show Drueke and Huynh detained at an unknown location. It is not clear who is holding them.
Price said Thursday the US was not in contact with Russia about the reportedly captured American citizens because they do not yet have "credible reason" to believe the Russians have captured them and also because Russia has not claimed to have captured them.
On Friday, Kremlin spokesperson Dmitry Peskov told CNN that he does not know anything about the two American fighters. CNN has repeatedly reached out to Russia's ministry of defense for comment but has not yet received a response.
Read more here.
CNN's Kate Sullivan and Jonny Hallam contributed reporting to this post. 
6:40 p.m. ET, June 17, 2022
German Chancellor Scholz says it is "absolutely necessary" to continue speaking to Putin
From CNN's Inke Kappeler and Arnaud Siad
German Chancellor Olaf Scholz said Friday that it is "absolutely necessary" to continue speaking to Russian President Vladimir Putin.
In an interview with dpa news agency, Scholz said: "It is absolutely necessary to speak to Putin. And I will continue to do so, as the French President will also."
"And there are some countries needed and some leaders needed that speak with him. And it is necessary that they are clear because when I speak to Putin, I say, for instance, the same things I said to you: Please understand that there will be not dictate(d) peace," Scholz said.
"And if you really believe that you will rob some land and then hope that the times will change and all the things will become normal again, this is a mistake. You have to withdraw your troops and you have to find an agreement with Ukraine which is acceptable and right for the people of Ukraine," the Chancellor added.
6:15 p.m. ET, June 17, 2022
CNN speaks with Ukrainians sheltering without power or water in eastern cities destroyed by war
Conditions are becoming more dire for Ukrainians living in the eastern part of the country, CNN's Ben Wedeman reports. The city of Lysychansk is on the front lines of the war, and civilians have been left living in a city that has been destroyed.
They have been in the line of fire for months and now have no gas, power or water, Wedeman reports. Dozens of people are sheltering in the basement of a school and cooking food over a fire.
"I'm alone," one 82-year-old woman named Masha who spoke to CNN said. "My legs are tired. I can't go anywhere."
Another woman, Lydumila, said she's leaving: "I can't take these sounds anymore."
"We thought it would calm down, but it only gets worse and worse," she said.
Residents line up for unfiltered water so they can wash and flush toilets. The war in Ukraine has now dragged on for almost four months and people are frustrated.
"Where's our mayor? Where's our governor? They should have come here at least once," Mykola, a Lysychansk resident, said.
The city is still under attack. A building that was serving as a shelter was hit, killing three people, Wedeman reports, before running out of the way to avoid more shelling close by.
One woman said she and her husband were in that building when it came under attack. She told CNN her husband was crushed under the rubble and now all she can do is wait for a ride to see him at a hospital.
Watch Ben Wedeman's report:
2:42 p.m. ET, June 17, 2022
Analysis: Why Ukraine's longshot bid to join the EU has been a contentious issue for years
Analysis from CNN's Luke McGee
Four days after Russian forces invaded Ukraine and started a bloody war that shows no signs of ending soon, Ukrainian President Volodymyr Zelensky officially applied for the country to join the European Union.
On the same day, Feb. 28, he asked that the EU "urgently admit Ukraine using a new procedure … Our goal is to be with all Europeans and, to be equal to them. I am sure we deserve it. I am sure it is possible."
Nearly four months later, the EU Commission said on Friday that Ukraine should be considered a candidate state. It is now for the 27 EU member states to decide whether or not they agree with the Commission's opinion.
The question of whether or not Ukraine should join the EU and how Russia would react has been a contentious issue for years. In 2013, pro-European protests erupted after former Ukrainian president Viktor Yanukovych made a sudden decision to not sign an agreement with the EU that would pull Ukraine further into the EU's orbit. Instead, he opted to pursue closer ties with Putin's Russia.
The following year, Russia invaded Donbas and illegally annexed Crimea.
While most European nations are firmly behind Ukraine and have, to varying degrees, aided Zelensky in his war efforts, it's far from certain that his wish will be granted.
For political and procedural reasons, it is possible that the EU ultimately decides that now is not the right time. And even if they did agree with European Commission President Ursula von der Leyen's opinion that Ukraine should be considered for membership, it could take years, even decades, for it to become a reality.
Here's why:
1:10 p.m. ET, June 17, 2022
UK offers "major training program" to Ukrainian military forces
From CNN's Arnaud Siad and Sarah Dean
The United Kingdom has offered Ukrainian military forces to take part in a "major training program" that would "fundamentally change the equation of the war," Downing Street announced Friday in a statement amid Prime Minister Boris Johnson's visit to Kyiv.
"As Ukrainian soldiers fire UK missiles in defense of your nation's sovereignty, they do so also in defense of the very freedoms we take for granted. That is why I have offered President Zelensky a major new military training program that could change the equation of this war – harnessing that most powerful of forces, the Ukrainian determination to win," Boris Johnson is quoted as saying in the statement. 
"Two months on from my last visit, the Ukrainian grit, determination and resilience is stronger than ever, and I know that unbreakable resolve will long outlive the vain ambitions of President Putin," he added.
According to Downing Street, the program has the potential to train up to 10,000 soldiers every 120 days, with each soldier spending three weeks on the training course outside of Ukraine, learning battle winning skills for the front line, as well as basic medical training, cyber-security and counter explosive tactics.
Ukraine has yet to accept the offer.
12:53 p.m. ET, June 17, 2022
Putin says restoration of relations with Ukraine is "inevitable"
From CNN's Radina Gigova
The restoration of Russia's relations with Ukraine is "inevitable," Russian President Vladimir Putin said Friday at a plenary session at the St Petersburg International Economic Forum.
"We proceed from the fact that sooner or later the situation will normalize, and we are interested in prosperity for all our neighbors, then it is inevitable," Putin said commenting on Ukraine's possible accession to the European Union.
"I want this to be clear, restoration of relations is inevitable," he stressed. 
More context: CNN reported earlier this month that US officials had been meeting regularly with their British and European counterparts to discuss potential frameworks for a ceasefire and for ending the war through a negotiated settlement, according to multiple sources familiar with the talks.
These officials told CNN that there is a growing concern that if the Russians and Ukrainians don't get back to the table and work out a deal, the war will drag on — potentially for years.
It's not clear whether these discussions will translate into eventual settlement talks. The Biden administration still sees no real prospect for any diplomatic breakthroughs or ceasefires anytime soon and two NATO officials said that the western alliance sees little appetite to negotiate on the Ukrainian side — in part because of Russia's brutal bombing campaign and myriad human rights violations have destroyed public support for any concession to Russia.
Moscow has also shown little interest in serious talks, officials say. Right now, Ukraine remains focused on ensuring a decisive military victory in the east and the south in order to put themselves in a superior negotiating position, these sources said.
CNN's Natasha Bertrand, Katie Bo Lillis, Barbara Starr and Jeremy Herb contributed to this report
12:42 p.m. ET, June 17, 2022
Zelensky on Boris Johnson: "We have a common view on how to move towards victory"
From CNN's Julia Presniakova and Jonny Hallam
Ukrainian President Volodymyr Zelensky on Friday said he and British Prime Minister Boris Johnson, "have a common view on how to move towards victory" in Ukraine's war against the Russian invasion.
"We discussed the current situation on the front line, in our east, in the south of our state, in detail, our capabilities in protecting our country from Russian occupation," Zelensky said at a joint news conference in Kyiv with Johnson, who made his second surprise visit to Ukraine. 
"In particular, we talked about the need to increase the supply of heavy weapons. The main thing today is to provide air defense for Ukraine as well. We begin to move in this direction. Russian missiles remain a threat to our people, to the entire territory of Ukraine. The vast majority of Russian missile strikes are conducted by the Russian army on ordinary people, on civilian infrastructure — housing, schools, hospitals, universities, transport," Zelensky added.
The Ukrainian president said the two leaders also discussed Ukraine's need of economic and financial support.
"This is not only finances, we also have a shortage of fuel due to the bombing of our refinery, our reserves by the Russian Federation. We also talked about a difficult issue — to ensure preparation for the heating season. I am grateful to Boris for his willingness to help our state," he told reporters.
The two leaders also discussed increasing sanctions pressure on the Russian Federation.
"We can make sanctions so that Russia really feels that its aggression, its terrorist actions against Ukraine and against global stability will lead to losses for Russia itself," he said. "The aggressor must pay the highest price for this aggression, for this war."