June 20, 2022 Russia-Ukraine news
12:00 a.m. ET, June 21, 2022
2:35 p.m. ET, June 20, 2022
Luhansk military head: Russian army has enough firepower to launch a "large scale offensive" on Severodonetsk
From CNN's Sebastian Shukla
Russian forces attacking the key city of Severodonetsk, in the Luhansk region of Eastern Ukraine, have enough reserved to launch a large-scale offensive, the head of the region's Military, Serhiy Hayday, said.
Speaking on Monday evening, Hayday said that dozens of pieces of Russian heavy military equipment had been brought into the region and were already deployed on the battlefield.
In the city itself, Hayday said that fighting is underway in the industrial area, but that "most of the city is under control [of Russian army]. Now the Ukrainian military controls only the industrial zone and the territory of the Azot plant."
Hayday also provided an update on the fighting in the neighboring town of Lysychansk. He said that there was fighting along the highway between Lysychansk and Bakhmut and that all the towns in that area are being shelled and that Lysychansk "had been shelled almost all day" on Monday. 
1:56 p.m. ET, June 20, 2022
Ukraine's deputy defense minister calls fight for Luhansk region "very difficult" and "dynamic"
From CNN's Sebastian Shukla
Ukraine's Deputy Defense Minister Hanna Maliar said on Monday that "the struggle is very difficult" in the eastern Luhansk region, and that making any predictions are "extremely difficult" given the "dynamic" nature of the fighting.
She added that information is changing rapidly "every half an hour the situation changes." She said that unless either Ukrainian or Russian forces are in total control of a town or village border, "it is impossible to say what the situation is."
On the battle for Severodonetsk, Mailar said that she was not going to make any predictions as to the outcome of the battle for the key strategic city in Luhansk region. 
Maliar also went on to say that Russian forces in the region have an advantage in number of personnel and weapons.
11:53 a.m. ET, June 20, 2022
Biden says it's "not likely" he'll visit Ukraine on Europe trip
From CNN's Allie Malloy
US President Joe Biden said Monday he is "not likely" to visit Ukraine when he travels to Europe this weekend.
"That depends," Biden said when asked if he was still planning to visit Ukraine, adding he doesn't want to "cause more difficulty for Ukrainians."
Asked again if he was expected to travel there while he's in Germany and Spain for the G7 and NATO summits, Biden said: "On this trip, not likely."
Biden has not visited Ukraine since the country has been under Russian invasion. Instead, he has sent US Secretary of State Antony Blinken and US Secretary of Defense Lloyd Austin, as well as first lady Jill Biden. 
On whether he's confident Ukraine will become a member of the European Union, Biden told reporters he thinks it's "very likely" to happen.
12:37 p.m. ET, June 20, 2022
Africa has been "taken hostage" by Russia's war against Ukraine, Zelensky says
From CNN's Anastasia Graham-Yooll
Addressing the African Union Commission via video link on Monday, Ukrainian President Volodymyr Zelensky said Africa has been "taken hostage by those who started the war against our country."
Zelensky warned the global food crisis will continue "as long as this colonizing war goes on," affecting the lives of as many as 400 million people all over the world who depend on Ukrainian exports.
"Our main task right now is to eliminate the threat of famine. In the 21st century this threat simply cannot be, thanks to Ukraine and thanks to our agrarian industry," he said.
"If it wasn't for the Russia's war, you would be in a different situation right now – in a totally secure situation. Therefore, to avoid famine, the attempts of countries like Russia to return the colonial policy of landgrabs has to come to an end," Zelensky said.
According to Zelensky, Ukraine is attempting to build new supply logistics, but 25 million tonnes of grain still remain on hold as Russia continues to block Ukrainian ports.
More background: Russia's war in Ukraine could push up to 49 million people into famine or famine-like conditions because of its devastating impact on global food supply and prices, the United Nations has said.
With its fertile soil and sprawling agricultural lands, Ukraine has long been described as one of the world's breadbaskets. But Russia's unprovoked assault is now putting a huge strain on Ukraine's food production and exports. The ripple effects are being felt around the world.
Russia's blockade of Ukrainian ports has already raised global food prices and threatens to cause a catastrophic food shortage in parts of the world, the UN said.
The Russian invasion has affected Ukraine's entire food production and supply chain: From sowing to harvesting to exports. The Food and Agriculture Organization of the United Nations (FAO) estimates that between 20% and 30% of Ukraine's agricultural land will remain either unplanted or unharvested this year because of the war.
With regards to food that is already harvested, Ukrainian authorities, and some international officials, have accused Russia of robbing the country of grain and other commodities in areas it occupies.
Read more here.
CNN's Ivana Kottasová contributed reporting to this post.
12:48 p.m. ET, June 20, 2022
German authorities seize Duma member's flats over Russia sanctions
From CNN's Benjamin Brown in London
In a nationwide first, German authorities have seized three flats belonging to a sanctioned Russian parliamentarian and his wife.
The Munich flats owned by the Duma representative and his wife were seized together with a bank account used to facilitate rental payments worth 3,500 euros ($3,700) per month to the couple, Munich's public prosecutor said Monday.
The case was the first in Germany in which assets belonging to a sanctioned individual were seized rather than frozen. 
The owner of the flat was only identified by his initial L., as is customary in Germany. The Duma member was sanctioned by the European Union on Feb. 23, 2022 – one day before Russia invaded Ukraine – over his support for Russian President Vladimir Putin's move to recognize breakaway eastern Ukrainian territories as independent, Munich's public prosecutor said.
Two of the flats were owned by both the Duma member and his unidentified wife, while one apartment was only in his wife's name. As the spouse of a sanctioned individual, the man's wife was also subject to sanctions, Munich's public prosecutor argued.
With the seizure of the apartments coming into effect Monday, while the tenants are allowed to remain in their flats, they must deposit their rental payments with a Munich court rather than making these to their sanctioned landlords.
Meanwhile, the Duma member and his wife are under further investigation by German authorities for a breach of sanctions in several cases.
10:32 a.m. ET, June 20, 2022
It's mid-afternoon in Kyiv. Here's what you need to know today about Russia's war in Ukraine
Russia's blockade of Ukrainian grain is a "real war crime," says the European Union's foreign policy chief. And two American volunteers fighting for Ukraine were taken into detention by Russian-backed separatists in Donetsk after being captured last week, according to Russian state media.
Here are the latest headlines on the war in Ukraine:
Missing Americans in Donetsk: Alexander John-Robert Drueke and Andy Tai Ngoc Huynh were interviewed by Russia's RT channel at a detention center in the so-called Donetsk People's Republic (DPR) on Friday. The location of their detention is a potentially concerning development. Russia has a moratorium on the death penalty, whereas Donetsk uses firing squads to execute condemned prisoners, according to Russian state media RIA Novosti.
Russia takes town near key city, Ukrainian officials say: Russian forces have been able to seize the town of Metelkine, to the east of the strategic city of Severodonetsk, according to Serhiy Hayday, the head of the Luhansk Regional Military administration. He added that Russian forces have intensified their use of artillery and air strikes to target Ukrainian positions as the battle for the city continues to drag on. Severodonetsk lies in the heart of Donbas, a large industrial region in eastern Ukraine that has been the site of sporadic fighting since 2014, when Russian-backed separatists took control of two territories there -- the self-declared DPR and the Luhansk People's Republic (LPR).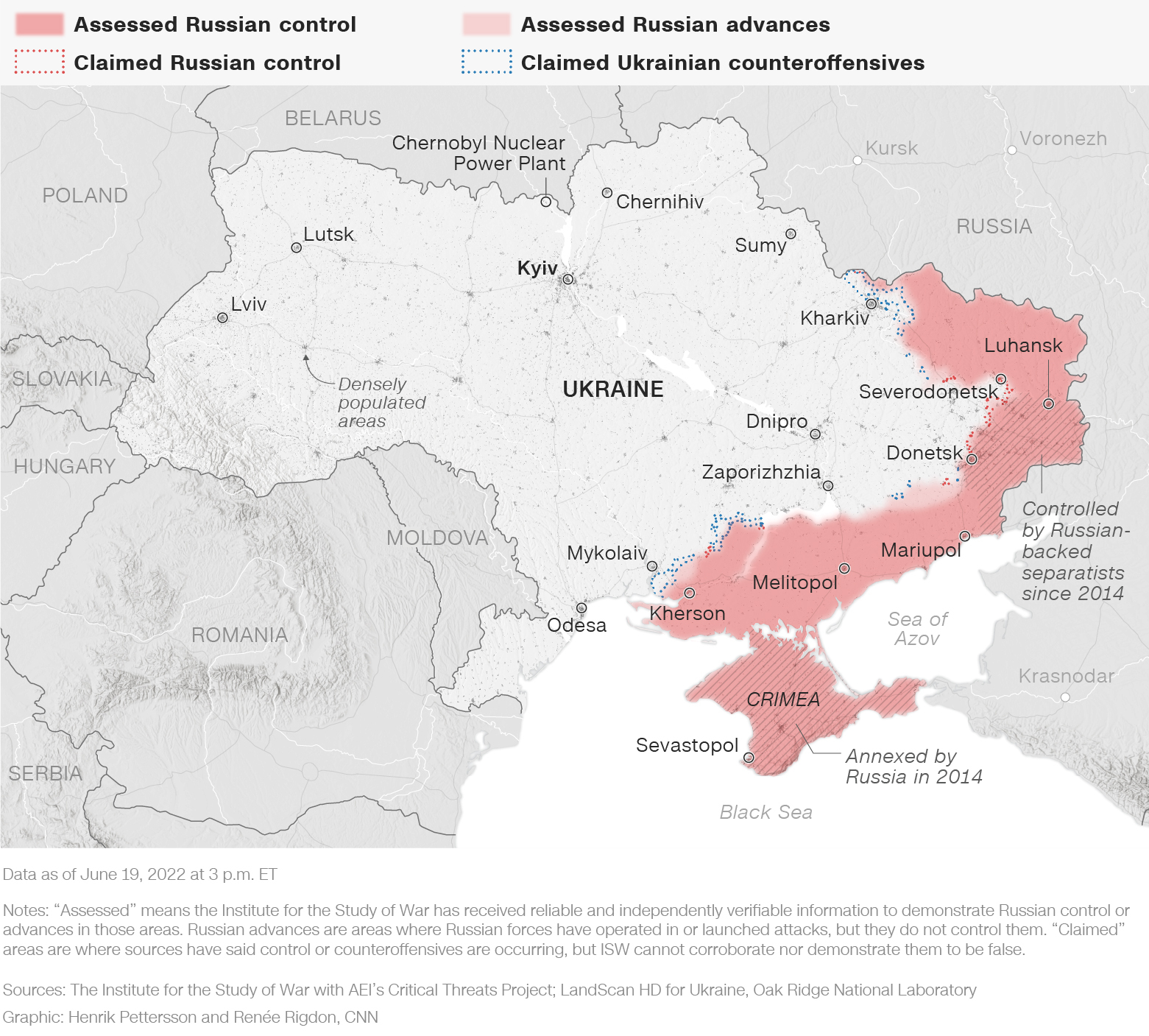 Grain blockade is a "real war crime," says EU head: European Union foreign policy chief Josep Borrell has called the Russian blockade of Ukrainian grain exports a "real war crime," adding that the bloc's sanctions on Russia have played no part in the global food crisis. Borrell said Monday that "it's not the European sanctions" that are "creating this crisis." Russia's war in Ukraine could push up to 49 million people into famine or famine-like conditions because of its devastating impact on global food supply and prices, according to the United Nations.
Kremlin says Lithuanian ban is "illegal": Lithuania's decision to ban the transit of sanctioned materials to Russia through the Kaliningrad region -- Russia's exclave in the European Union -- is "unprecedented" and Russia considers it "illegal," according to Kremlin spokesman Dmitry Peskov. Lithuanian Railways, the state-owned railway company, had notified Russia that starting midnight on June 18, transit trains with goods subject to EU sanctions would no longer be allowed to pass through, the governor of the Kaliningrad region Anton Alikhanov said on his telegram channel Friday. The list of the banned goods includes construction material, cement, metals according to Alikhanov.
Tennis player changes nationality: Russian-born tennis player Natela Dzalamidze has changed her nationality to Georgian to avoid the ban Wimbledon imposed on all Russian players following the country's invasion of Ukraine. The doubles specialist, ranked No. 43 in the world, is now officially listed as having Georgian nationality on the WTA website and is eligible to compete with doubles partner Aleksandra Krunić of Serbia when Wimbledon gets underway on June 27.
8:26 a.m. ET, June 20, 2022
Airline removes tailfin motif to avoid links to Russian invasion symbol
From CNN's Julia Buckley
As Russia's invasion of Ukraine approaches the four-month mark, one airline has announced plans to change its livery amid concern from passengers that its current look could suggest that it supports the invasion.
Tokyo-based Zipair -- a lowcost subsidiary of JAL, Japan Airlines -- has announced that it'll be removing the "Z" from its tailfins as of June 18, replacing them with a geometric pattern of stripes.
The redesign was originally planned as a revamp before the invasion, to mark Japan's loosening of its pandemic travel restrictions, and was presented at a press conference announcing the airline's new route from Tokyo to San Jose, California.
However, Shingo Nishida, Zipair's president, revealed at the press conference that Zipair clients had already been in touch with the airline, expressing their concern over the airline's existing logo, which had been in use since 2018.
Russia has used "Z" to symbolize a putative victory in its invasion. The letter has been daubed on tanks and uniforms on the ground, and those supporting the Kremlin have used it to make their support public.
8:05 a.m. ET, June 20, 2022
Head of Russian-annexed Crimea says Ukraine targeted gas platforms in Black Sea
From Yulia Kesaieva in Kyiv
The leader of the Russian-annexed Ukrainian region of Crimea, Sergey Aksenov, has accused Kyiv of targeting drilling platforms in the Black Sea.
"Today at 8 a.m. in the morning the enemy has struck our struck at the drilling platforms of Chornomorneftegaz, Aksenov wrote in his telegram channel on Monday. "I am in touch with colleagues from the Ministry of Defense [of the Russian Federation] and the FSB, we are working on saving people."
According to Aksenov, five people were rescued after the strike, three of which were injured, but search and rescue efforts for the remaining workers are ongoing.
CNN reached out to Ukraine's Southern Command on the accusation but they declined to comment.
Two Ukrainian drilling platforms, the "Petro Godovanets" and "Ukraina" were seized by Russian troops in March 2014, when Moscow annexed Crimea. The platforms are used not only for drilling but also for reconnaissance, and in 2015 they were moved to the Halitsynske gas field, which lies 130 kilometers (80 miles) away from the Ukrainian city of Odesa.