June 22, 2022 Russia-Ukraine news
1:02 a.m. ET, June 23, 2022
6:11 p.m. ET, June 22, 2022
Zelensky will address G7 and NATO summits as Biden could unveil new steps to pressure Russia
From CNN's Kevin Liptak and DJ Judd
Ukrainian President Zelensky will virtually address the G7 and NATO summits next week, senior US administration officials said, as he works to reinforce western support amid Russia's grinding invasion.
The Ukraine war will loom over President Biden's trip to Germany and Spain, where he will confer with dozens of leaders. At the G7, Biden would unveil steps alongside other leaders to increase pressure on Russia for its invasion, according to officials. And at NATO, the US will announce steps to "strengthen European security, alongside expected major new contributions from allies," one official said.
Officials declined to detail what, if any, new sanctions the administration, in concert with G7 allies, would announce against Russia, but "expect Ukraine to be at the very front of conversations, and expect to roll out a concrete a concrete set of proposals to increase the pressure on Russia to support Ukraine during the course of the summit," while touting what they called already "unprecedented actions to our sanctions and export controls on Russia for its unjustified war against Ukraine" from G7 nations.
These officials did acknowledge that with gas prices rising precipitously both home and abroad, leaders participating will likely discuss the European Union's partial ban on Russian oil. Additionally, leaders are also expected to discuss what they described as "a set of shared values around taking steps to reduce reliance on Russian energy" while still minimizing price impacts at home. 
"I think we'll expect them to speak to how can we take steps that further reduce Russia's energy revenues, and how do we do so in a way that stabilizes global energy markets and lessens the disruptions and pressures that we've seen?" the official told reporters Wednesday. "Again, that all goes back to those principles articulated at the very start with Russia's invasion-- how do we maximize pain on Putin's regime, how do we minimize spill backs back to the rest of the world? And I think that's exactly how the discussion around energy markets and energy market challenges will get framed and discussed by leaders this weekend."
1:51 p.m. ET, June 22, 2022
European leaders expected to back Ukraine's bid as EU candidate country, but officials caution "long process"
From CNN's James Frater in Brussels
The 27 leaders of the European Union countries are expected to support granting EU candidate status to Ukraine and Moldova at a two-day summit being held in Brussels Thursday and Friday, according to a senior EU official.
Speaking to journalists in Brussels Wednesday, the EU official said, "I have not seen a problem on granting candidate status to Ukraine," and lauded the work of European Council President Charles Michel.
But the senior official added: "I would like to tell you that 'it's a done deal' and 'it's easy,'" but after years of working inside the EU, institutions didn't want to be drawn on a definitive answer."
"So I'm confident, but I'm cautious too," the official said.
Separately, a senior diplomat from an EU country said that "Ukraine and the Commission have done a great job" in preparing for Ukraine's bid to start the long process of joining the EU, and the diplomat's country was "happy with the report on the table."
The diplomat tamped down expectations, saying that granting Ukraine candidate country status "doesn't mean that we can advance, side-tracking everything which is normally on the table. That is not the case, and I think is not fair."
When asked about a timetable for Ukraine becoming a full EU member state, the diplomat said that "I think the only one who can set a timetable is Ukraine, because Ukraine has to adapt, to transform, reform, and under the present circumstances, we understand that priorities lie elsewhere."
1:18 p.m. ET, June 22, 2022
Area outside US Embassy in Moscow renamed to "Donetsk People's Republic Square"
From CNN's Uliana Pavlova
Moscow has renamed the area outside the US Embassy after the pro-Russian breakaway republic in eastern Ukraine.
The new address has been changed to "Donetsk People's Republic Square," the Moscow City Hall office announced on Wednesday.  
"The US Embassy in Russia has received a new official address," the statement said. "Now the diplomatic mission is located at the following address: Russian Federation, city of Moscow, intracity territory of the Presnensky municipal district, square of the Donetsk People's Republic, building 1, buildings 1–9." 
The new address was chosen following the results of a public vote with nearly 280,000 participants, according to the city hall.
In May, Moscow councillors proposed to rename one of Moscow's streets in honor of the "defenders of Donbas." 
The embassy's previous address was 8 Bolshoi Devyatinsky Lane.
12:58 p.m. ET, June 22, 2022
Russia spy agencies step up hacking efforts against Ukraine allies, Microsoft says
From CNN's Sean Lyngaas
Russian intelligence agencies have increased their efforts to hack US and allied government computer networks to gather intelligence since the war in Ukraine began, Microsoft said in new findings published Wednesday. 
American organizations were the top target of the Russian hacking attempts outside of Ukraine, according to Microsoft, but the alleged Russian hacking has spanned 42 countries, and a range of sectors that might have valuable information related to the war, from governments to think tanks to humanitarian groups. 
It's a reminder of the voracious appetite that Russian cyber operatives have for strategic information as the Kremlin is more isolated on the international stage than it has been for decades. 
Those hacking attempts have successfully penetrated defenses 29% of the time, according to Microsoft. Of those successful breaches, a quarter resulted in data stolen from networks. 
But measuring the "success" of a Russian cyber-espionage is difficult, and Microsoft said it didn't have a full view of the hacking because some customers stored data on their own systems rather than in Microsoft's cloud computing infrastructure. 
CNN has reached out to the Russian Embassy in Washington for comment. Moscow routinely denies hacking accusations. 
Various governments have likely stepped up their offensive cyber activities related to the Ukraine war as they search for insights on how the fighting and the global fallout from it. 
Cyber Command, the US military's hacking unit, has conducted a "full spectrum" of offensive, defensive and information operations in support of Ukraine, the head of the command confirmed this month. 
China, too, has trained some of its very capable hackers on targets related to the Ukraine war, according to cybersecurity researchers. Suspected Chinese hackers appeared to try to break into computers linked to officials in the Russian city of Blagoveshchensk, near the Chinese border, according to cybersecurity firm Secureworks.
10:25 a.m. ET, June 22, 2022
Russia claims it destroyed M777 Howitzers sent to Ukraine by western allies
From CNN's Uliana Pavlova, Olga Voitovych and Vasco Cotovio
The Russian Ministry of Defense has claimed it has targeted and destroyed "155-mm M-777 howitzers" provided to Ukraine by the US and European allies, in a statement accompanying a video it released Wednesday.
Russian used high-precision artillery strikes to destroy the "155-mm howitzers made in the USA," its Ministry of Defense claimed.
It's unclear how many M777 Howitzers were allegedly destroyed, but it's not the first time Russia has made similar claims. 
CNN has reached out to Ukrainian officials for comment on Russia's claims but has yet to hear back.
CNN could not independently verify the destruction of M777 Howitzers, but it is widely understood that levels of attrition are high on both sides of the conflict.
9:52 a.m. ET, June 22, 2022
Lithuanian president says country is prepared for any "unfriendly actions" by Russia
From CNN's Chris Liakos
Lithuanian President Gitanas Nauseda said his country is ready for some form of retaliation by Russia after it banned the transit of certain goods subject to European Union sanctions across its territory and into the Russian enclave of Kaliningrad.
"We are ready and we are prepared for some kind of unfriendly actions from the side of Russia, disconnection from the BRELL system or other actions," said Nauseda, speaking to Reuters in a video published Wednesday. The BRELL system is a power grid shared between Russia, Belarus and Baltic states.
He said he does not believe Russia will challenge Lithuania militarily because his country is a NATO member.
Nauseda defended the decision to block the passage of some goods, saying they're implementing what was decided on a European Union level.
"We just implement the sanctions, which were imposed on European Union level, and this has nothing to do with the bilateral relations between Russia and the Lithuania," Nauseda said. 
"We are looking forward to implement next stages of the sanctions, and it would be very good that European Commission explains the content of the sanctions to the Russian authorities and probably it will remove some tensions which are arising right now," he added, warning that the escalation of tensions won't benefit either side.
Earlier Wednesday, Kremlin spokesperson Dmitry Peskov said that retaliatory measures for Lithuania's transit ban on European Union-sanctioned goods to Russia through Kaliningrad were being discussed. Peskov did not elaborate what those measures could entail and said there was no exact timeline for Moscow's response.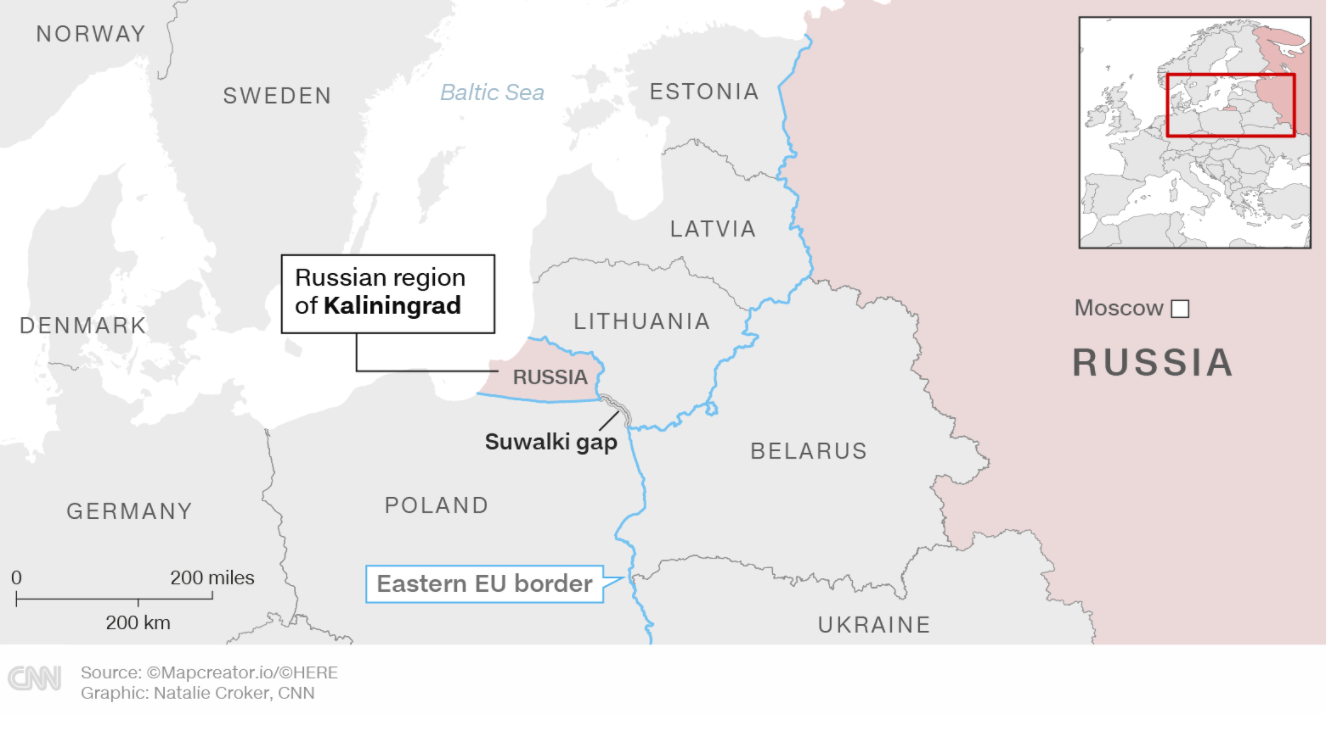 9:42 a.m. ET, June 22, 2022
Germany will train Ukrainian soldiers on Mars II systems
From CNN's Chris Stern in Berlin
The German military is planning to train Ukrainian soldiers up on the Multiple Launch Rocket System Mars II, defense minister Christine Lambrecht said in the German parliament Wednesday.
The training to be conducted in Germany could start as early as next week, Lambrecht said, adding that once those instructions have been concluded, delivery of that weapons system could start.
Germany would deliver three such systems to Ukraine, with the UK matching that number, and the US would deliver four Multiple Rocket Launch Systems (MLRS), she added.
9:39 a.m. ET, June 22, 2022
German government warns Russia against retaliatory measures over Kaliningrad dispute
From CNN's Stephanie Halasz
The German government has warned Russia not to take countermeasures over the dispute of freight traffic to the Russian exclave of Kaliningrad. 
"We call on Russia not to take any measures that violate international law," German government spokesperson Steffen Hebestreit said. 
He said that Lithuania had taken these actions within the European Union framework of sanctions on Russia. Only certain goods are affected by the sanctions, and no people have been sanctioned. 
"We therefore clearly reject countermeasures announced by Russia," Hebestreit said during a regularly scheduled government news conference in Berlin.  
Some background: The Kremlin has said Lithuania's transit ban on European Union-sanctioned goods to Russia through Kaliningrad is "unacceptable."
"We are convinced that the sanctions adopted by the EU are absolutely unacceptable. Applying these sanctions regarding transit to Kaliningrad and back simply contradicts fundamental agreements," Kremlin spokesperson Dmitry Peskov said Wednesday, adding that retaliatory measures are being discussed.
Peskov refused to elaborate what those measures could entail and said there was no exact timeline for Moscow's response, but that it will announce them when they are ready.
"(Response) measures are being prepared. After we carefully weigh everything, we will talk about it," he said.